Would you rather hang out with Mother Nature than photograph people? If so, you're certainly not alone. Compared to genres like weddings, events and portraiture, landscape photography offers a slower-paced, less stressful and arguably more rewarding experience.
Unfortunately, it also means selling your work as art, rather than yourself as a service provider.
The general consensus today is that you can't make a living with fine art photography. While that idea is debatable, it's undoubtedly an unhealthy mindset. Fact is, there is still a market for good landscape photos.
Even so, many photographers don't know how to sell landscape photography work and don't know where to begin.
If you arm yourself with some basic information (and a lot of persistence), it is possible to be successful at it. The keys to selling them are:
creating the right kind of images
making them available
"That sounds too simple – what's the catch?"
The beauty of what I'm about to tell you is that it really is just that simple. It's the same principle that drives sales in every commodity in the world: supply and demand.
That probably seems a very cold, dispassionate approach. Trust me; I get it. We're artists and our photography is a product of our passion, not a commodity. Bear with me for a bit and I think you'll see that understanding this aspect will not only increase your chances of making sales, but may even expand your creative vision.
How to Sell Landscape Photography Work: Knowing What the Public Wants from a Landscape Photographer
Let's start with this part of the equation because it's the easiest to explain.
One of the obstacles to be overcome in this photographic niche is the fact that the world is now full of photographers. Visit a National Park and the toughest part about getting a good photo at all the popular stops may be all of the other snap shooters in the way.
So, if Joe Shutterbug has his own photos of, say, the Tetons, why should he buy yours? More to the point, why should someone else buy yours instead of his?
To begin with, there's a good chance neither one will sell. As a buyer, if all I want is a photo of this or any similar icon, I can download it from any of a dozen sites.
Consider the two photos below: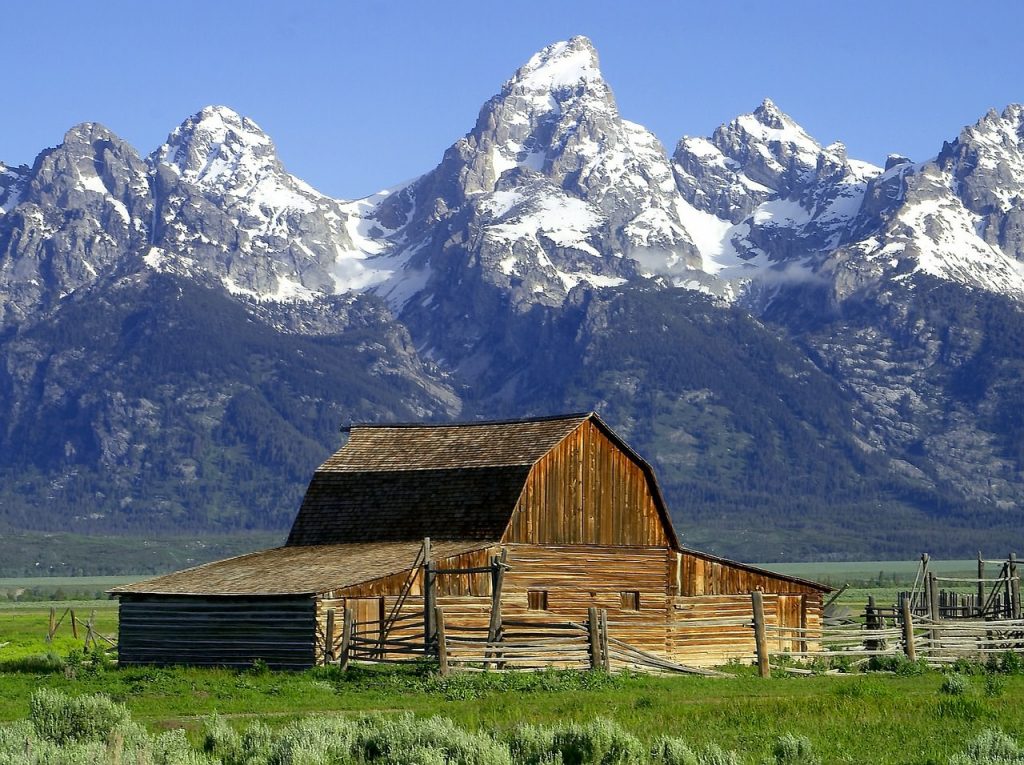 Both of these images obviously feature the Teton Mountains on the horizon. Both photos are nicely composed and exposed.
The difference is that the photo above has been replicated dozens, if not hundreds of times by other photographers. The John Moulton Barn on Mormon Row is one of those "must shoot" locations for people visiting the park. This is a tourist shot that anyone with a camera can take in this location.
How many times have you seen the Tetons from the vantage point in the second photo? It offers a completely unfamiliar perspective. The light is more dramatic. The low clouds are a great backdrop that makes the rustic fence stand out. Higher up, you can sense the height of the range from the small clouds dragging across the peaks.
The second photo offers viewers something new. With a little planning and a creative eye, the photographer offered us a new look at a familiar place. It may not be perfect, but it's much more likely to sell.
Taking landscape photos that sell is a matter of creating something that stands out. No matter where you're shooting, stretch your creative wings and find a new way to look at it. Get out there in the storm. Wait for the right light. Change your camera angle. Try both horizontal and vertical formats.
Start thinking in terms of creating rather than recording what you see. You'll find yourself with images you and your potential buyers will appreciate more.
Okay, so what about supply?
I'm glad you asked! Now that you're creating images that people want to buy, the next step is to offer them to prospective buyers. As I'm sure most readers know, there are a lot of options out there. I'm going to list some of the most common and how to utilize them as well as some pros and cons for each.
Selling Landscape Photography on Stock Photography Sites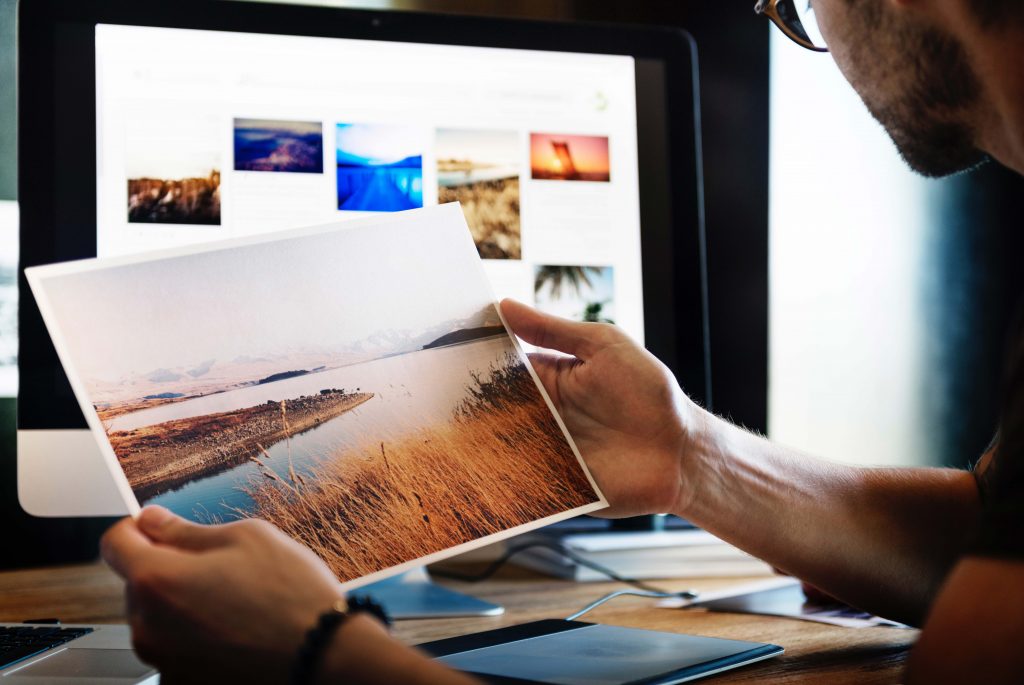 I can already sense many readers cringing. That's the reason I mentioned this venue first.
Many photographers avoid stock photography on the premise that it devalues their product. They're right. Buyers pay very low fees to use stock photos with no obligation to credit the creator. In many cases, they can even use the same image unlimited times.
Worse, you'll only collect a portion of the fee. That's how the stock sites make their money.
All that said, I'd be remiss to omit this as a way to make money with your images. Many photographers earn a good income from their stock photos. The key to success is following trends and actually submitting high-quality images. A stock site isn't a dump for those photos you can't sell elsewhere.
Pros:
Sell the rights to an image to an unlimited number of buyers
Buyers go to these sites to search for images. You don't have to pull then in.
Most sites review submitted images before accepting them. You'll get honest critique.
You don't have to print or deliver anything
Cons:
Lowest prices paid for your images
No credit to the photographer
Thousands of competitors
You'll probably need to offer lots of images to make decent money.
Image requirements are often strict.
If you're ego isn't easily bruised, you have lots of good landscape images and don't need credit for your work, stock photography may be a good venue for you.
Try these sites:
Getty Images/iStock: This is considered the elite site by some. You'll have to apply to become a contributor, so be prepared to submit your best work. If you shoot a lot of celebrities, concerts, etc. you'll find a good outlet for editorial-style images here.
Shutterstock: a well-known photo and art stock agency with a good following of buyers. They screen images carefully. The contributor sign-up page is here.
Adobe Stock: a good alternative for serious stock photographers. As part of Adobe's Creative Cloud collection, it integrates with the CC apps nicely. You can publish collections of your photos directly from Ligthroom. Image reviews may take a few days. The pricing structure provides the potential to earn more than most, but read the fine print to avoid disappointment. You can sign up here.
Print on Demand (POD) Sites
This classification covers a fairly wide range, but for simplicity, I'm referring to sites that combine a photographers' community with a print house.
The basic concept consists of building an online portfolio and allowing buyers to order your work as wall art or printed on various products. Printing, framing, packaging and shipping are all handled by integrated or partnered print houses. You give up some of your profits in exchange for the printing service. In most cases, you also pay a subscription fee to host your work there.
It's important to understand the compromises when you choose this option. A typical scenario is a customer buying a canvas print of your photo for $25 to well over $100, depending on the print size and other options. You might receive as little as $10 profit from the sale.
While that may not sound like a profitable business, you have to consider that you didn't have to pay for the canvas and associated materials, the printing, or the shipping. Even if you only sell a simple, unframed print, you don't have to commit your own time, equipment and materials and make the trip to the post office.
Pros:
Convenience
Sell your work in ways that aren't practical from home.
Very little effort after the sale
Community support
Higher visibility (sometimes)
Cons:
Narrow profit margins
Subscription fees
Thousands of competitors
Widely varied pricing structures
Here are a few popular POD sites:
Fine Art America/Pixels: This is my first choice. These two sister sites mirror your portfolio. The newer site, pixels.com offers a much wider range of products for the buyer. Sign up on either one and you'll be present on both. You can offer 25 images at a time on a free account, or pay $30/year to host unlimited images and host a personal website. You set your markup; they set the price.
This is one of the most well-ranked sites of its type. Your chances of being seen may be better, but you'll have a LOT of competition. Community support is excellent. Artists can and do help promote each other's work.
Zenfolio: Although this site is centered more on building a portfolio, they give you access to several print houses with their higher-priced plans. Their pricing structure is a bit restrictive at $5 to $30 per month (when paid annually).
SmugMug: This one is very much like Zenfolio, with some differences in pricing and options.
Zazzle: Set up a storefront based on selling your photos printed on their products. (They call you a designer.) Set your markup as a percentage. The account is free and they handle the fulfillment.
This is just a small sample of POD sites, so do a little research, do the math and see which, if any, suit your purposes and budget.
Create Your Own Website as a Portfolio and for Selling Your Landscape Work
This is more a collection of options than a single choice. If you decide to "strike out on your own" on the Internet, there are a great number of ways to do that.
If you have developing skills, you can start from scratch or use a CMS like WordPress and choose from hundreds of themes, many of which are designed specifically for portfolio sites. You can also easily integrate e-commerce easily with several plugins, or incorporate your own PayPal buttons, etc.
With all the website builders and hosting options available now, creating your site is actually the easiest part of this approach. Marketing and order fulfillment will be your real challenges.
Pros:
Total control
Keep 100% of your sales
Low hosting rates
Flexibility
Cons:
Accounting
Marketing and promotion
Maintenance
Order fulfillment
The last item on the Cons list has a workaround: Fulfill your orders for prints and products through online print houses and have them drop-shipped directly to your buyers. WHHC is only one popular choice for prints, books, etc. For other products, you can use Shutterfly or similar services.
If you're considering launching your own site, you're probably familiar with most of your options, so I won't elaborate further. Do keep in mind that maintaining a site may take up some of your shooting time.
Selling to Magazines, Book Publishers, etc.
Believe it or not, there are still opportunities for photographers to sell their work directly to publishers, paper product manufacturers, ad agencies and others. In today's connected world, it's actually somewhat easier.
For a landscape photographer, some markets that are better than others. You'll want to think about publications about the regions you're shooting. For instance, it's pretty easy to figure out what kind of photos Arizona Highways and Texas Highways magazines will be looking for. If you spend a lot of time on the road, travel magazines are a good bet. Let's look at the good and bad about this venue before I offer some advice:
Pros:
Often pays well
Offers good exposure
Sell limited rights, so the photos can be sold again
A sale can lead to future opportunities with a client
Looks really good on a resume
Cons:
Competition is tough
May require accompanying text
May require a query letter before submission
May not pay until after publication
If you'd like to break into this market, here's a great shortcut: Grab a current copy of Photographer's Market. Not only will you get an extensive list of potential buyers for your work, you'll find out at a glance exactly how to submit it to them. You'll also find it offers some great advice.
If, like me, you're also a writer, get yourself a copy of Writer's Market, too. You can often earn extra money by submitting photos to illustrate your articles and other pieces.
Art Fairs, Craft Fairs, Flea Markets, Festivals…
Here's an option that many photographers overlook. A booth at a trade show or fair can often be rented very reasonably, especially for Holiday events. You can also share a booth with a friend and save some money.
This option takes some preparation. You'll need to have some inventory. Big, framed prints might not be necessary, but a few may garner some attention and that's important in this environment.
Pros:
Good local exposure
Opportunities for multiple sales
Set your own pricing
Make friends and business contacts
Cons:
You'll need to have stock on hand.
People will rarely pay premium prices.
Space rental
Daily setup and tear-down
These shows can be golden opportunities, but they take a lot of effort. If you enjoy meeting people and have the gift of gab, you'll have a great time. Be sure to have a good stack of business cards on hand, too!
Wall Art for Local Businesses
Have you ever noticed prices on the photos hanging in your favorite restaurant? How about your doctor's office? It's quite possible the photographer that took them simply asked the proprietor of the business about displaying his or her work there.
In many cases, business owners will be happy to decorate their walls with your work, especially good photos of local landmarks. You can increase your chances by paying a reasonable consignment fee when a piece sells. It's like having a constant gallery showing with an ever-changing audience.
Pros:
Great exposure
Low overhead
Cons:
Up-front printing & framing costs
Theft & damage risks
Make yourself a flip-book or similar portfolio that you can show to shop owners and managers in your area. You might make a name for yourself before you know it.
What's Your Venue?
If you're looking for ways to sell your landscape photography, I hope this quick overview of some of the possibilities is helpful. If you've had success selling your landscapes by one of these or another method, leave a comment and let readers know what's working for you!