Best Fujifilm Cameras for Street Photography: 5 Top Picks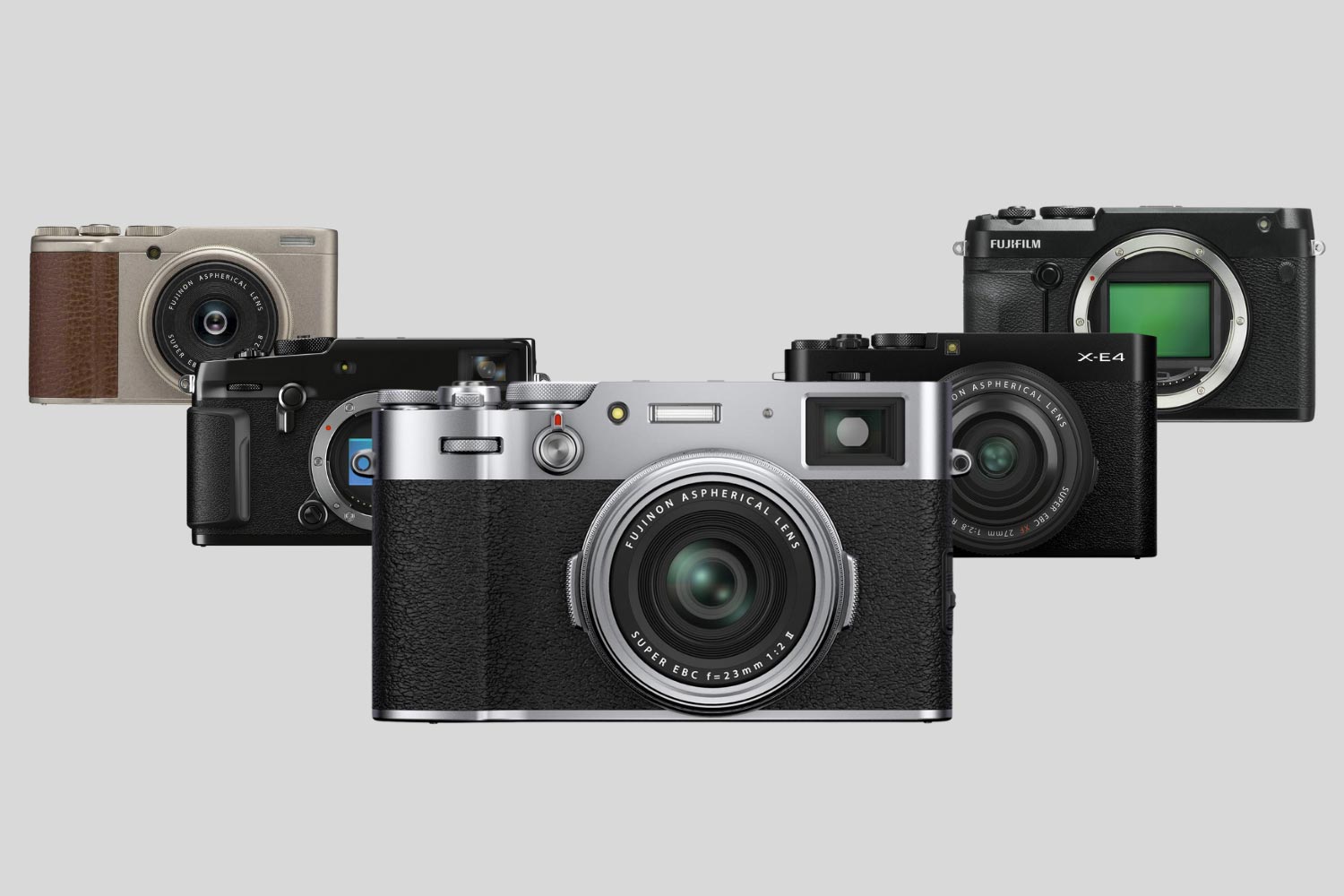 There's a lot to like about Fujifilm mirrorless cameras for street photography with compact form factors, low weight, intuitive manual controls, and sleek designs. Fujifilm digital cameras do a great job of being an extension of your eye and just getting out of the way so you can focus on creating photos. In addition, their analog controls make them feel like old film cameras.
They do all that while giving you pretty good image quality. I always shoot in raw to have the maximum amount of detail to work within my files, but many street photographers use the JPEGs with Fujifilm's film simulations straight out of camera with little to no editing, and they look great. So if you want a street photography camera that'll save you time on editing, Fujifilm cameras do a really nice job of that.
Fujifilm cameras are great, but they aren't perfect (just like any other camera brand). In this article, I'll lay out my picks for the best Fujifilm cameras for street photography and go over their strengths and weaknesses.
The Fujifilm X100V is Fujifilm's fifth iteration of their X100 line of cameras and is probably the most significant improvement from one version to the next in the line's history. That comes in no small part due to an improved lens design that made it significantly sharper and improved overall image quality.
Another significant improvement for this camera over the previous version is its autofocus, which still could be better in low light. Still, it's a welcome improvement considering autofocus speed and accuracy were always a weakness in these cameras. Fujifilm also added weather resistance to the X100V, which seems like they should have included in previous versions considering it's geared toward street photography. You're going to be out in the elements with it. To weather seal it completely, you do need to put a filter on the lens, but this is another welcome addition that makes the X100V more suited to the realities of street photography.
The X100V is also the first in the X100 line to have a tilting screen. When articulating screens started showing up in cameras, I thought they were an unnecessary gimmick until I used one. That couldn't be further from the truth, though — it's very useful for street photography when you want to shoot at a very low or high angle. It can save your knees and body because it allows you to get certain angles that would require you to put yourself in uncomfortable physical positions. The screen can also help you be more discreet in your shooting by making it look like you're photographing something other than your subject or doing video.
If you're a street photographer like me, size and weight are important for having a good experience on the street. The X100V is small enough that you can slip it into a coat pocket. Of course, you can cram it into a jeans pocket if absolutely necessary, but it doesn't do it comfortably like a Ricoh GR camera does. On the other hand, the Fujifilm X100V is very lightweight, making it easy to carry around for long periods on the streets.
The X100V's hybrid viewfinder allows you to switch between optical and electronic viewfinder modes depending on the lighting conditions and your preferences. I used to primarily use the optical viewfinders on the X100 cameras, but now that the electronic viewfinders are better and have very little lag, I tend to use that more. Still, I'm partial to using the back LCD screens on my cameras now after getting used to shooting like that with my Ricoh GRs.
This camera has a leaf shutter, which is a really nice feature to have for street photography. For one, it's totally silent. It's actually hard to hear the shutter go off because of how quiet it is. If you want to make sure that the camera took an exposure, you have the option of turning on artificial shutter sounds in the camera. With a leaf shutter, you get less distortion from rolling shutter than with focal plane shutters, or worse, using an electronic shutter. It's not something that I really do for street photography, but leaf shutters also allow you to use flash with your camera at higher shutter speeds.
Lastly, the X100V comes with a built-in ND filter, which lets you do some slow shutter speed motion blur type-stuff in bright daylight, which you wouldn't be able to do otherwise. I don't carry ND filters around with me when doing street photography, as usually, the scenes that would benefit from a slow shutter speed are rarer. It's just a pain to carry around extra gear, so it's really nice to have it built into a camera where it's always there in case you want it.
The X100V is a serious street photography tool whether you're an amateur photographer or a seasoned pro.
Pros:
35mm-equivalent focal length is ideal for street photography
Very sharp lens
Good autofocus
Nice tilting screen for shooting at unconventional angles
Quiet shutter
Built-in ND filter
Compact size
Lightweight
Weather-resistant
Cons:
Has a fixed focal length
Autofocus still could be faster and more accurate when comparing it to the competition from other camera manufacturers
Battery life could be longer
The grip material feels cheap
No second memory card slot
The Fujifilm X-Pro3 is Fujifilm's top-of-the-line APS-C interchangeable lens camera in a rangefinder-style form factor. It's got a lot of the bells and whistles in terms of performance, just like the X100V, but you get the added benefit of being able to use interchangeable lenses.
It has the X-Trans CMOS 4 26.1 megapixel sensor, which Fujifilm has also been using in the X100V and all its X-series cameras since 2018.
The X-Pro 3 has all the manual controls you could ever need laid out on the camera and has multiple buttons you can customize to your liking.
Like the X100V, they also share an optical/electronic viewfinder, which is a very nice feature to have for framing your street photography shots in various lighting conditions.
The X-Pro 3 has titanium top and bottom plates, which is obviously very welcome for street photography, as it means the camera's inner workings are better protected. As a result, it should be able to take some dings here and there without breaking.
Love it or hate it, the X-Pro 3 has an LCD screen on the back of the camera, but its default position is to be folded up to where you can't see it while you're shooting. When folded up, you can only see your current film simulation and some basic exposure settings. You can compose your photos using it, but you have to have it in its flipped-down position. Fujifilm's thinking with this was to keep you from chimping and keep you in the moment by forcing you to just compose your photos through the viewfinder. I like to shoot using the back LCD of my cameras a lot these days, partly because I think it makes it a lot less obvious what you're doing on the streets. I think it's a bit of a gimmick, and whether or not a photographer wants to chimp is up to them and not the camera manufacturer, but that's just my opinion.
A cool feature of the X-Pro3 is that the viewfinder has a mode where if you're using the optical viewfinder, you can see an electronic overlay of the scene, which can help you know you have a good exposure. In addition, when using the optical viewfinder, there's a mode to display a magnified view of your autofocus area. The electronic viewfinder in the X-Pro3 is now an OLED panel, which lets you accurately see the contrast of a scene and is an improvement in overall quality over the X-Pro2's LCD EVF.
The X-Pro3 has dual memory card slots, which can come in handy.
The X-Pro3 and the X100V share a lot in common. If you want to keep your camera size as small as possible, the X100V is the way to go. On the other hand, if you want faster autofocus and the ability to change lenses, the X-Pro3 would be a better fit.
Pros:
Great manual controls with logical and ergonomic layout
Customizable buttons
Good image quality
Optical/electronic hybrid viewfinder
Interchangeable lens system
Rugged titanium design
Weather-resistant
Cons:
Gimmicky back screen that you have to flip down to use it (although it is good for shooting from the hip)
Larger in size than some other options, like the X100V
Optical viewfinder has issues when using it with very wide and long focal length lenses
Unavoidable parallax shift with the optical viewfinder
Face/eye detection is mediocre
I'd say the best Fujifilm camera for street photography if you're on a budget is the Fujifilm X-E4. You get a very capable street photography camera with a minimalist, stripped-down user interface that gets out of the way and is easy to use.
The Fujifilm X-E4 has a similar rangefinder-style layout to the X-Pro3, but it has fewer manual controls and some differences between their overall feature sets. For example, the X-Pro3 has a drive mode button, whereas this is missing in the X-E4. Fujifilm explicitly marketed the X-E4 as a minimalist camera, which I appreciate for the most part. The X-E4 also has a smaller electronic viewfinder and doesn't have an optical viewfinder. On the other hand, the X-E4 has a really nice articulating back screen that lets you angle it up and down, which is really handy for taking street photography shots at tricky angles.
For its price, the Fujifilm X-E4 is a bargain compared to the X100V and X-Pro3, although you don't get as many features. One of the big ones is that there's no weather resistance in the X-E4, unfortunately. While it's a great street photography camera otherwise, street photography is done outdoors, and you never really know when it's going to rain, and having your camera protected by weather sealing is always preferred, obviously. So the lack of weather sealing is something to take into consideration.
You also don't get the leaf shutter of the X100V. So, unfortunately, you have to settle for using the X-E4's mechanical shutter or electronic shutter, which each have pros and cons. The mechanical shutter is louder than I'd like it to be, and you can get rolling shutter with the electronic shutter when shooting fast-moving subjects.
Despite these issues, the Fujifilm X-E4 gives you a great street photography shooting experience. It's lightweight and pretty compact, especially with a pancake lens like the 27mm f/2.8 WR that comes in a kit with the camera. It's not much bigger than a point-and-shoot camera, but it has easy access to your shutter speed, ISO, and other settings you need on the street.
I gave more thoughts on it in my Fujifilm X-E4 review.
Pros:
Same APS-C sensor and image quality found in Fujifilm's high-end cameras
Lightweight
Compact
Minimalist controls
Great articulating screen for unique street photography angles
Ability to change lenses
Cons:
Noisy shutter (not a leaf shutter)
Small viewfinder
No weather sealing
Less buttons/dials may be a turnoff for some Fujifilm photographers who are more used to having a lot of manual controls
The XF10 is Fujifilm's most compact camera currently and features a non-interchangeable 28mm-equivalent lens. As such, the XF10 is very lightweight, compact, and easily pocketable. In other words, it's a direct competitor to the Ricoh GR cameras.
An interesting thing about the Fujifilm XF10 is that it has a 24-megapixel Bayer sensor, which in my opinion is a significant improvement over the X-trans sensor used in all their other X-series mirrorless cameras. Some photographers like the look of X-trans files, but they have issues with their dynamic range and image quality that make their files less true-to-life than what you get with a Bayer sensor. The Bayer sensor of the Fujifilm XF10 captures more shadow detail, and it makes editing easier. I wish Fujifilm would use Bayer sensors in all their cameras.
The Fujifilm XF10 has pretty minimal controls, but everything you need, you have access to. Like the Ricoh GR series mirrorless cameras, there is no viewfinder, so you do your framing on the back screen, which I have gotten used to and actually prefer these days now that I'm used to it. It's a touch screen that you can use for shooting or navigating menus which is really nice, but unfortunately, it's not a tilting screen.
All in all, the Fujifilm XF10 packs a punch in a very discreet package for a very low price. If you're a fan of 18mm lenses on APS-C cameras, the Fujifilm XF10 is a great camera to have as an everyday carry that you can bring with you everywhere.
Pros:
Very compact
Lightweight
Discreet
Minimalist controls make it easy to focus on photography
Bayer sensor makes for great image quality
Very affordable
Cons:
Bad autofocus
Autofocus is loud
There's only one mount to attach a strap
Laggy user interface
Many street photographers were puzzled and disappointed with the release of the XF10 because it signaled that they were ending the X70 line. The X70 is a great street photography camera because, like the XF10, it's compact and light, but it even has some advantages over the XF10. Most notably, it has better manual controls and a tilt screen, although the X70 has the older 16-megapixel X-trans sensor, which is a lower resolution and worse image quality overall compared to the XF10.
Regardless, you can find the Fujifilm X70 used for a steal nowadays. In the future, it would be nice if Fujifilm combined the body, controls, and tilt screen with the Bayer sensor of the XF10.
Medium format cameras have impressive image quality, but their large size, weight, and high price can be unattractive for street photography. One of the reasons why I love street photography so much is that you don't need to lug around big gear to do it effectively. Until recent years, doing street photography with medium format was prohibitively expensive, and all the gear was bigger than what most street photographers want to deal with. Fujifilm has done a lot to change that.
While it's certainly not point-and-shoot size, the Fujifilm GFX 50R is a reasonably sized rangefinder-style medium format sensor size camera with a manageable weight. When you pair the GFX 50R with the 50mm f/3.5 R LM WR, you get a pretty nice overall package for street photography even though it's still on the large size. In return, you get better dynamic range and image quality.
Currently, the only medium format Fujifilm lens I would want to use for street photography is the 50mm f/3.5 because of its compact size. Fujifilm's other medium format prime lenses are too big and bulky for street photography, in my opinion. However, I'm sure in time, they'll release more compact lenses for the GFX system of different focal lengths. The 50mm on Fujifilm's medium format mirrorless cameras comes out to a 40mm equivalent focal length in full-frame sensor terms, which I have come to appreciate recently.
The Fujifilm GFX 50R has a 51.4 megapixel Bayer sensor. Like I mentioned briefly earlier in the section about the XF10, I much prefer the Bayer filter array sensors because they're sharper, have more accurate colors, and just have better image quality overall. This is the medium format sensor that Fujifilm has been using since they started the GFX line, so it's beginning to look a little long in the tooth. Regardless, it has excellent image quality with a lot of resolution.
The 50R has a three frames-per-second burst rate, which is impressive for a medium format camera, and it's plenty fast for street photography. Like most Fujifilm cameras, it's got great manual controls. You also have the option of using its big bright viewfinder or its tilt screen, which is always helpful for composing low and high-angle shots on the street.
The GFX 50R isn't cheap. But I think you're getting a better deal for its price than what you would get with a full-frame camera with similar specs.
Pros:
High resolution with excellent image quality
Bayer sensor gives it more accurate colors than Fujifilm's X-series of cameras
Great ergonomics
All the manual controls you need
Tilting screen for unconventional angles
Big viewfinder
Cons:
Not bad in terms of size but still quite a bit larger than your standard X-series camera
Somewhat heavy (really not too bad, though)
Not the fastest auto focus
Rolling shutter when using the electronic shutter
Honorable Mention Fujifilm Cameras for Street Photography
Is the Fujifilm X-T4 good for street photography? How about the Fujifilm X-T30? Or the Fujifilm X-S10? The Fujifilm X-T3?
The truth is, all of these cameras are perfectly capable of producing high-quality images for street photography. They're leagues ahead of what you'll get with smartphone cameras and provide a much more satisfying shooting experience.
Whether you're shooting with one of the cameras I picked or something like the Fuji X-T4 (which is also an excellent pick, by the way, especially considering it has in-body image stabilization, unlike the cameras I chose), it's really about what works best for you. In the end, it's infinitely more about you and your vision rather than the tool you choose.
Verdict
A great thing about Fujifilm digital cameras is that they have manual controls that make them feel like film cameras. Their manual camera settings give you the peace of mind that you'll have complete control over your exposure and overall shooting experience. It's also great that Fujifilm listens to their customers and responds to requests, so they're constantly iterating and frequently releasing firmware updates for making improvements that can be done through software.
So if you're trying to decide between the best Fujifilm cameras for street photography, you really have a lot of great options to choose from, and it's up to you to decide on what your priorities are. For example, if you want to use a longer focal length lens or the ability to change lenses, the X-Pro 3 or X-E4 may be for you. On the other hand, if you value minimal size and weight and like wide-angle lenses, the X100V or XF10 may be a good fit for you.
If you value the maximum resolution possible and want to print big, you may want to go with the GFX 50R or one of Fujifilm's other medium format mirrorless cameras.
The important thing is to choose what fits best for you, forget about all the specs, get out there in the fresh air, and do some street photography.
If you need a lens to pair your Fujifilm body with, I also put together my thoughts on the best Fujifilm lenses for street photography here.