Fujifilm XF 10-24mm f/4 R OIS WR Review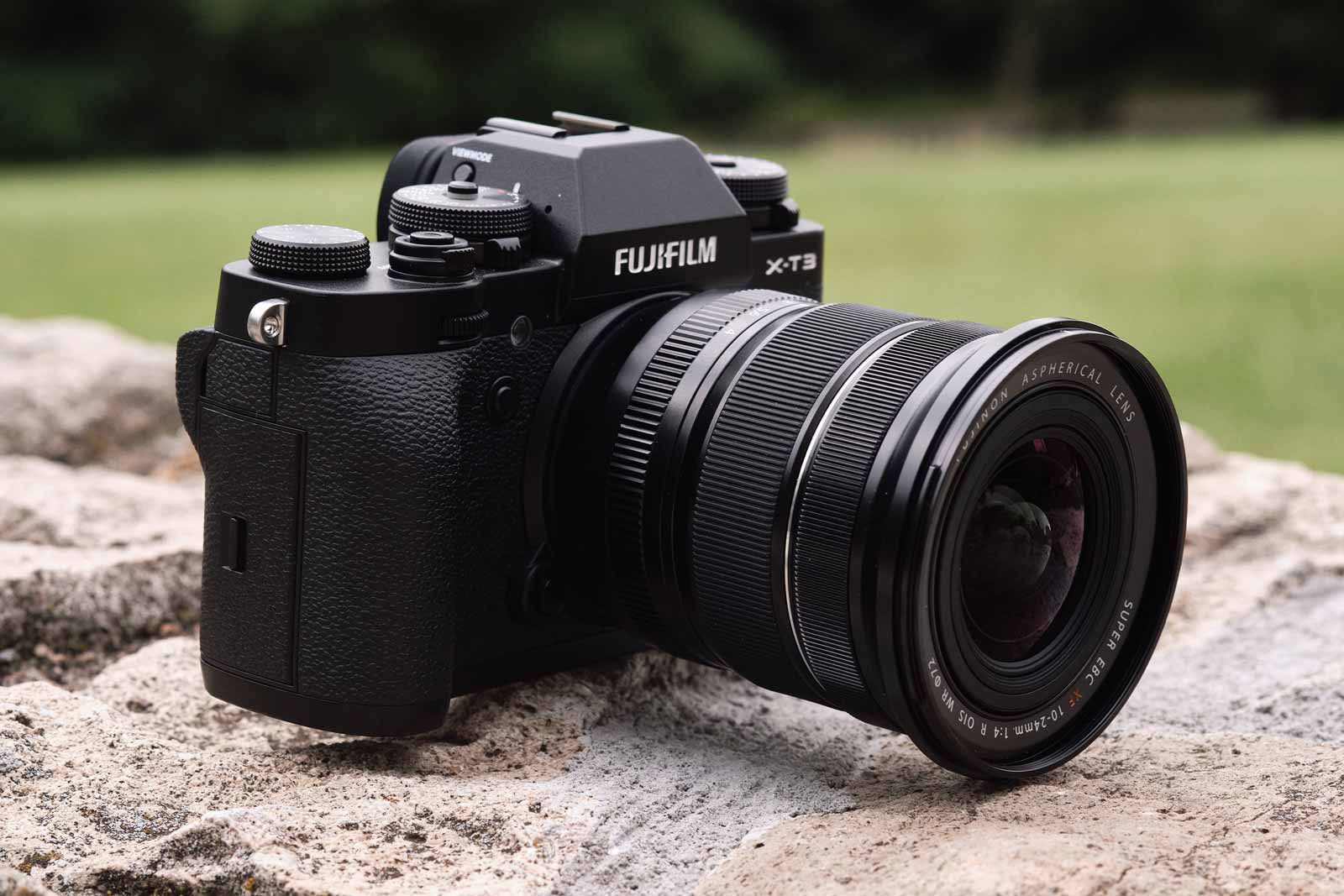 The Fujifilm XF 10-24mm f/4 R OIS WR is a wide-angle, 15-36mm full-frame equivalent X-series cameras. It's an update to the previous version of this lens, which was released in 2013. New to this version is weather sealing, markings to its aperture ring, and slightly lower weight.
I haven't done much landscape photography in my day but I got this lens because I was going on vacation up to the mountains in Colorado and wanted a wide-angle lens so that I could start dabbling in it. I ended up not having as much time to use it as I had planned but I at least got my feet wet with landscape photography and I plan on using it for landscapes, cityscapes, and maybe some architectural photography moving forward.
I'm gonna give my first impressions here and I'll keep updating this Fujifilm XF 10-24mm f/4 R OIS WR review along the way as I use it more and more.
Specs
Focal Length: 10-24mm (15-36mm full-frame equivalent)
Angle of View: 110° to 61.2°
Minimum Aperture: f/22
Maximum Aperture: f/4
Sensor Format: APS-C
Lens Mount: Fujifilm X
Minimum Focus Distance: 9.4 inches / 24 cm
Maximum Magnification: 0.16x
Optical Design: 14 Elements in 10 Groups
Diaphragm Blades: 7 rounded
Image Stabilization: Yes
Filter Thread Size: 72mm
Dimensions: 3.1 x 3.4 inches / 77.6 x 87 mm
Weight: 13.6 ounces / 385 grams
Build Quality
As with Fufjifilm's other higher-end glass, the Fujifilm XF 10-24mm f/4 R OIS WR has a lot of metal in its construction and it feels solid. Its manual focus ring has a pretty nice resistance to it and the aperture ring clicks through its range smoothly. It comes with a petal-shaped lens hood that you can feel lock in securely.
When zooming in and out through the focal range, the front element of the lens does slightly move in and out by a few millimeters but it doesn't actually extend past the lens barrel. This is always nice since you don't have to worry about lens creep or damaging moving parts.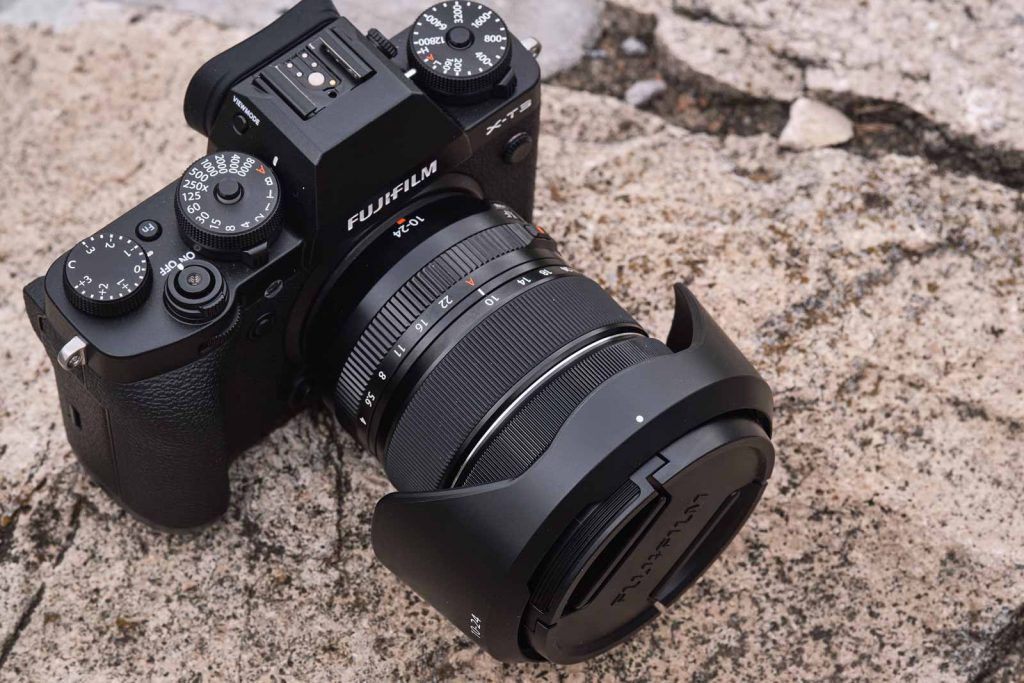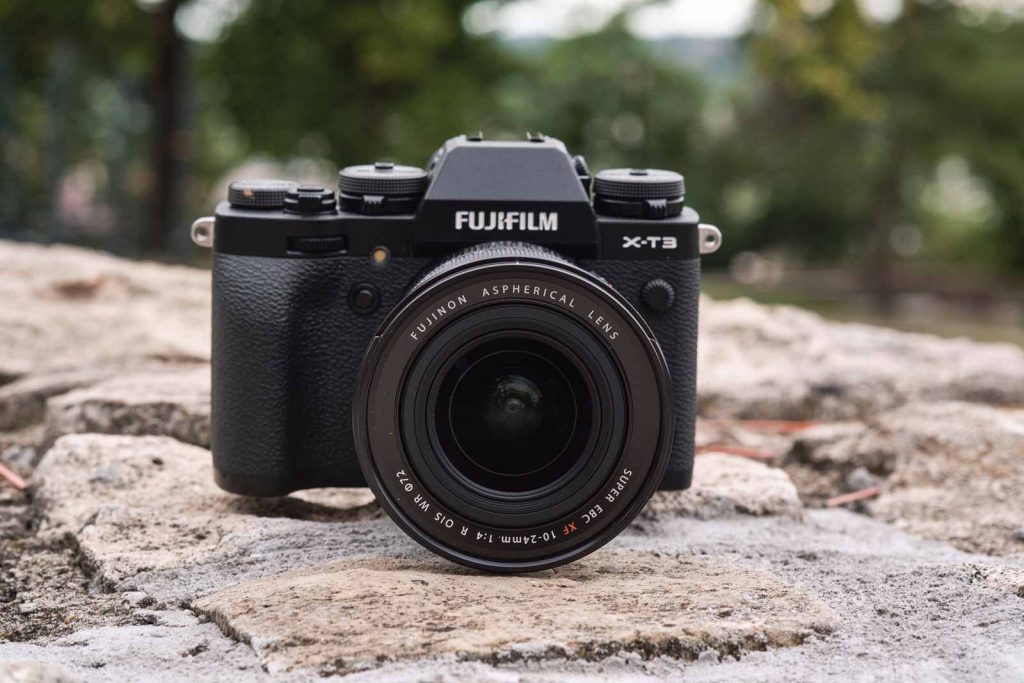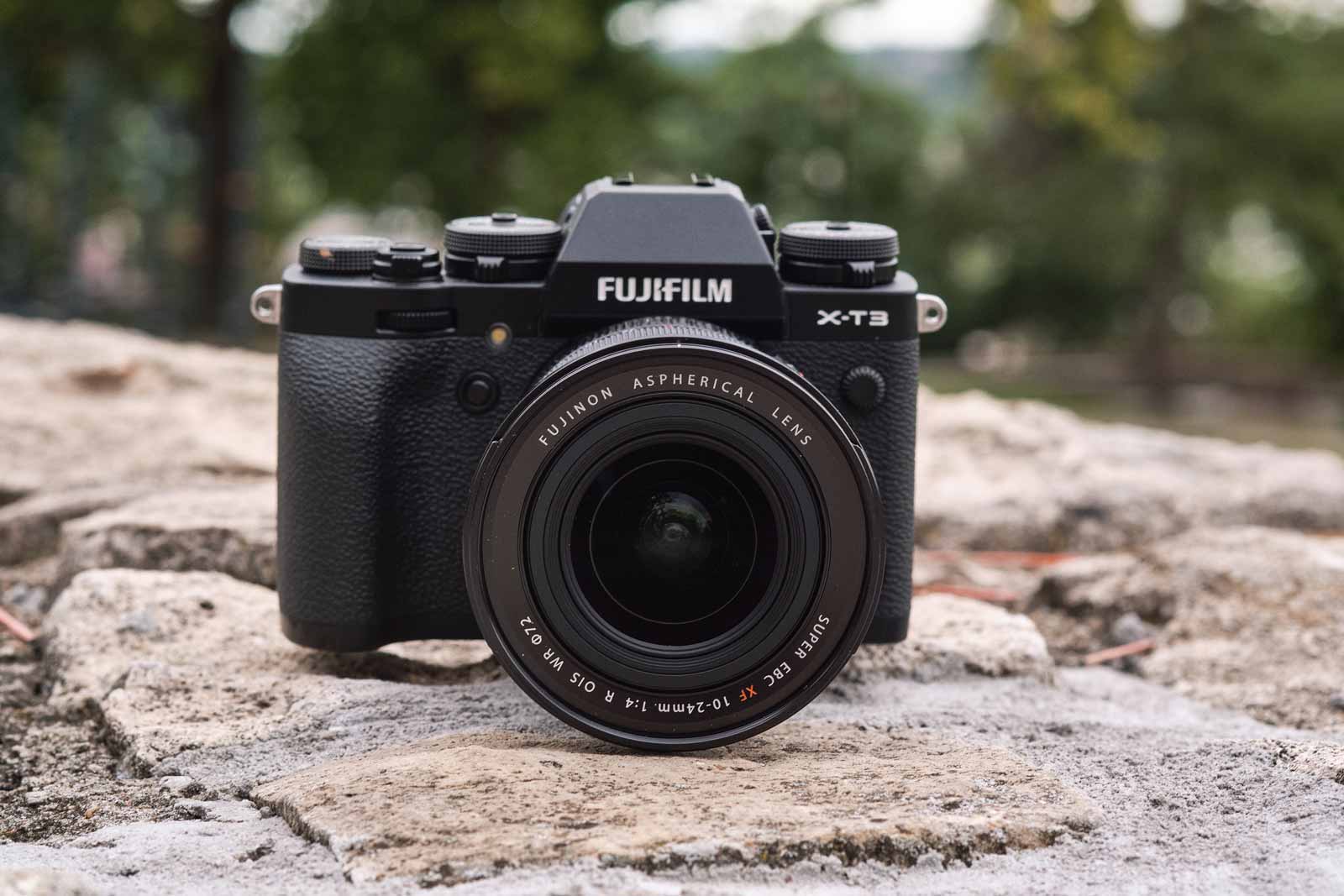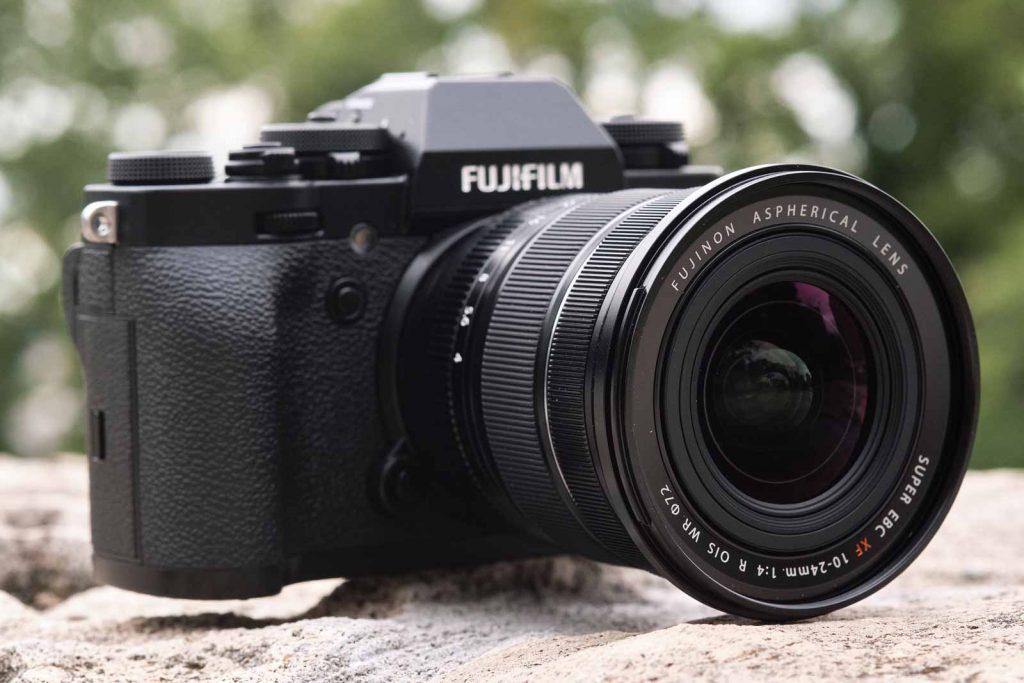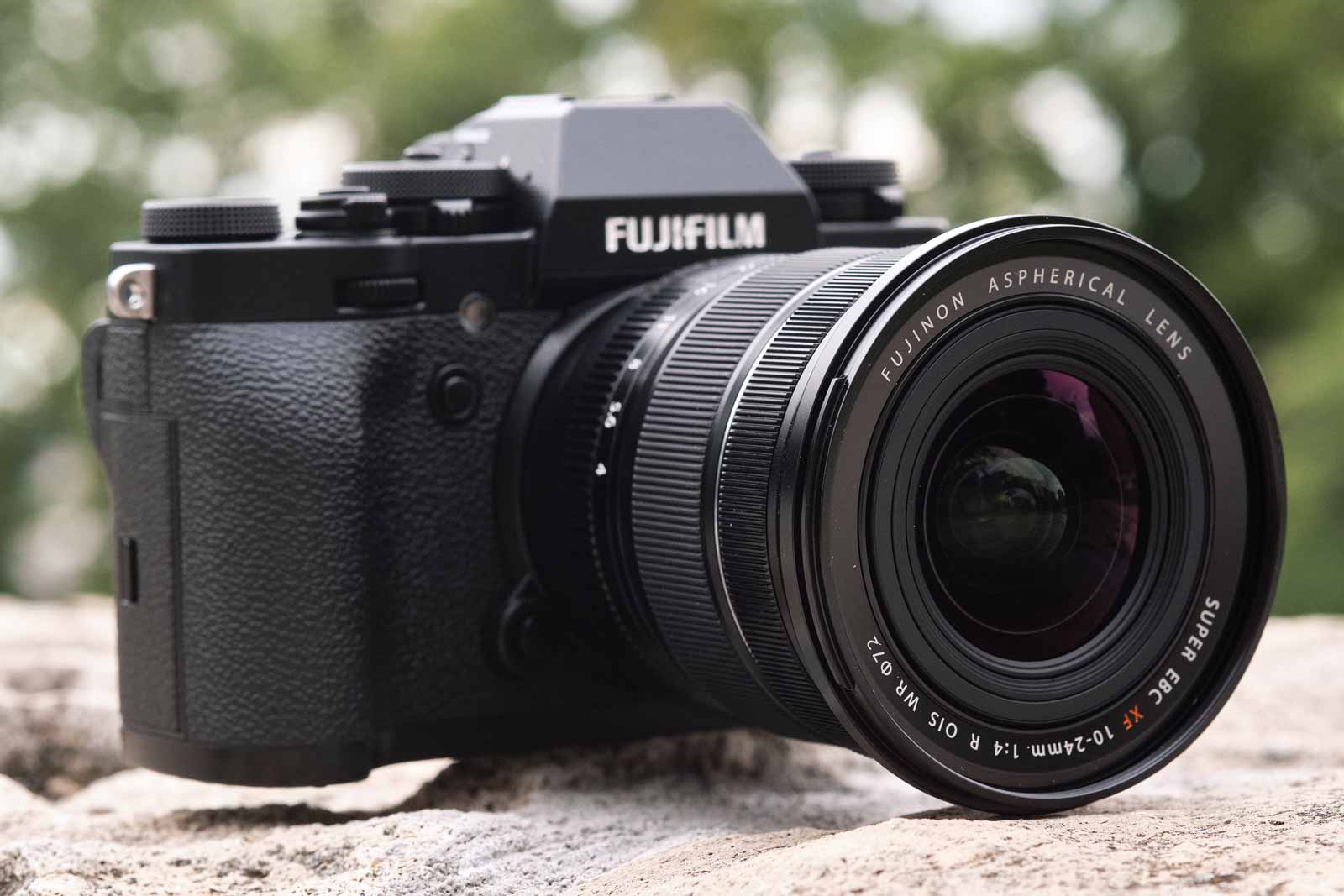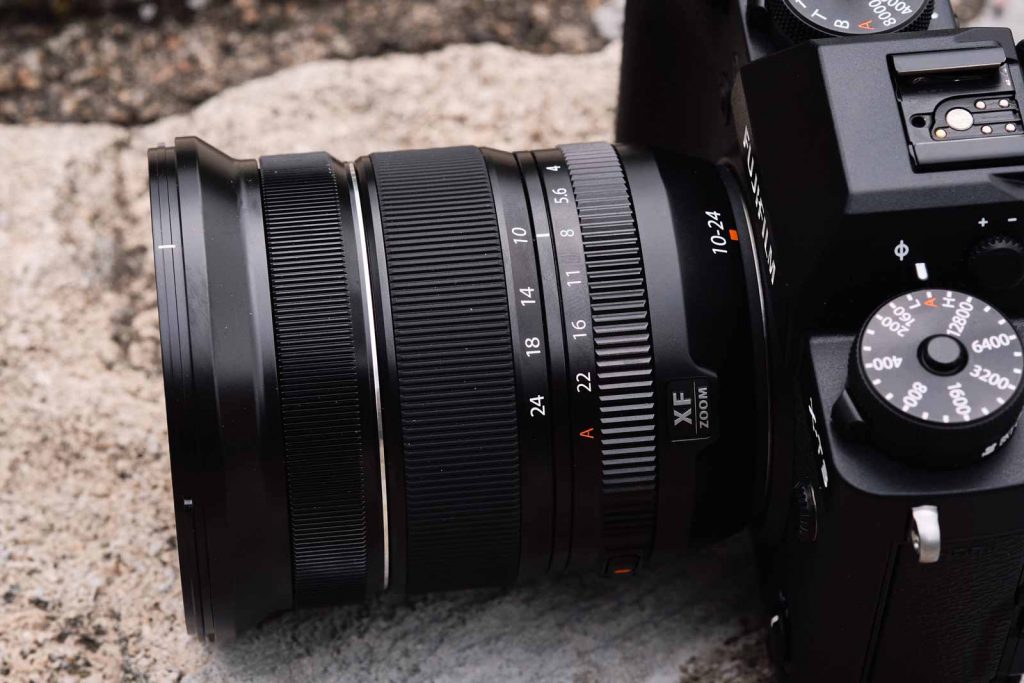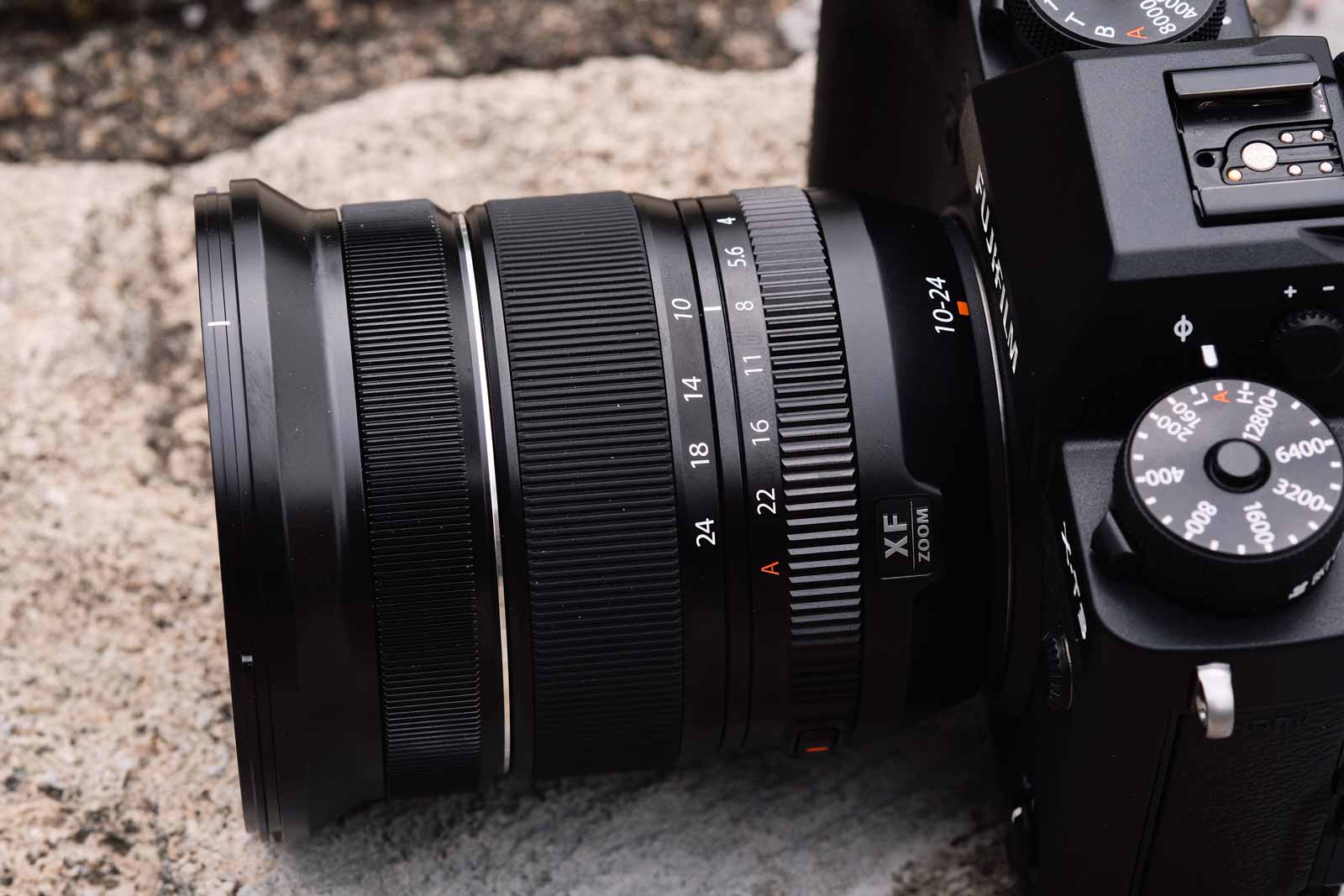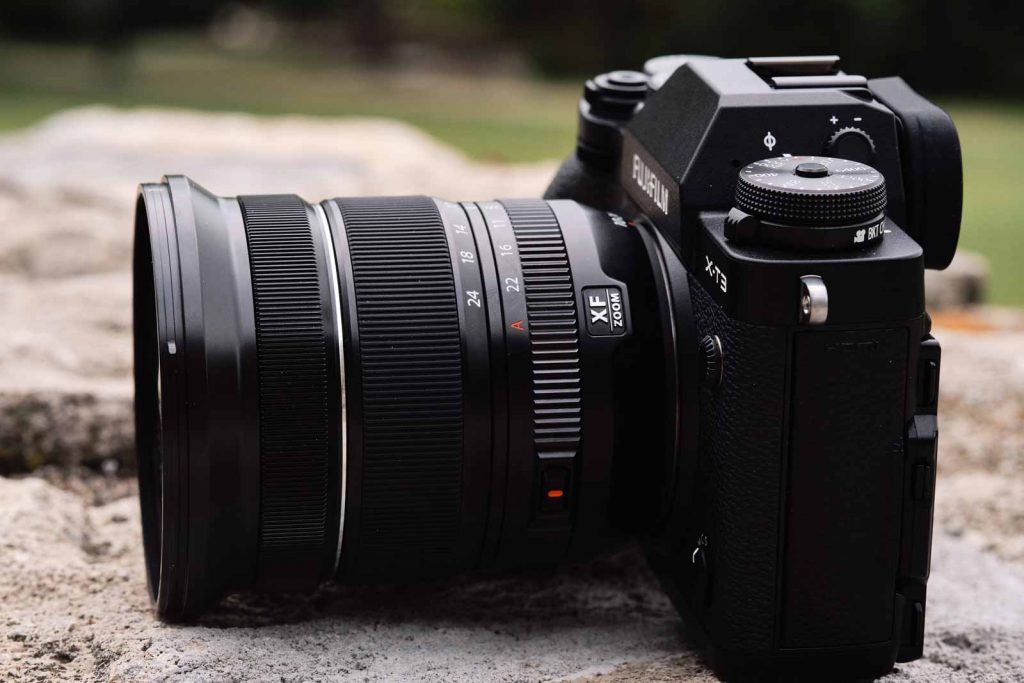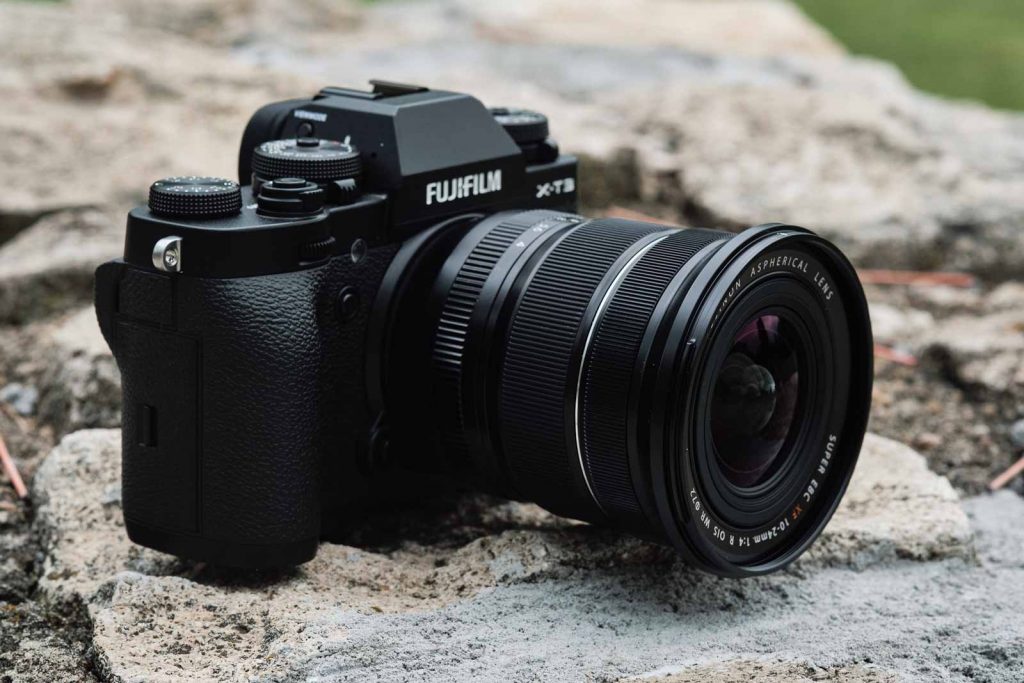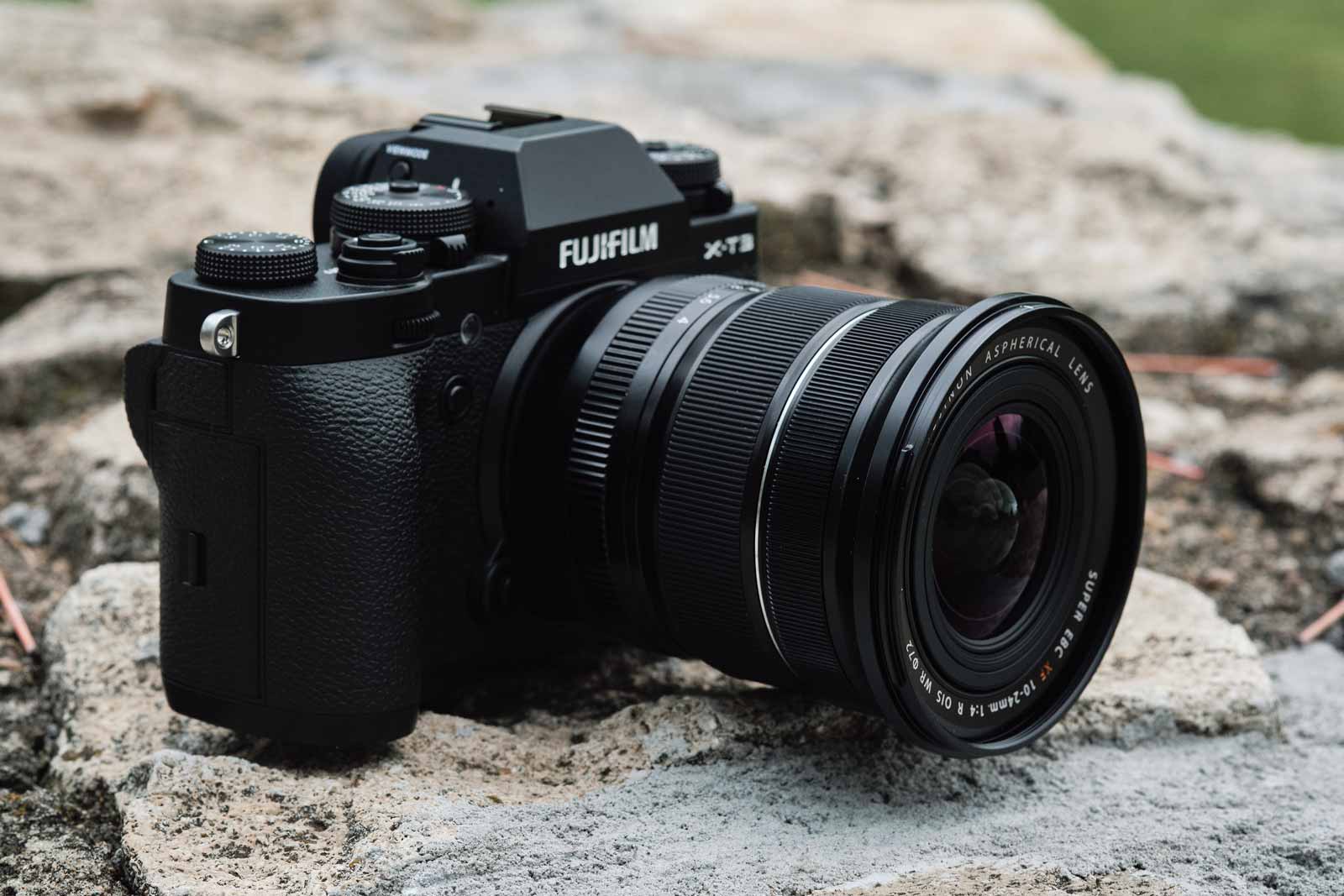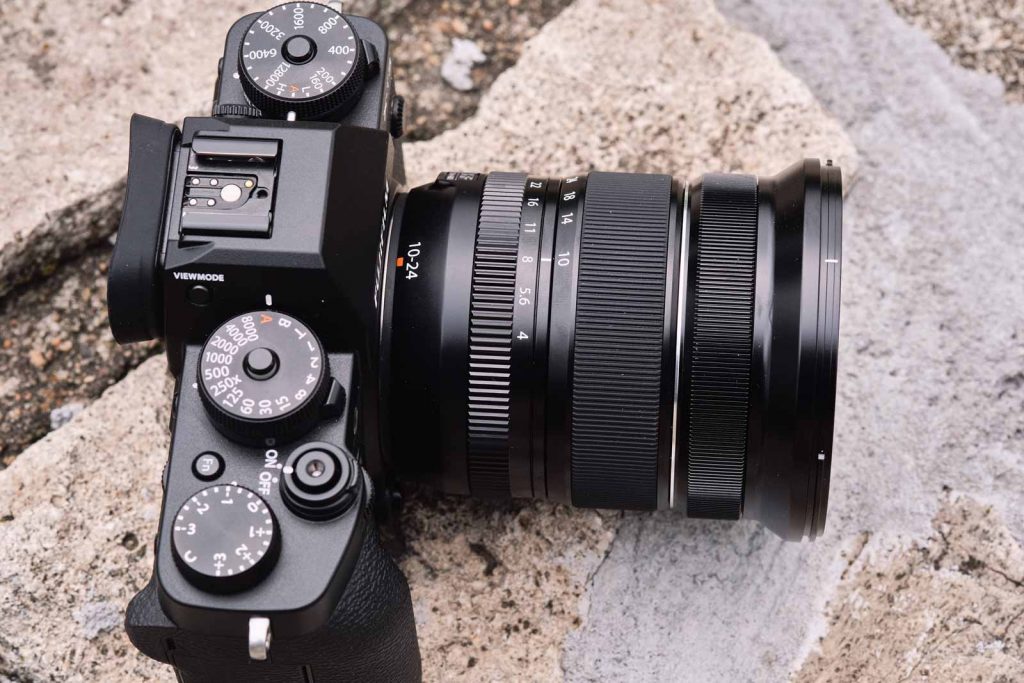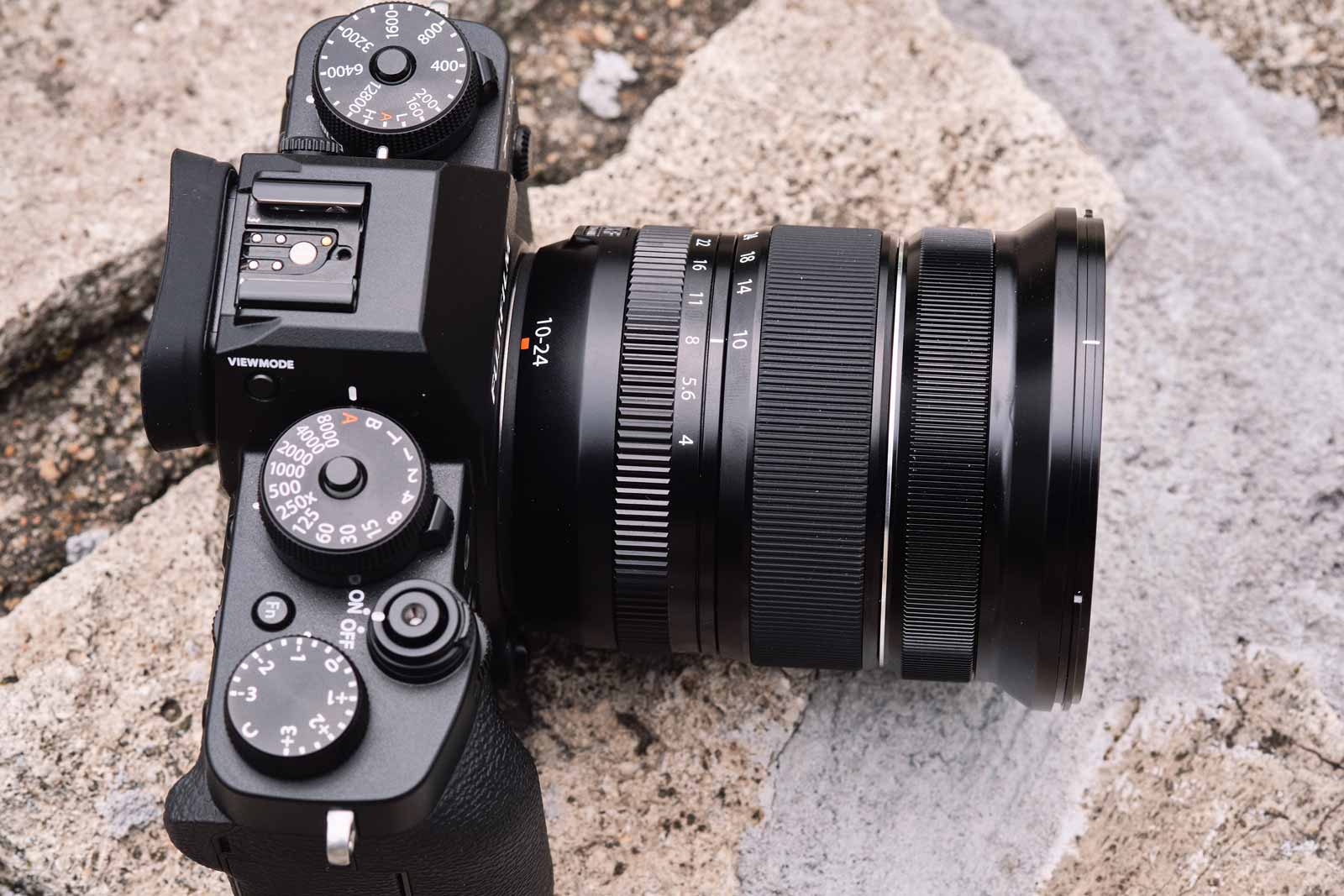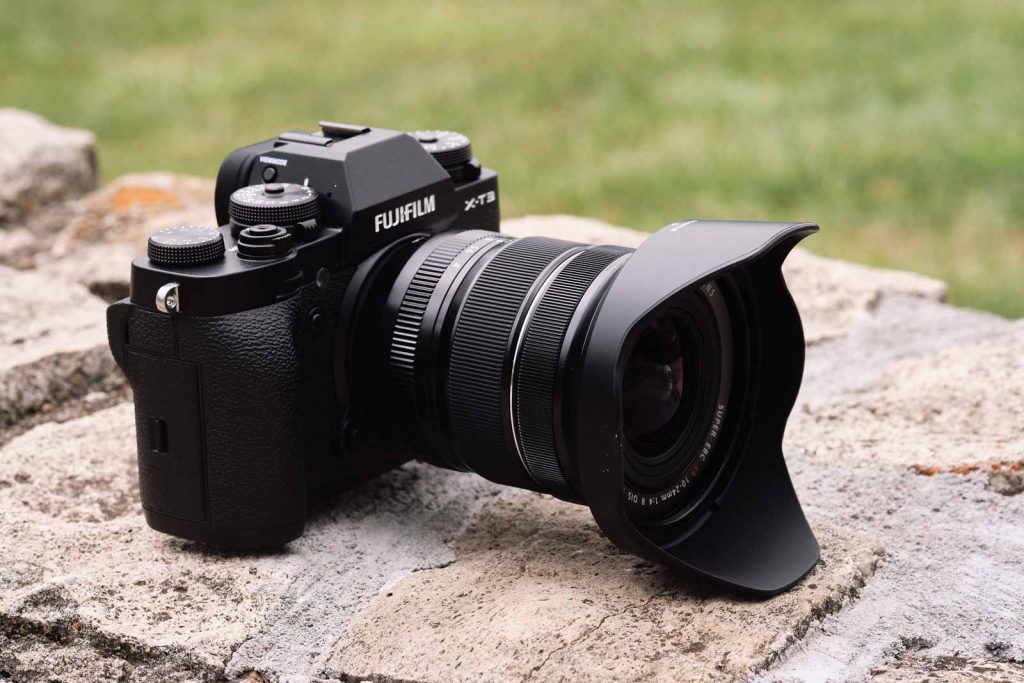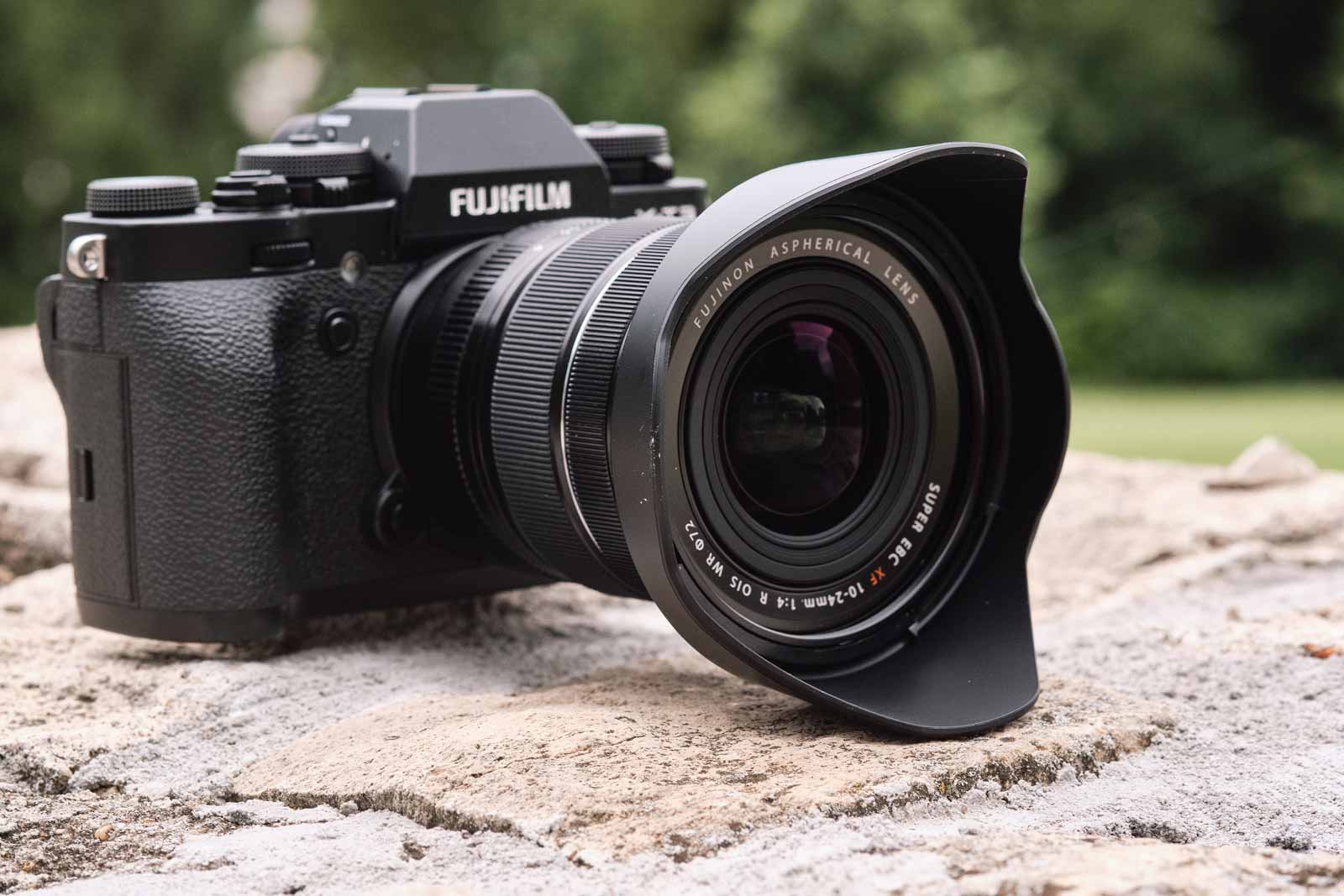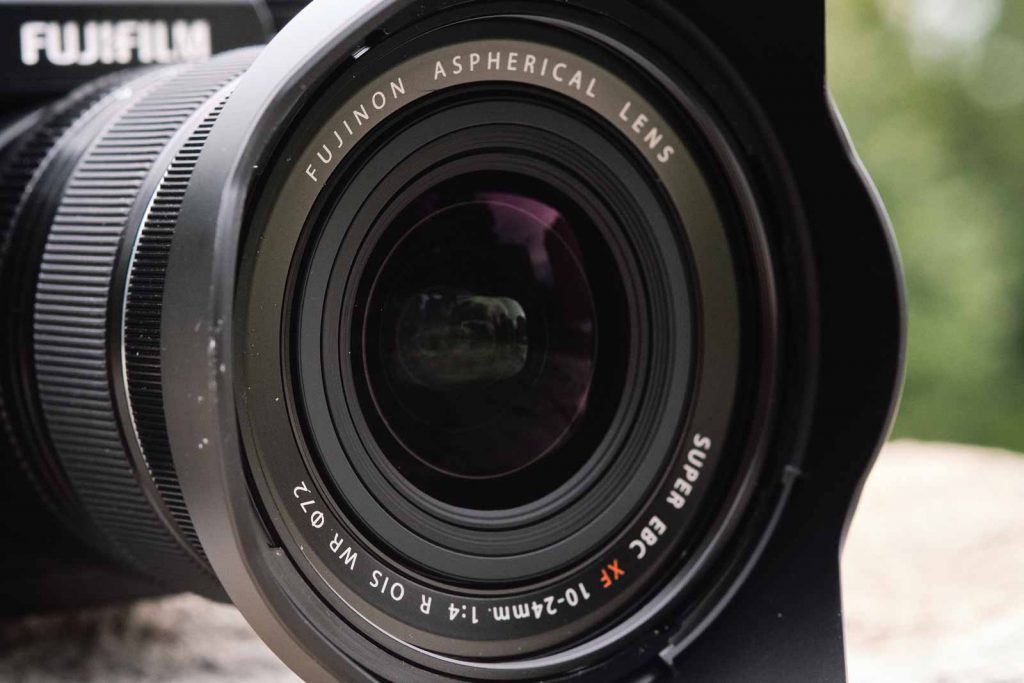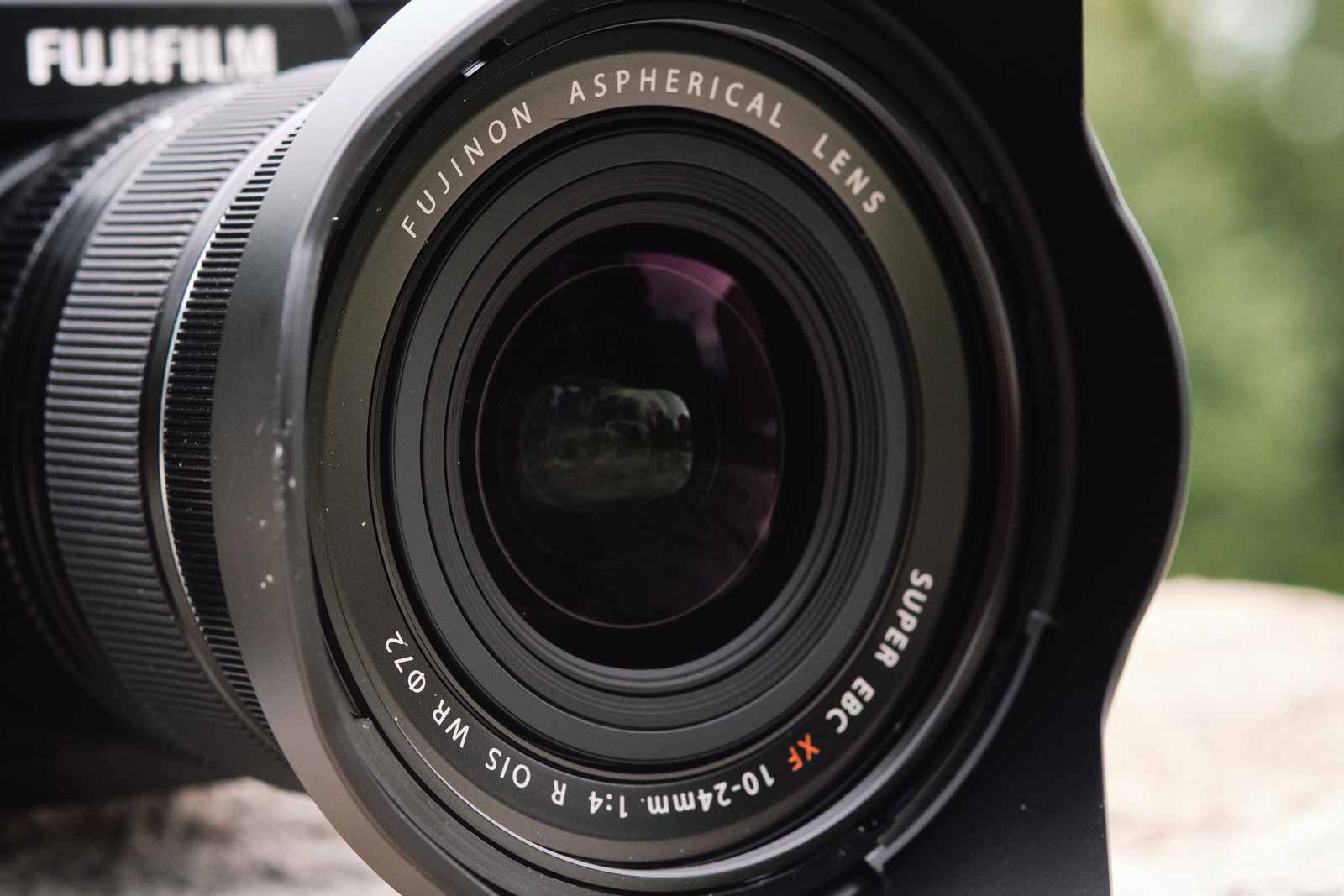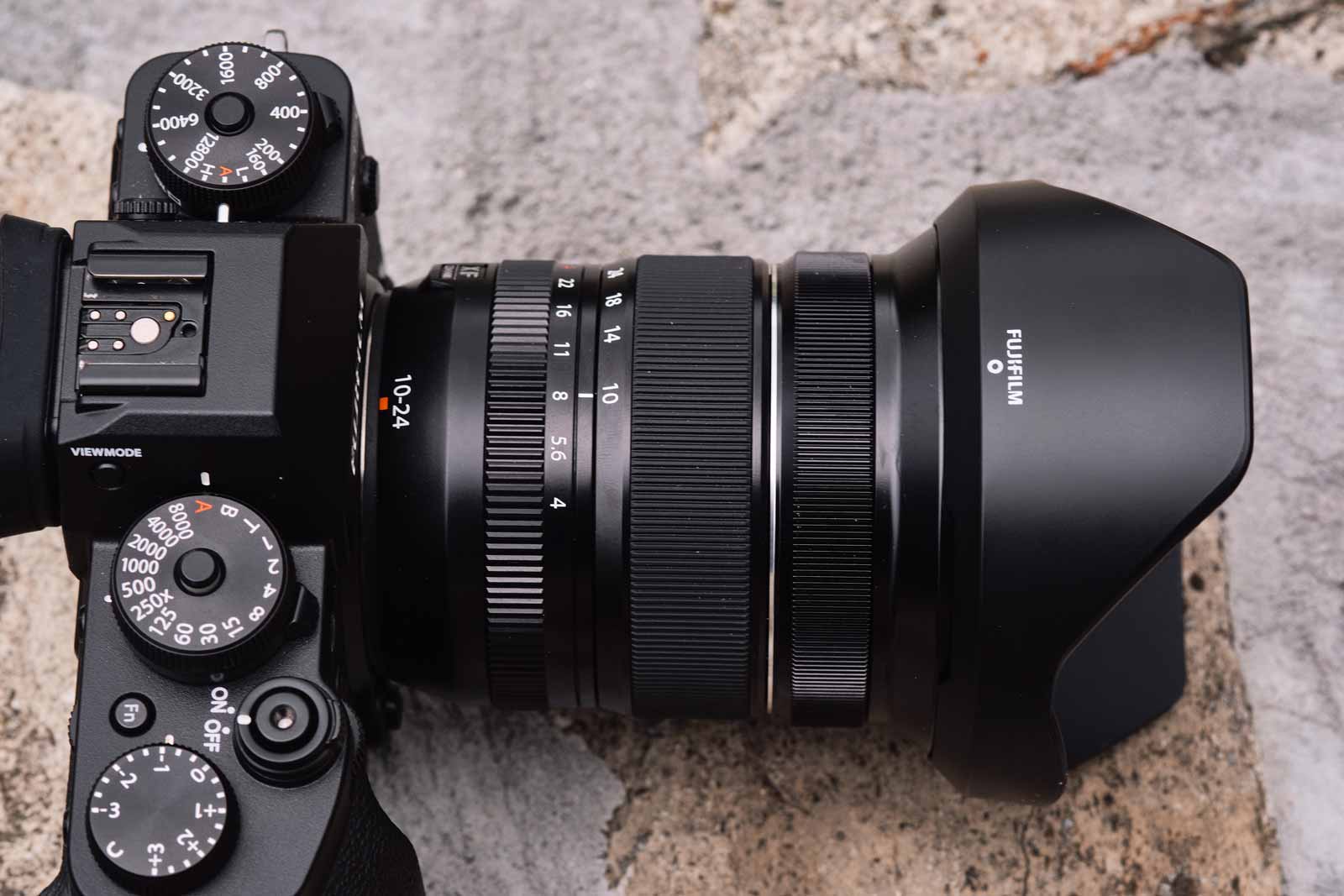 Ergonomics/Handling
The 10-24mm f/4 is big enough to where nothing feels cramped on the lens. Fujifilm had plenty of room to put a nice-sized aperture ring, zoom ring, and manual focus ring. They all have a nice resistance to them and I don't ever find myself accidentally adjusting any of the settings on the lens. If you want to shoot in auto aperture or set your aperture using a camera dial, you have the option of locking the lens to an 'A' position.
Size/Weight
A big part of what makes this lens so appealing is its manageable size and weight. It's only just over three inches long and about the same in diameter. Getting a lens this size to a location or even carrying it around on a camera for a day is not a problem.
There isn't a huge difference between the size of the 10-24mm f/4 and a full-frame equivalent lens, but definitely a noticeable one.
If you compare the weights between this lens and a full-frame equivalent though, there is a pretty big difference. The Fujifilm weighs 385 grams. For comparison, Sony's 12-24mm f/4 G weighs 565 grams. Canon's 14-35mm f/4L weighs 544 grams.
It may not sound like much on paper but when you're carrying it around all day or hiking up in the mountains to scout a landscape photography location, you feel it.
Then there are the full-frame f/2.8 lenses that are more than double the weight of the Fujifilm 10-24mm f/4 R OIS WR. Full-frame image files are great but most people viewing your images wouldn't be able to tell the difference if you put the files side by side and with APS-C you get the benefit of having smaller and lighter cameras and lenses. Not to mention this Fujifilm lens is significantly less expensive than full-frame equivalent lenses.
I think the Fujifilm 10-24mm f/4 balances really nicely on my X-T3. It's less comfortable to use on my X-E4 but definitely still manageable.
Autofocus Performance
The autofocus of the 10-24mm f/4 R OIS WR is surprisingly fast and accurate. I don't really see myself using this lens for any fast action or even photographing many moving subjects with it but it's always nice for a lens to lock onto your focus point quickly without any hunting.
Image Quality/Sharpness
The 10-24mm f/4 R OIS WR is very sharp, particularly at the wide end. As you get further out to the 24mm end of the lens, sharpness starts to decrease. It would be nice if it maintained the same sharpness throughout the entire zoom range but it's not a big concern in my opinion because it's not really noticeable unless you're pixel peeping. The majority of people who appreciate your work aren't going to have microscopes out to inspect your photos anyway (or so I'd hope).
I have to assume that Fujifilm engineers prioritized the wide end of the 10-24mm for sharpness, which is smart because that's what most photographers are buying it for. On a related note, most photographers want a lens like this for things like landscapes with a deep depth of field with everything in the frame in focus. So with that in mind, the fact that the maximum aperture only opens to f/4 is not a concern because it cuts down on the size and weight of the lens and you're going to be shooting stopped down to around f/8-f/11 for more depth of field anyway.
Speaking of stopping down, the sweet spot for sharpness of this lens is probably f/5.6. I like shooting it at f/8-f/11 though for deeper depth of field and sharper corners. If you go smaller than f/11, your image quality degrades from diffraction.
As far as distortion goes, you do get quite a bit at the wide end but I think both Lightroom and Capture One do a good job of correcting for it. Same thing goes for vignetting — there is some (as you're going to get with basically any wide-angle lens) but it's easily corrected in post.
The aspherical elements in the lens do a good job of dealing with ghosting and flare.
Pros
Good image quality
Compact size for its focal range
Low weight for its focal range
Very wide angle for epic-looking landscapes and other shots
Fast and accurate autofocus
Solid build quality
Weather resistance means you don't have to baby it and can use it in inclement weather conditions
You can easily use filters with it
Cons
Soft in the corners near the 24mm end
The f/4 maximum aperture may be a negative for some photographers (this is not a problem for me as it keeps the size and weight down and I want everything in focus when shooting with it so I shoot at smaller apertures anyway)
Frequently Asked Questions
Does the Fujifilm XF 10-24mm f/4 R OIS WR have an OIS on/off switch on the lens?
No, the lens does not have an on/off switch for OIS. You can enable/disable it through your camera's menu and you can assign this to a function button if you want.
Where is the Fujifilm XF 10-24mm f/4 R OIS WR manufactured?
The Fujifilm XF 10-24mm f/4 R OIS WR is manufactured in the Phillippines.
What's the difference between the Fujifilm XF 10-24mm f/4 R OIS WR and the previous version?
The Fujifilm XF 10-24mm f/4 R OIS WR has weather sealing, a slightly lower weight, and markings have been added to the aperture ring. The optics of the lens design haven't changed so the image quality is going to be the same as the previous version released in 2013.
Fujifilm XF 10-24mm f/4 R OIS WR Sample Images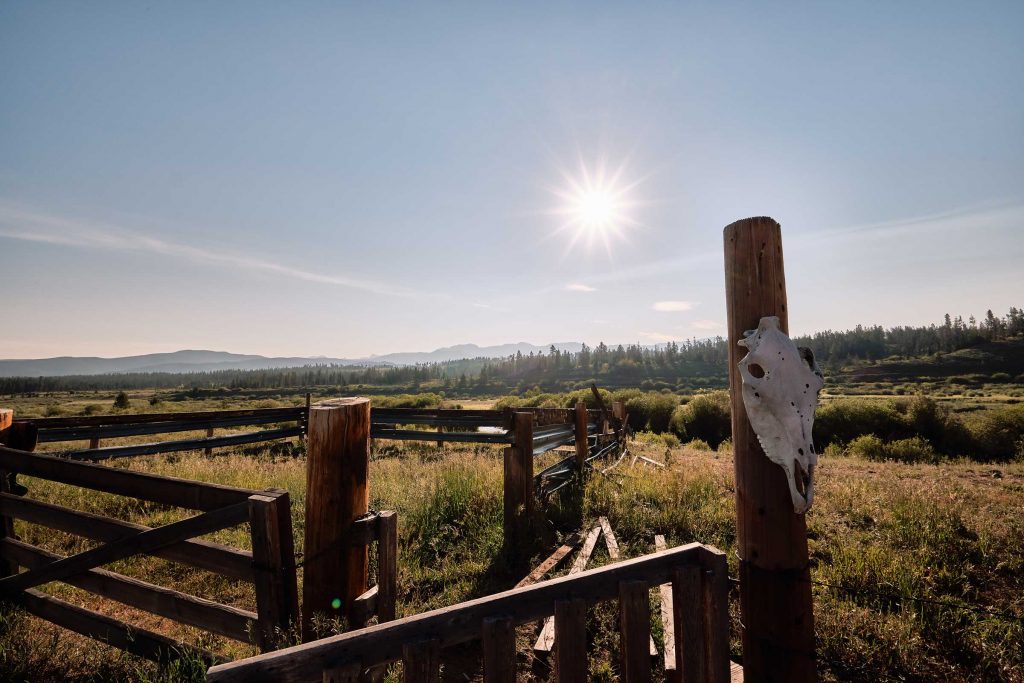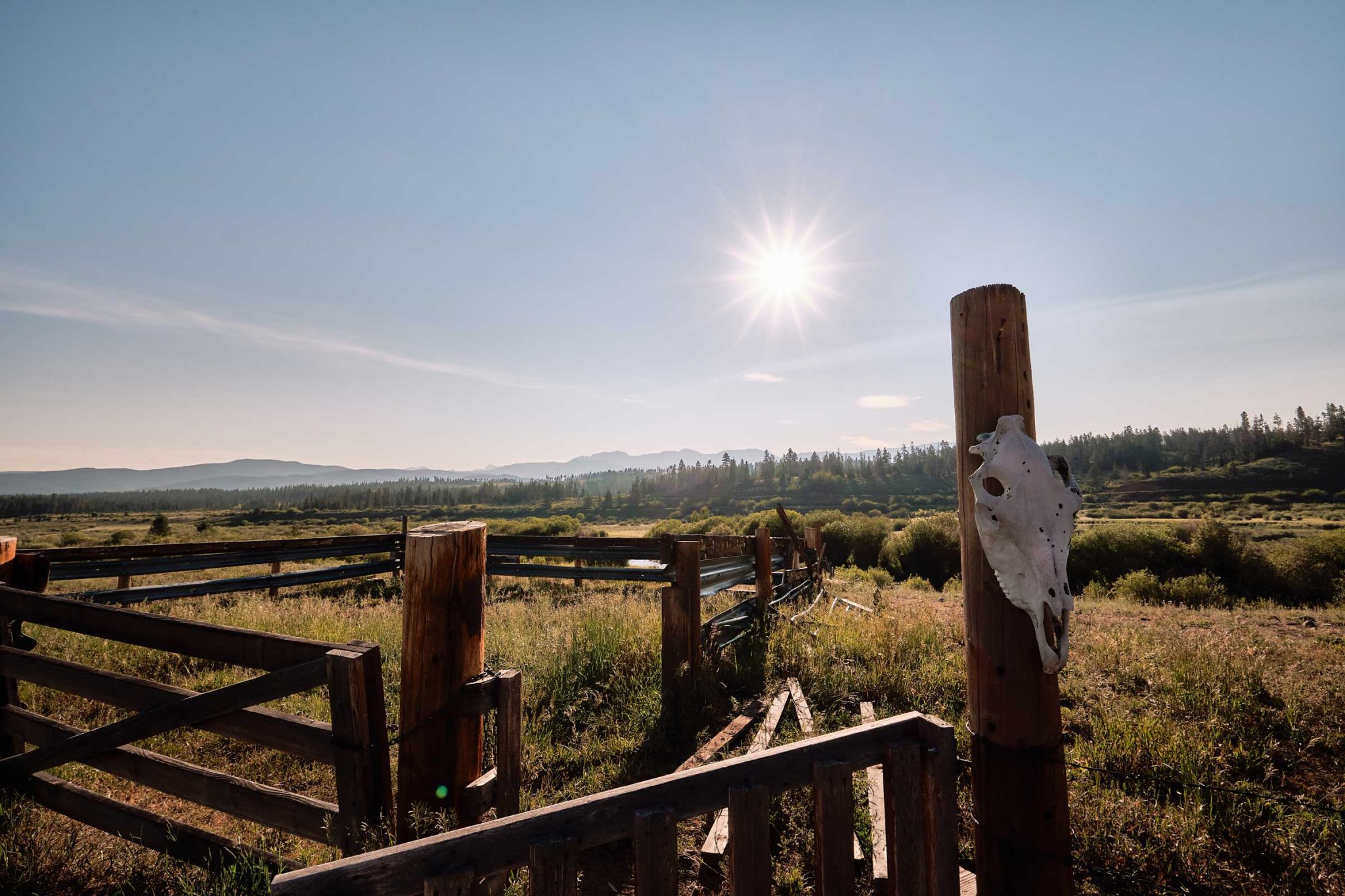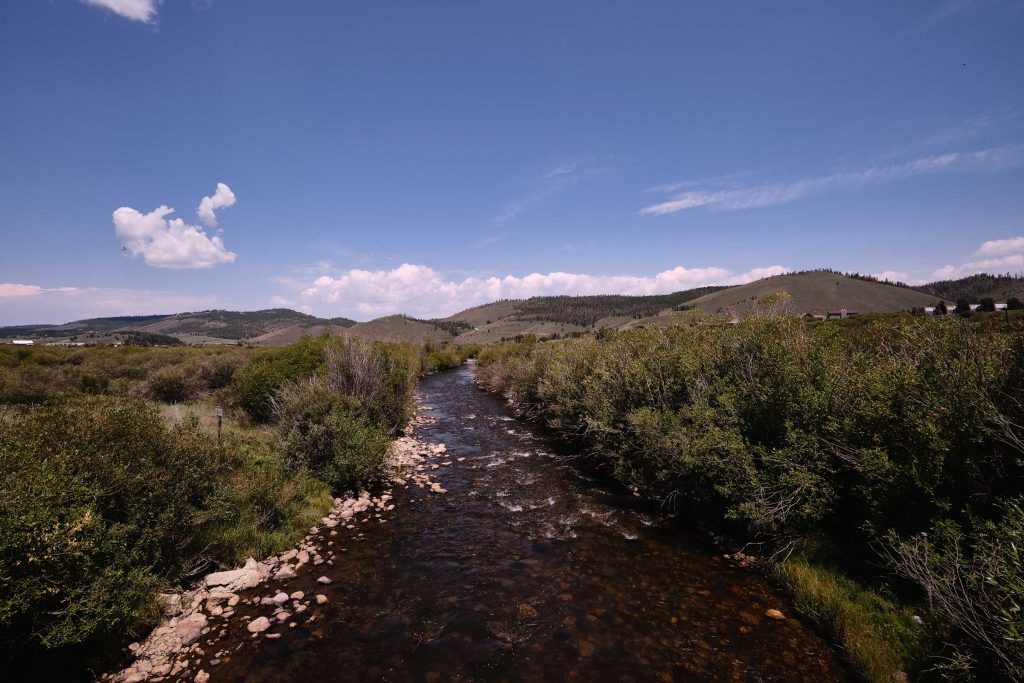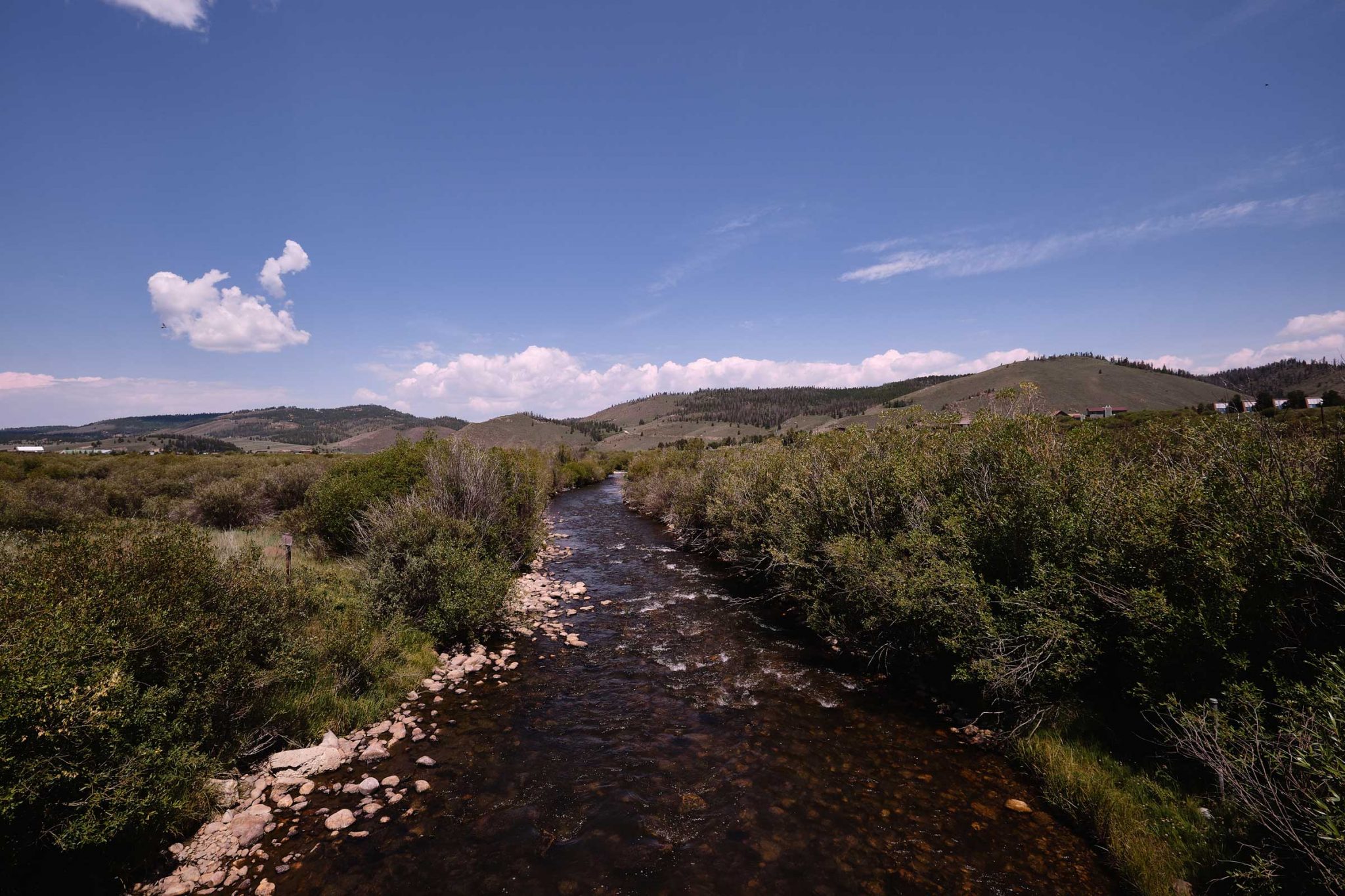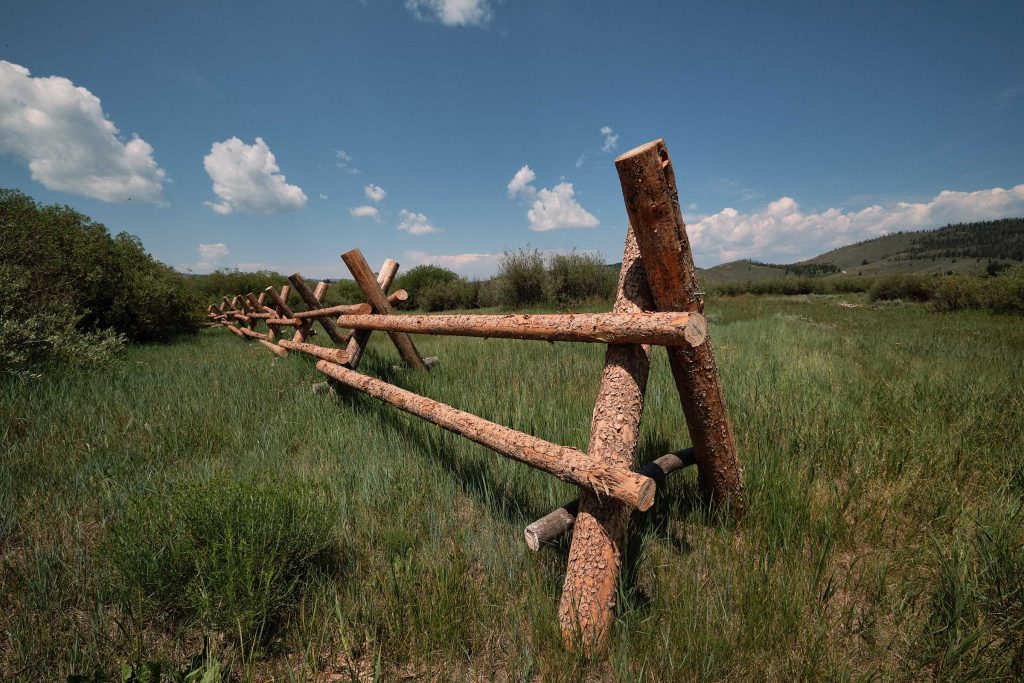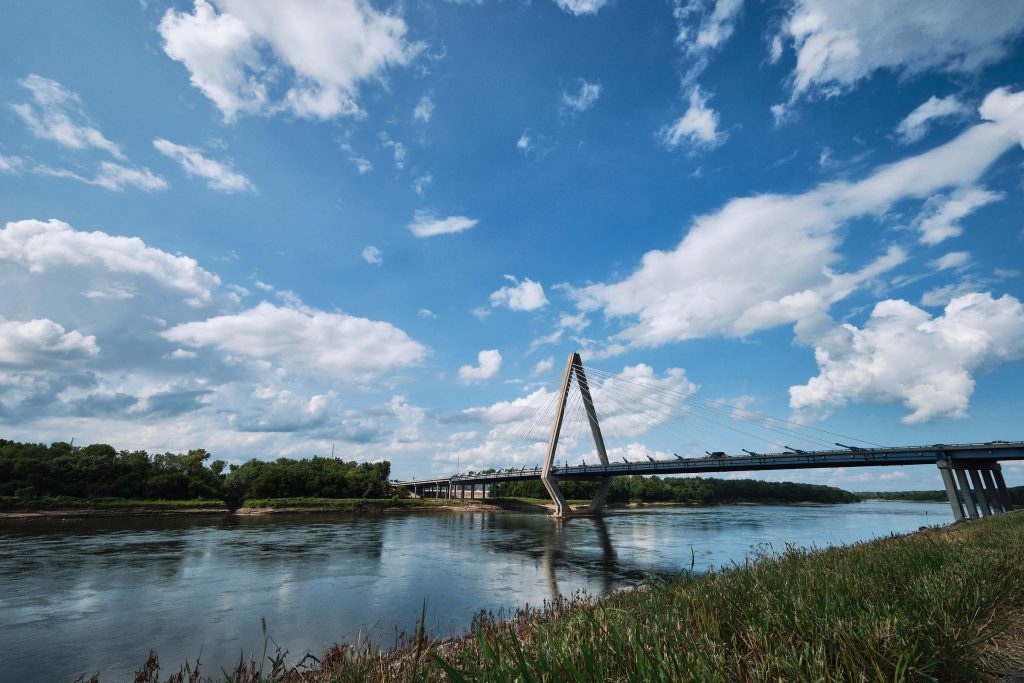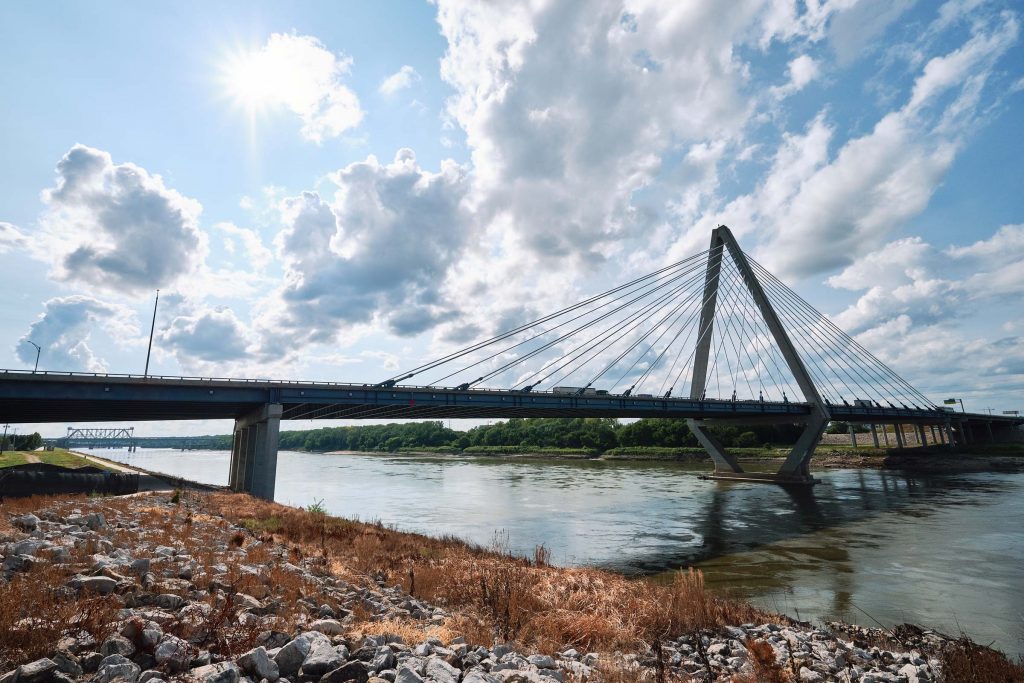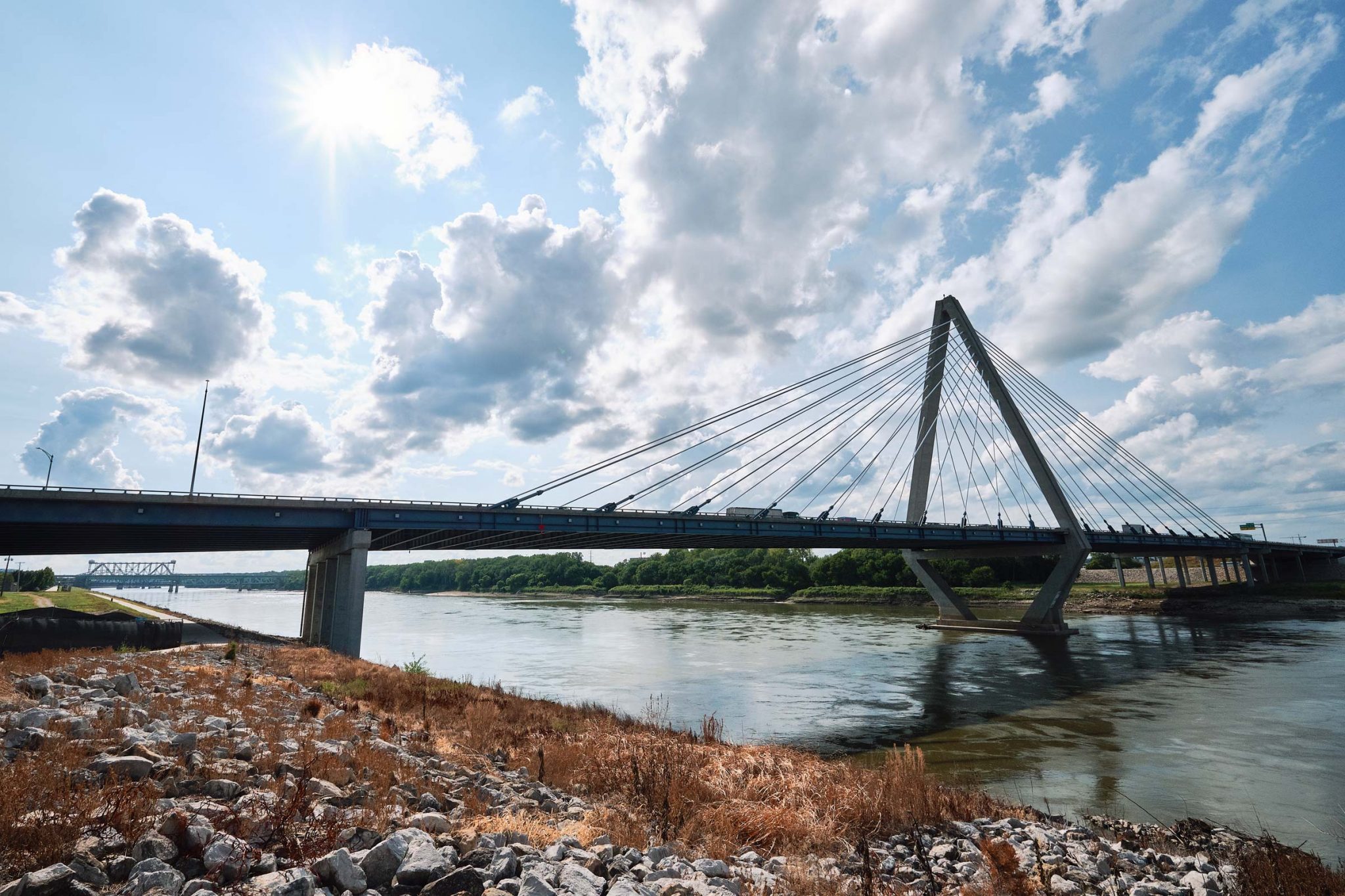 Verdict
The Fujifilm XF 10-24mm f/4 R OIS WR is a great lens and I've really enjoyed shooting with it. Aside from some corner softness at the 24mm end, it's very sharp, and makes beautiful, contrasty photos with pleasing colors.
A big selling point for it is that as a lens for APS-C cameras, it's small and light enough that it doesn't take up much space in a bag and it's not a drag to carry it around. Part of the reason Fujifilm was able to do that is by making the maximum aperture f/4, which is perfectly fine since you don't buy this lens for shallow depth of field and bokeh.
Lastly, it's really nice that Fujifilm came out with an updated version of this lens with weather resistance, especially considering it's the type of lens that's gonna be out in the elements for landscape photography and whatnot.
If you shoot with Fujifilm cameras and need a wide-angle lens, I don't think you'll be disappointed with it. If you need a more budget option, the old version of the lens is selling used for almost half the price, so that may be worth considering as well.
I hope you got something out of this Fujifilm XF 10-24mm f/4 R OIS WR review. Happy shooting.
More Fujifilm Lens Reviews:
Fujifilm Camera Reviews: