Fujifilm XF 55-200mm f/3.5-4.8 R LM OIS Review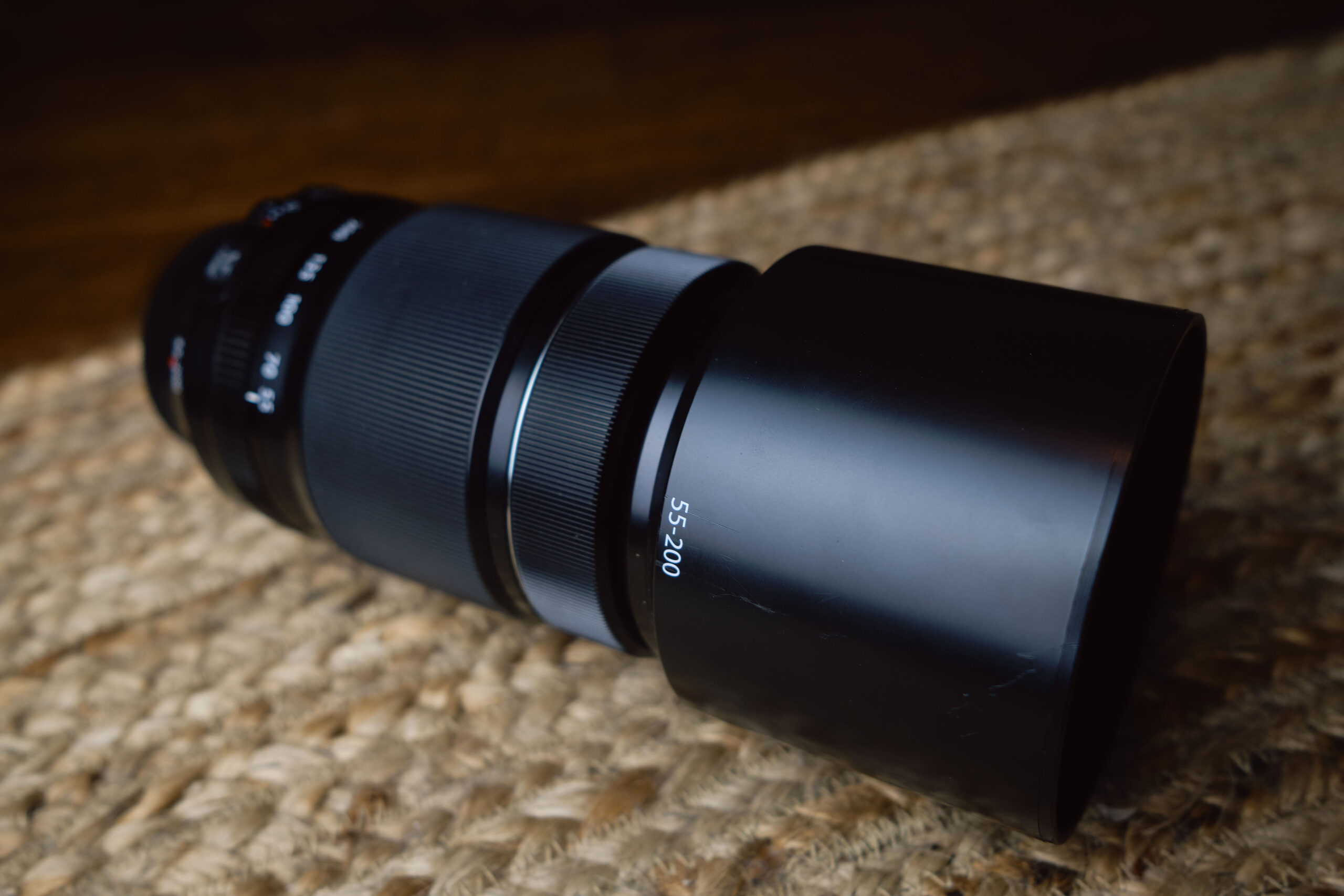 I bought the Fujifilm XF 55-200mm f/3.5-4.8 R LM OIS for those times in landscape photography when you're far away from the focal point of your scene and you need the extra reach to frame things the way you want.
Landscape photography is not a big priority for me (my big passion is street photography), but for the times that I do go out for a landscape photography session, I wanted to have my focal lengths covered.
When most people think of landscape photography, it's more likely to conjure images of wide, sweeping vistas shot with a wide-angle lens. But there are many times that a telephoto zoom lens is appropriate/necessary in landscape photography. There are many occasions when doing landscape work that requires extra reach so that you can focus in on a part of your composition and eliminate anything that you think would detract from the image.
If that's the kind of thing you're looking for, this lens does a good job for that role. A big part of its appeal is that it's relatively small and lightweight for its focal range. An equivalent full-frame lens would be much bigger and heavier, which can really weigh you down if you're out hiking or carrying gear for a long period of time.
Tradeoffs do come with those advantages: I'd say its image quality is good, but not great. It is very solid considering its focal range though. For most purposes, the 55-200 is plenty sharp and I go into more detail in this Fujifilm XF 55-200mm f/3.5-4.8 R LM OIS review.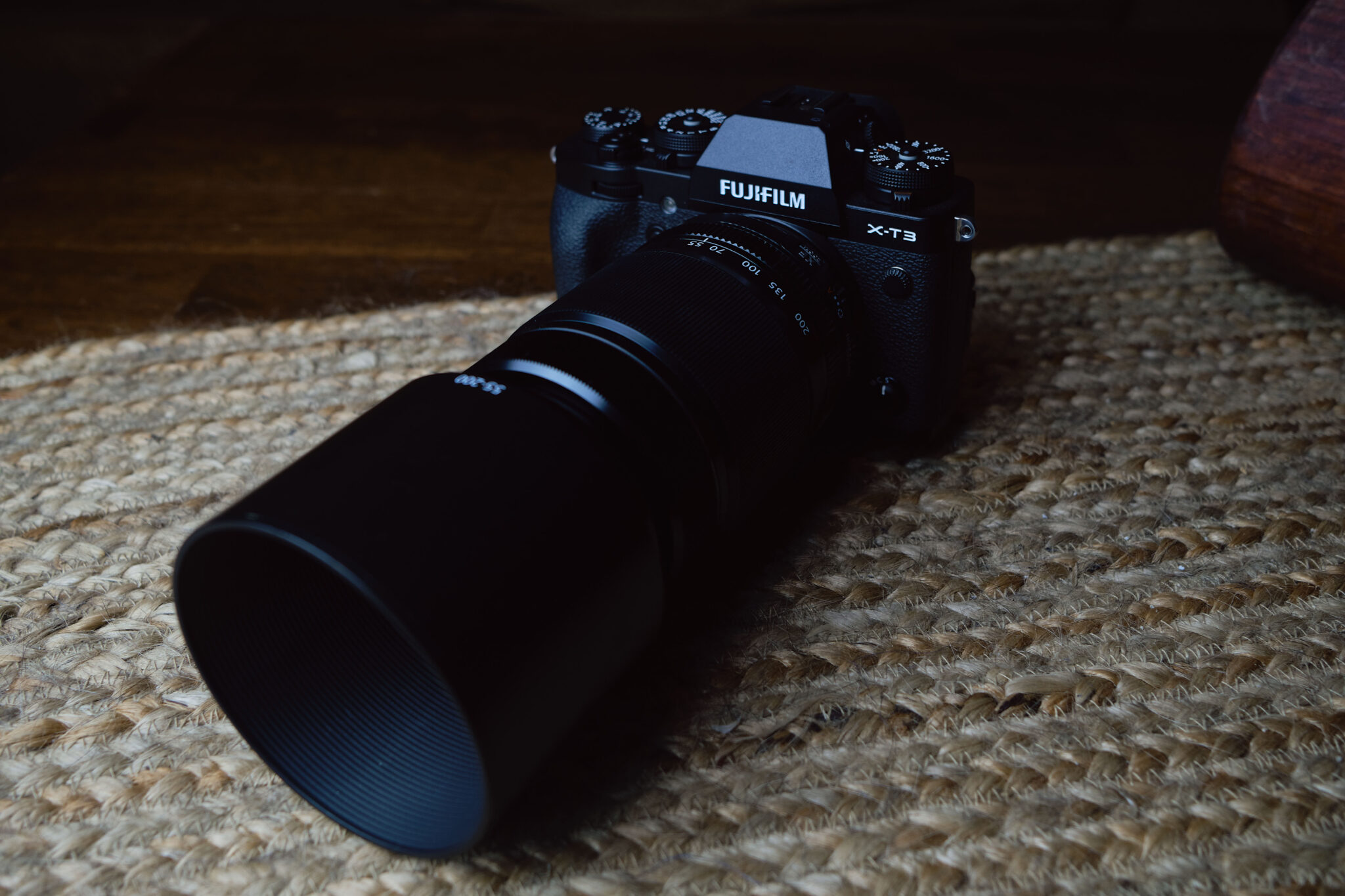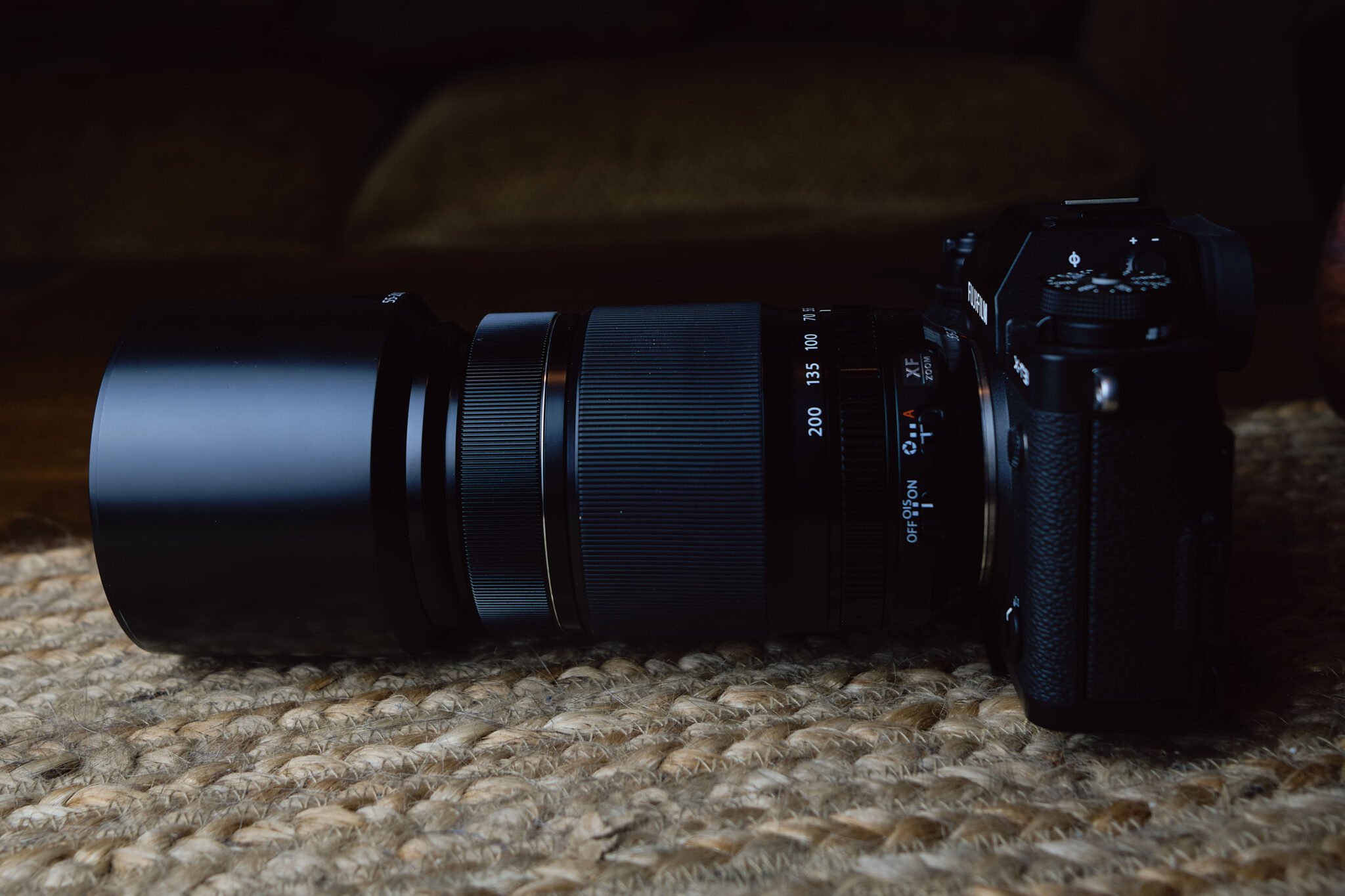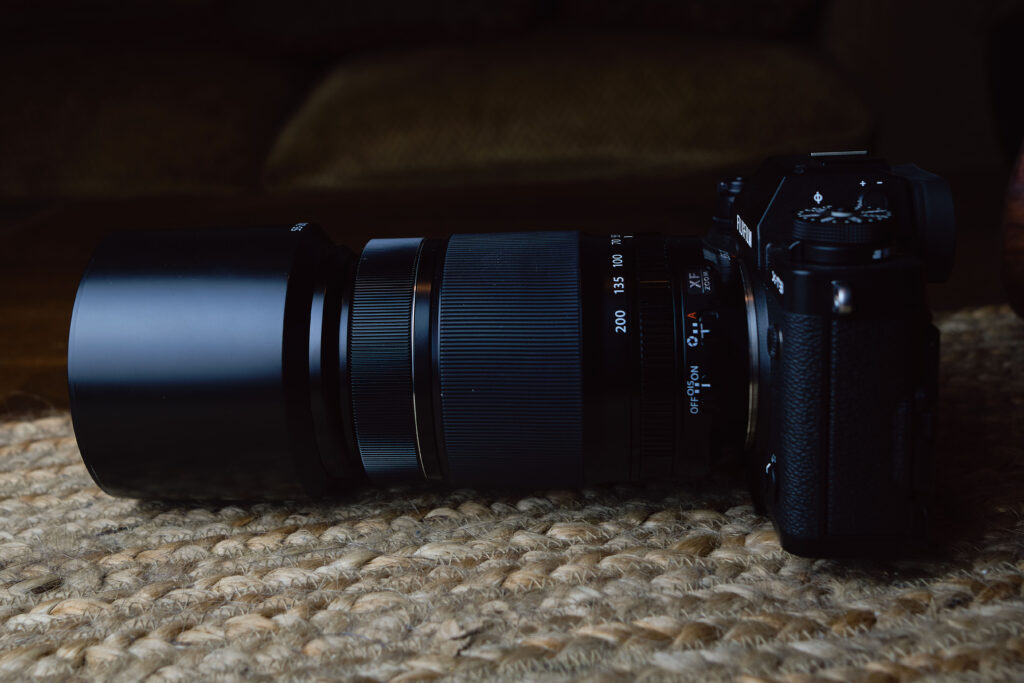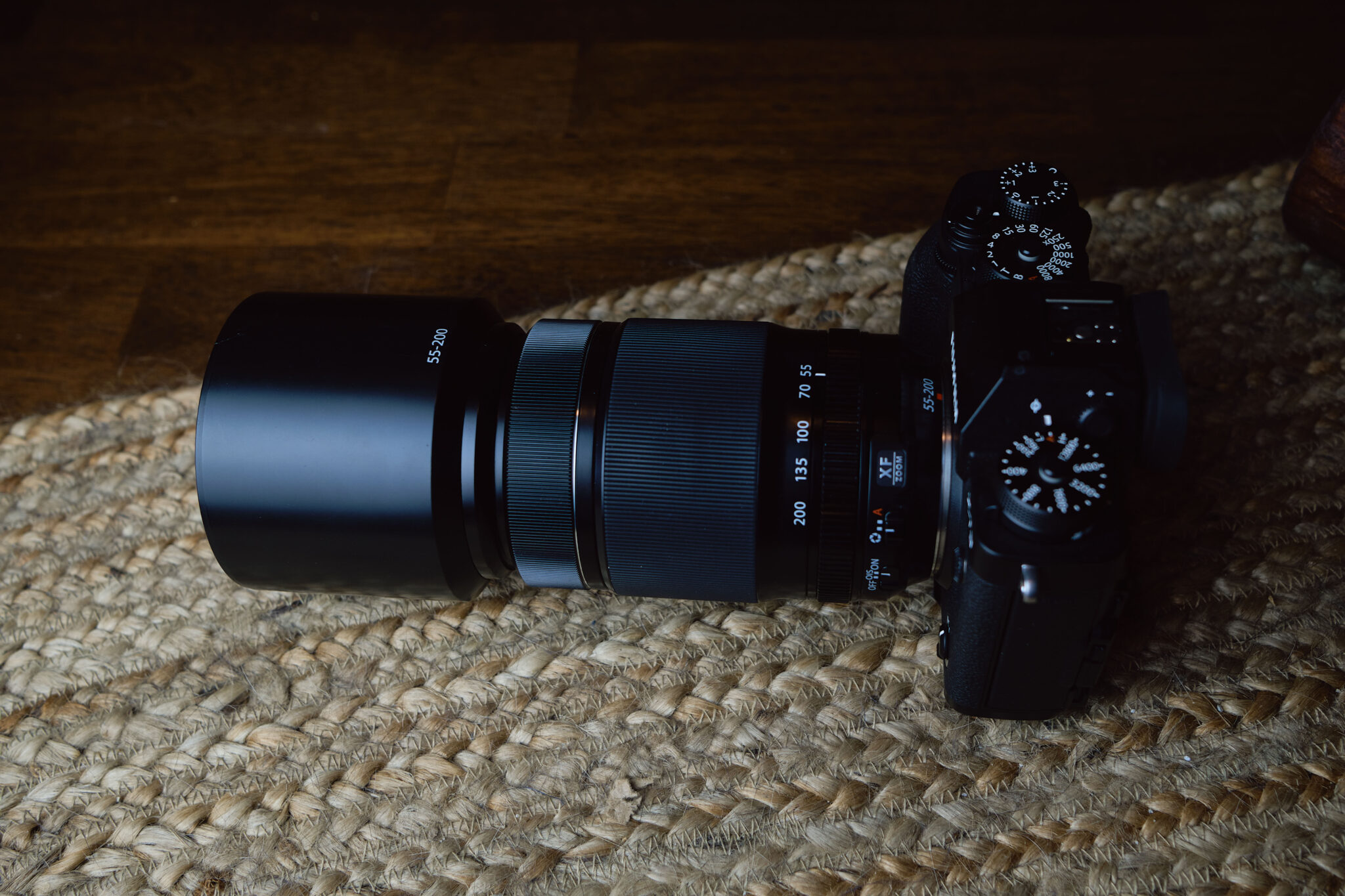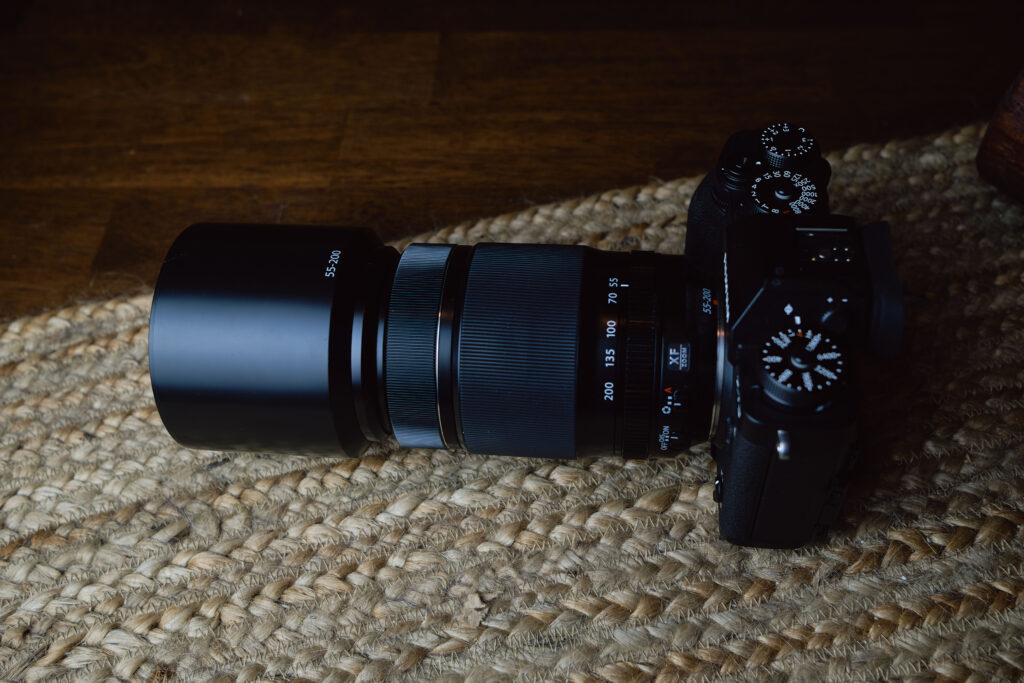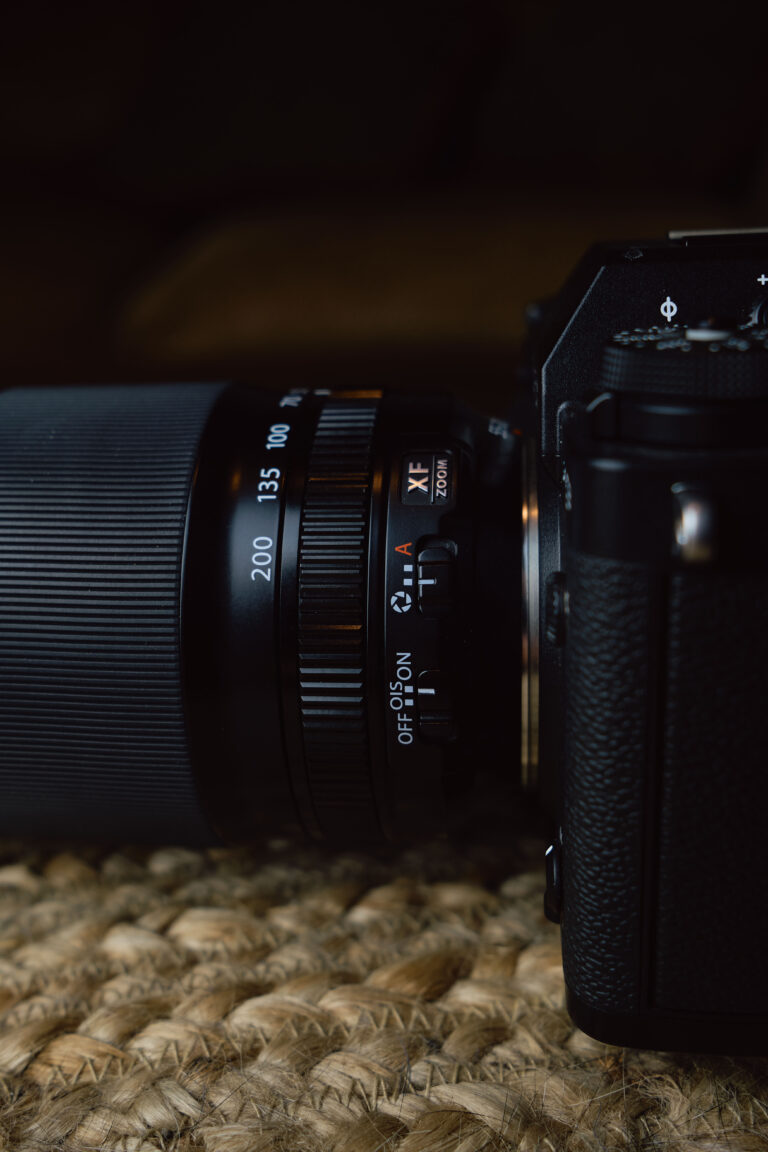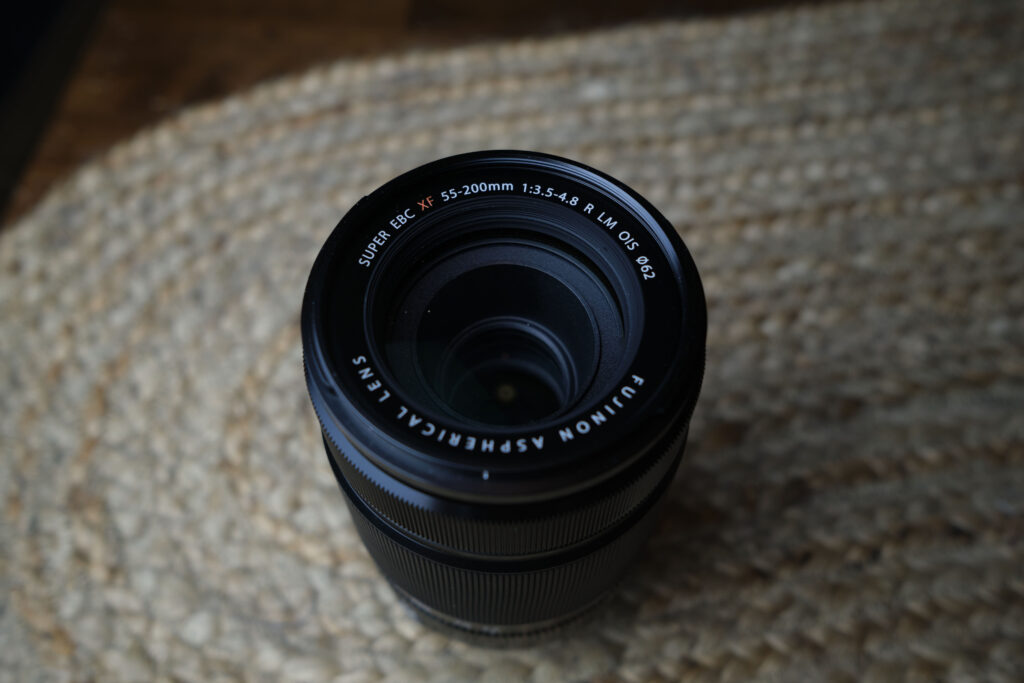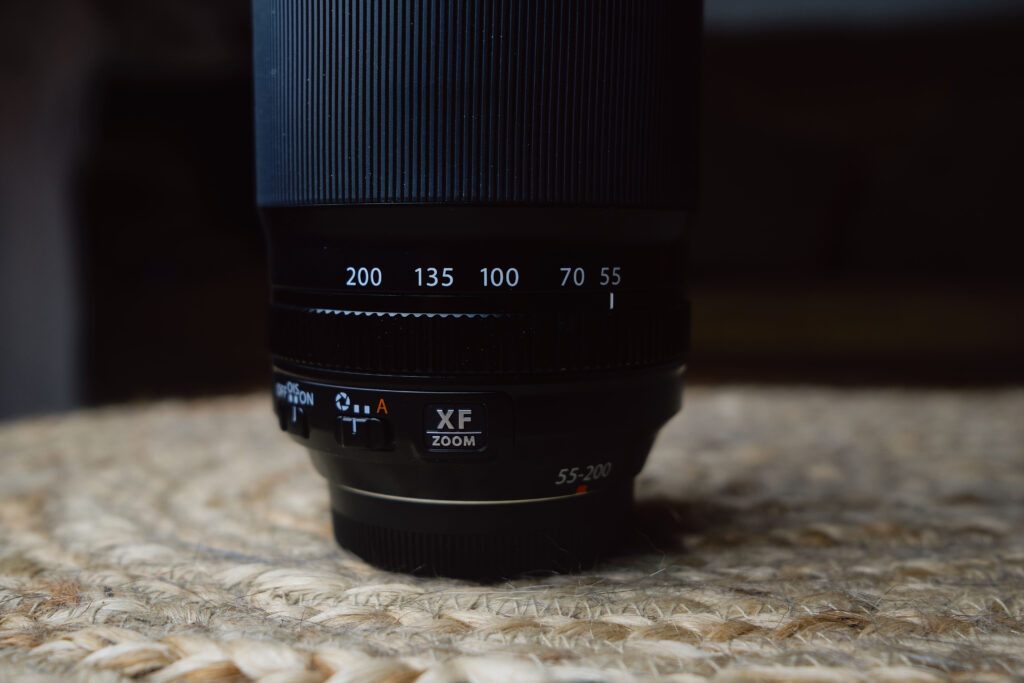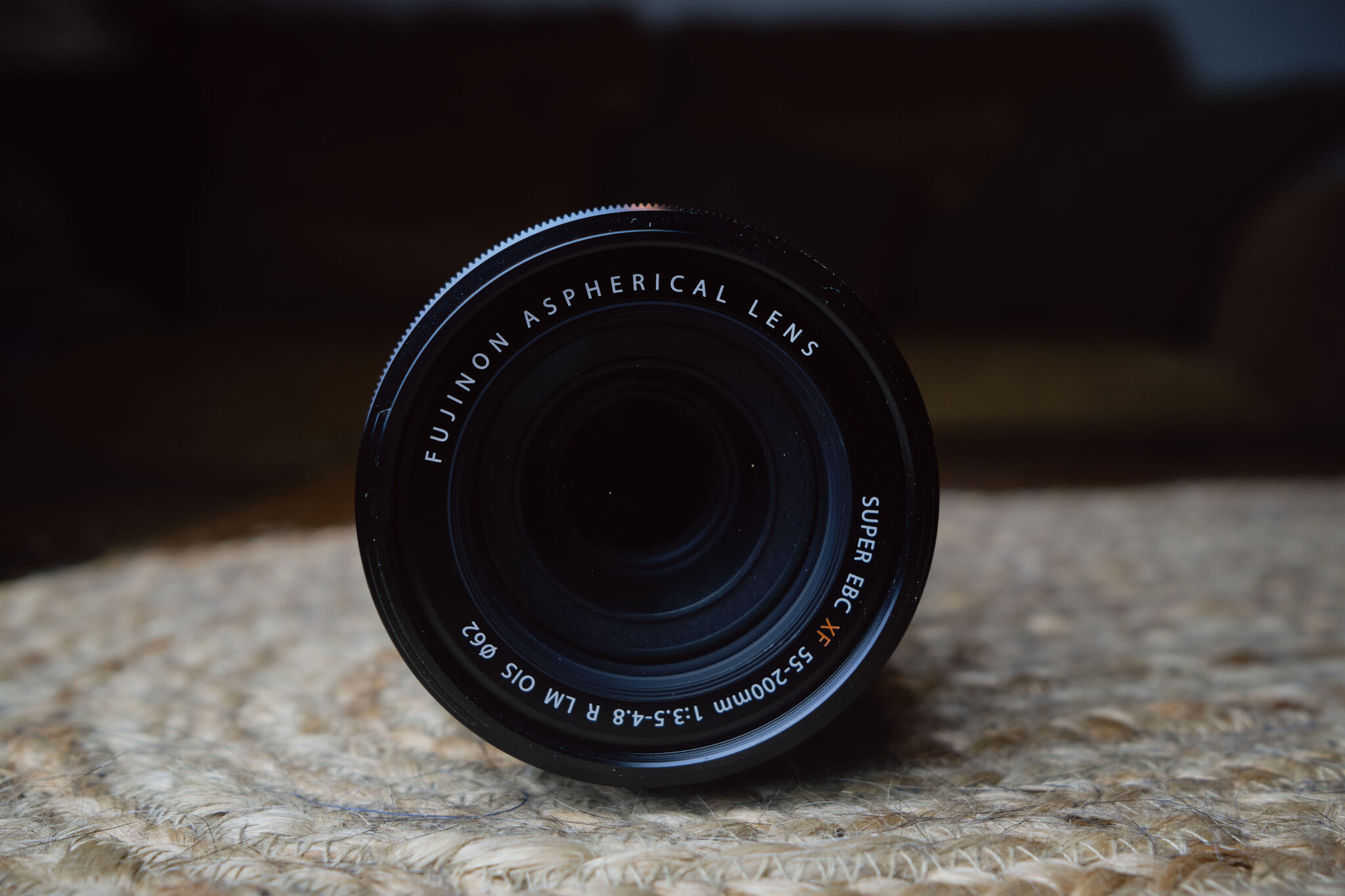 Specs
Focal Length: 55-200mm (84-305mm full-frame-equivalent)
Angle of View: 29° to 8.1°
Aperture Blades: 7 rounded
Maximum Aperture: f/3.5-4.8
Minimum Aperture: f/22
Closest Focus Distance: 3.61 feet / 1.1 meter
Magnification: 0.18x
Format: APS-C
Lens Design: 14 Elements in 10 Groups
Physical Dimensions: 2.95 x 4.65 inches / 75 x 118 mm
Extended Length: 6.95 inches / 176.6 mm
Weight: 20.46 ounces / 580 grams
Image Quality/Sharpness
The image quality of the Fujifilm XF 55-200mm f/3.5-4.8 R LM OIS is pretty good for such an affordable zoom lens. The lens is generally very sharp throughout the focal range.
There is some light falloff in the corners, but that's easily fixable in post.
Because of the relatively small maximum aperture, you may be forced to shoot at higher ISOs in dark settings, although the optical image stabilization makes up for that to some degree.
I wasn't expecting great bokeh out of this lens but it looks pretty nice in my opinion and I was pleasantly surprised.
Chromatic aberration seems to be very controlled in this lens.
Size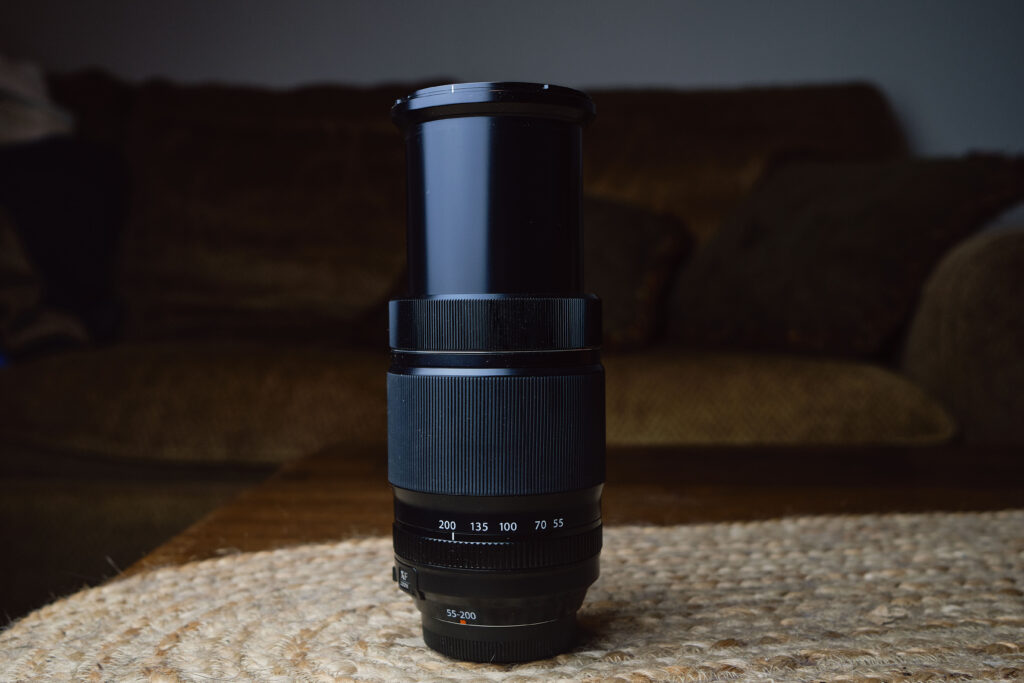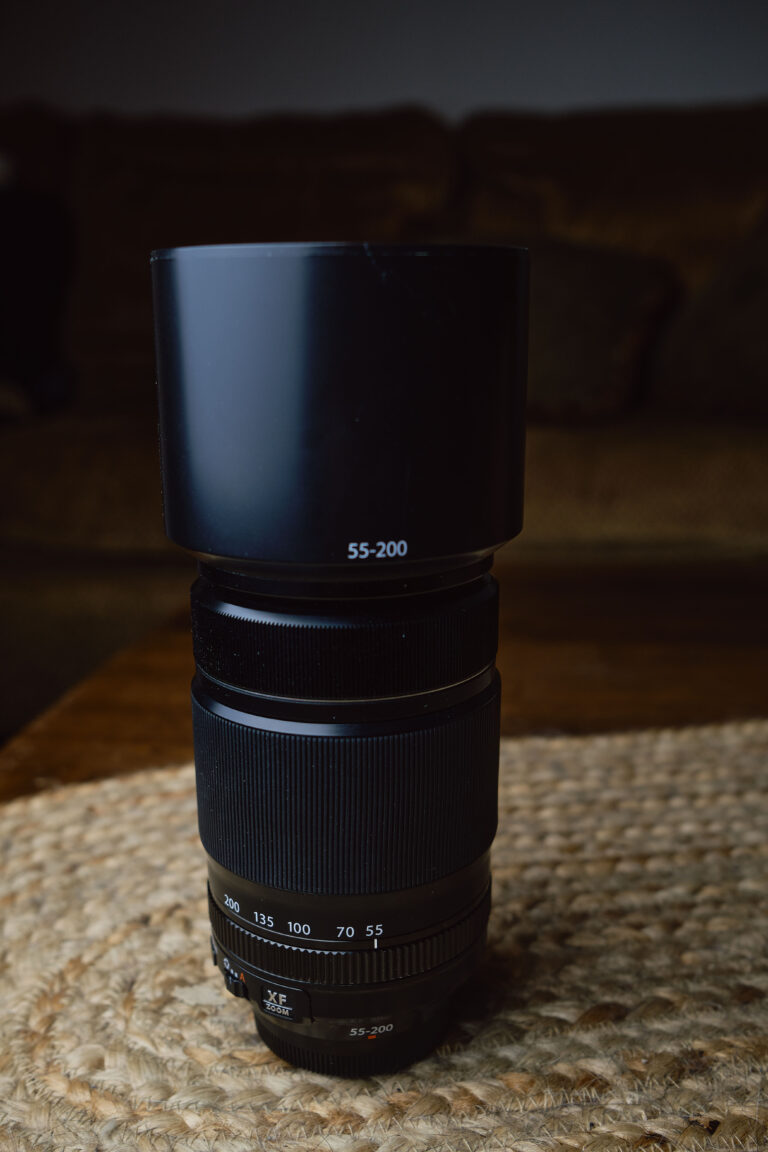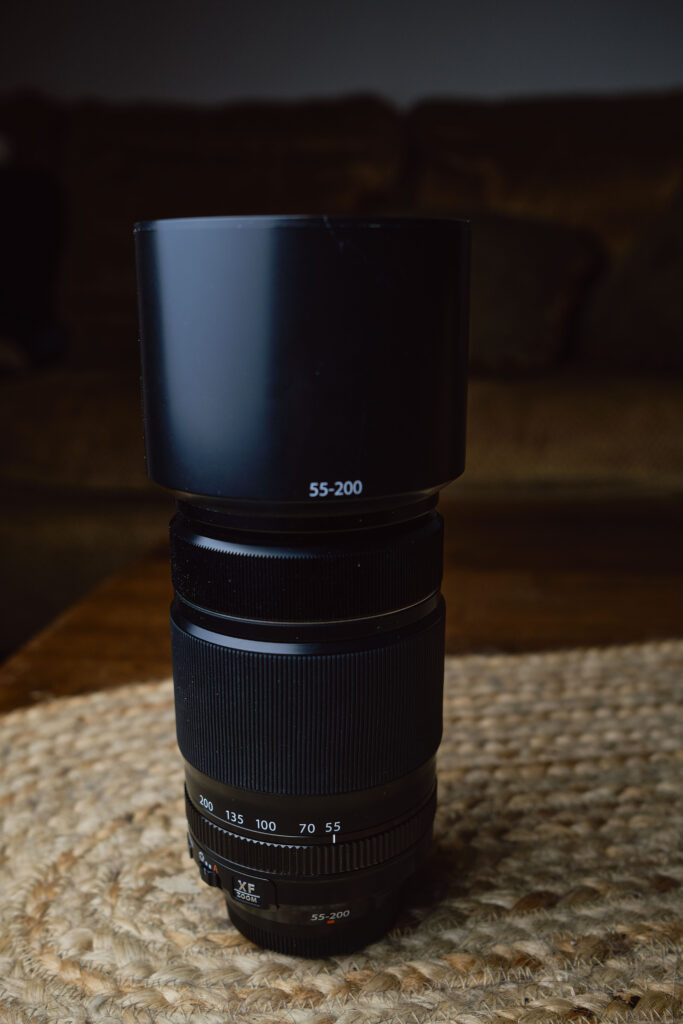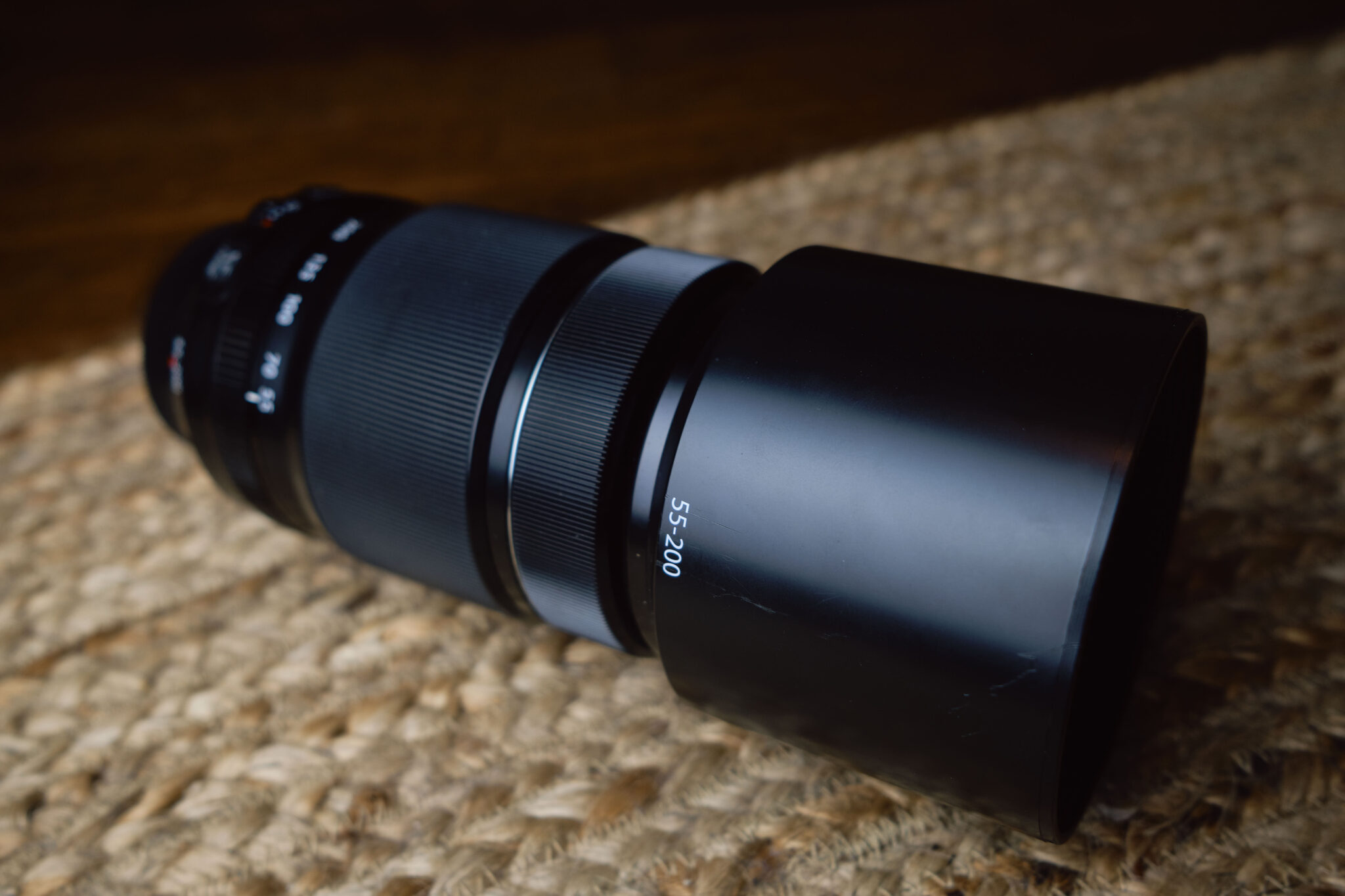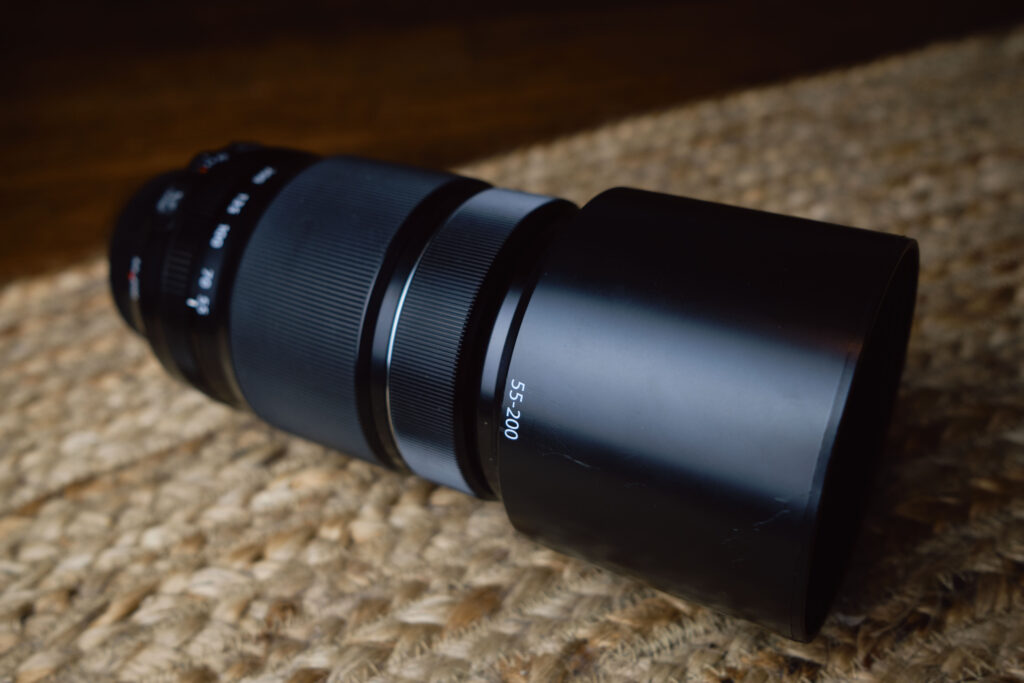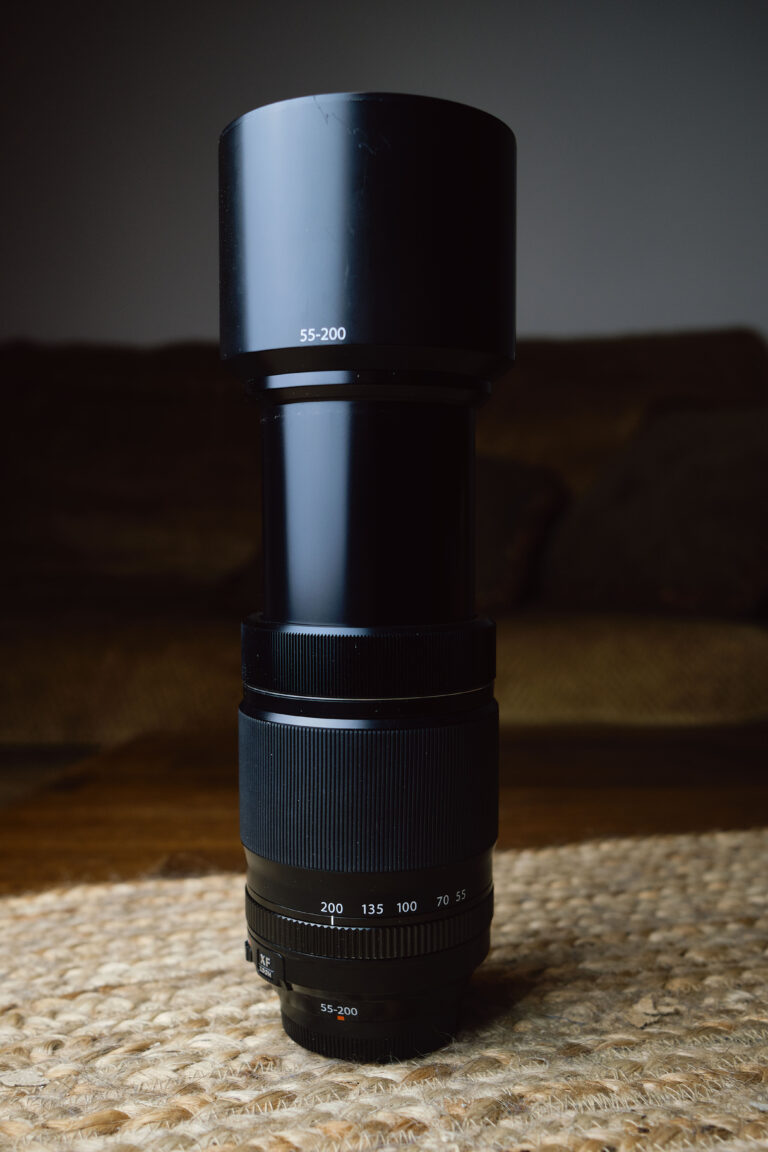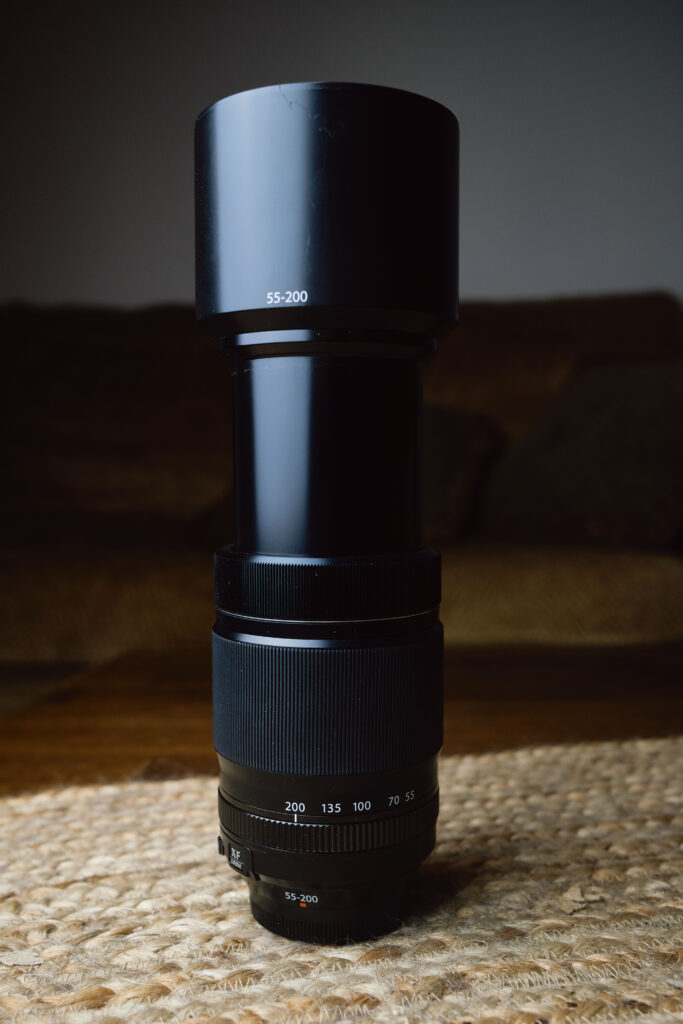 The Fujifilm XF 55-200mm f/3.5-4.8 R LM OIS is not a small lens if you're comparing it to a compact or pancake-style prime that would typically be used for something like street photography. But when you compare it to the majority of the lenses close to this focal length for full-frame cameras, the Fuji starts looking really good in comparison.
The Fujifilm 55-200 is just under 3 inches wide, and 4.65 inches long. When fully zoomed out, the barrel of the lens extends to just under 7 inches. Luckily, I haven't noticed any zoom creep when holding the camera at a downward angle, which can be a concern with these lenses that zoom externally.
Typically, I prefer something much smaller for a walkabout or street photography lens, but that's not what this is really for, so the size is fine. It wouldn't be a problem even as a walkabout lens, particularly if you don't have to carry any other lenses at the time.
For me, what makes the size of the 55-200 nice is that you can carry just two lenses (this and the Fujifilm 10-24) for a landscape photography kit and it ends up being pretty small. Here's my Fujifilm XF 10-24mm f/4 R OIS WR review if you're interested in that lens as well. With this setup, I have pretty much all the focal range I really need for landscapes, albeit with a small gap in the middle. These two lenses plus a Fujifilm camera body fit easily into a small sling bag or can be carried in a backpack with room to spare.
Weight
It weighs just over 20 ounces, or 580 grams. Obviously not as light as a small prime but not too shabby for a zoom lens of this focal range. For full-frame lenses of similar focal ranges, you're looking at almost twice the weight.
If you're looking to get rid of some bloat in your camera bag for landscape photography, pairing this lens with the 10-24mm is a great option. Sure, there are other options out there that have better image quality, but you can't beat this combination of focal range/size/weight for the price.
The same thing goes for adventure/travel, wildlife-type stuff. You can pair this lens with a Fujifilm body and one other lens of your choice and it's not going to weigh you down much.
Autofocus
There are faster-autofocusing lenses out there, but the 55-200 is plenty speedy. It seems to be very accurate too. Its autofocus operation is basically silent, which is nice.
Manual focus is focus-by-wire, which doesn't have as nice of a tactile feeling as mechanically-focusing lenses, but this is just how Fujifilm does things.
Optical Image Stabilization
In my experience, the optical image stabilization helps get sharp images when shooting handheld and works great overall. At this focal range, especially at the long end, you don't necessarily need it, but it's really nice to have. Otherwise, you'd have to shoot at faster shutter speeds and you don't always have the available light to do so.
I got the 55-200mm f/3.5-4.8 R LM OIS for landscape photography which means I'm more likely than not to be using a tripod with this lens, negating the need for OIS. Regardless, it's better to have it there when you need it. Partly because of the OIS, it's plenty capable of photographing moving subjects if you want to use it for portraits, sports, etc.
Pros
Versatile telephoto focal zoom range
Lightweight compared to equivalent full-frame and bigger lenses
Reasonable weight for its focal range
Sharp, good image quality
Great for isolating parts of a landscape scene
Can be used for portraits, sports
Cons
Widest aperture f/3.5
Variable aperture
No weather sealing
Zooms externally meaning more chance of lens creep (although I haven't experienced this with mine)
Fujifilm XF 55-200mm f/3.5-4.8 R LM OIS Sample Images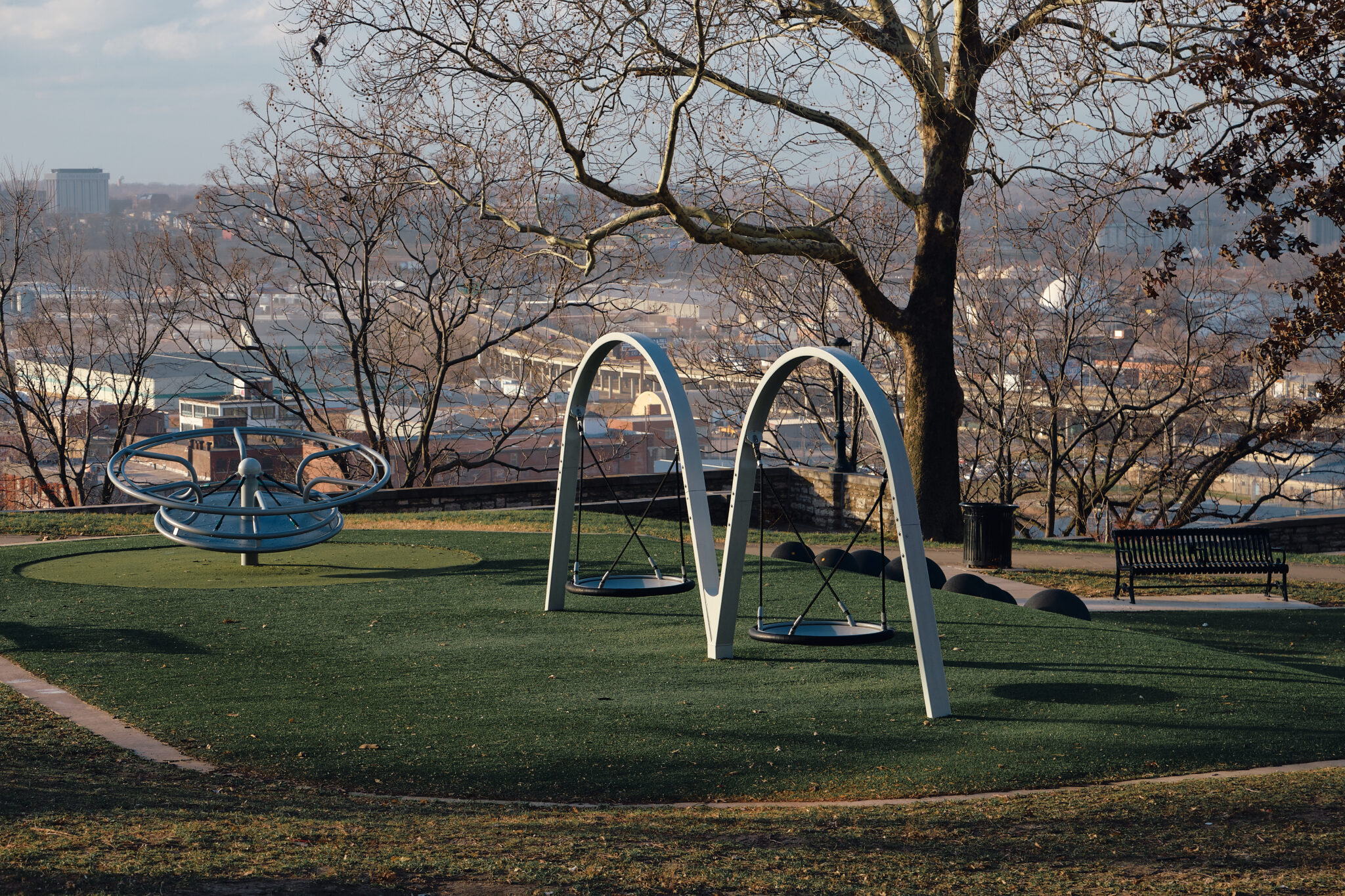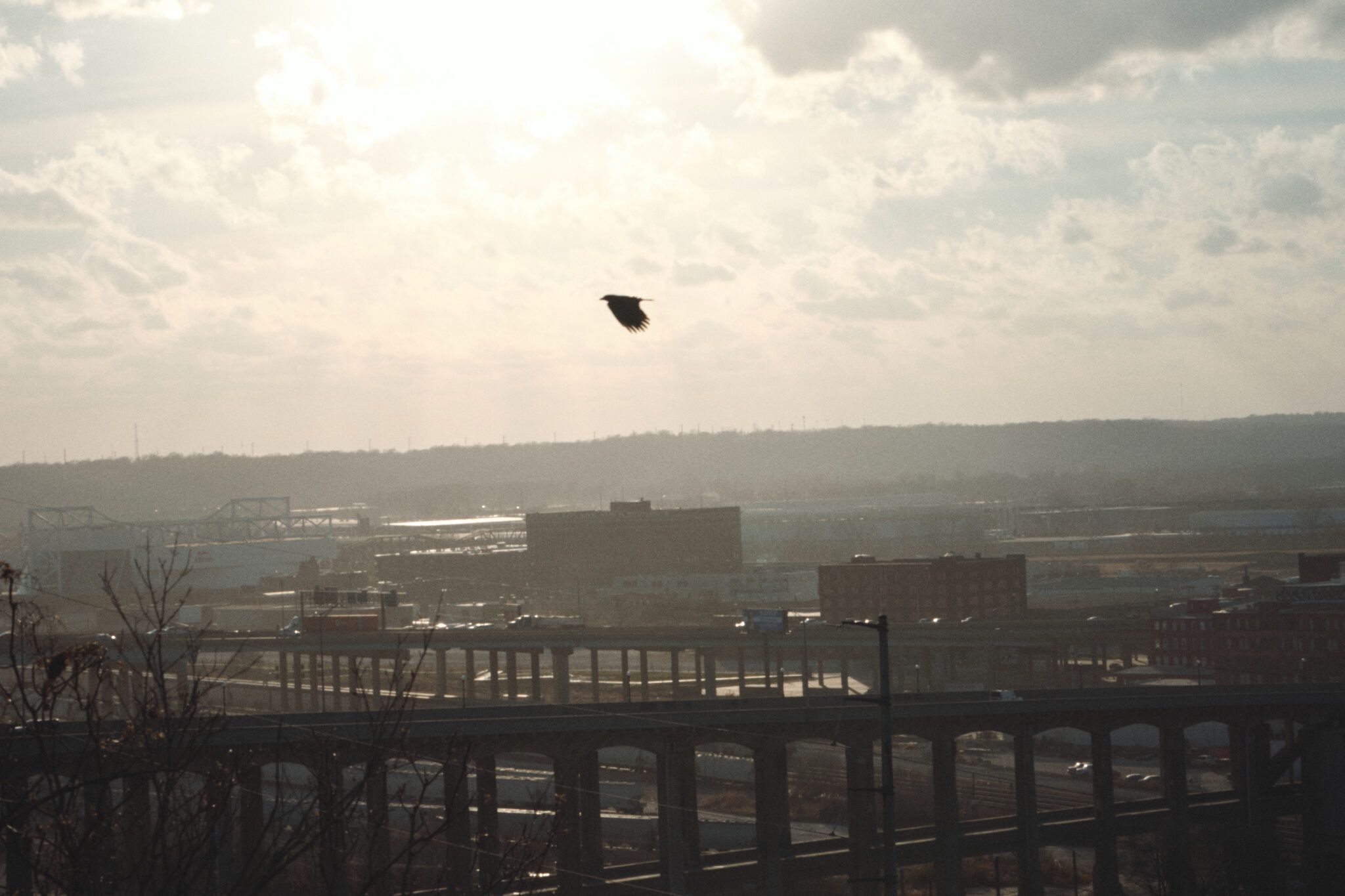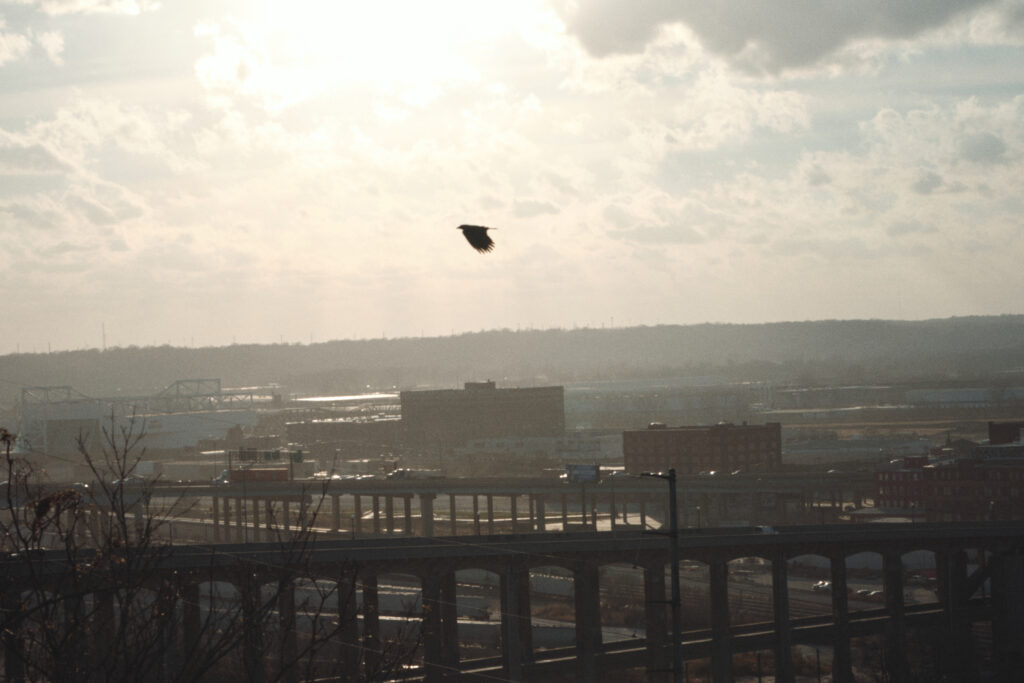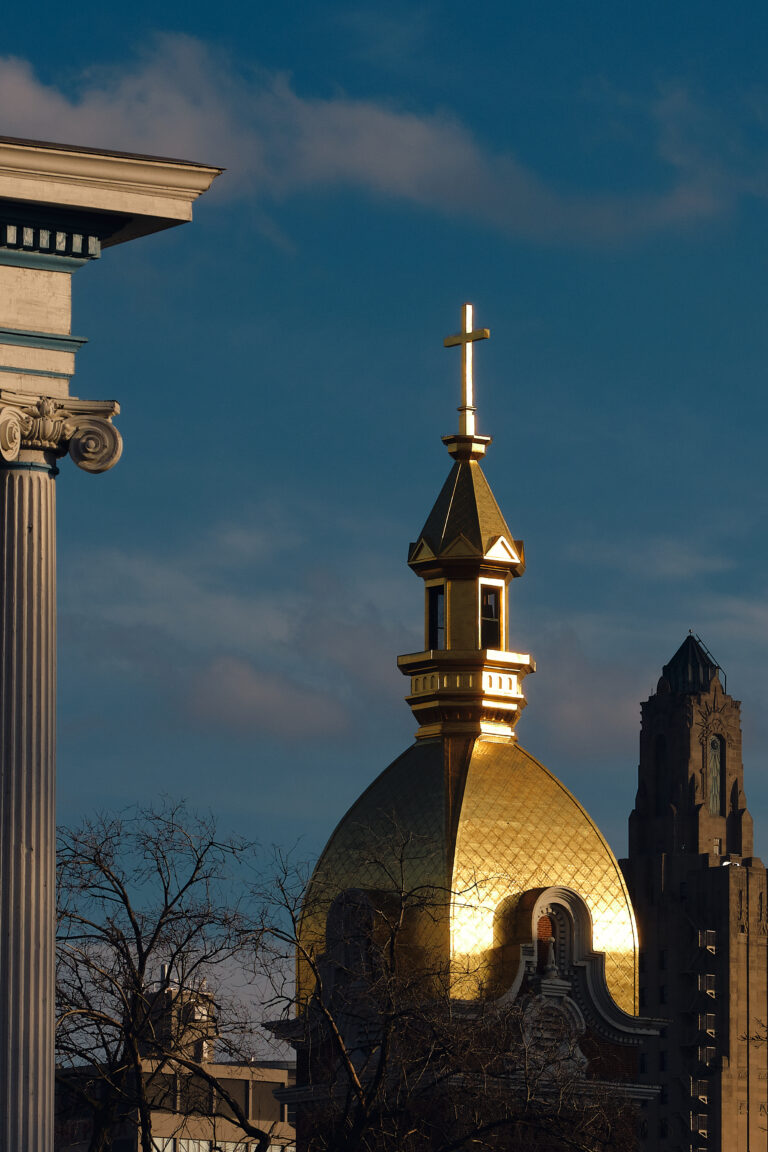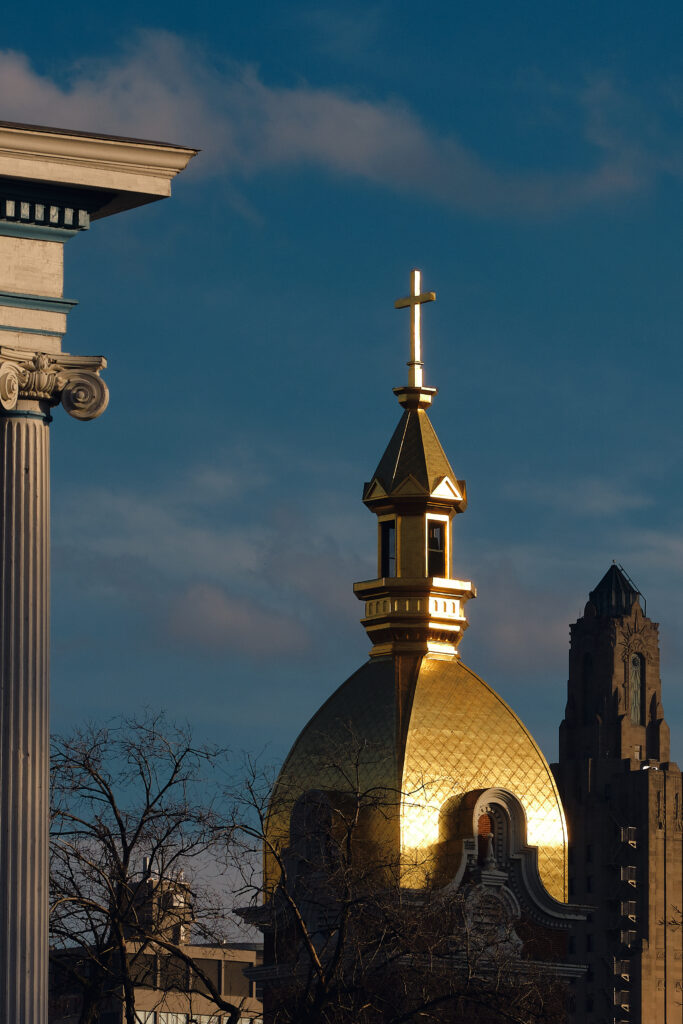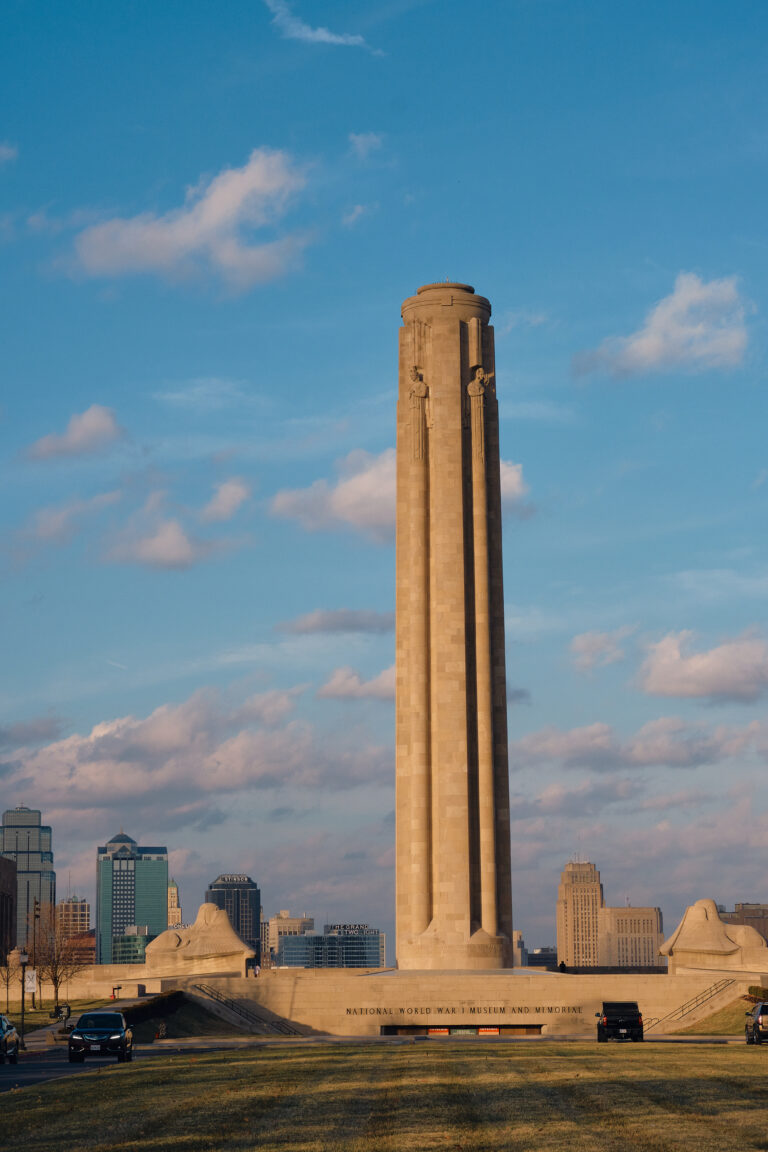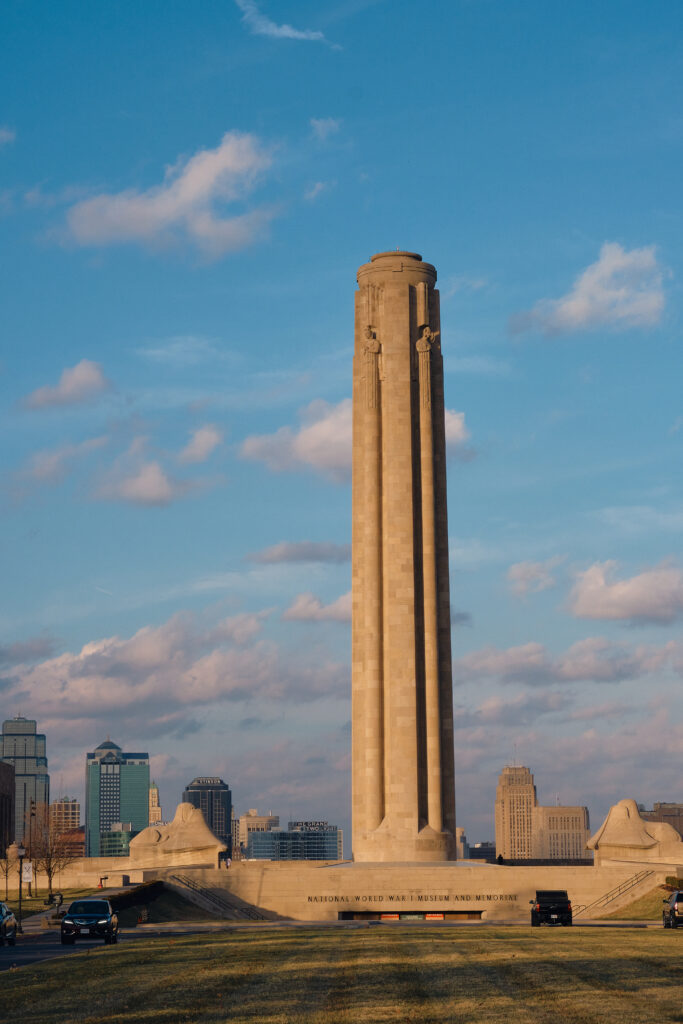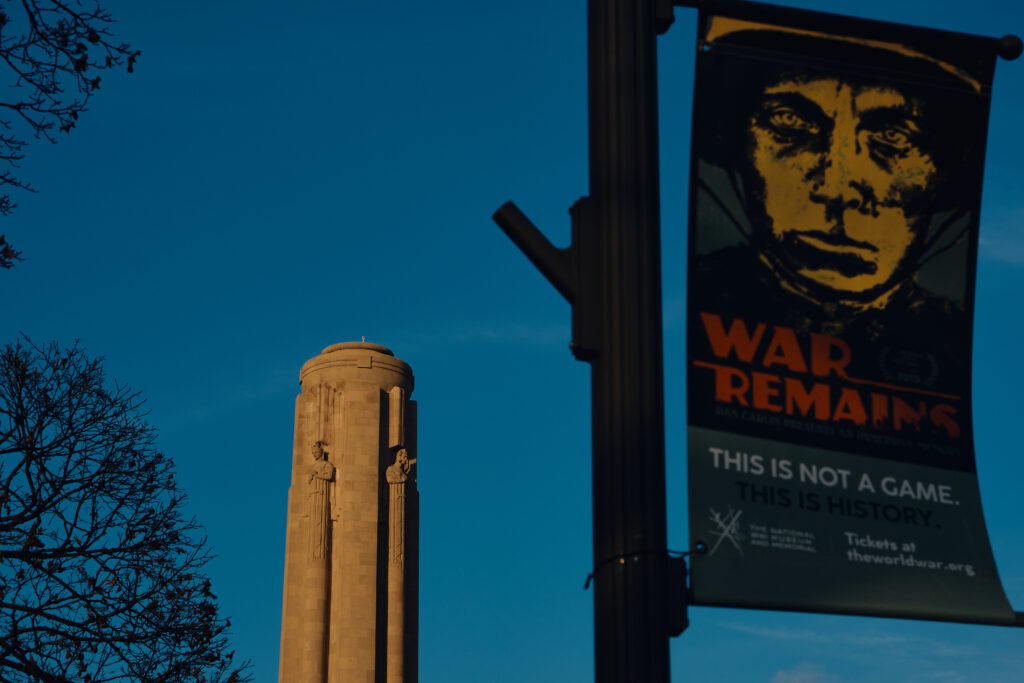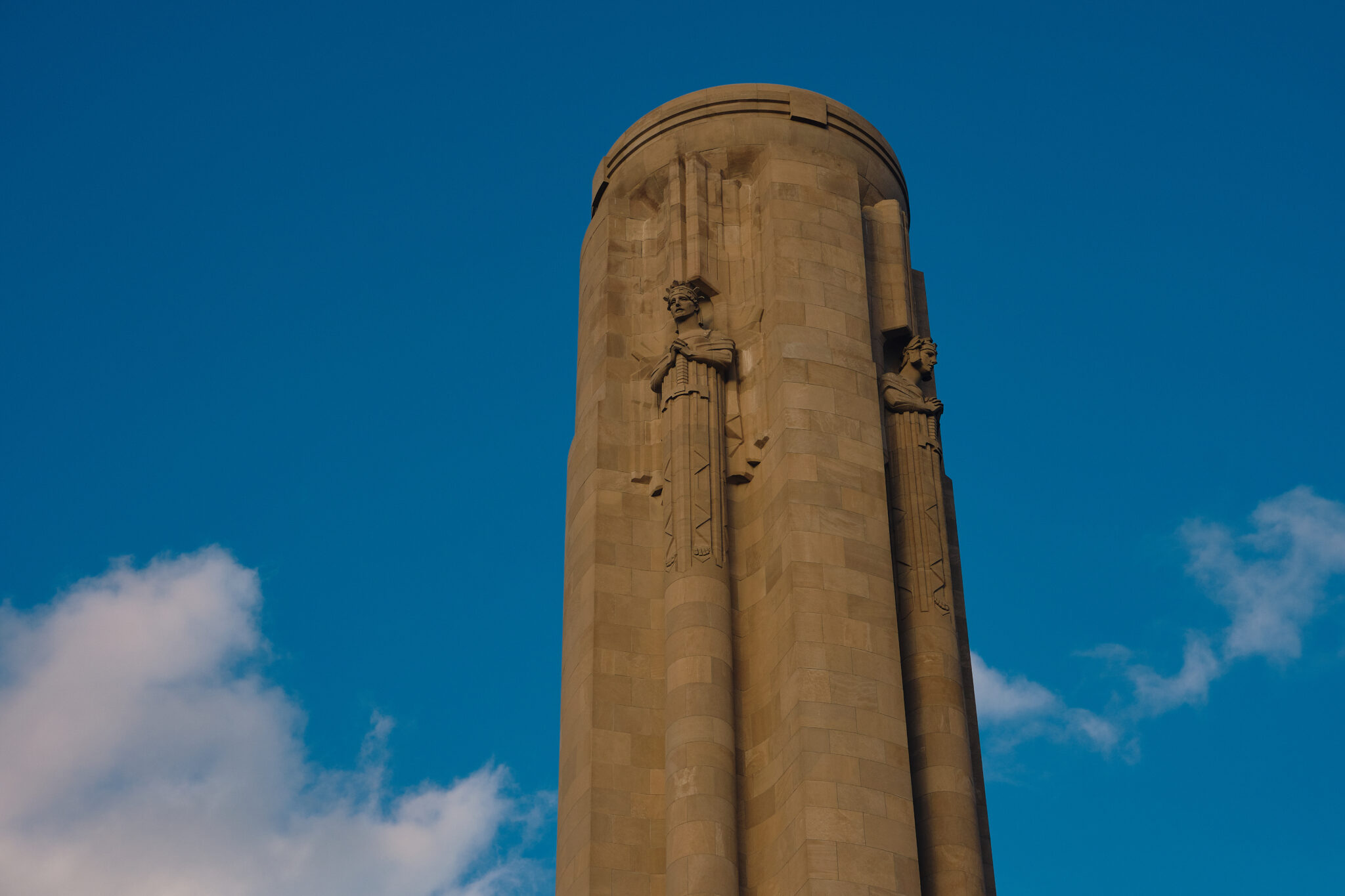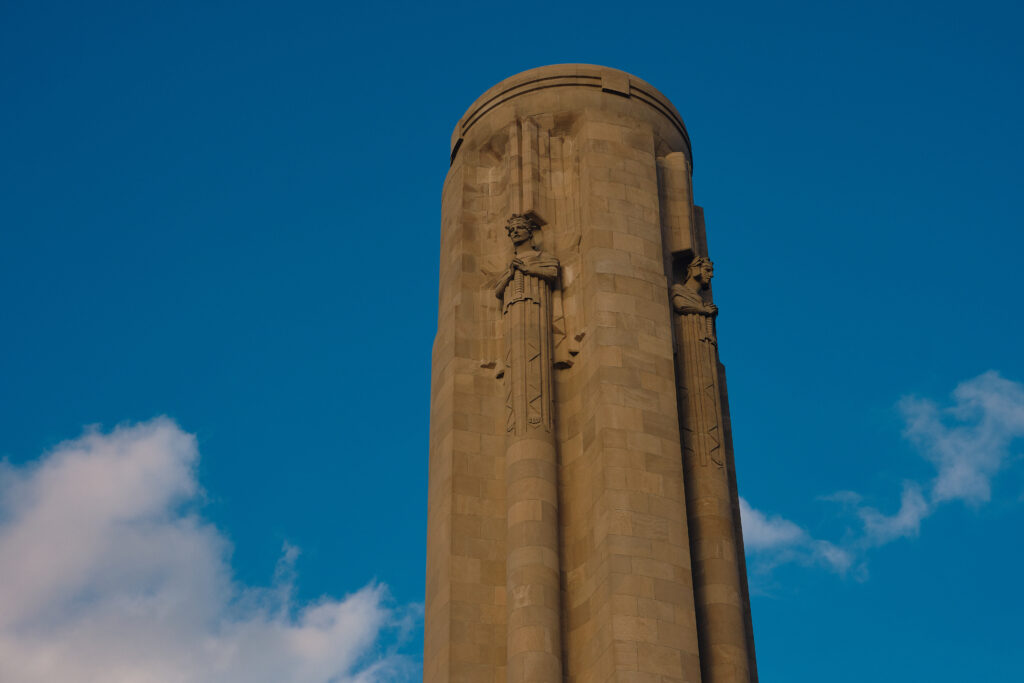 Verdict
The Fujifilm XF 55-200mm f/3.5-4.8 R LM OIS is a great lens for its price and size/weight when comparing it to alternatives for other camera systems. Even 70-200 lenses for full-frame cameras, which have far less range and reach, are quite a bit bigger and heavier than the Fuji. That's the great thing about shooting with Fujifilm's APS-C cameras; you get pretty good image quality in a smaller and lighter package than full-frame.
The 55-200 is a nice complement to a wide-angle lens like the 10-24mm for a landscape photography setup. You're not missing much in the middle and you have the wide-angle for doing the wide, sweeping vista-type shots and then use the 55-200mm for those times when you want to isolate something in your composition.
If you're looking for a telephoto lens for landscape and cityscape photography, the 55-200 is a great lens to have in your bag. If you're looking for a lens for fast action sports/wildlife, the 55-200mm won't do you wrong, but it's also worth considering the 70-300mm or the 100-400mm.
I hope this Fujifilm XF 55-200mm f/3.5-4.8 R LM OIS lens review was helpful and if you have any questions on my experience with it, I'd be happy to answer. I'll be adding more photos as I use it more.
If you're thinking about buying this lens, please consider purchasing through my affiliate links below: