Viltrox 56mm f/1.4 for Fujifilm Review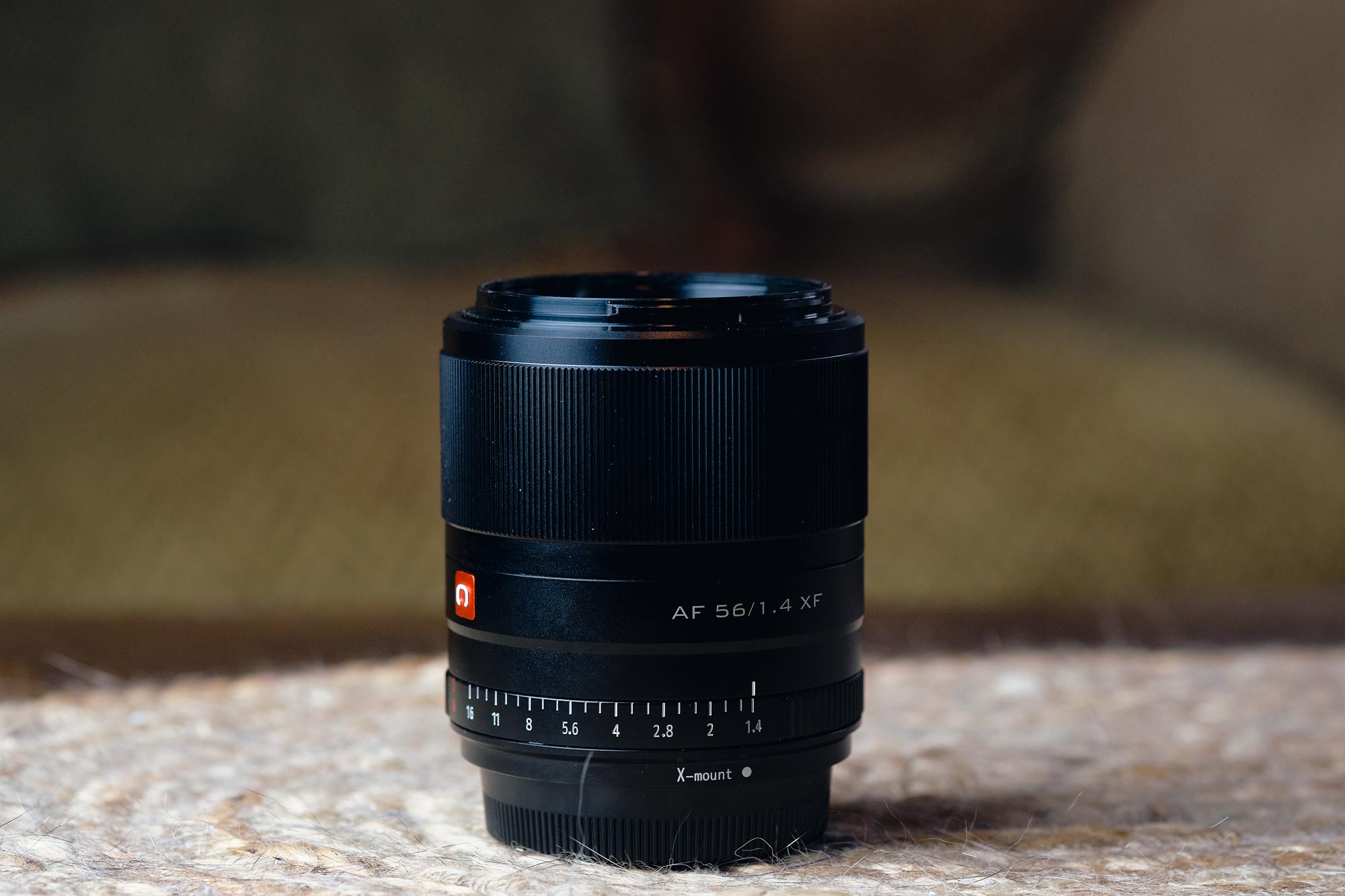 The Viltrox 56mm f/1.4 for Fujifilm is a budget-friendly, compact, lightweight, 85mm equivalent focal length prime lens for Fujifilm's APS-C cameras that offers excellent image quality when you get the focus right (more on that later).
It has a maximum aperture of f/1.4, making it a capable lens even in low light conditions.
I like this lens but it isn't without its flaws, which I detail in this Viltrox 56mm f/1.4 for Fujifilm review.
Specs
Focal Length: 56mm (85mm full-frame equivalent)
Maximum Aperture: f/1.4
Minimum Aperture: f/16
Sensor Format: APS-C
Angle of View: 28°
Minimum Focus Distance: 2 feet / 60cm
Magnification: 0.1x
Lens Design: 10 elements in 9 groups
Number of Diaphragm Blades: 9
Image Stabilization: No
Dimensions: 2.6 x 2.8 inches / 65 x 72 mm
Weight: 10.2 ounces / 290 grams
Filter Thread Size: 52mm
Weather Sealing: No
Build Quality
The Viltrox 56mm f/1.4 is made of metal, so it has a premium feel to it even though it's a budget lens. The included lens hood is made of metal also but it's still pretty lightweight.
Unfortunately though, it's not weather sealed, which is unfortunate for photographers who shoot weddings or anything else where you could be caught out in the rain. Fujifilm's own 56mm f/1.2 isn't weather sealed either, so neither gets an advantage in this department. 
A major design choice to note is that the lens has a stepless, or non-stopped aperture ring, meaning it just goes through the aperture range without clicking. I don't really do videography but I know that this can be beneficial for video because it allows for a smoother transition throughout the aperture range with no possible noise coming from the aperture ring clicking.
I've heard some photographers don't mind this but I personally don't like it. I found myself inadvertently changing my aperture when I didn't want to when I held the lens in my left hand for stabilization. And because it doesn't click, there was no tactile feedback letting me know that I had changed the aperture so I tend to notice later when noticing my settings in my camera.
The clickless aperture ring is a big drawback for me but you may feel otherwise, particularly if you do video.
Ergonomics/Handling
The Viltrox 56mm f/1.4 balances nicely on Fujifilm cameras, especially the X-T line.
The manual focus ring has a nice resistance to it, better even than some of Fujifilm's own glass. However, as I mentioned in the previous section, I don't like how the aperture ring is clickless because that's where my left hand wants to go when holding the camera and I end up accidentally changing the aperture without knowing it.
Size/Weight
The lens sticks out in front of the camera a bit under three inches, which is smaller than what you'd get with full-frame lenses, which is a big benefit of using Fujifilm cameras. The wide aperture 85mm lenses for full-frame cameras are much bigger in general with big, bulbous front elements that make them much more unwieldy than this.
At 290 grams, the Viltrox 56mm f/1.4 is a bit heavy for its size, probably due to the all-metal construction. It's still very manageable though, especially compared to equivalent full-frame lenses.
Autofocus Performance
The autofocus of the Viltrox 56mm f/1.4 is impressively fast — and I've heard it's significantly faster than Fujifilm's 56mm f/1.2.
However, I've noticed that even though its autofocus is speedy, it's not always accurate. More often than I'd like, I've had photos end up being out-of-focus (usually with the focus behind the intended subject) when I pull shots up in post — and I'm talking about occasions when I wasn't even shooting the lens wide open. To be honest, I don't know if this is a Viltrox thing or if it's an issue with my X-T3.
Image Quality
Sharpness
The Viltrox 56mm f/1.4 is very sharp and has great overall image quality. I think it renders colors beautifully and has nice micro-contrast.
When you have nice lighting and get what you want in focus, this lens really shines but I think you have to be mindful and check your focus frequently because I don't 100% trust its autofocus accuracy.
Bokeh
The Viltrox 56mm f1.4 for Fujifilm cameras has excellent, creamy bokeh and it's probably the best part about it. If you're on a budget and are looking for a good portrait lens with good bokeh, it's definitely worth considering. The Fujifilm 56mm f/1.2 probably has slightly better image quality but it has sluggish autofocus and it's three times the price.
Pros
Creamy bokeh
Great overall image quality
Very sharp
Great color rendering
Fast autofocus
Premium-feeling build quality
Relatively compact size
Manageable weight
Cons
Stepless aperture ring results in changing the aperture without knowing it all the time
Inaccurate autofocus
It has a mini USB port for firmware updates located in the lens mount, making it so you have to leave that part of the lens exposed to dust while you update it
Viltrox 56mm f/1.4 for Fujifilm Sample Images
Last Thoughts
The Viltrox AF 56mm f/1.4 XF has a lot going for it at a really affordable price. The Fujifilm 56mm f/1.2 is probably a better lens but it's triple the price, so it's in an entirely different price category that is hard to justify unless you do a lot of portraits.
The lens has gorgeous bokeh and very good sharpness and overall image quality when you nail focus. The wide f/1.4 aperture means you have more leeway in shooting in low-light situations and you have more control over depth of field.
It's great that you get all that in a lens that's pretty small and lightweight. Its metal construction makes it feel like a premium piece of gear that's higher quality than its price would suggest.
When I was debating about whether to buy the Viltrox 56mm or the Fuji 56mm, I came across multiple reviews saying how the Viltrox has faster autofocus. I did find that the Viltrox has snappy autofocus but I've had issues with its accuracy and missing shots and I'm still not sure if that's due to the Viltrox, the Fujifilm's autofocus, or possibly user error on my part, so that's something I'll have to investigate further.
The other caveat is that the lens has a clickless aperture ring, which I just do not like whatsoever. In my opinion, it's too easy to move and it's where my hand wants to rest to stabilize the camera. If I'm not thinking about it, I adjust the aperture without realizing it so that's something I have to be mindful of and I'd rather use that brainpower to focus on my compositions.
If you're on a budget, the Viltrox AF 56mm f/1.4 XF is a solid option. But if you have the money or you can wait and save up, Fujifilm's 56mm f/1.2 is tempting to consider.
More Fujifilm Lens Reviews:
Fujifilm Camera Reviews: