Fujifilm XF 23mm f/2 R WR Review: A Speedy Street Lens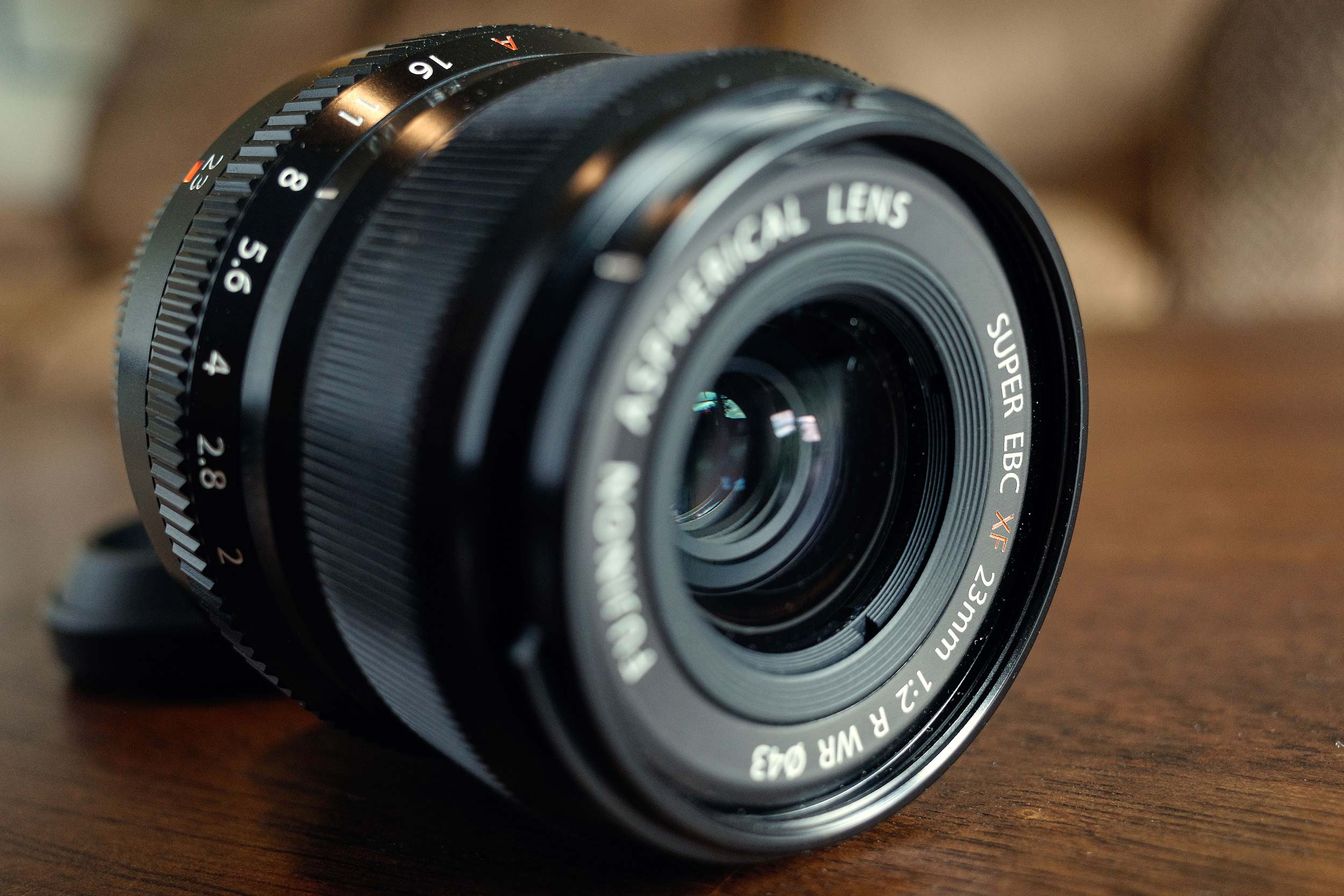 The Fujifilm XF 23mm f/2 R WR is a relatively compact and lightweight lens for Fujifilm's X series APS-C cameras. It has a 35mm equivalent field of view.
The size, weight, and weather sealing of this lens make it a great lens for street photography, documentary photography, or your every day carry lens.
The slightly smaller f/2 aperture means it lets in less light than the Fujifilm 23mm f/1.4, but the 23mm f/2 comes in a much more manageable package in terms of size and weight, not to mention it's a lot less expensive.
I've shot with this lens a lot and thought I'd share my thoughts in it in this Fujifilm XF 23mm f/2 R WR review.
Specifications
Build Quality
The build quality of the Fujifilm XF 23mm f/2 R WR feels solid due to its metal casing. And even though it has a metal construction, it's still pretty lightweight, which is something I really value in my lenses and overall photography gear.
I've been shooting with this lens for a couple of years now and it has held up really well despite taking some bumps here and there.
Ergonomics
I'm not big on the shape of this lens because I think it sticks out too far in front of the camera but the size does make for a very easy to use aperture ring and focus ring.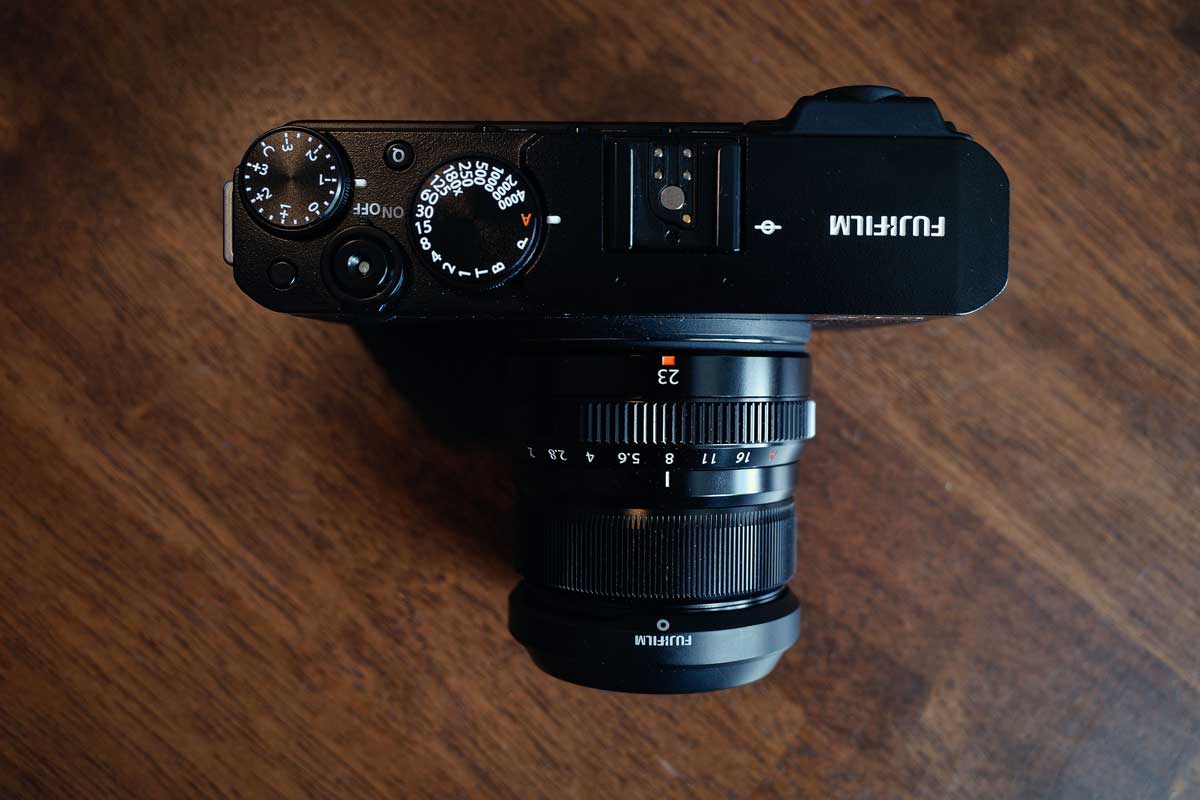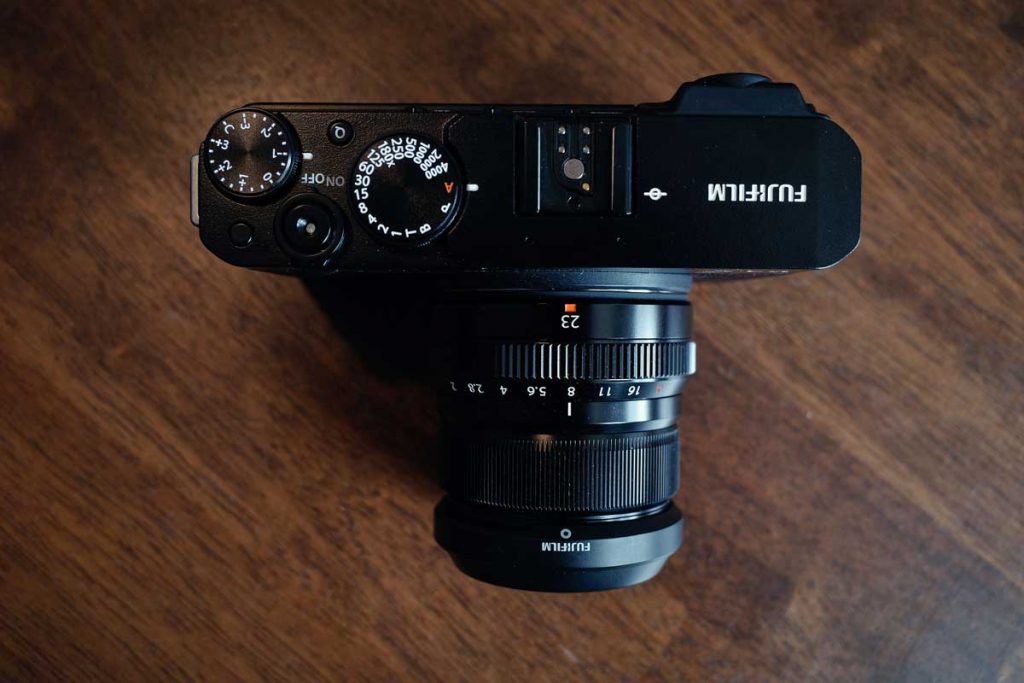 When I was looking up the specs of this lens for this review, I was surprised to find out that the 23mm f/2 is actually more than twice the weight of the 27mm f/2.8. The 23mm f/2 weighs 180 grams, whereas the 27mm f/2.8 weighs just 84 grams. I don't like to be weighed down whatsoever when I'm on my long street photography walks so it's nice to have the option of having the 27mm f/2.8 also.
Regardless, the 23mm f/2 doesn't feel significantly heavier than the 27mm, at least that I've noticed. Similar to the 27mm is that the 23mm f/2 balances well on the Fujifilm camera bodies. With such lightweight camera bodies, some of the bigger Fujifilm lenses make everything feel very top-heavy, which is not the case here.
You get a reasonably small-sized setup when you pair the 23mm f/2 with any of the Fujifilm camera bodies really. I like to go as small as possible so I got the X-E4 and it's a great combination. With that said, I wish Fujifilm would have gone with more of a pancake style for this lens to cut down on the size.
The 23mm f/2 sticks out a full 2 inches from the camera and a little more than that with the lens hood on. Compared to other lenses that's not much but it's just extra size that I don't want when I'm trying to be discreet on the street. I know it would be possible to make this lens smaller considering the X100V also has a 23mm lens but it's smaller — the lens on that camera happens to be sharper as well.
For now I'm not complaining all that much and hopefully when Fujifilm updates this lens they'll consider making it smaller. If they had to reduce the maximum aperture to f/2.8 to make it smaller, I would prefer that.
The handling of the Fujifilm XF 23mm f/2 R WR is very good, I'm just a stickler for lens size so I would like it to be more compact. Also, the shape of it is ugly (just one man's opinion!)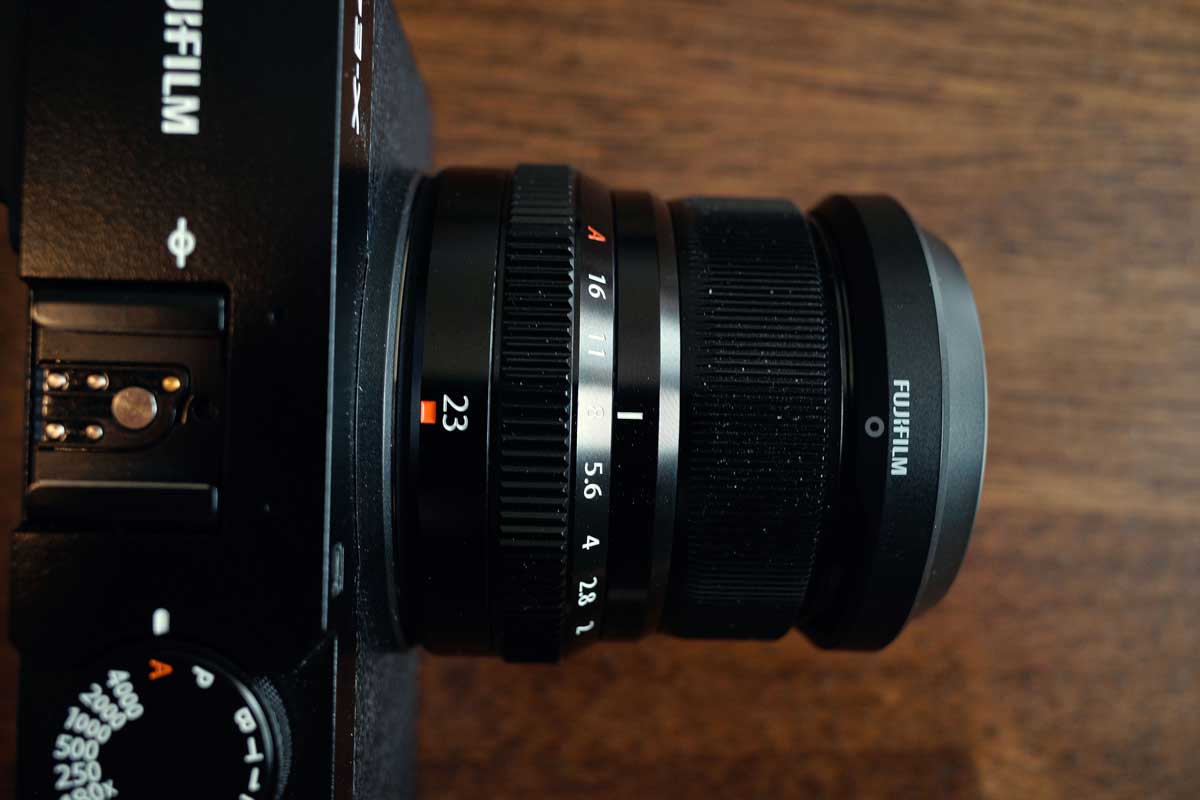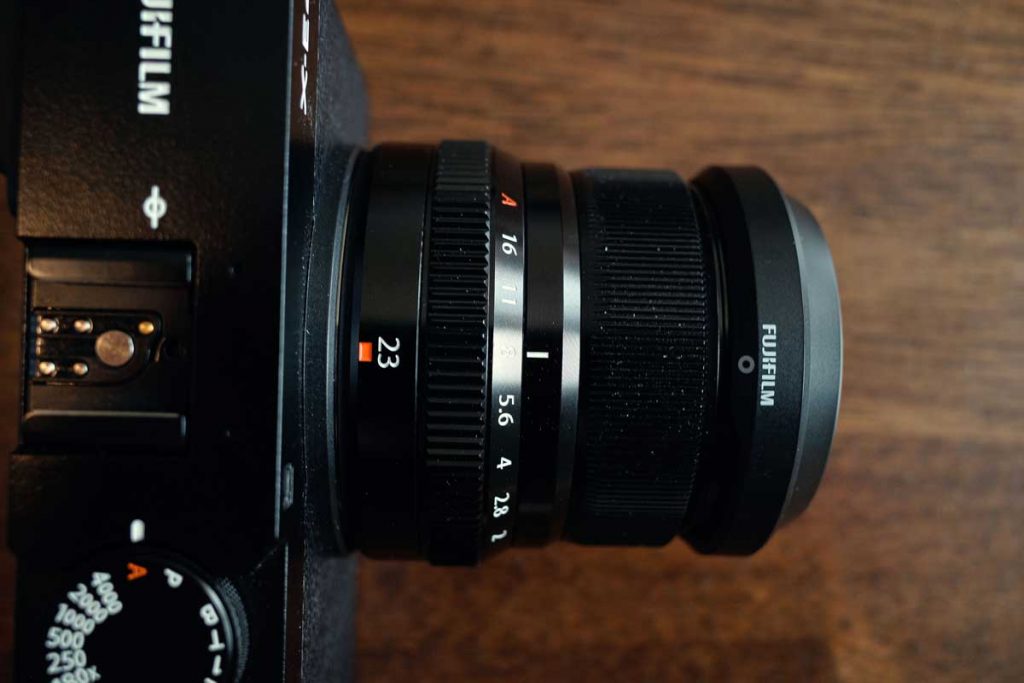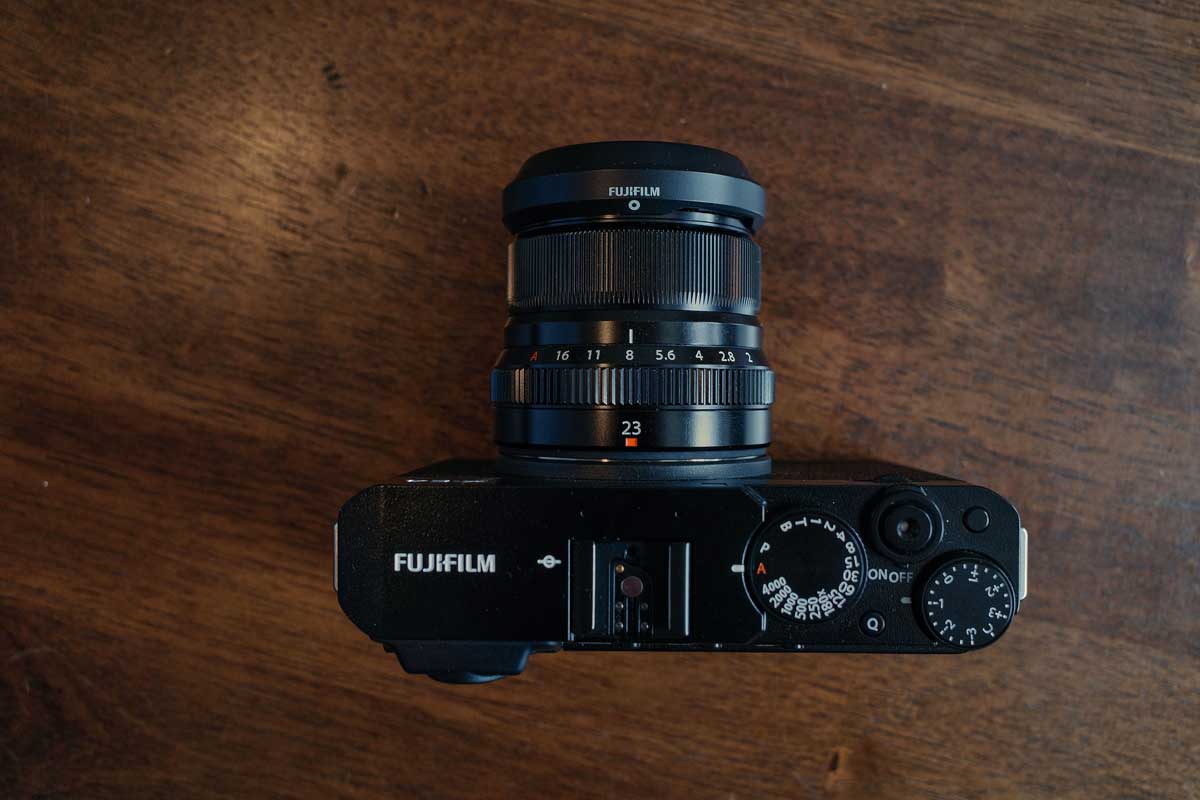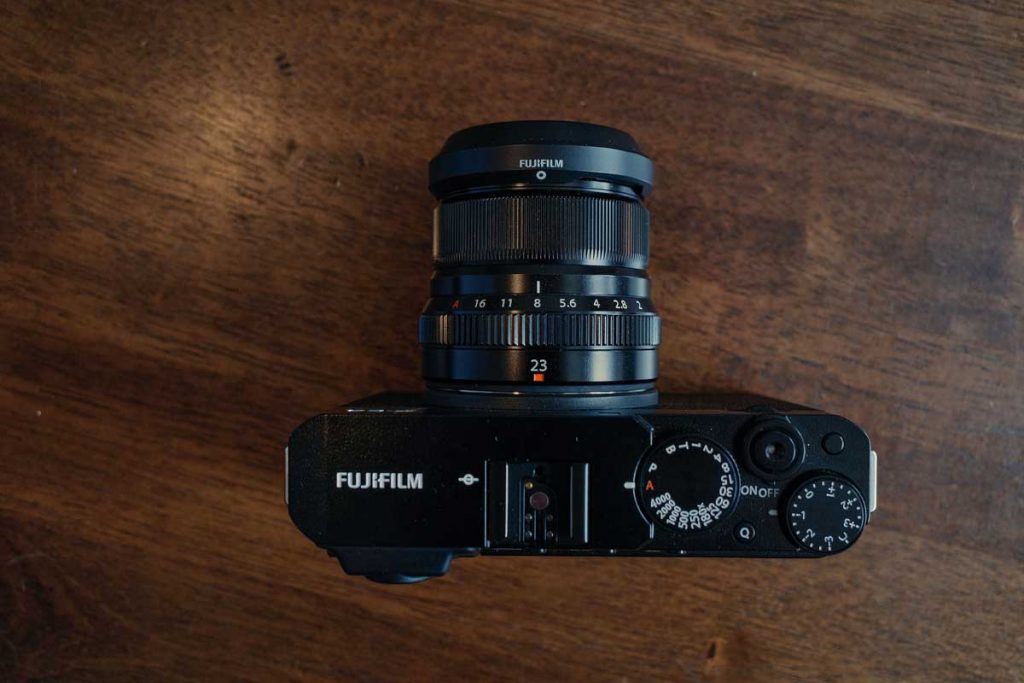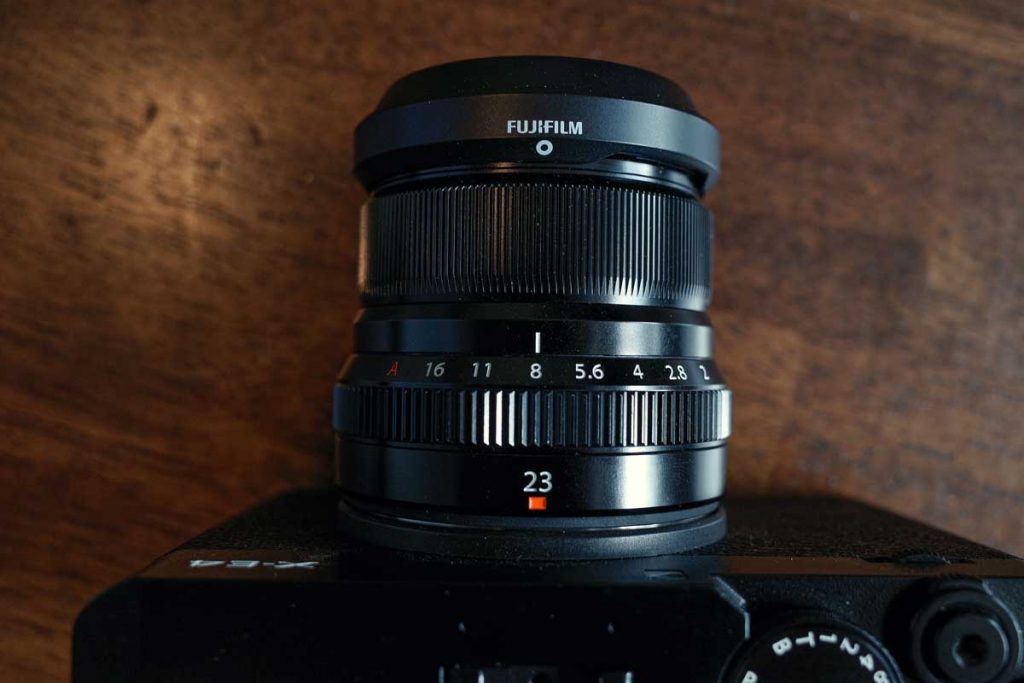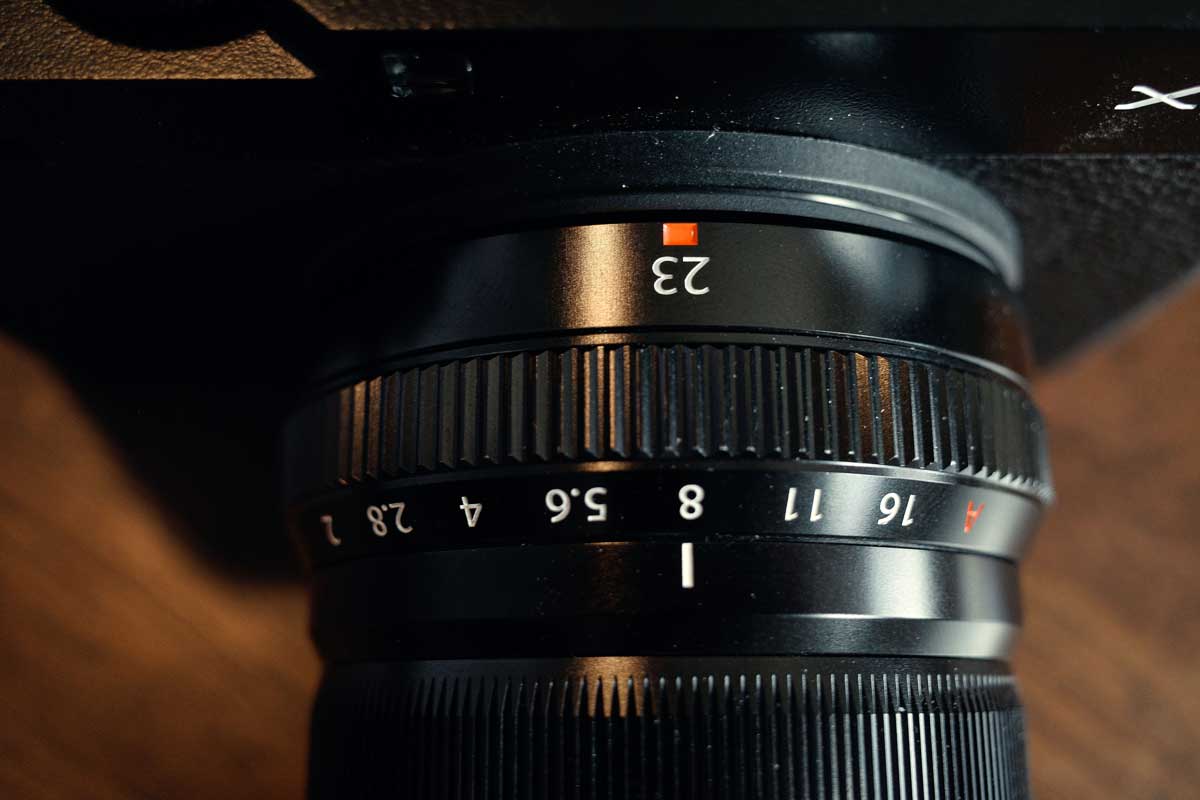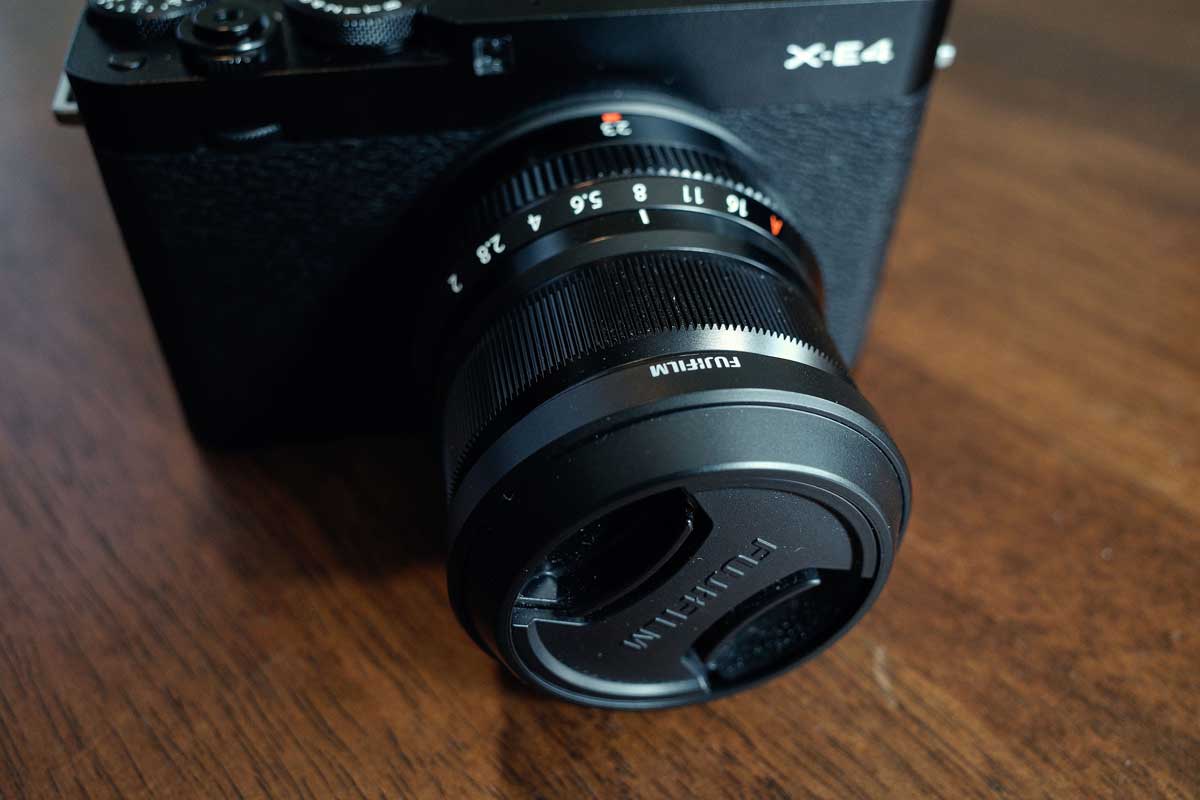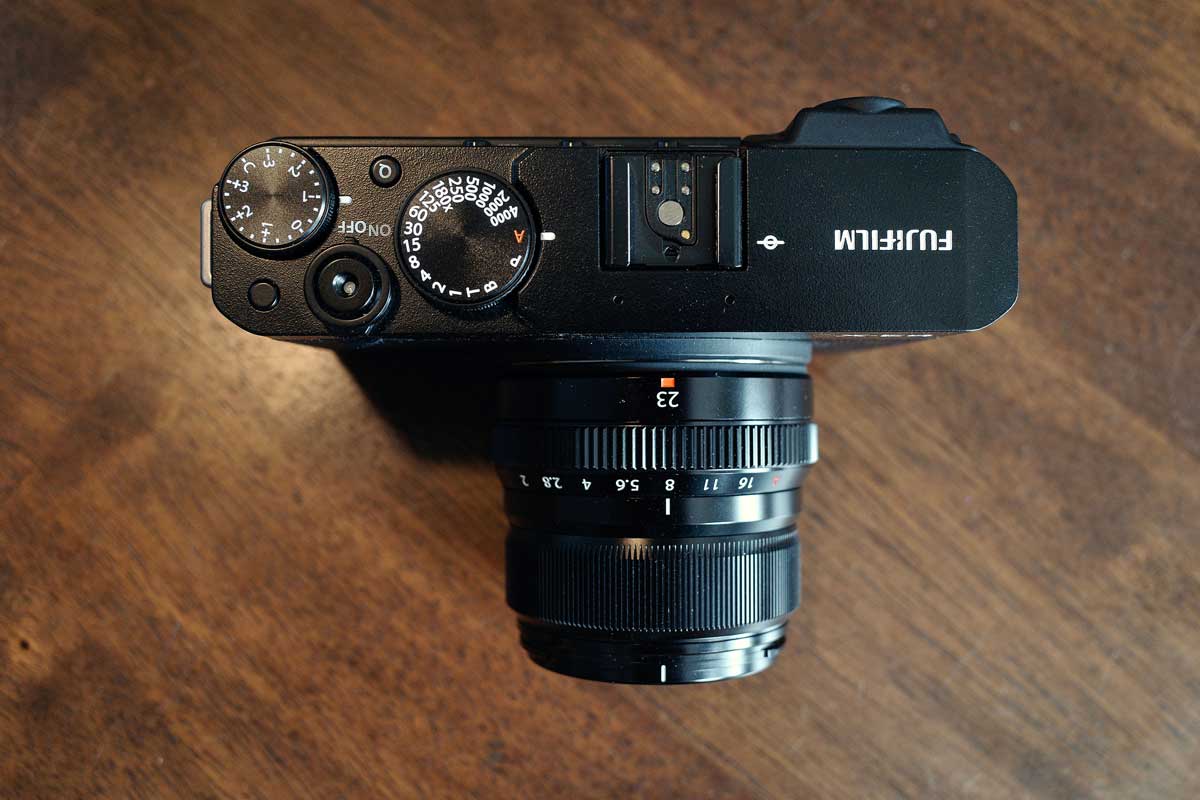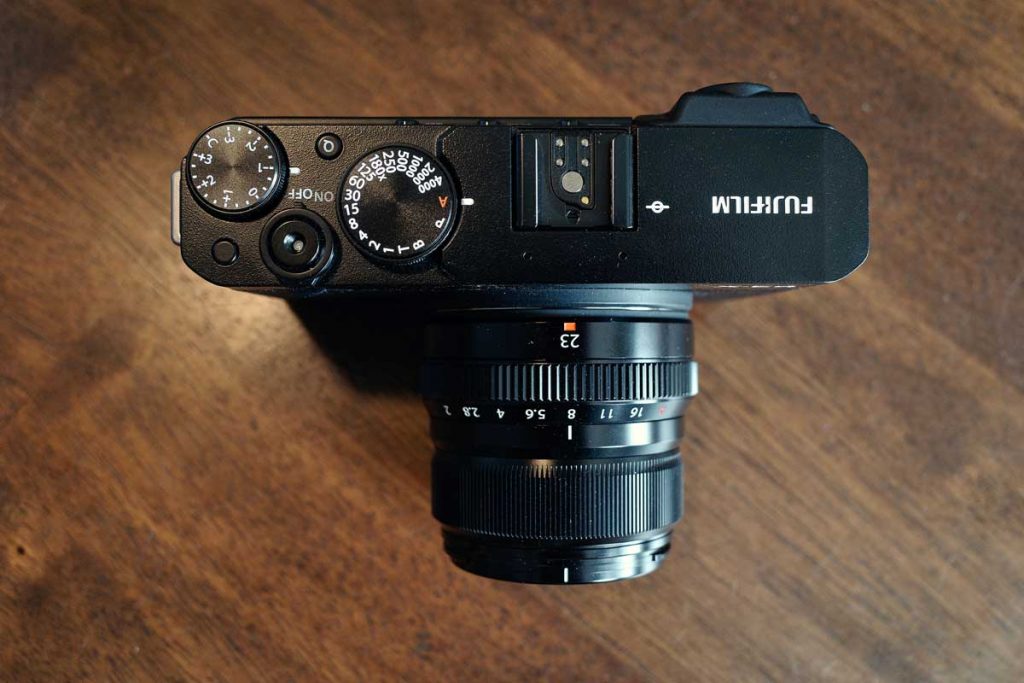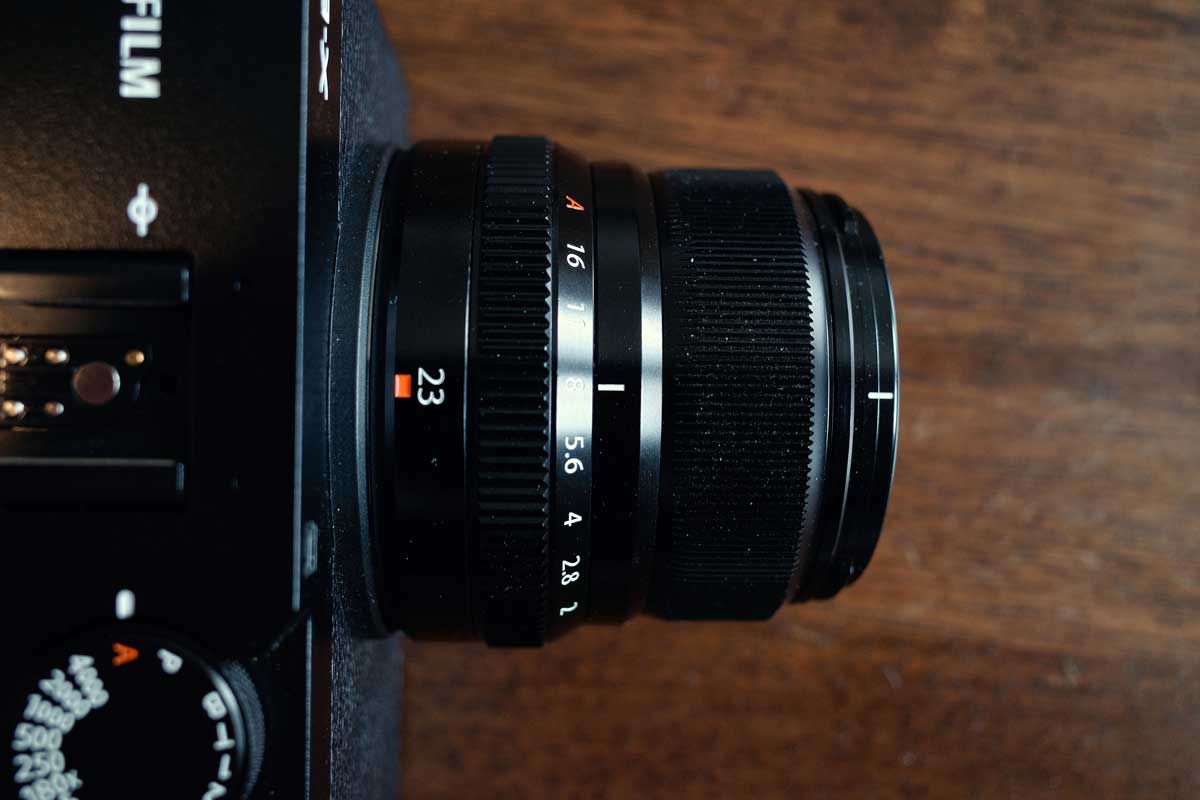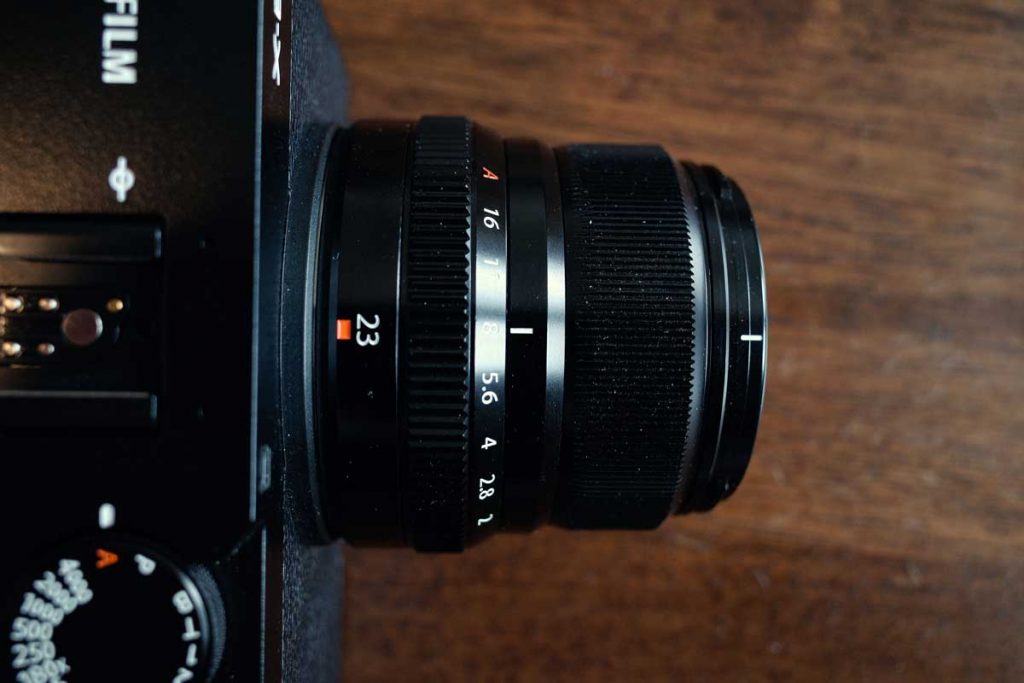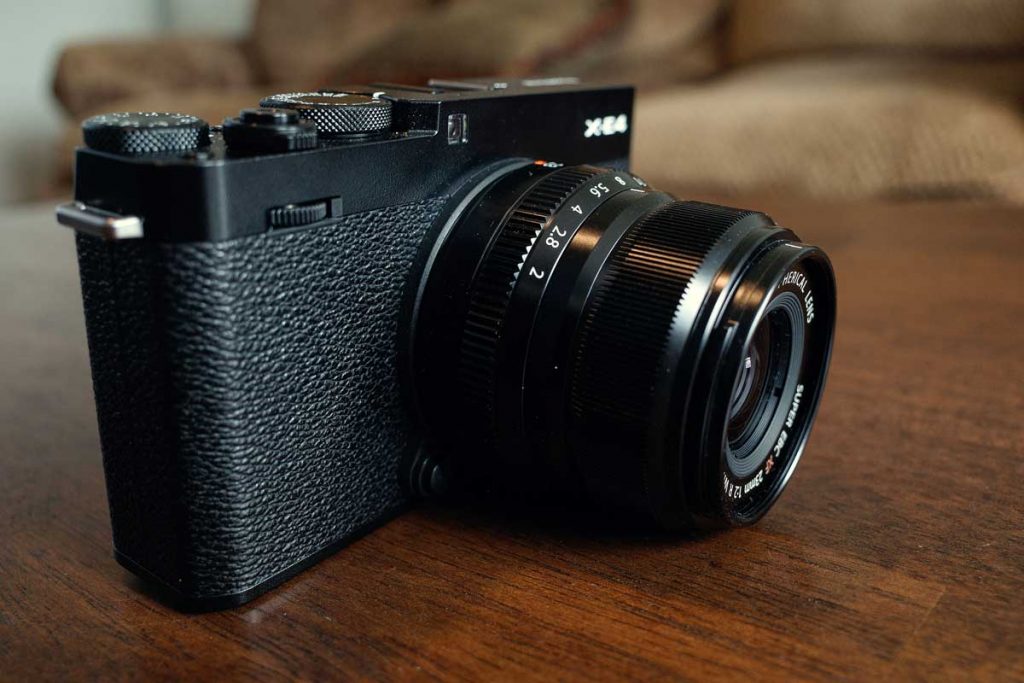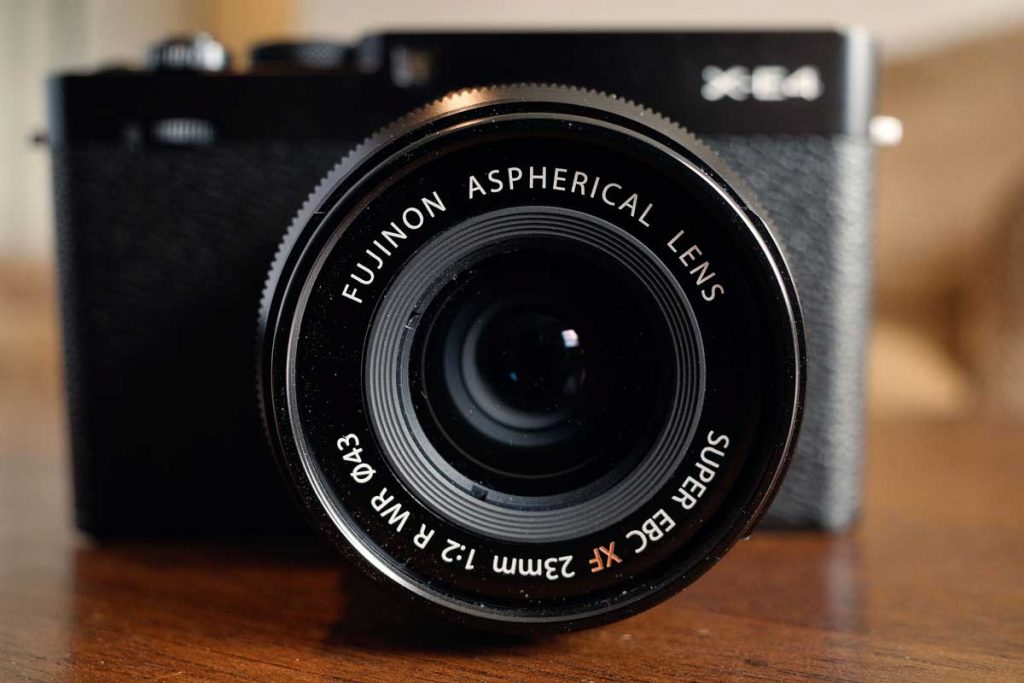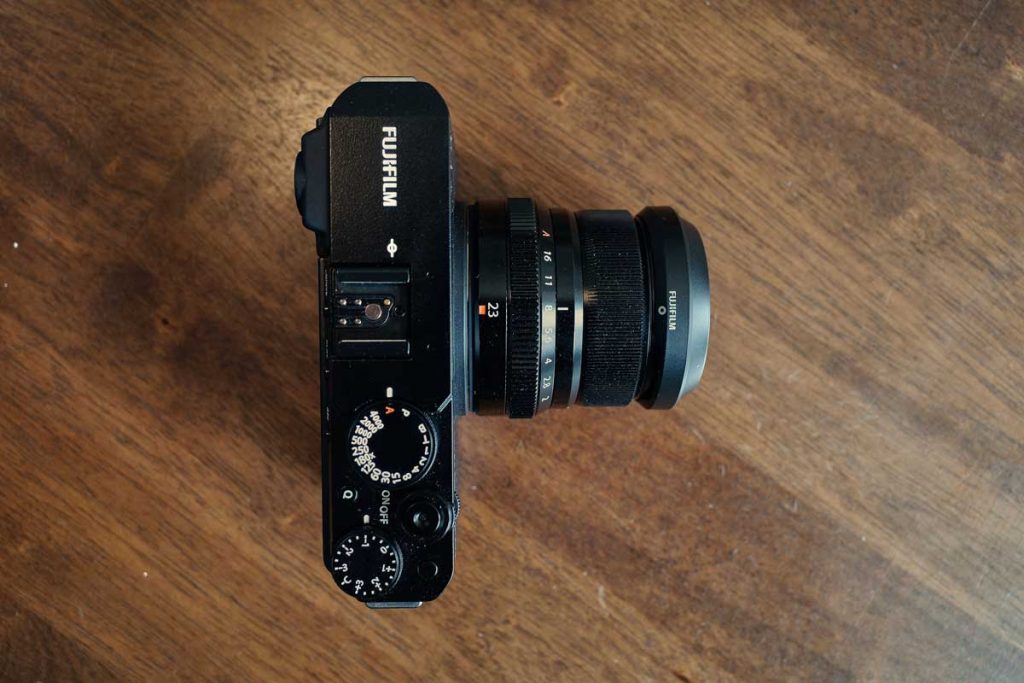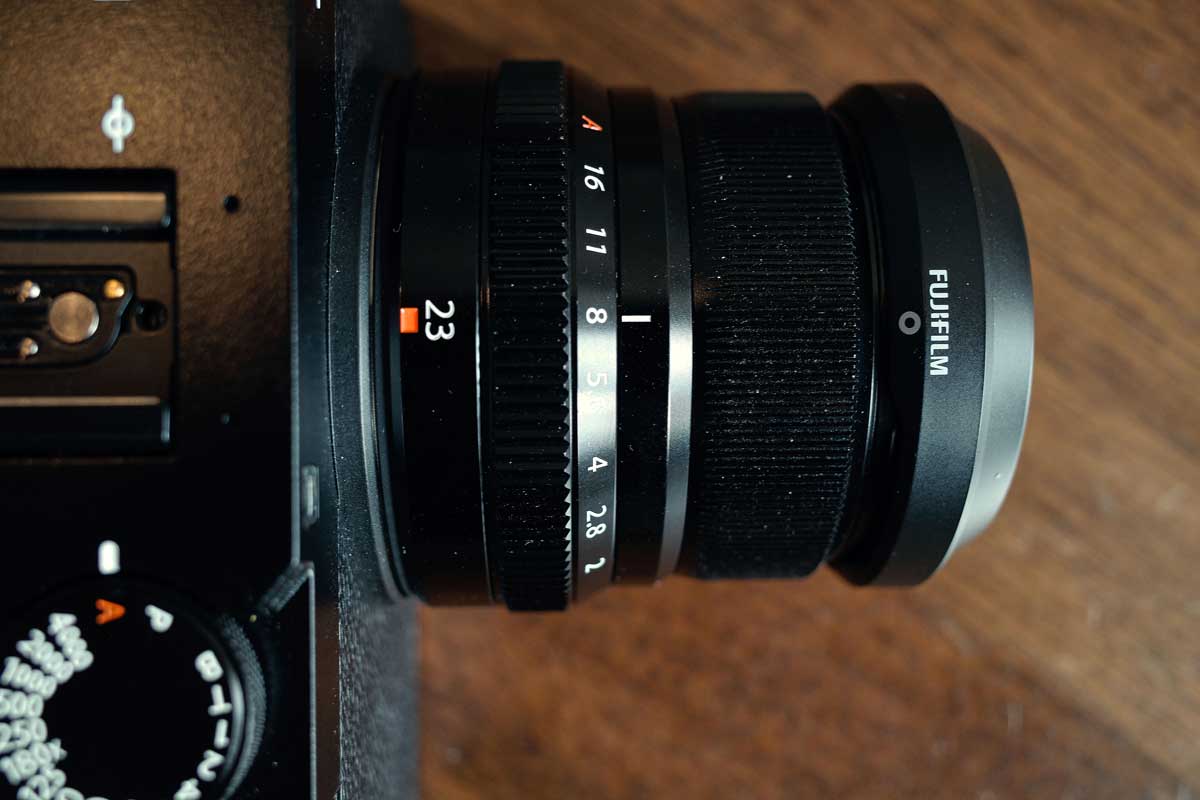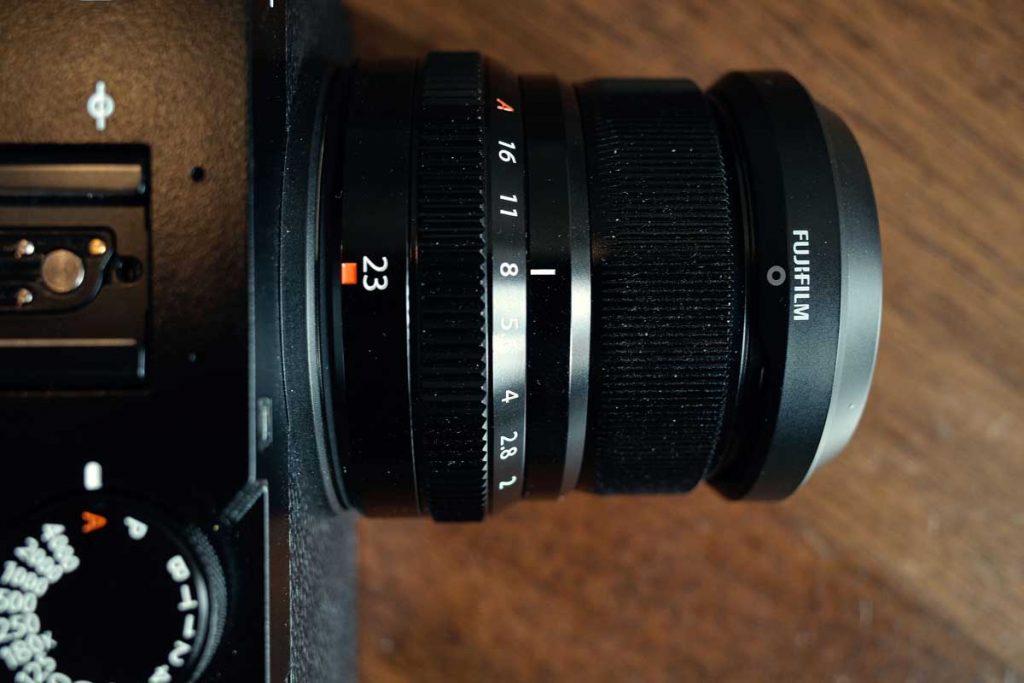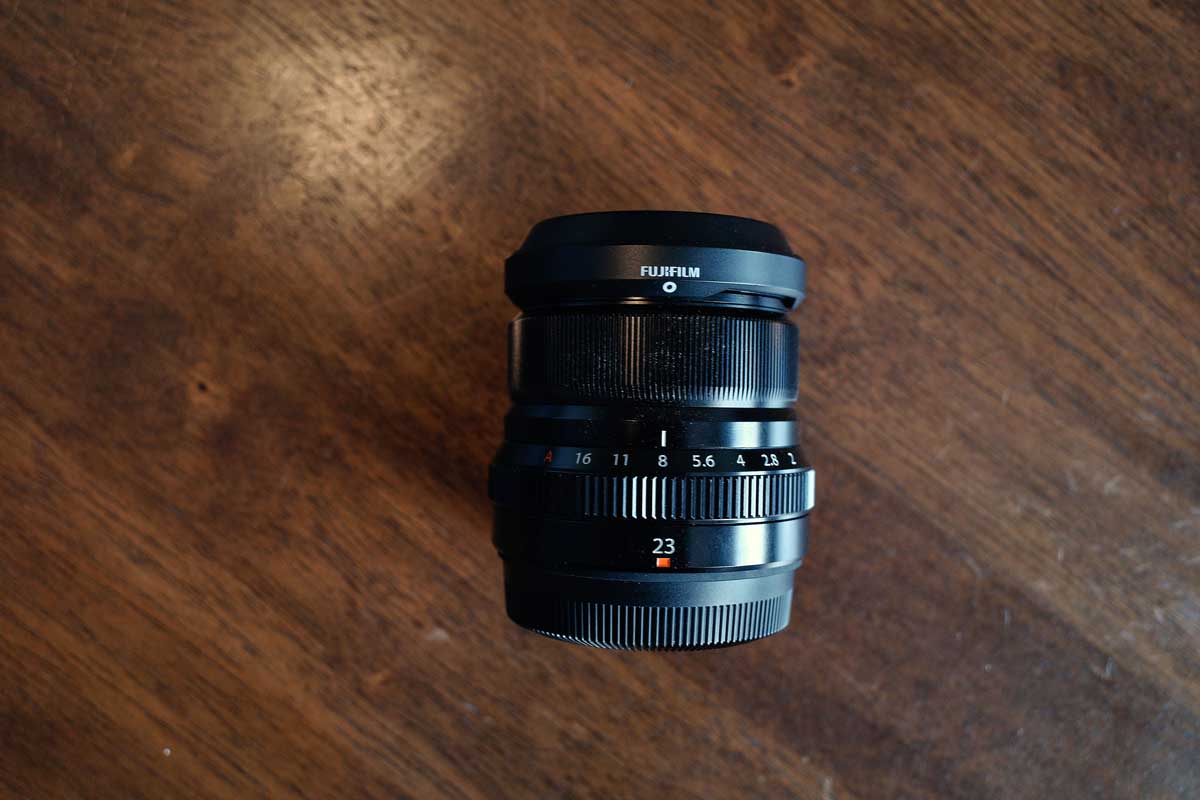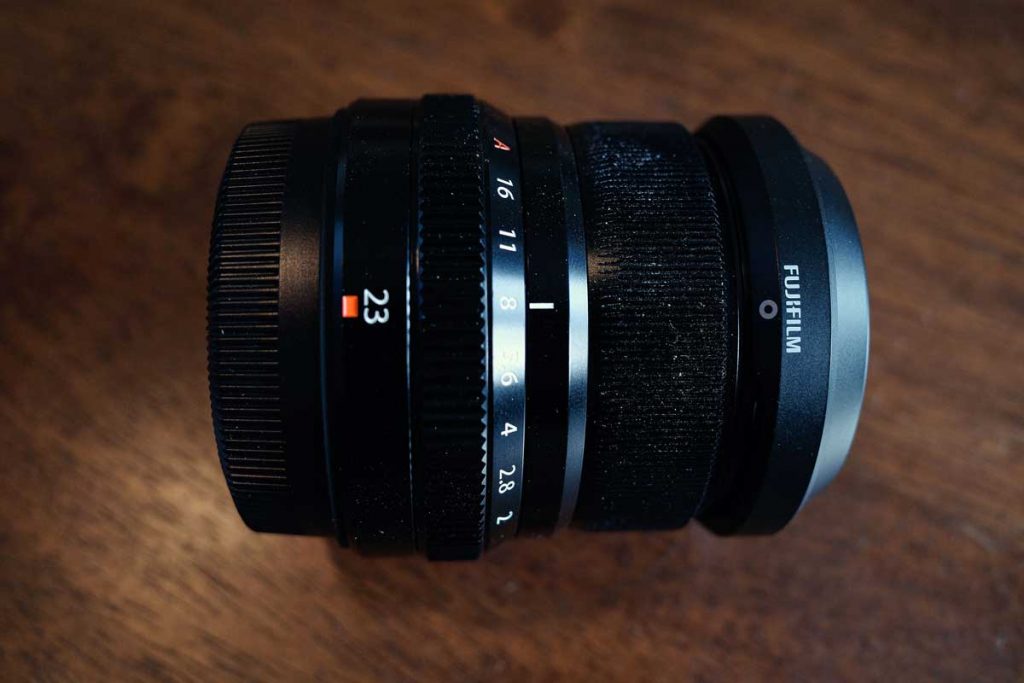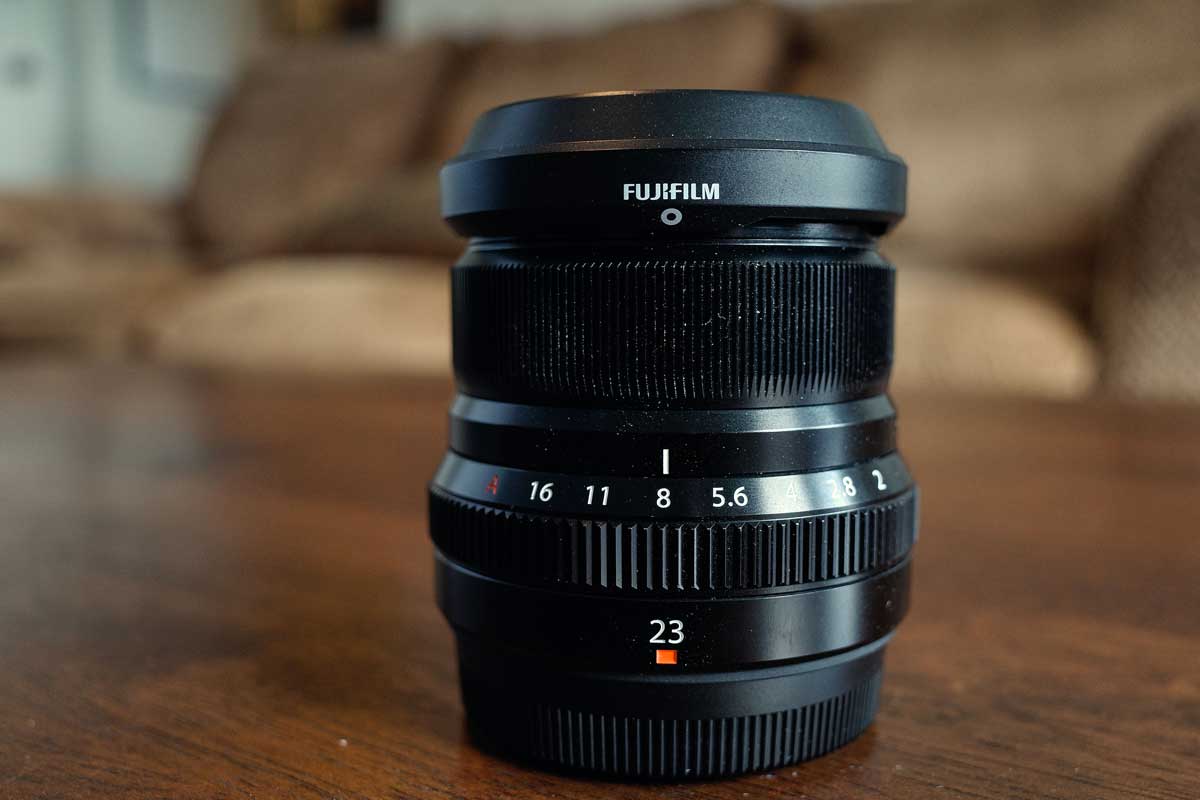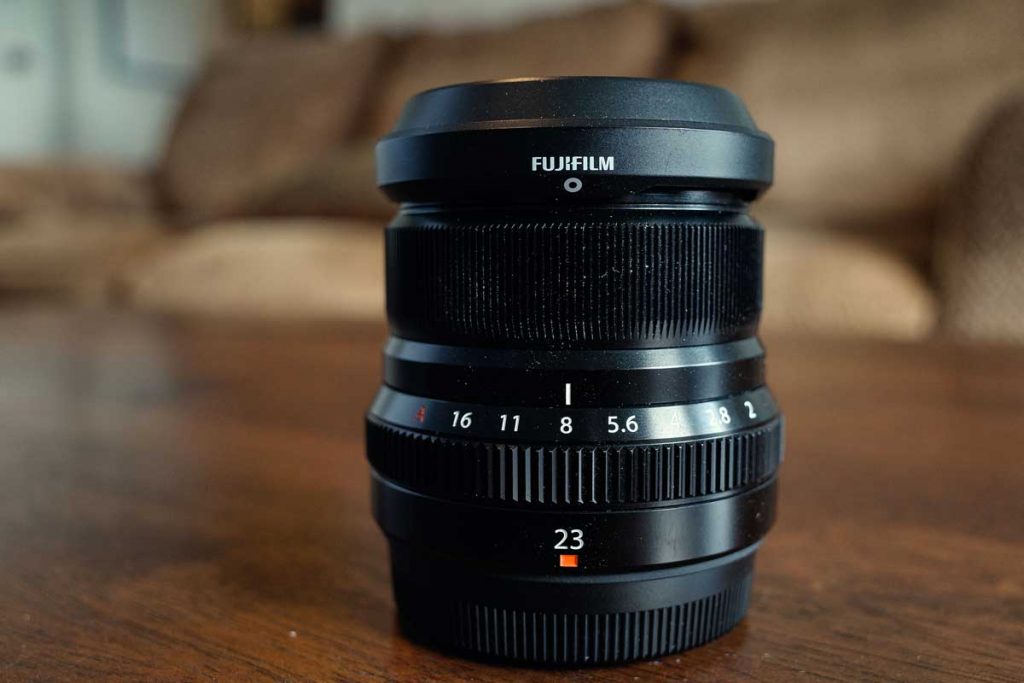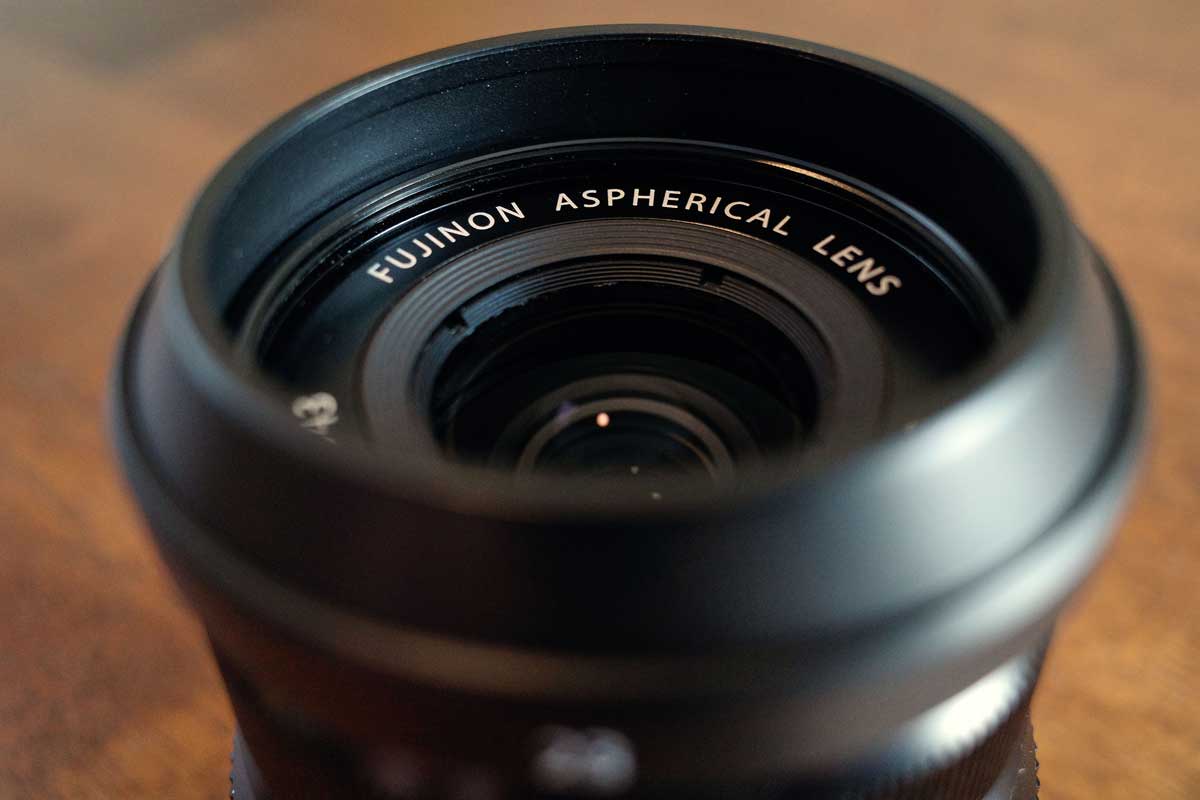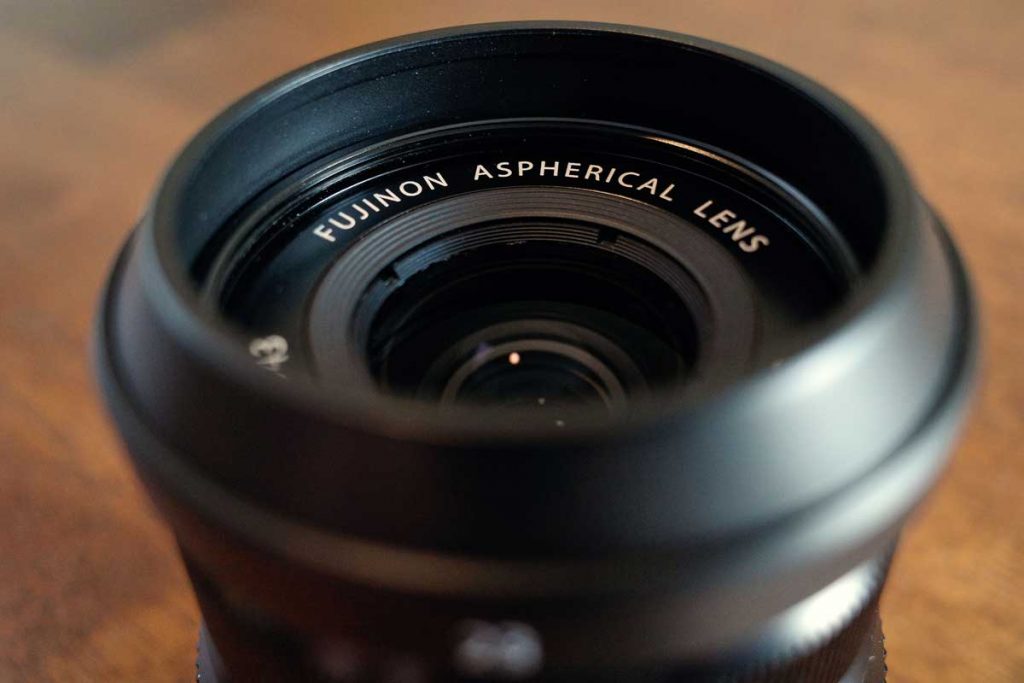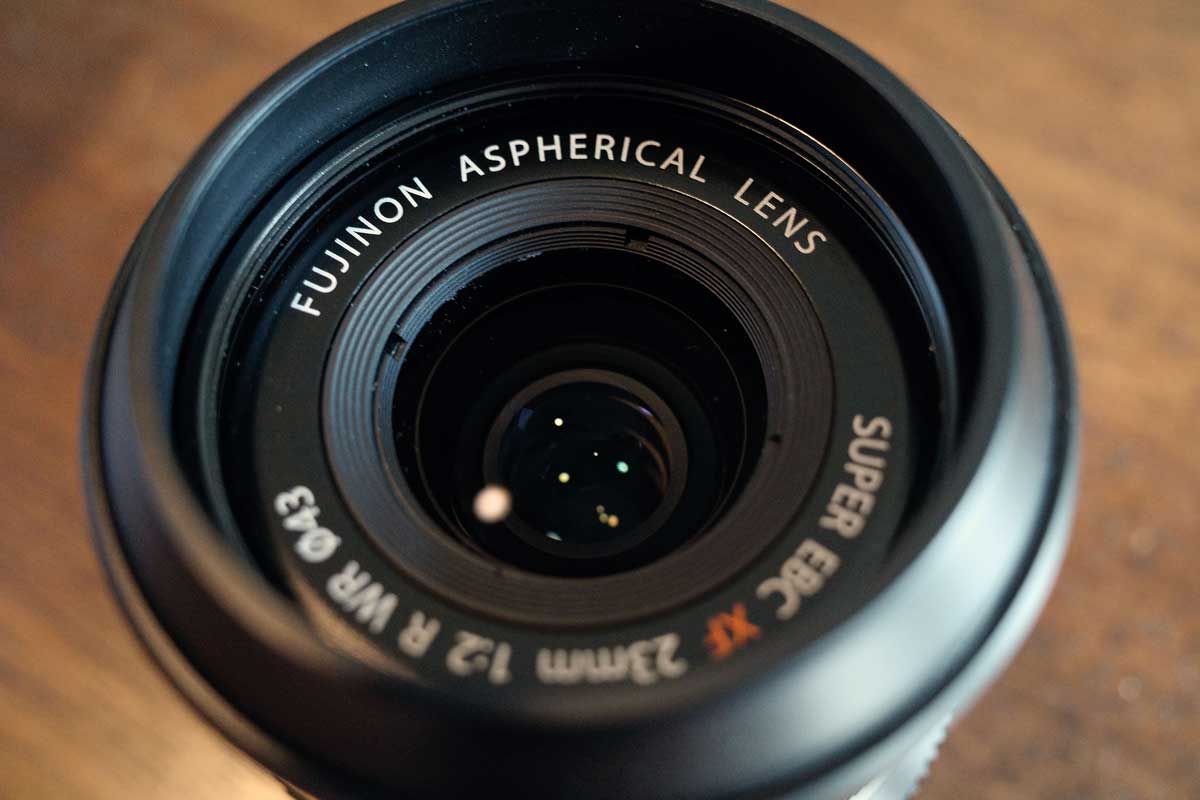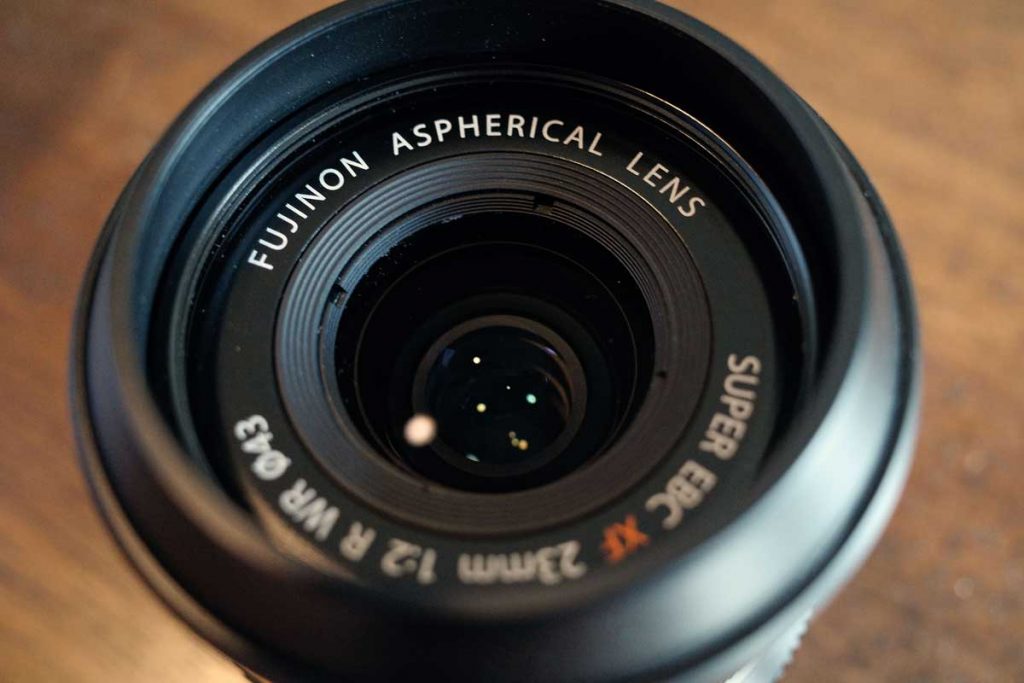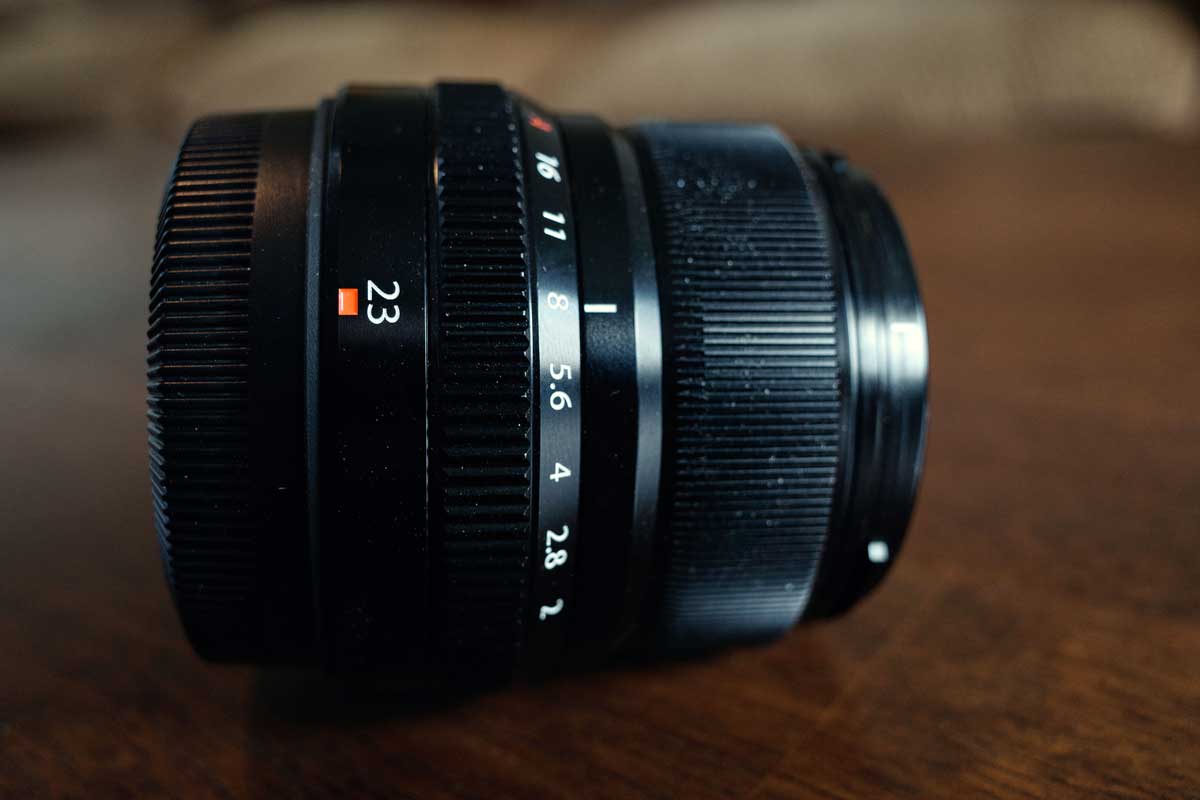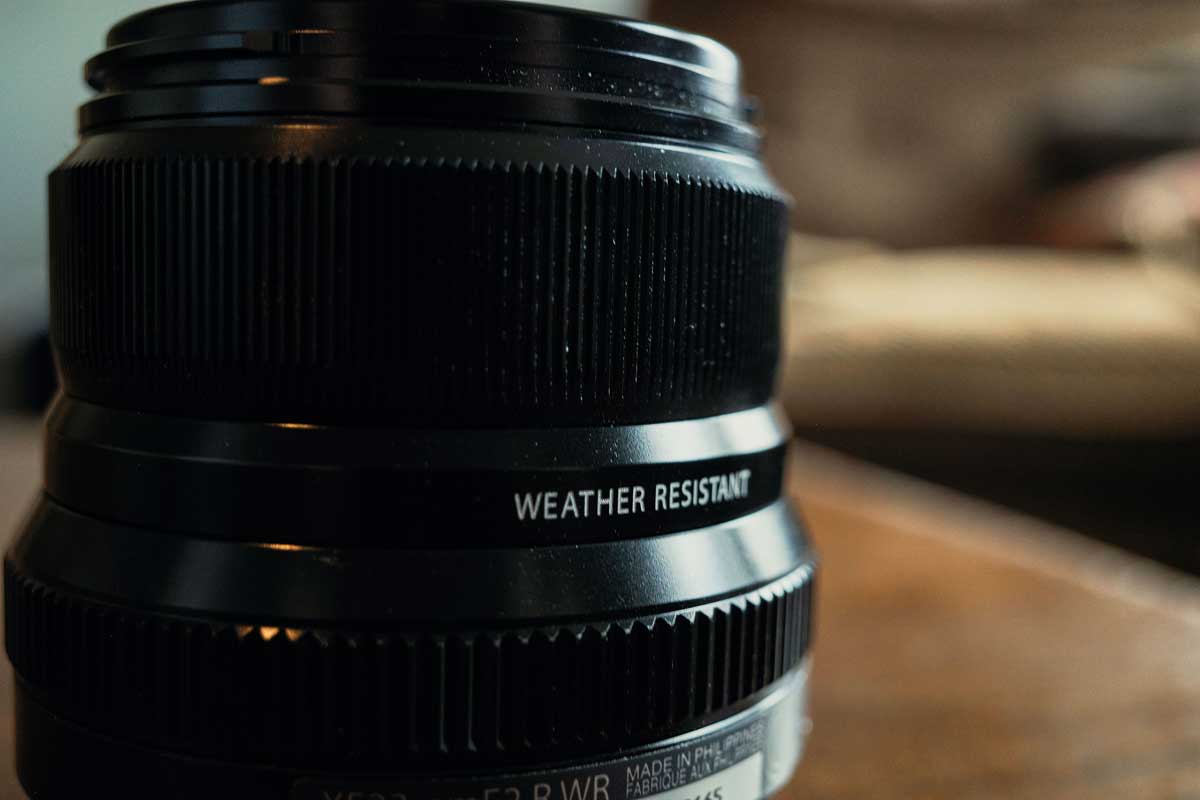 Focal Length/Field of View
With the 1.5x crop factor, 23mm on an APS-C camera comes out to a 35mm-equivalent field of view in full frame terms.
I started using a 35mm lens back when I was working as a second shooter for a wedding photographer. This photographer would lend me his extra 35mm (back then I was shooting with a full frame Nikon DSLR) because the widest lens I had at the time was a 50mm. We shot a lot of photos of the brides and grooms getting ready for their weddings and that meant being in hotel rooms and other tight spaces that required a wide-angle lens.
I had an X100S at the time but it wasn't until that wedding photography experience that I realized how much I liked shooting with a 35mm equivalent focal length lens. It felt like a good balance of being wide but not too wide and not being too far/compressed.
I probably like the 23mm focal length because it's close to what the human eye sees (or just a bit wider), so it feels pretty close to an extension of what I naturally see.
Image Quality/Sharpness
My main use for this lens is street photography and I like to shoot at f/8 as much as possible in order to get everything in focus. So for the way I use it, the image quality and sharpness are very good. If you like to shoot wide open and at other wide apertures, you're gonna get quite a bit more softness, especially in the corners — so that's something to take into consideration.
When I've used this lens for portraits, I tended to stop down in the f/3.2 – f/4 area to cut down on softness and get everything in focus. I would prefer to have the 23mm f/1.4 for portraits. I wanted the 23mm focal length lens for street photography though, so it was an easy decision for me to go with the 23mm f/2.
If you're in the market for this lens for street photography, you do have to take into consideration the Fujifilm X100V with its 23mm f/2 lens. I doubt its autofocusing is as good, but I've heard the lens on the X100V is sharper and has better image quality than the 23mm f/2 R WR. The downside (for some) is that the X100V doesn't have an interchangeable lens system so you're stuck with that lens.
I haven't heard any rumors about a successor to the Fujifilm XF 23mm f/2 R WR, but considering Fujifilm was able to make the lens on the X100V with better image quality while also putting it in a smaller package indicates that this lens could be improved on. I don't think it's due for an update just yet but I imagine we'll see one within the next few years.
Regardless, if you're using this lens for things like street photography, documentary photography, photojournalism, or for your everyday carry, the image quality you'll get from the Fujifilm XF 23mm f/2 R WR will be more than enough.
Autofocus Performance
The autofocus of the Fujifilm XF 23mm f/2 R WR is really, really good. It's one of the fastest autofocusing lenses I've used.
It's not just fast but also accurate. I don't think I've ever noticed this lens hunting, even in really low light. Good autofocus is something that I take for granted and don't really notice until a lens starts struggling and so it's really nice that this lens just does what you want it to do. It's nice that you can compose your shots without worrying about whether it's going to lock focus or not.
I like that the focusing is all done internally so there are no moving parts on the exterior of the lens. I've found that Fujifilm's internally-focusing lenses are basically silent, whereas the ones that have externally focusing elements can be noisy, which I like to avoid so that I can be as stealthy as possible while doing street photography. I don't know if it's really something I should be concerned with, but I also prefer lenses with internal focusing because it gives me more peace of mind knowing that if the lens gets bumped around it's less likely to break something.
All in all, I couldn't be happier with the autofocusing of this lens.
Fujifilm XF 23mm f/2 R WR Sample Images
Here are some recent images I shot with the Fujifilm XF 23mm f/2 R WR: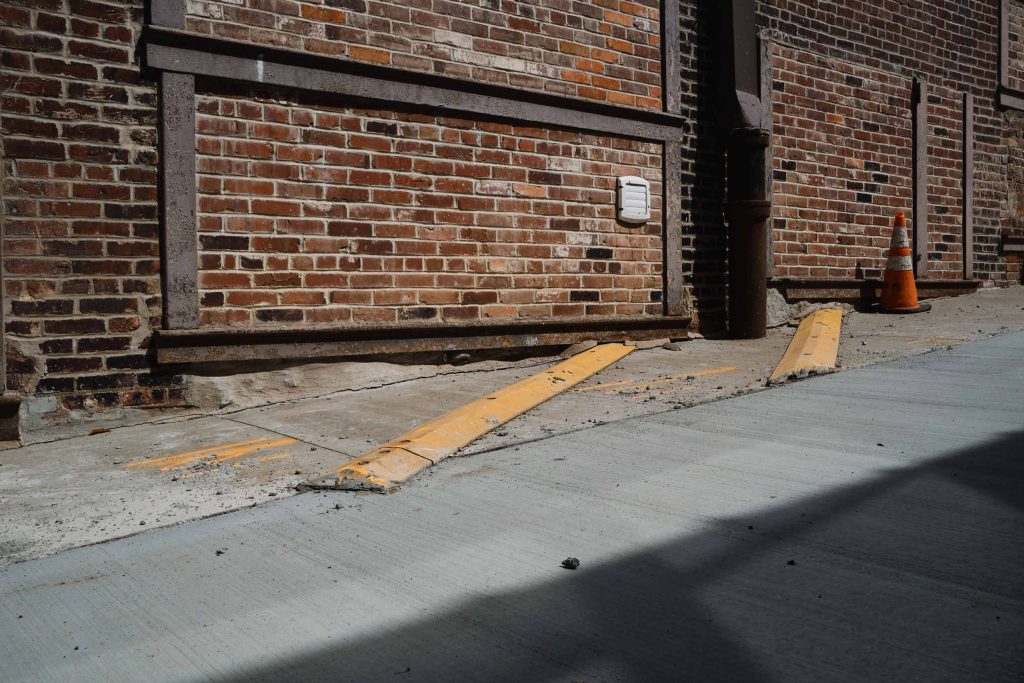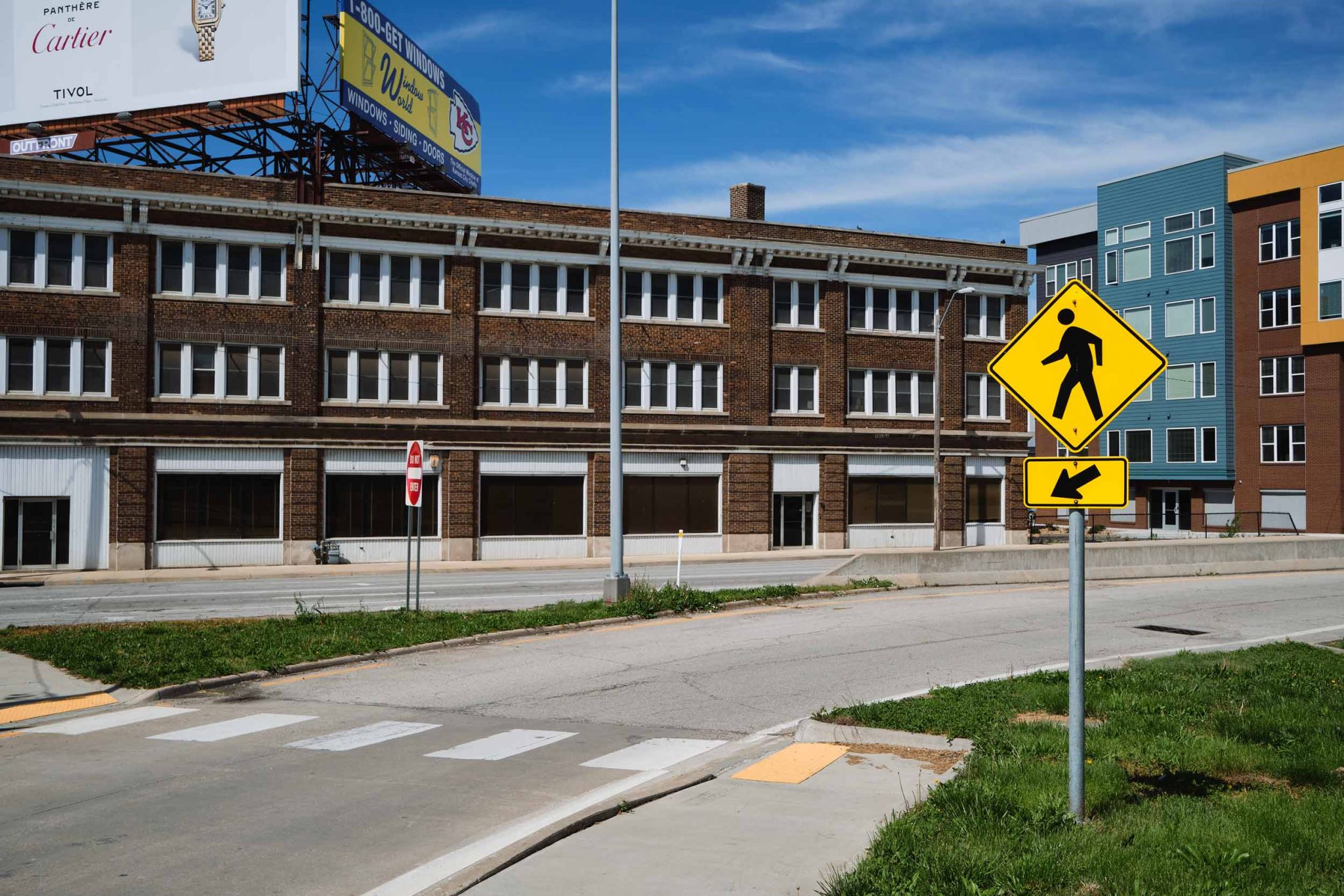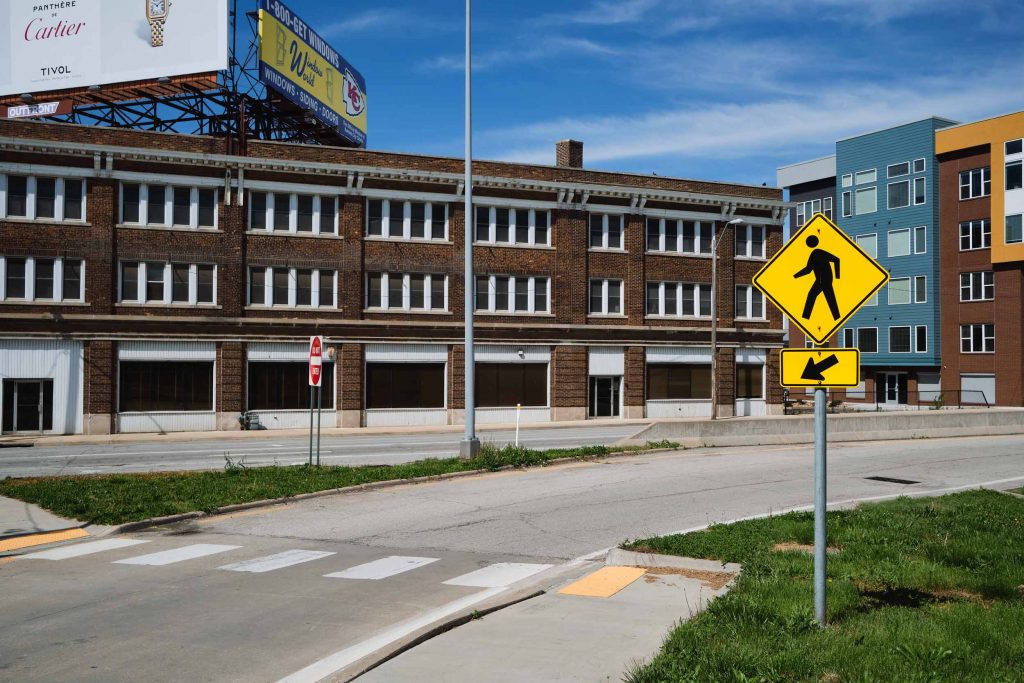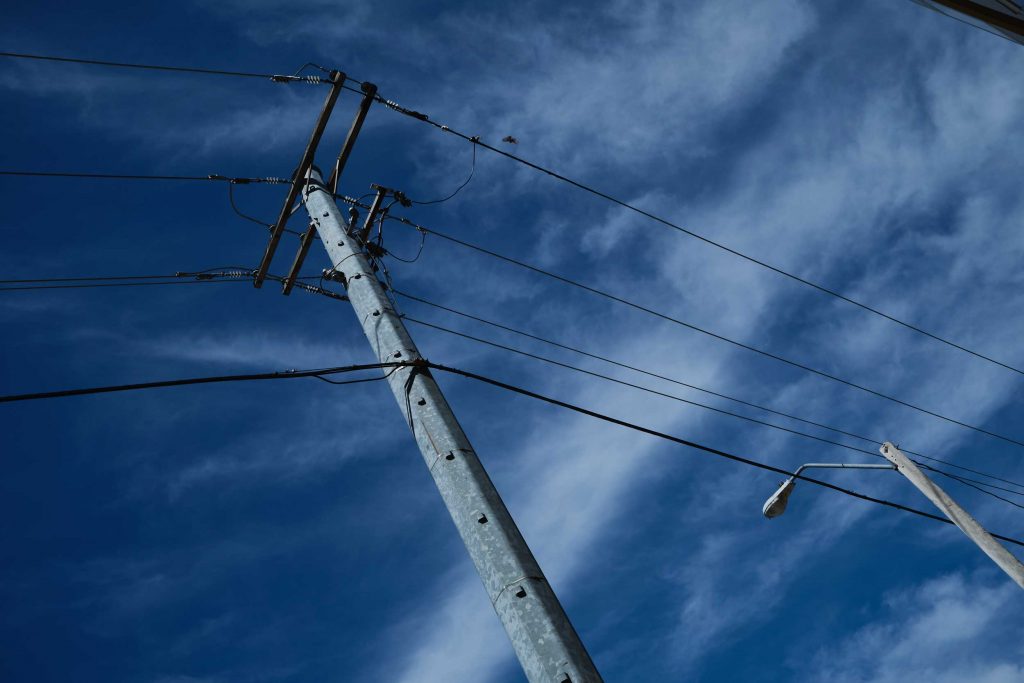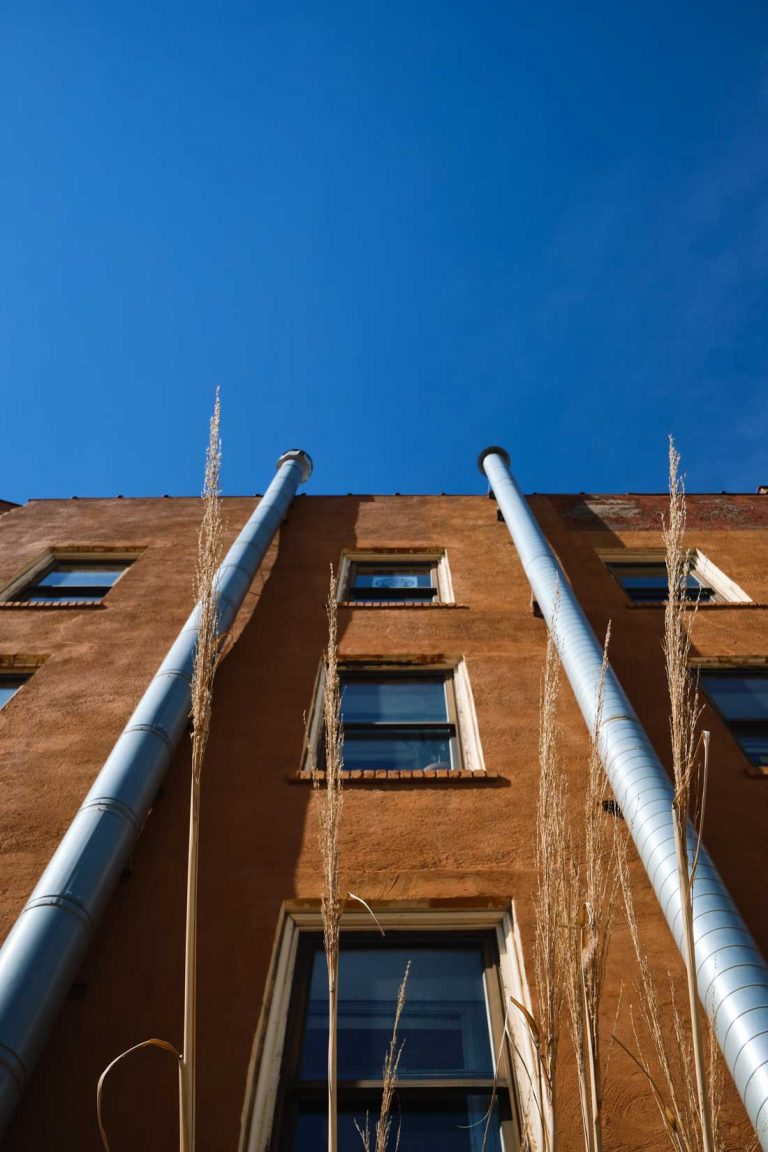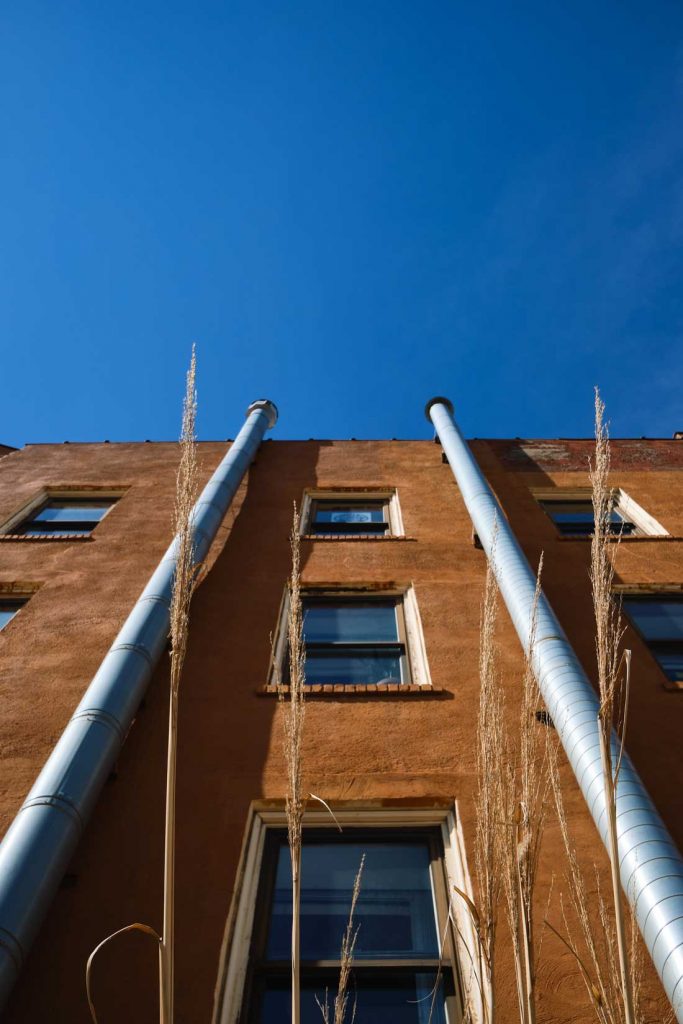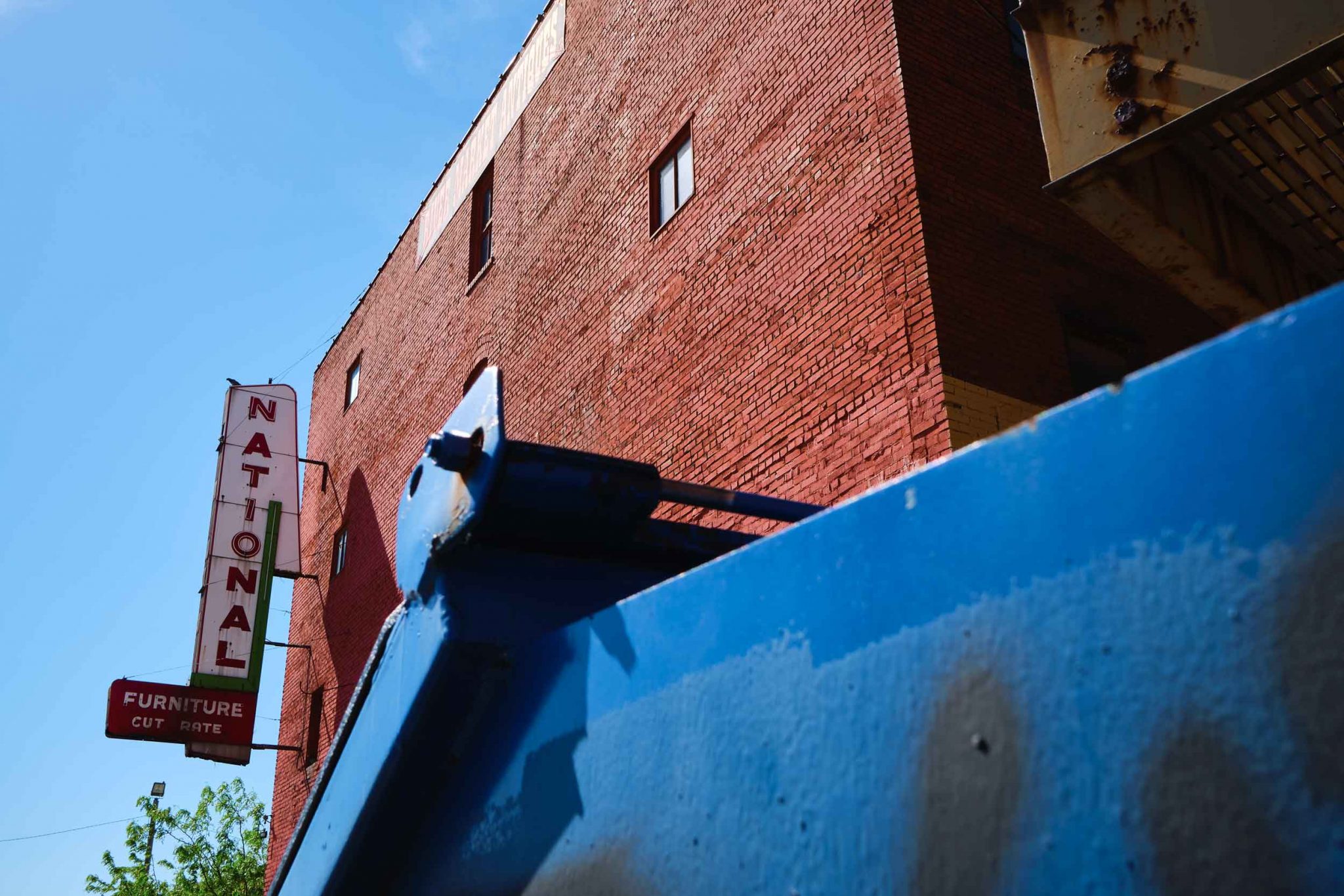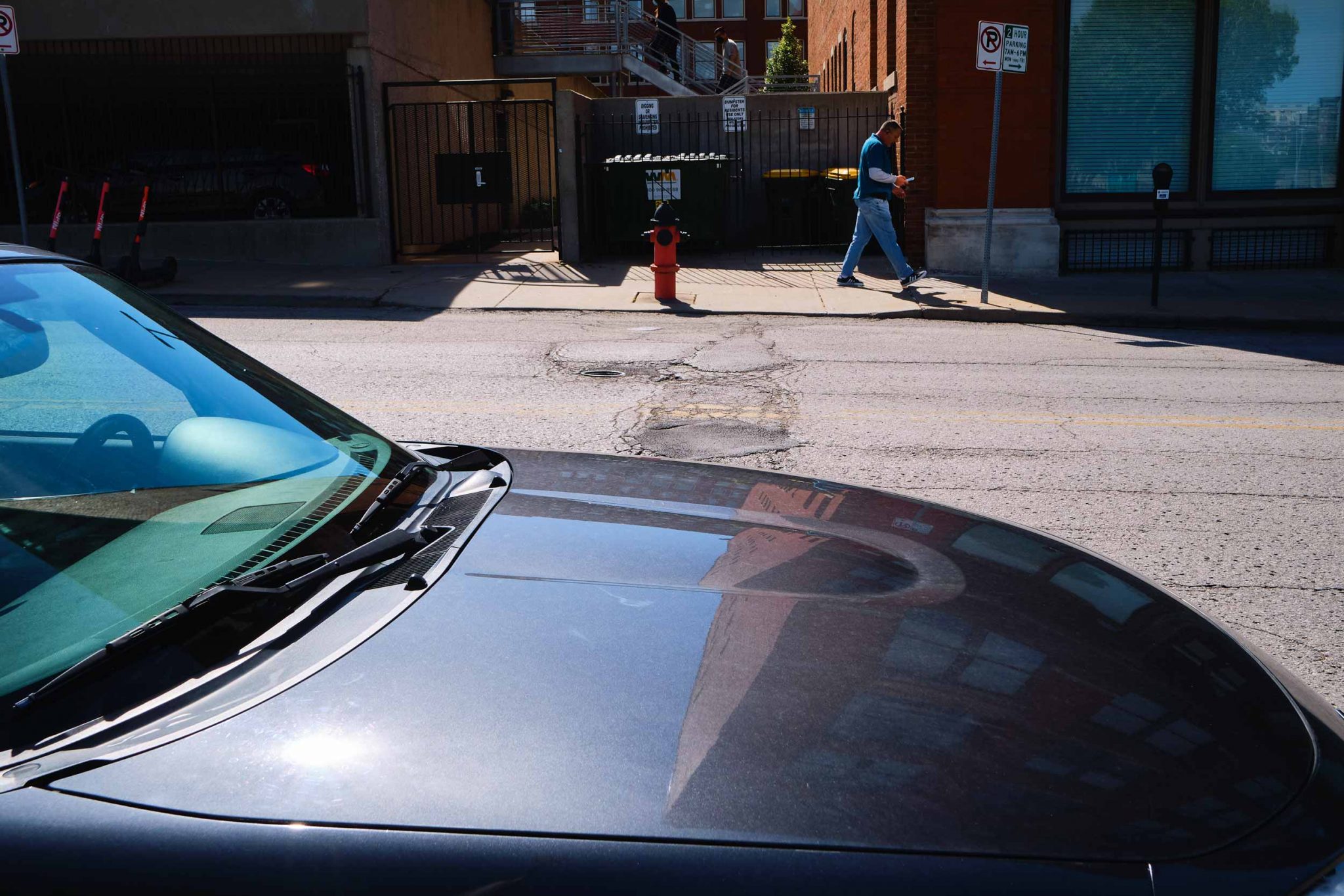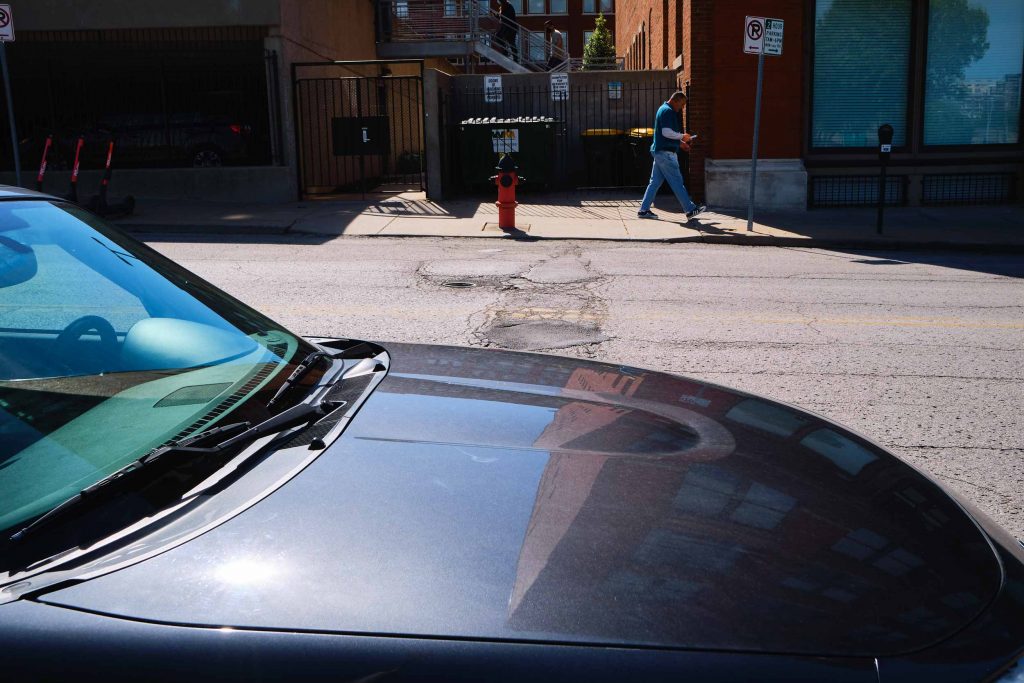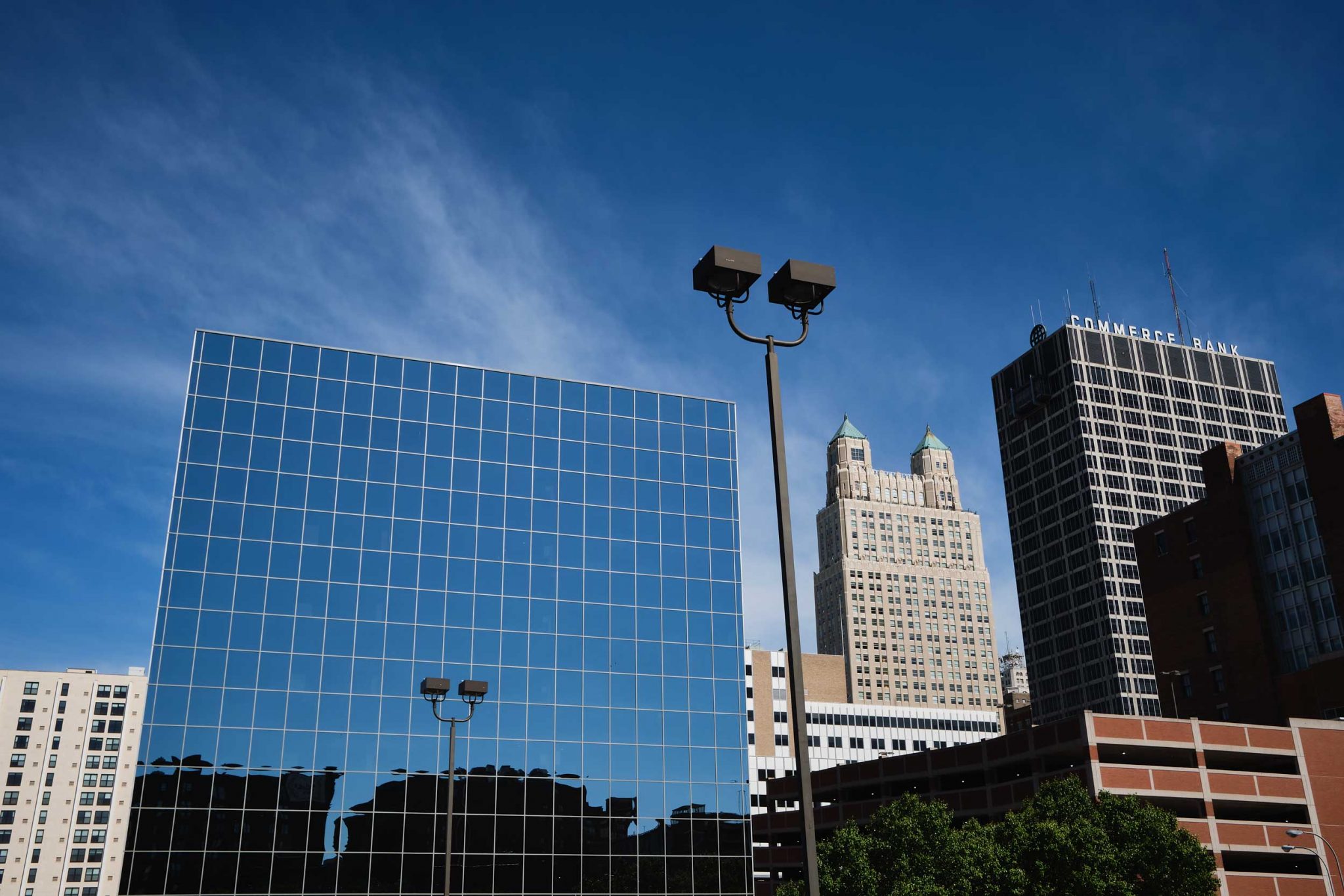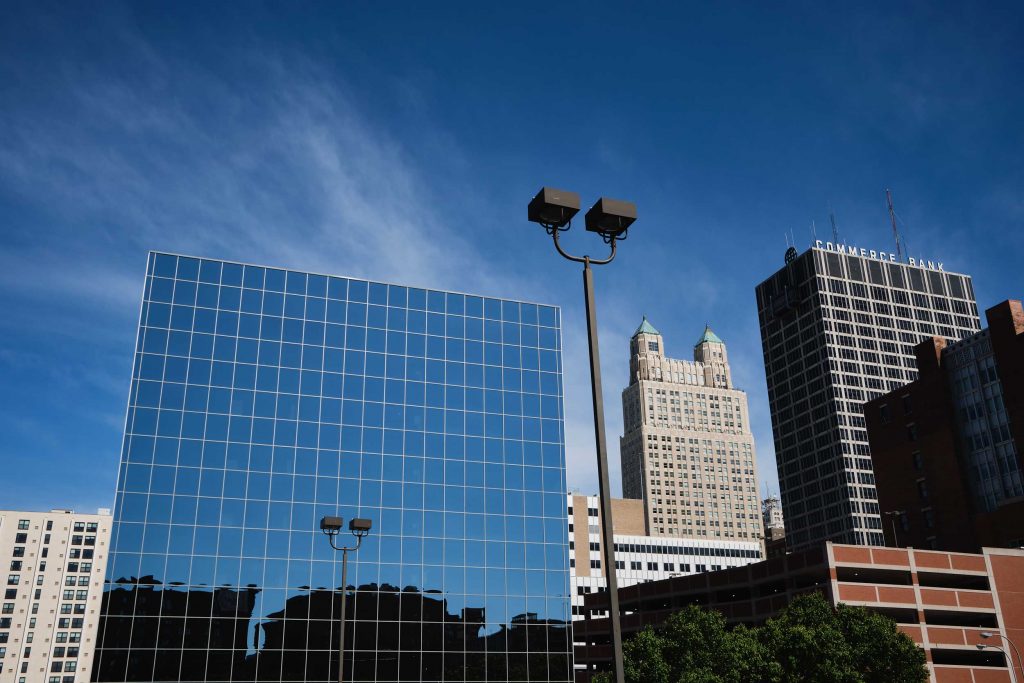 Overall Thoughts
The Fujifilm XF 23mm f/2 R WR is a very solidly performing lens that you can depend on. I'm a big fan of the 35mm equivalent focal length — it's wide enough to make images with a perspective that makes the viewer feel like they're in the scene without you having to get uncomfortably close to subjects (although that's relative of course). I like shooting with 28mm lenses (18mm on Fujifilm APS-C cameras) too, but I prefer the working distance of 23mm.
For the most part, the image quality of this lens is very good, aside from being soft at wider apertures. I would like for it to be sharper but I can live with some corner softness and I shoot a lot at f/8 anyway so it's not really an issue for me. If you're looking for a wide-angle lens for portraits, I would probably go with the 23mm f/1.4, but the 23mm f/2 is plenty good for street photography, where you don't need the bokeh or perfect image quality.
The metal casing and weather resistance are always nice to have for being able to use the lens in harsh weather conditions and not having to worry about your gear getting wet as much. I think street photography can be really interesting in bad weather so I much prefer shooting with weather-sealed gear.
My nitpicks with this lens are its shape/size and the corner softness. The 23mm f/2 R WR is by no means a big lens, especially compared to Fuji's 23mm f/1.4, their other large-aperture primes, or their zoom lenses, but it could definitely be smaller. It would be nice if they were able to make the next version of this lens so that it doesn't stick out so far in front of the camera for a more discreet package. I would have no problem if they reduced the maximum aperture down to f/2.8 to do so.
That's it for this Fujifilm XF 23mm f/2 R WR review — I hope it was helpful for you. Happy shooting.
If you're considering buying this lens, please use the affiliate links below. There's no extra cost to you and we may earn a commission so we can fund this site.
More Fujifilm Lens Reviews:
Fujifilm Camera Reviews: