How to Get Into Wedding Photography [A Guide for Beginners]
Wedding photography is one of those industries that can seem daunting to the beginner photographer.
There is so much pressure to not only perform to a high standard but you also have to learn to cut through the noise of all the other wedding photographers to get to your ideal clients. I didn't start out as a wedding photographer, in fact, I told myself I wanted to stay away from weddings.
It wasn't until I got asked by a friend to photograph her wedding that I fell in love with the genre. But after the first wedding, I knew I had to take some drastic actions to break into the industry properly.
So how did I make it work after the first one? Here are some tips on how to get into wedding photography if you are just starting out.
Education and Networking
Invest in educating yourself not only on your camera and gear but also wedding photography in general. You cannot properly capture one of the most important days of your client's life without first knowing what you're doing and how you are going to do it.
Education can take the form of any of the following:
Photography Forums
YouTube Videos
Formal Classes
Workshops
Blog Articles (check out our big wedding photography guide)
Books
Shadowing Other Photographers
Networking
Subscription Based Learning (Photographers who offer educational material for a monthly subscription)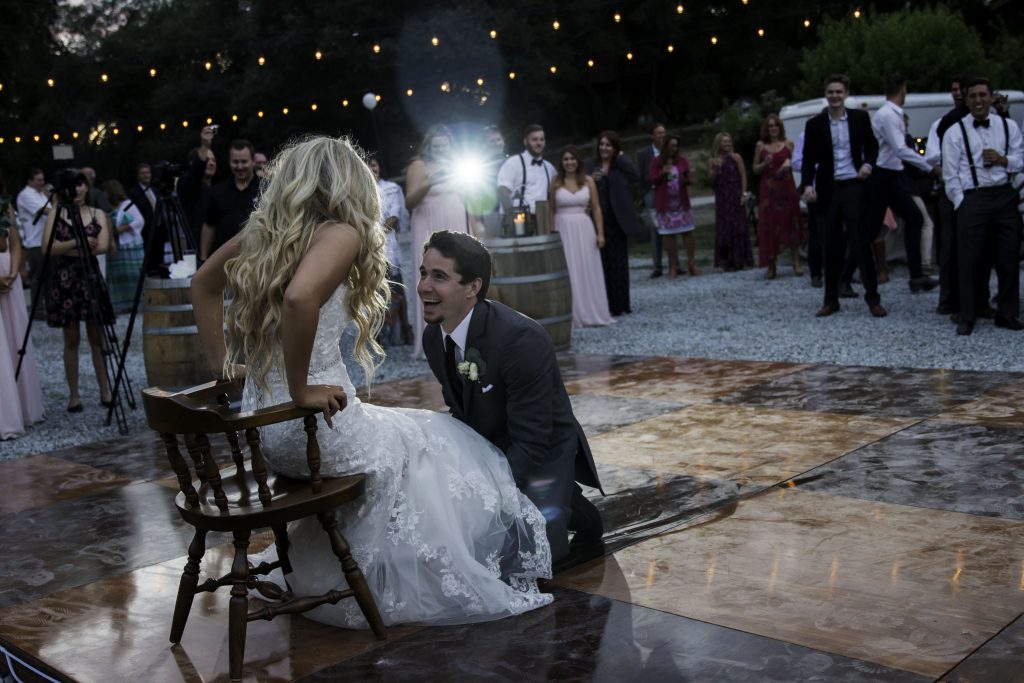 Photo by Lauren Nihen
Start As an Assistant/Second Shooter
You can learn a lot about wedding photography and lighting just by assisting a veteran wedding photographer, so that's a really good place to start. By being a wedding photography assistant and helping another photographer you'll be able to see how a wedding flows and be able to experience a wedding without the added pressure of being the primary photographer.
Second shooting for another wedding photographer will help you to get your toes wet in wedding photography while not having to deal with some of the stress that comes with running your own wedding photography business.
Being a second shooter also allows you to experiment more creatively. Second shooters often can focus on the bigger picture (or the small details, depending on your role) while the primary wedding photographer is focused more on capturing everything, handling the bride, making sure the timeline and shot list are being followed, etc. The main wedding photographer may have you take some portraits, but being a second shooter is an excellent way of learning photojournalistic wedding photography.
Buy The Right Equipment
Part of being a wedding photographer is the responsibility of having the right gear. There's just no getting around it – wedding photography is very demanding in terms of gear.
Wedding photographers often shoot in extreme settings (harsh sunlight, pitch black reception halls or dark outdoor venues). These obstacles are often overcome by having the correct gear.
A high ISO is extremely important for wedding photography, as well as knowledge of external flash units and/or bounce flash techniques.
When you have the right equipment (and are confident in using it properly), it lessens the stress of the day and you can focus more on the moments happening in front of you.
Having a collection of different lenses is also important as there are different moments of a wedding requiring different lens styles (ex: macro lens for rings shots, wide angle for group photos, etc.)
Finally, wedding photographers often shoot with two camera bodies. If you're wondering why wedding photographers use two cameras, it's so that you can quickly and easily shoot with two different lenses without changing them out. It's also nice in case of a malfunction. On that note, seasoned wedding photographers have backups on backups on backups of pretty much everything.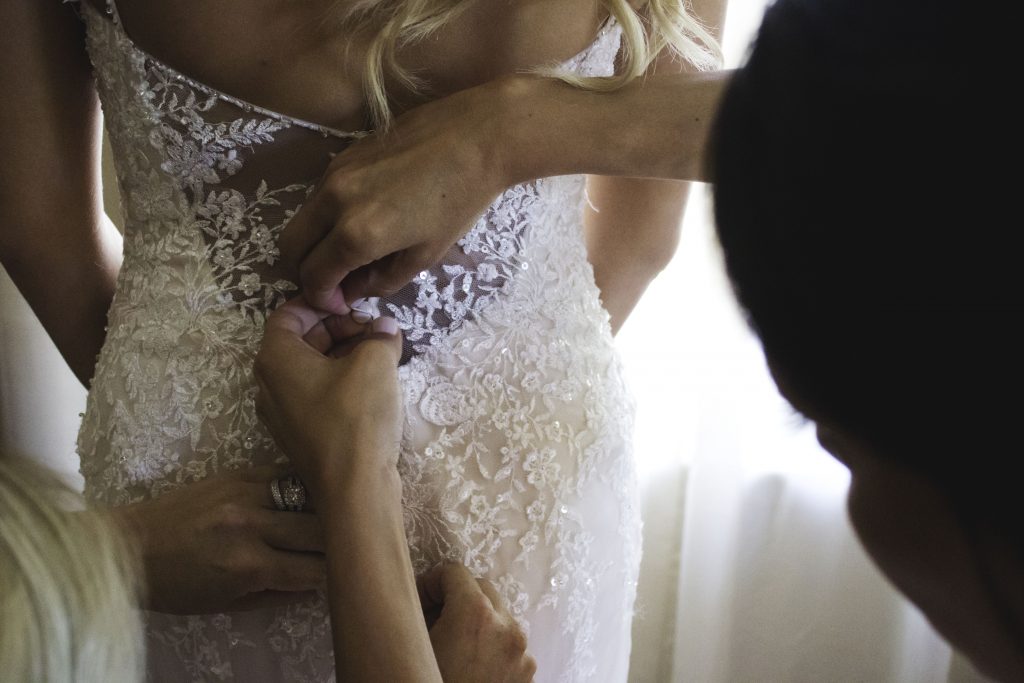 Shoot Your First Wedding/Build Your Portfolio
After you shoot your first wedding, you will want to build referrals, expand your portfolio and begin marketing/SEO to reach out to your ideal clients. This will really push you into the wedding game.
Until you have a portfolio, clients will be hesitant to book an untried wedding photographer. If you are struggling with this part, turn back to the education part, like our guide on wedding photography. Learn all about your ideal client and figure out where they are, then go there!
If you really want to learn how to get into wedding photography, there's no real magic behind it – it's all about being persistent and not giving up. The wedding industry is fast paced, competitive and it takes hard work and consistency to break into it. But it's also one of the most rewarding jobs ever because you get to see two people start their life together and I think that's pretty cool!
Cover image by Lauren Nihen