Fujifilm X-T3 Review: Still Worth Considering in 2022 and Beyond?
The Fujifilm X-T3 was a big hit when it first came out in September of 2018. It was praised for its jack-of-all-trades performance, as it does everything pretty well and doesn't have many weak spots.
Now that it's been two years since its release and the next generation of this camera in out in the X-T4, you may have a difficult decision to make between the two considering the X-T3 is still being manufactured and sold new.
Overall I think the X-T3 is a great all-around camera that gets the job done in a really wide variety of photographic situations, so I definitely think it's still worth considering.
If your choices are either this or the X-T4, it comes down to your shooting style and whether you want features like IBIS, longer battery life, faster autofocus, and higher frames per second shooting. Other than having IBIS, the improvements in the X-T4 aren't significantly better than the X-T3. Some things on the camera are just different — how the flip screens work being the most obvious one.
In this Fujifilm X-T3 review, I'll give you my thoughts on it and I hope it helps if you're deciding between the two cameras.
Fujifilm X-T3 Specifications
Sensor Resolution: 26.1 MP, 3.75µ pixel size
Sensor Type: BSI CMOS (X-Trans)
Sensor Size: 23.5 x 15.6mm
Image Size: 6240 x 4160
Image Processor: X-Processor 4
Native ISO Sensitivity Range: 160-12,800
Boost ISO Sensitivity: 80, 100, 125, 25600, 51200
Sensor Cleaning System: Yes
Lens Mount: FUJIFILM X mount
Weather Sealing/Protection: Yes
Body Build: Magnesium Alloy
Shutter: 30sec – 1/8000 mechanical shutter, up to 1/32000 electronic shutter
Storage: 2x SD slot (SD/SDHC/SDXC, UHS-II compatible)
Viewfinder Type: 3.69m-dot OLED color viewfinder
Viewfinder Coverage and Magnification: 100%, 0.75x
Autofocus System: 425-point hybrid AF system
Continuous Shooting: 11 FPS, up to 30 FPS with electronic shutter and 1.25x crop
Exposure Meter: TTL 256-zones metering
Built-in Flash: No
LCD Screen: 3.0″, 1.04m-dot Tilting Touchscreen LCD
Video Maximum Resolution: 4K and DCI 4K @ up to 60p
HDMI Output: 4:2:2, 10-bit
GPS: No
Wi-Fi/Bluetooth: Yes / Yes
Battery Life (CIPA): 390 shots
Weight: 489g (excl battery and memory card)
Dimensions: 133 x 93 x 59mm
Ergonomics/Handling
I would say the Fujifilm X-T3 feels good in the hands but not great. I feel like if they extended the grip and made it larger (even larger than what they did with the X-T4 because they only increased the size a little), then it would handle better.
I don't feel like they would need to increase the size of the camera by that much to make it comfortable in the hands. Because if you look at the Ricoh GR line, those cameras are even smaller than the X-T3 and I think those cameras are better ergonomically.
I know Fujifilm took user feedback into consideration when they developed the X-H1. People were asking for a Fujifilm camera with a larger grip. It looks like they took a similar approach with the X-S10 that was recently released as well, which I think is a good direction to take.
But again, the grip on the X-T3 leaves a little to be desired. It just doesn't allow you to get much of a grip with all four fingers. If you have larger hands, your pinky will probably hang off the bottom of the camera.
If you want a little more heft to the grip on the X-T3, Fujifilm has a grip accessory you can add to the camera but I wasn't a big fan of these when I tried one on an X100S.
Fujifilm also has a battery grip that increases the size of the grip of the X-T3, which is definitely useful for the additional shutter button if you shoot vertically a lot and you need the extra battery power. They're not cheap though and they beef up the entire size of the camera rather than just the grip.
I think the Fujifilm X-T3 looks great. Fujifilm obviously took inspiration from old film SLRs for the X-T line. For me at least though, usability is more important than looks and it would be nice if they could find a way to make it handle better.
Controls/Layout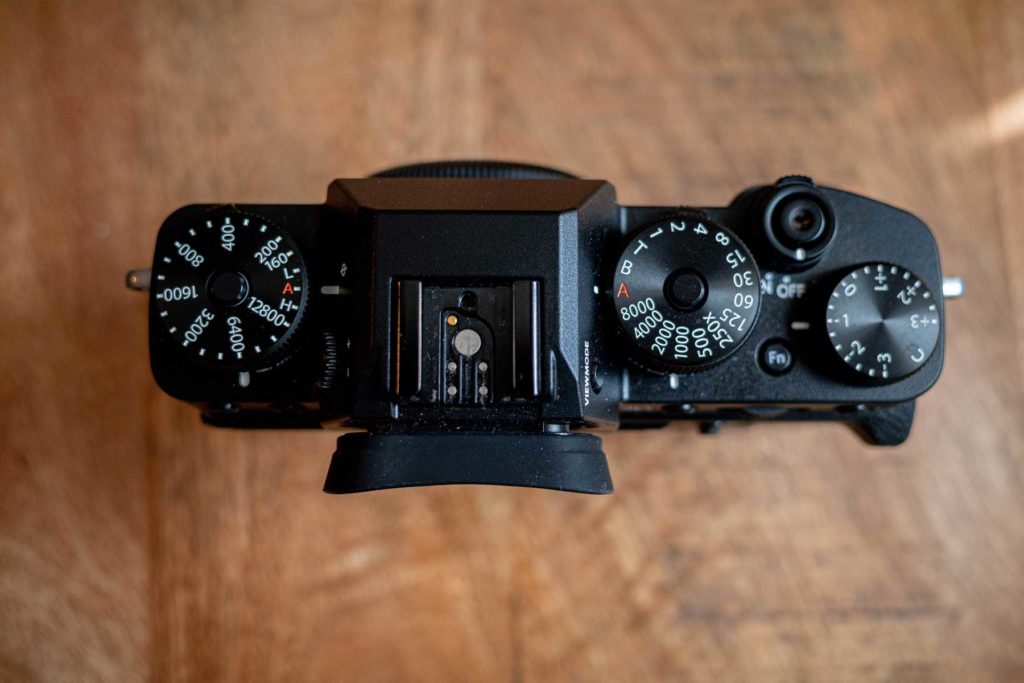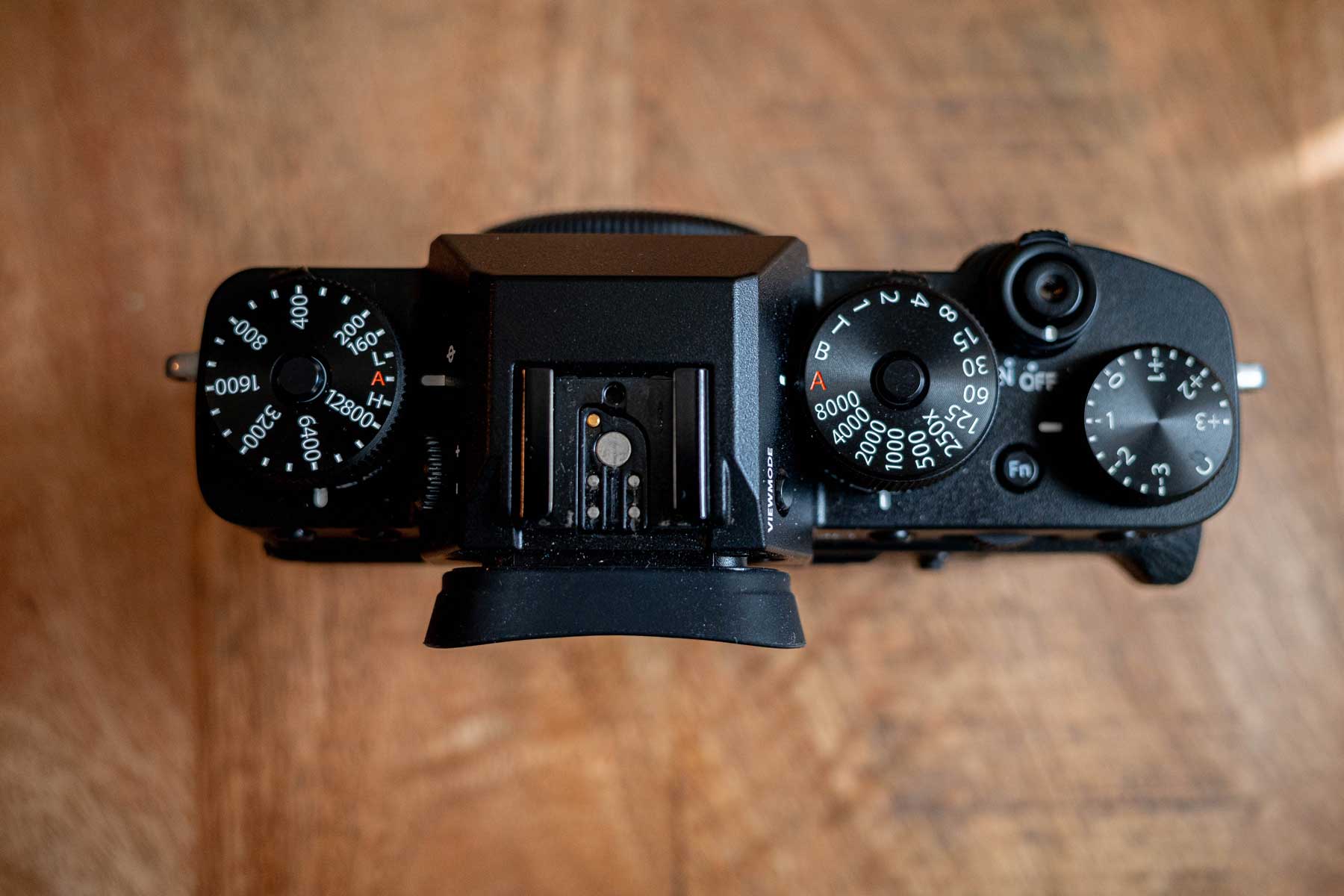 One of the best things about this camera is that you have manual controls for everything, which is a big selling point for Fujifilm cameras in general. You don't get a mode dial with modes like auto, program, shutter priority, aperture priority etc. with the X-T3, so this camera might be a bit intimidating for beginner photographers who don't know what those modes are. But if you do know what those camera mode mean, you can easily do the same things with the X-T3.
On the left side of the camera, you have the trash button for deleting images and the play button for reviewing images. Above that on the top of the camera, you have the ISO dial and under that, you have the drive mode settings. This includes the settings for video mode, bracketing, and continuous high, continuous low, and single shooting modes.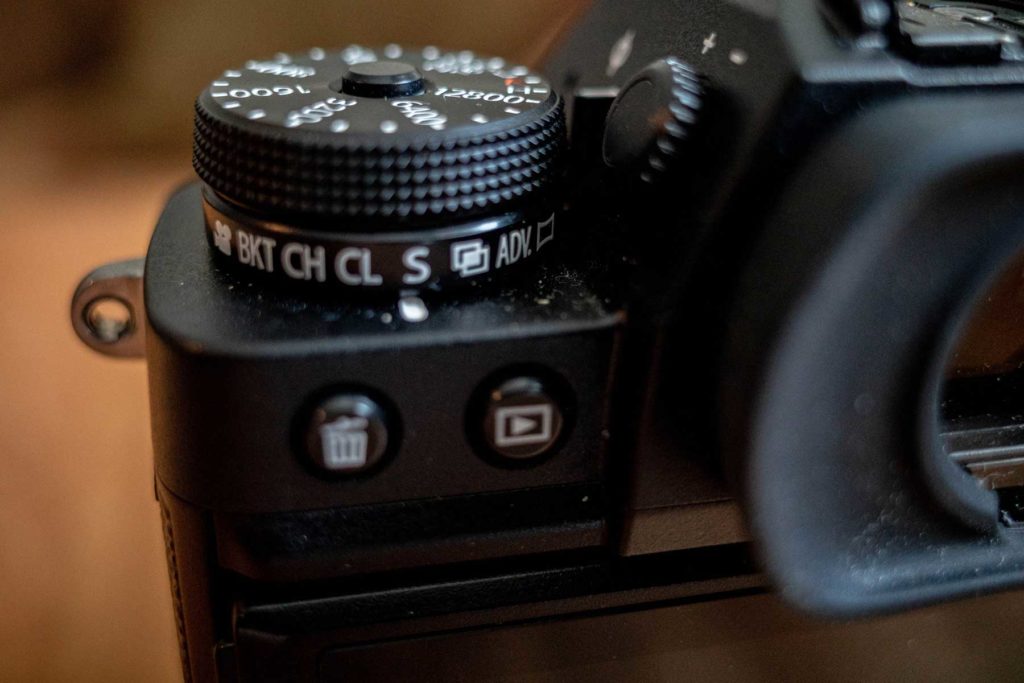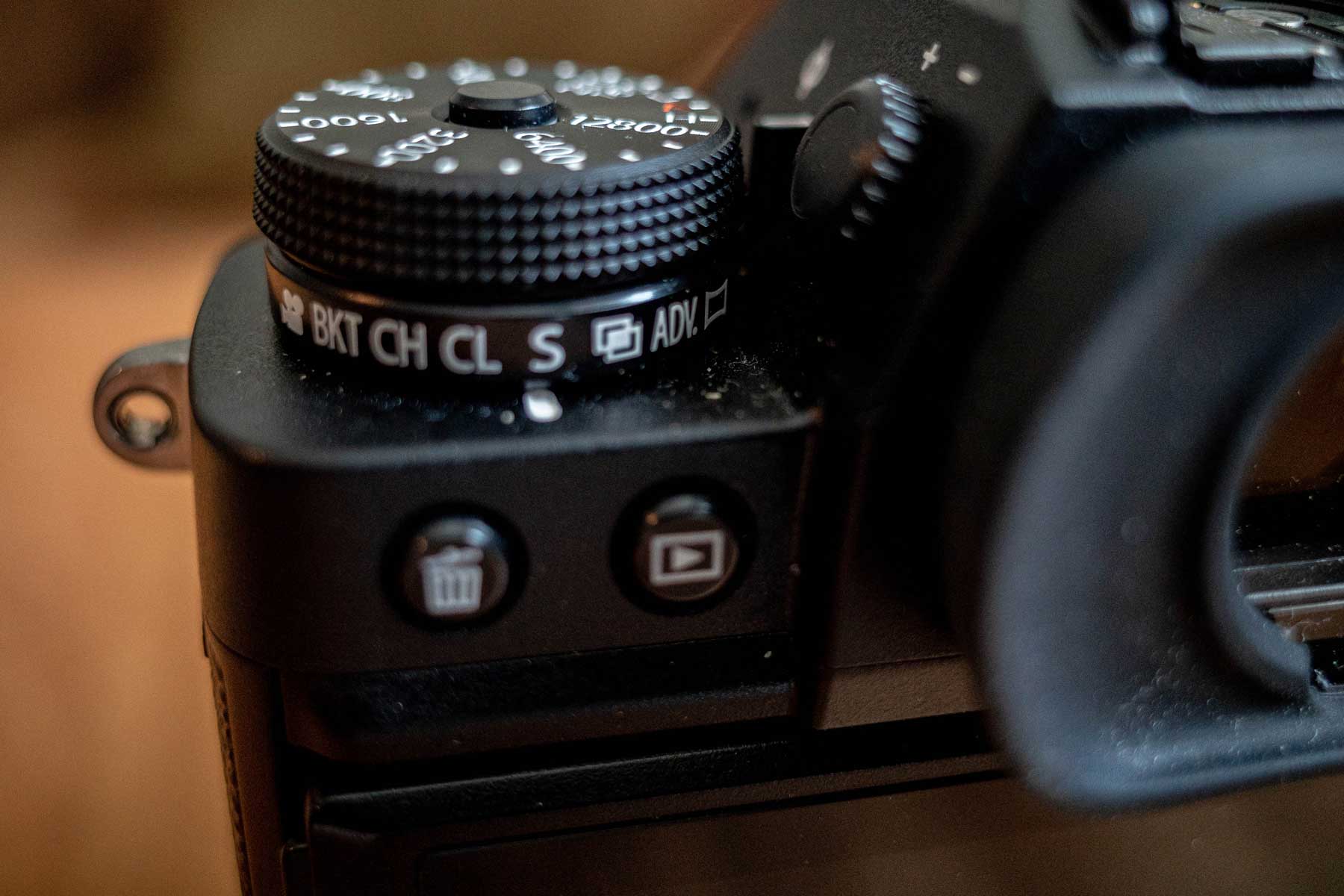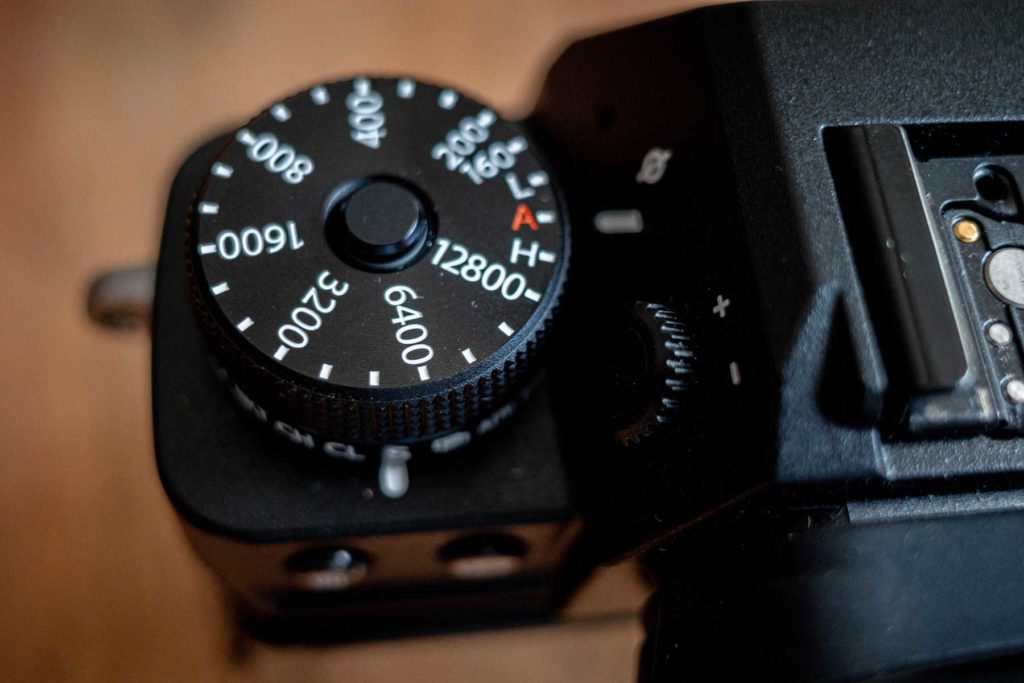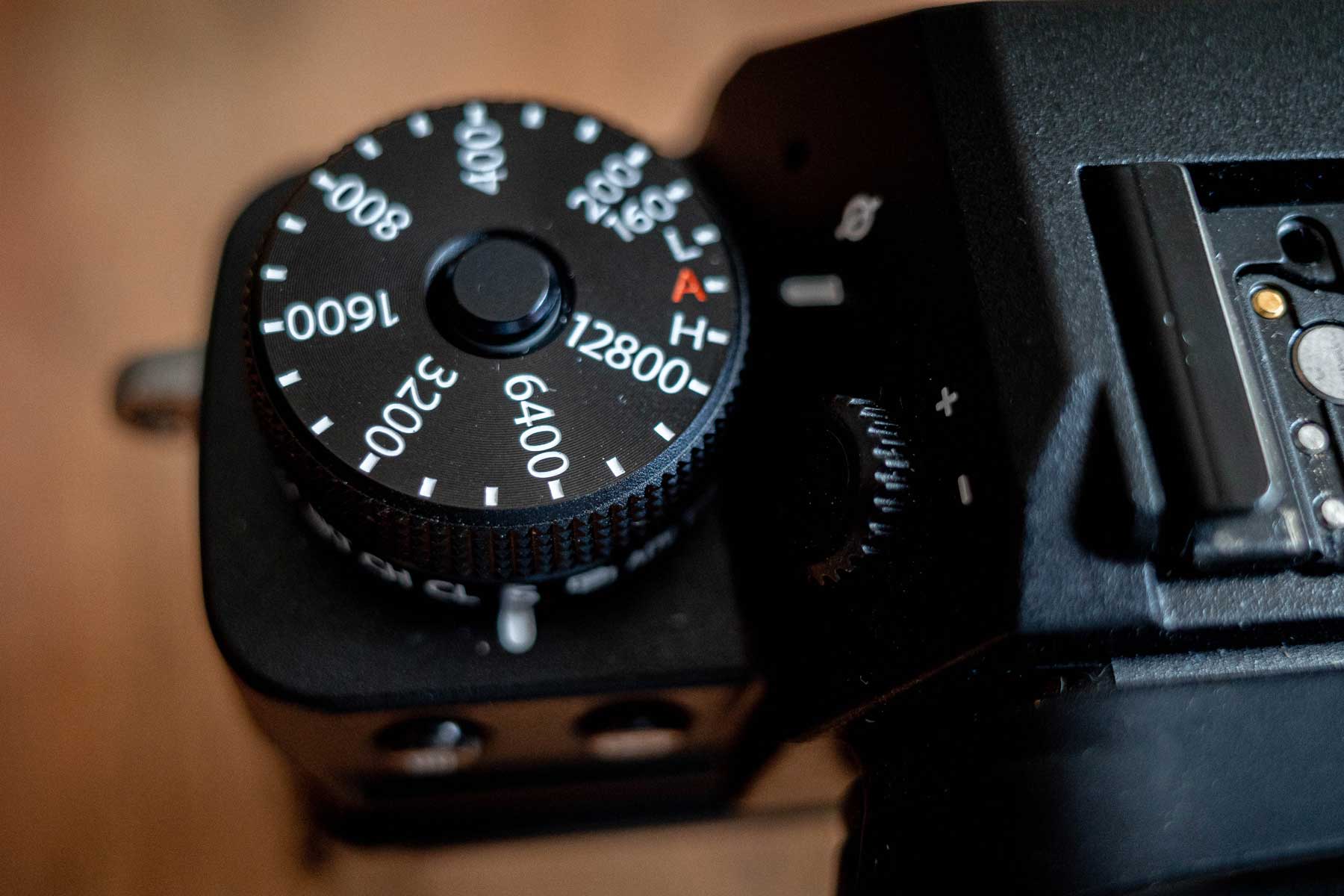 To the right of the ISO dial, you have your electronic viewfinder and hotshoe above it. To the side of the viewfinder, there is a viewmode button that is used to toggle your display between either the EVF, the LCD, or the eye sensor + LCD image display mode, which displays in the viewfinder if you look through the viewfinder but switches to the LCD if you take your eye off.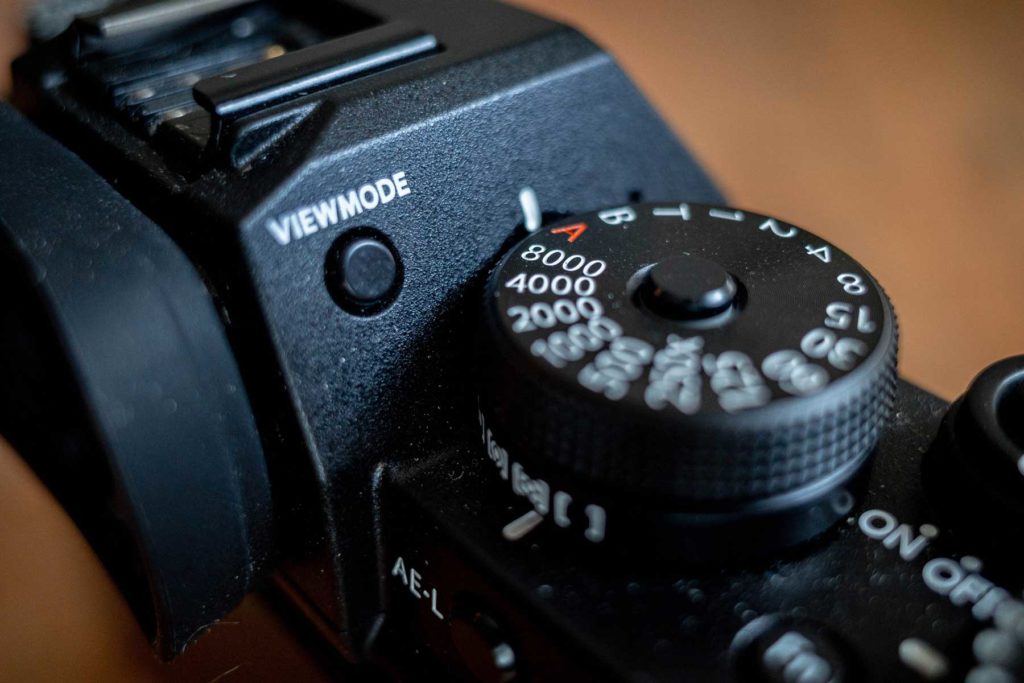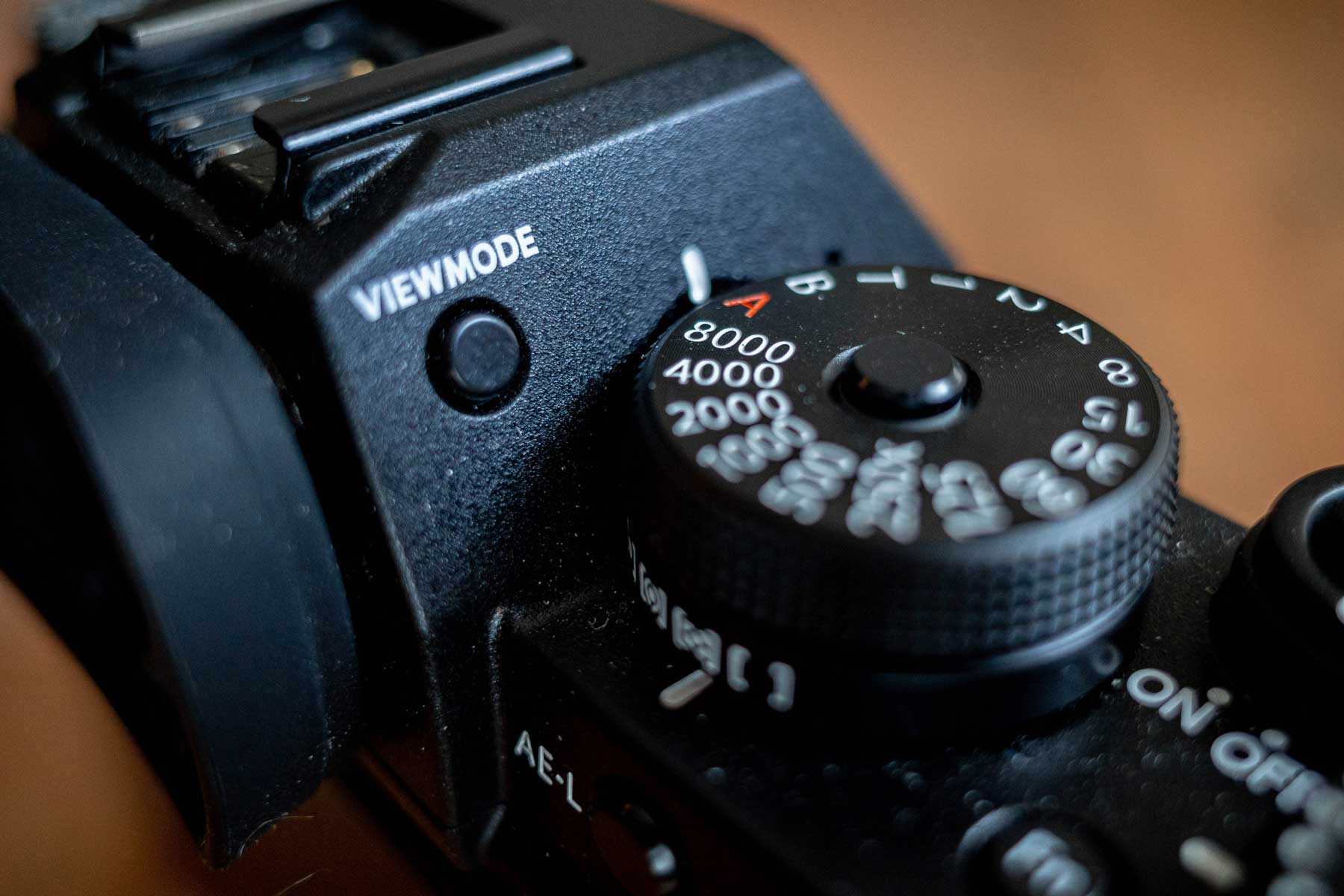 Then you have the shutter speed dial and under it, metering modes with options for multi, center-weighted, spot, and average. You then have your shutter button with the on/off switch beneath it. Lastly, as far as the top of the camera goes, you have the exposure compensation dial and a small function button, which by default is the setting button for eye auto focus modes but you can change this function button and any other function button on the camera to whatever you want.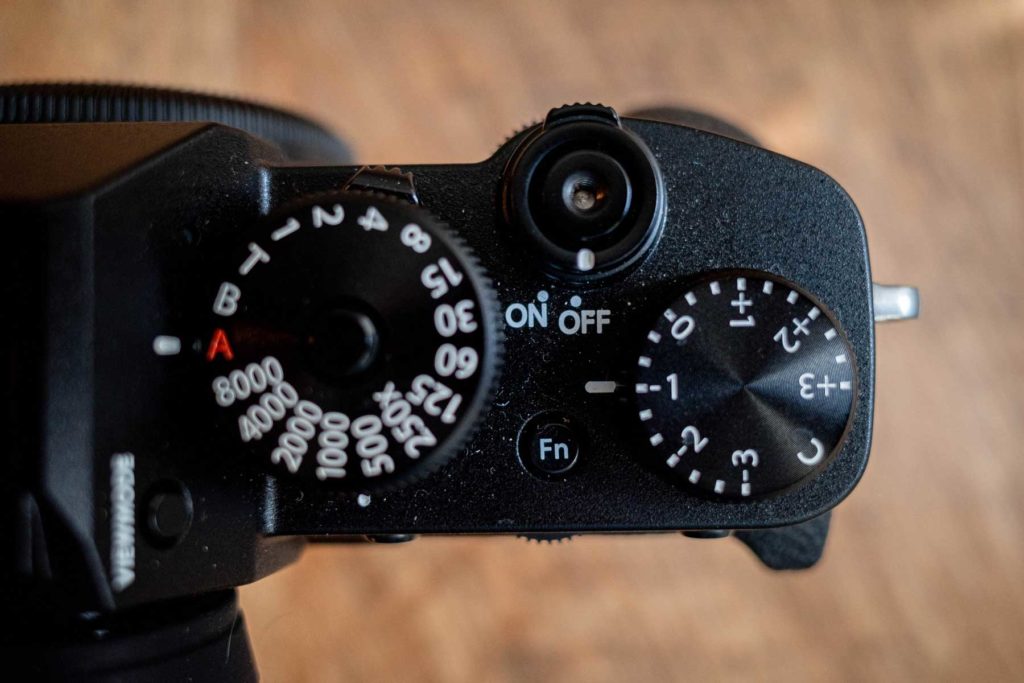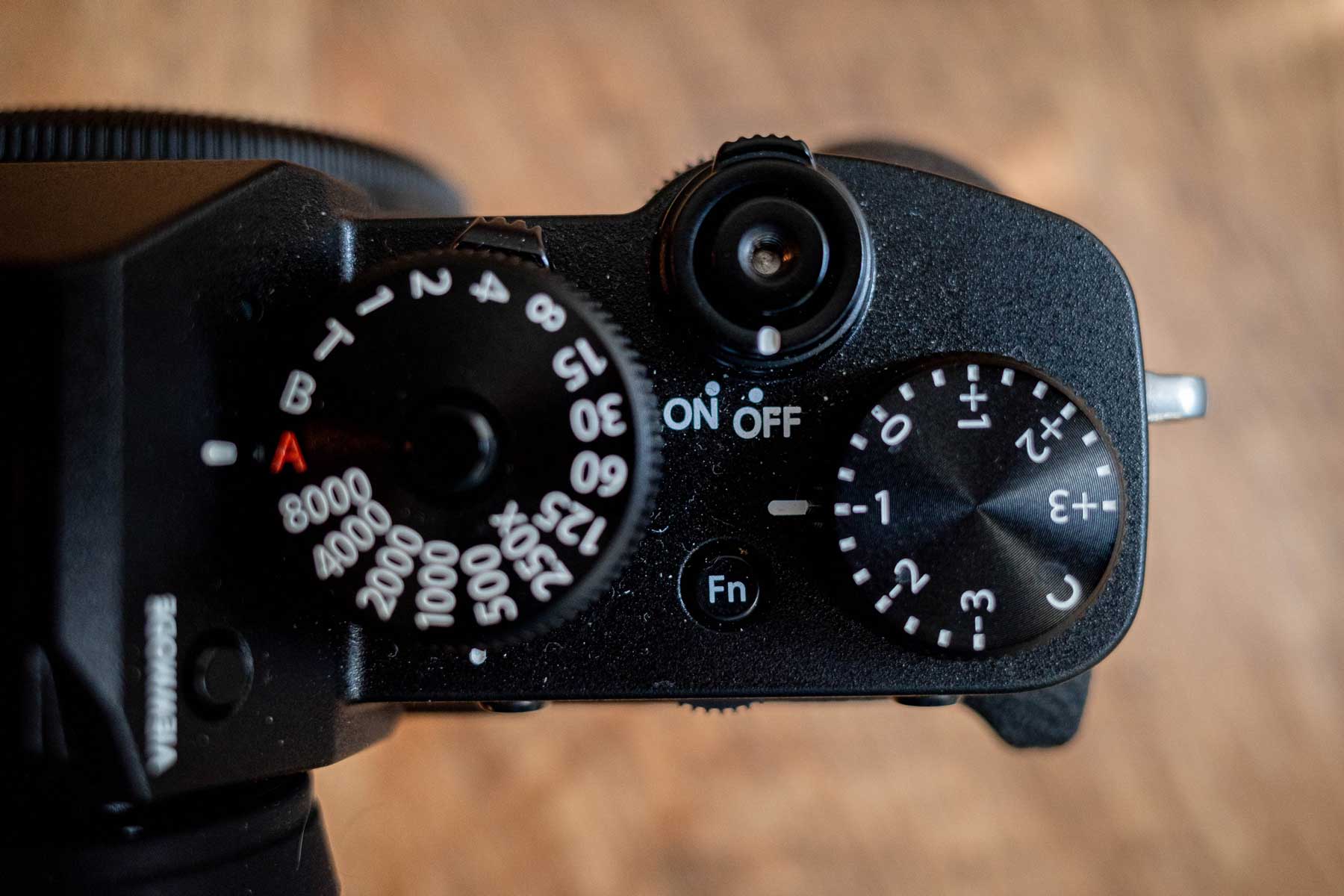 On the back of the camera on the right-hand side, you have an exposure lock button, the rear command dial, and focus lock button. Below that you have the Q menu display button, which brings up a condensed version of the camera's menu, which is quicker and easier to navigate. Below that you have a small joystick, which can be used for a variety of functions, the menu/OK button surrounded by a D-pad, and the disp/back button.
Worth noting also on the back of the camera is a small nub to the right that helps keep your thumb in place.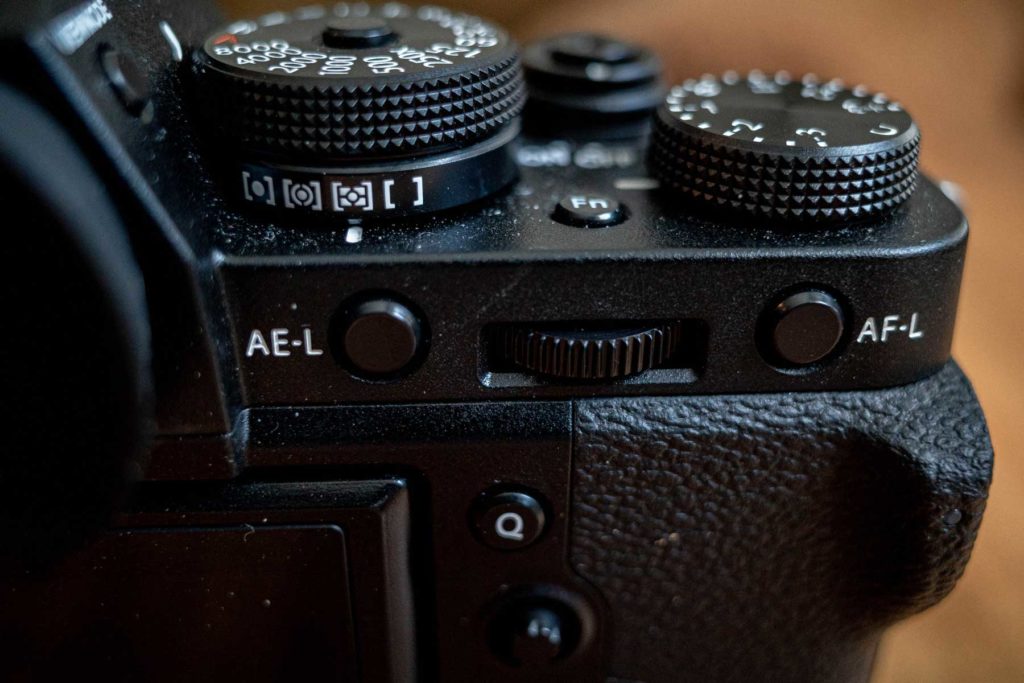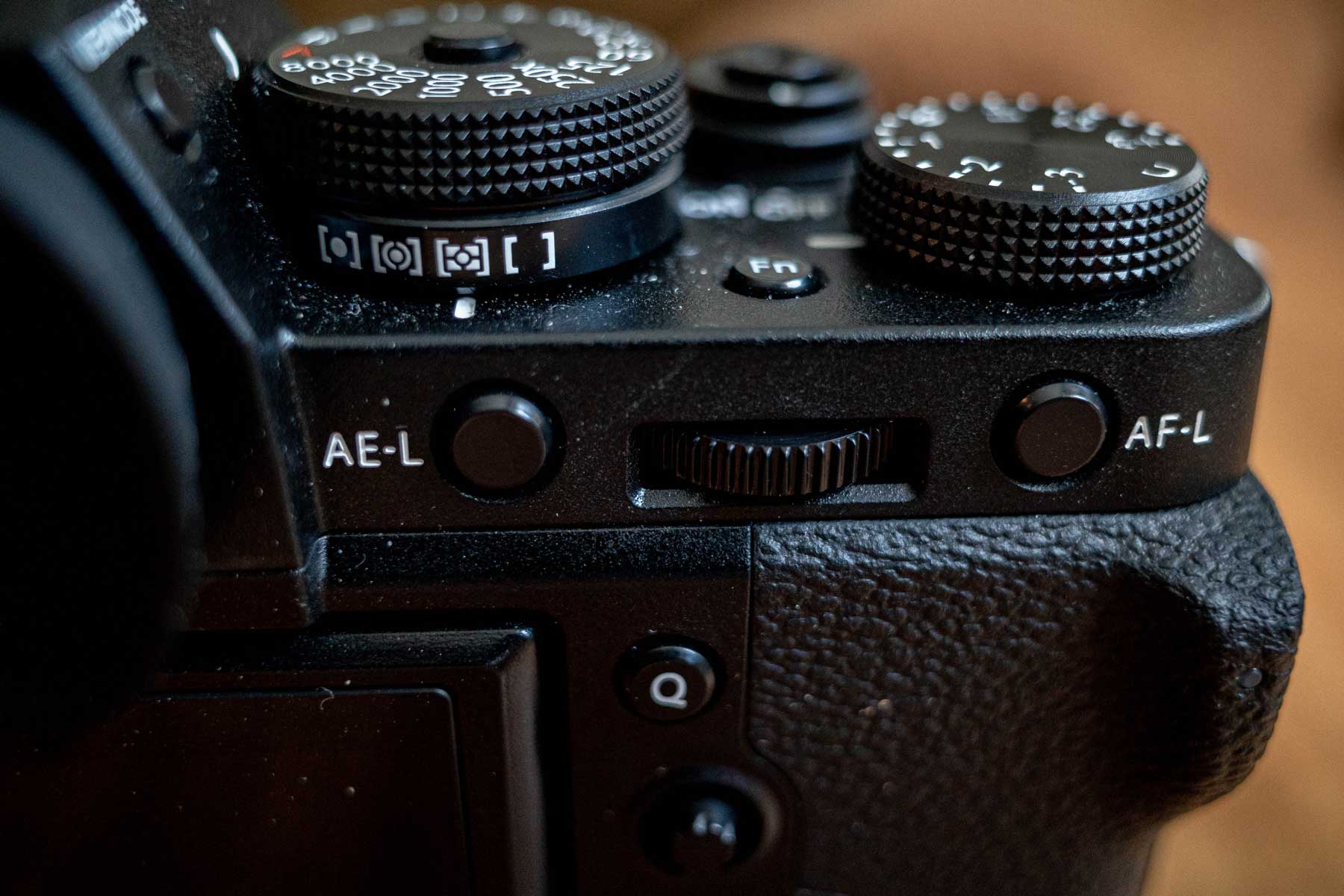 On the front of the camera, there are a few additional buttons to know about.
There is a front command dial, an additional function button that you can set to whatever you want, and the focus mode selector, which you can set to manual, continuous autofocus, or single autofocus.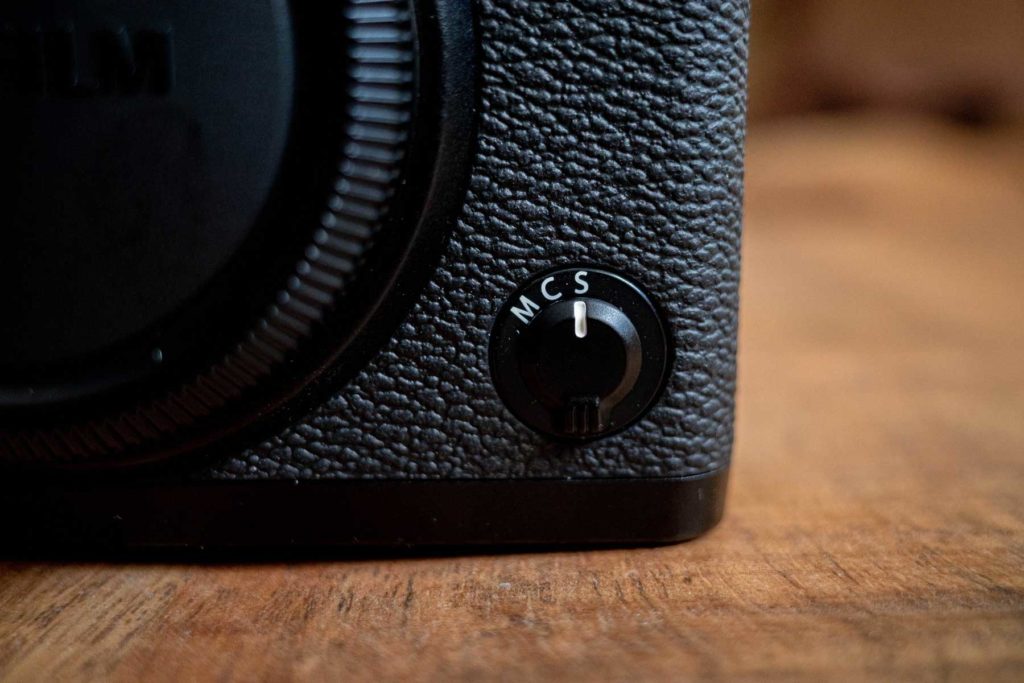 The lens release button is to the bottom left side of the camera and when you press it, the lens turns counter-clockwise, which is different from some cameras.
Other angles of the camera: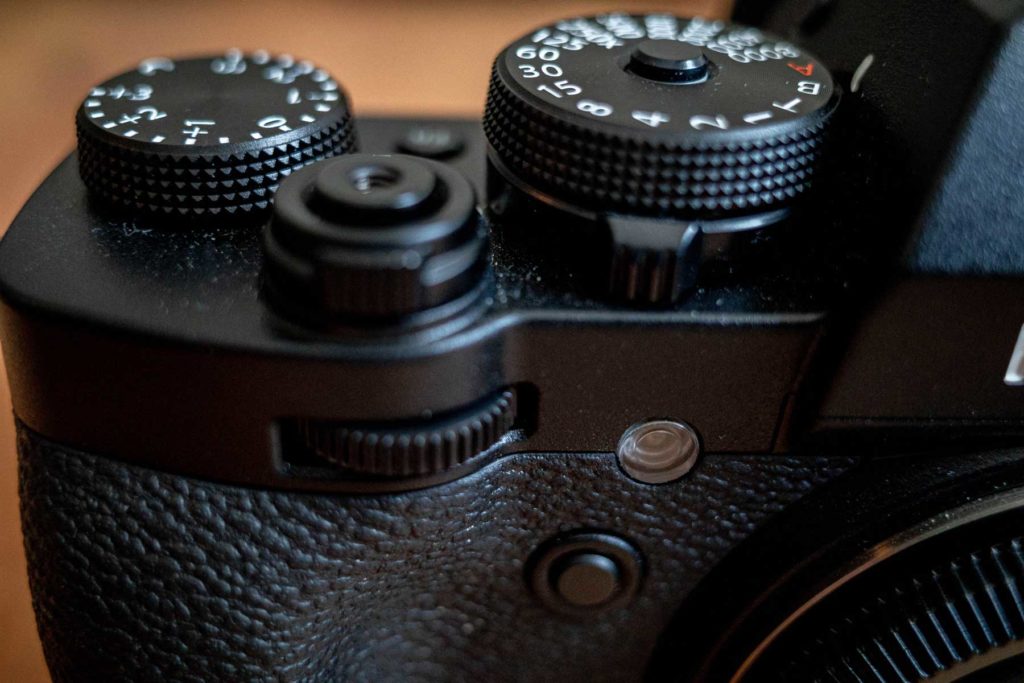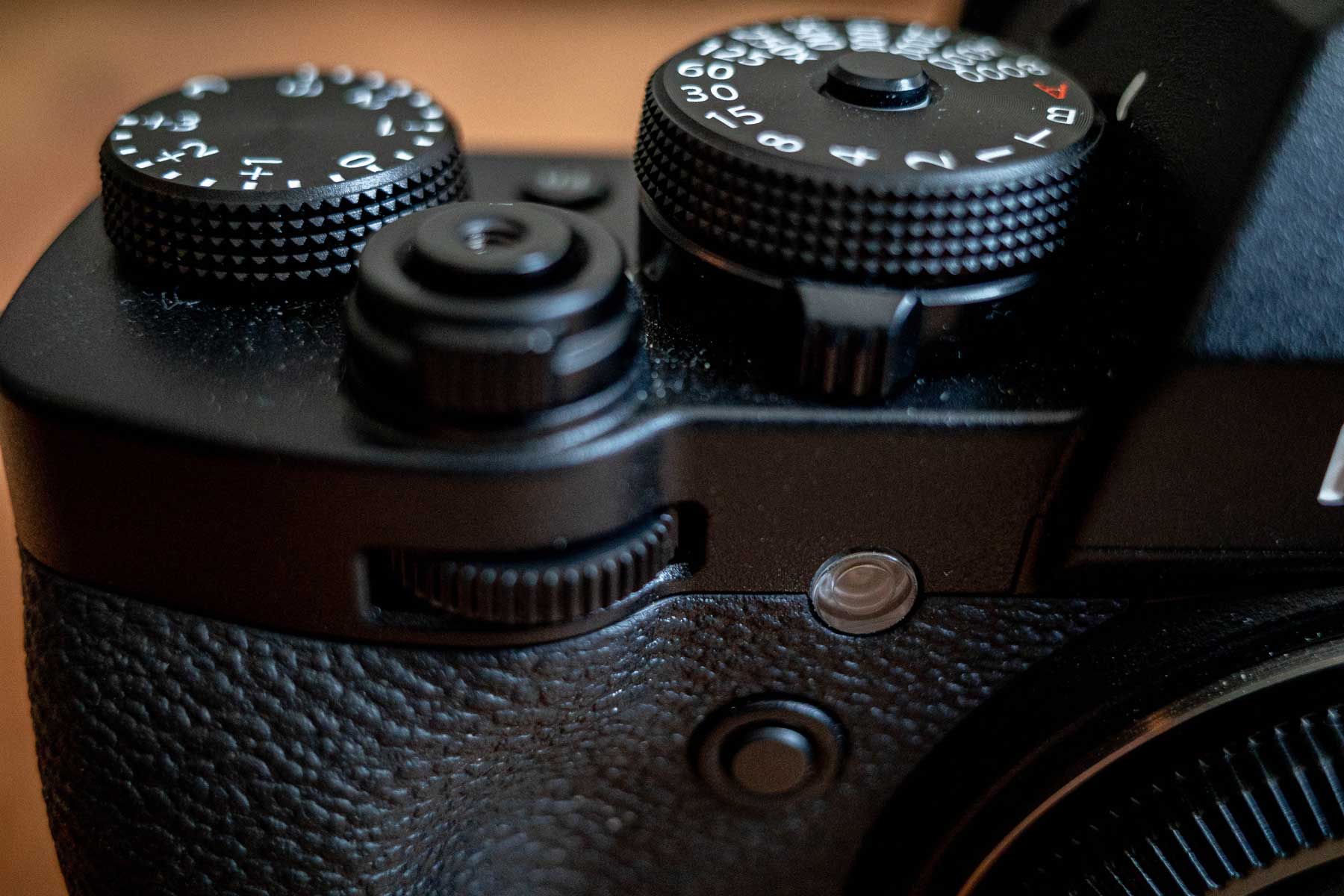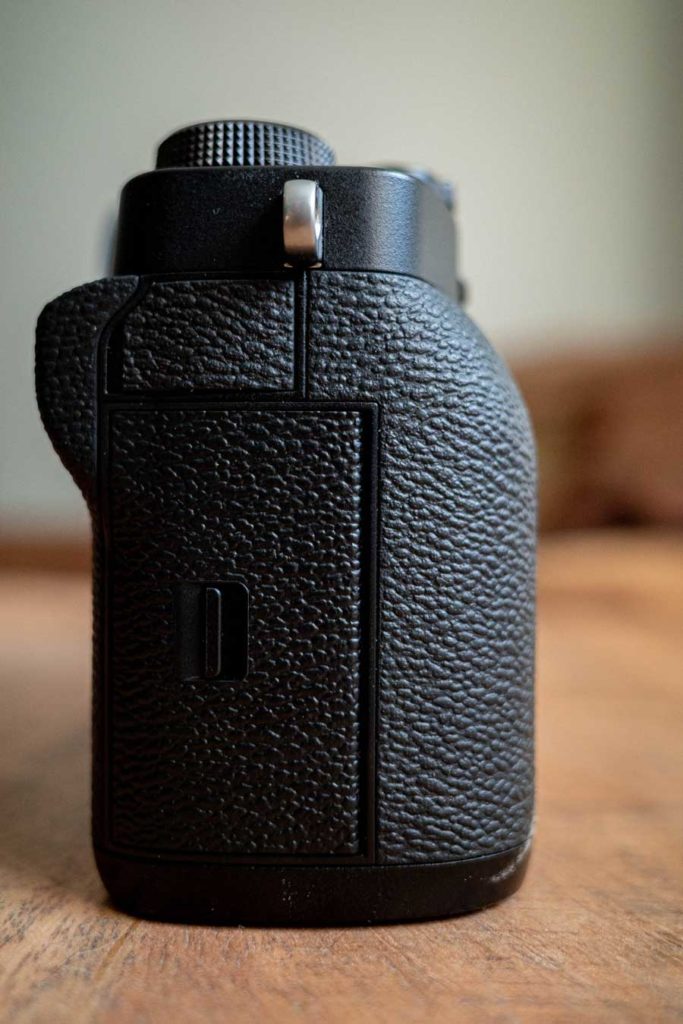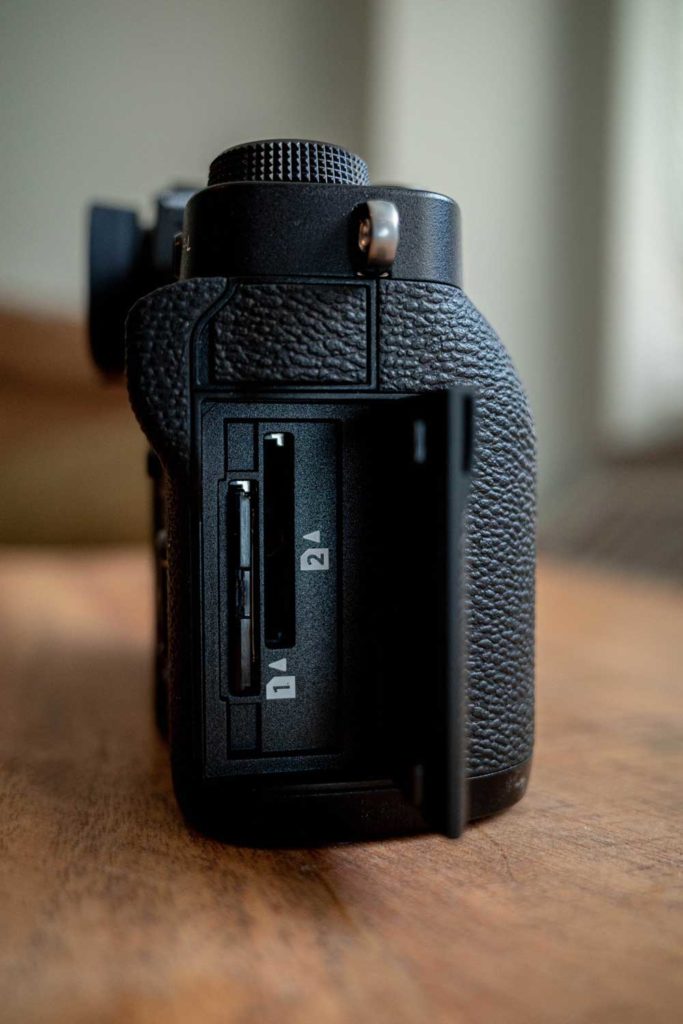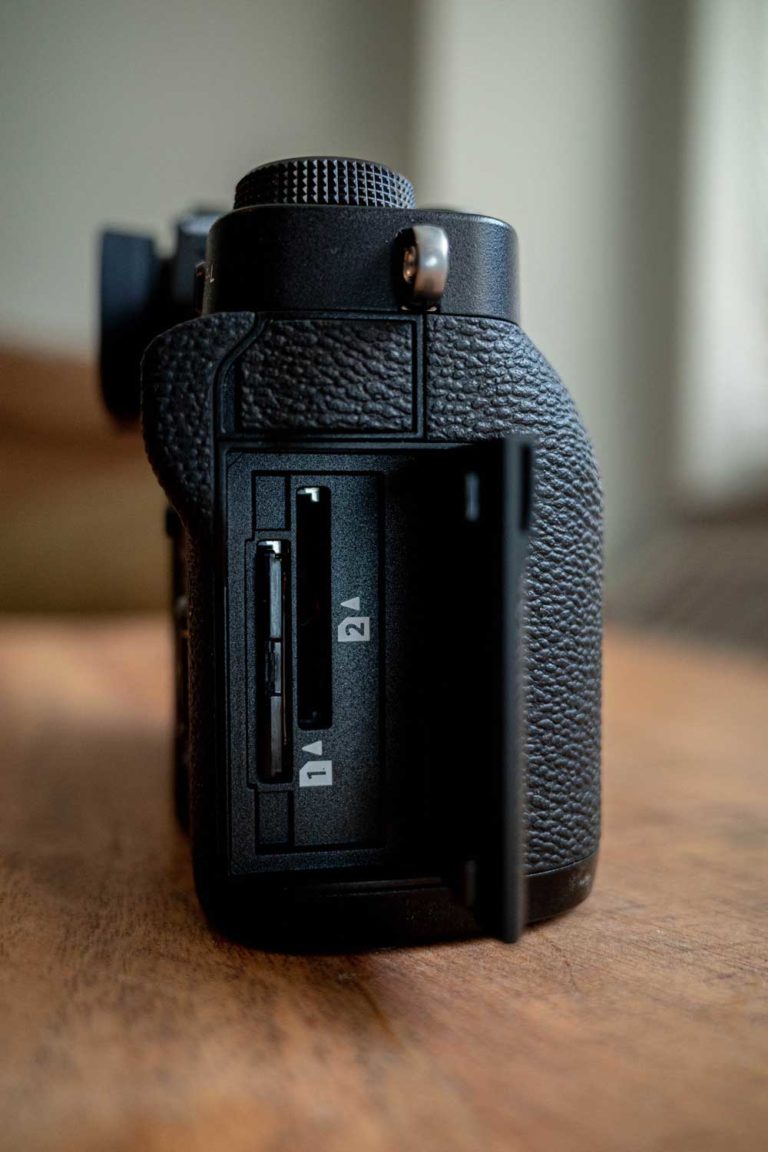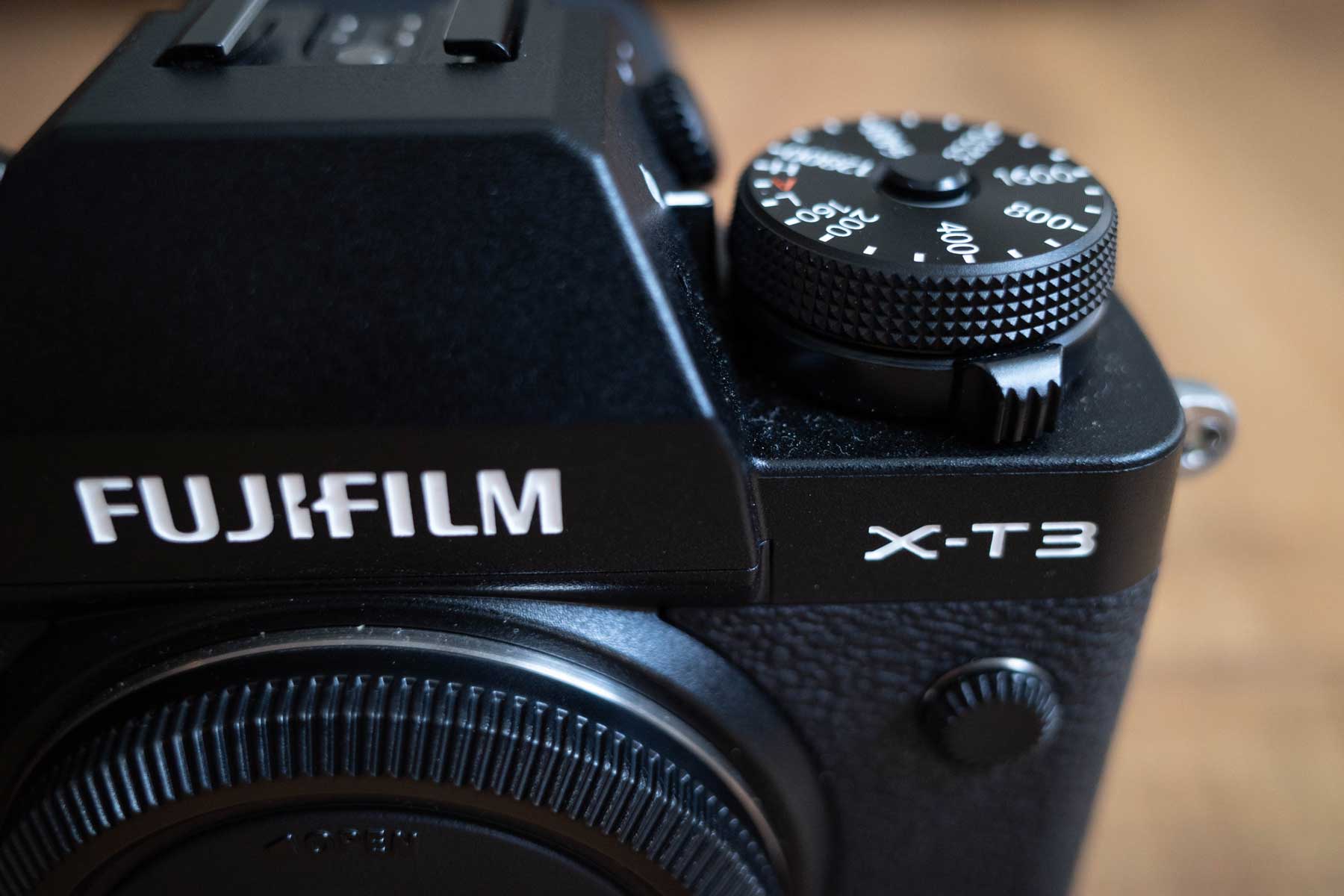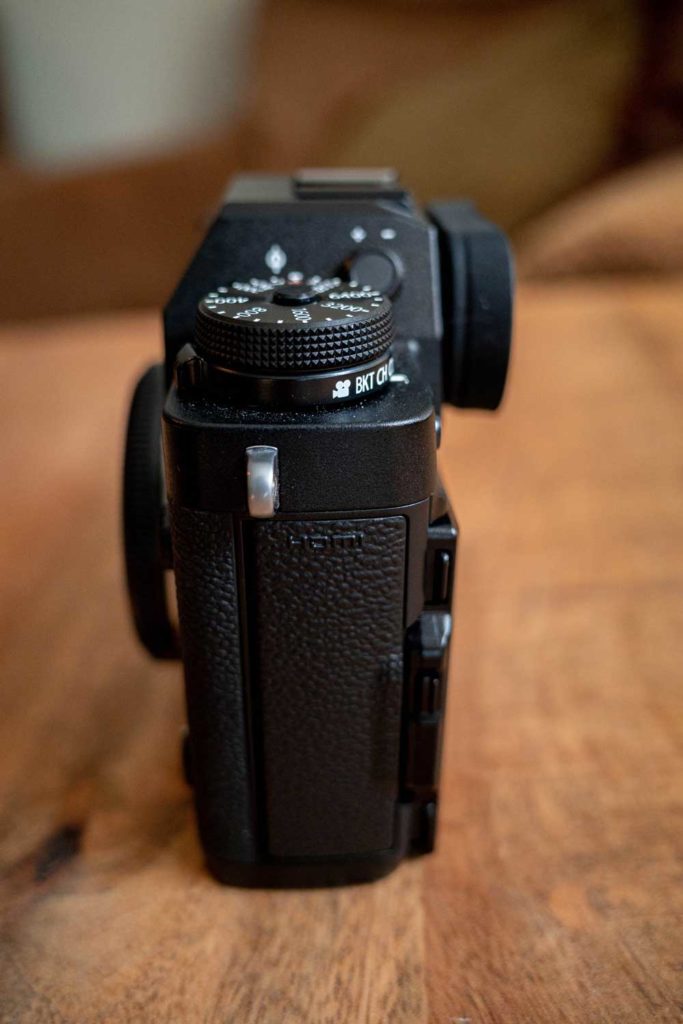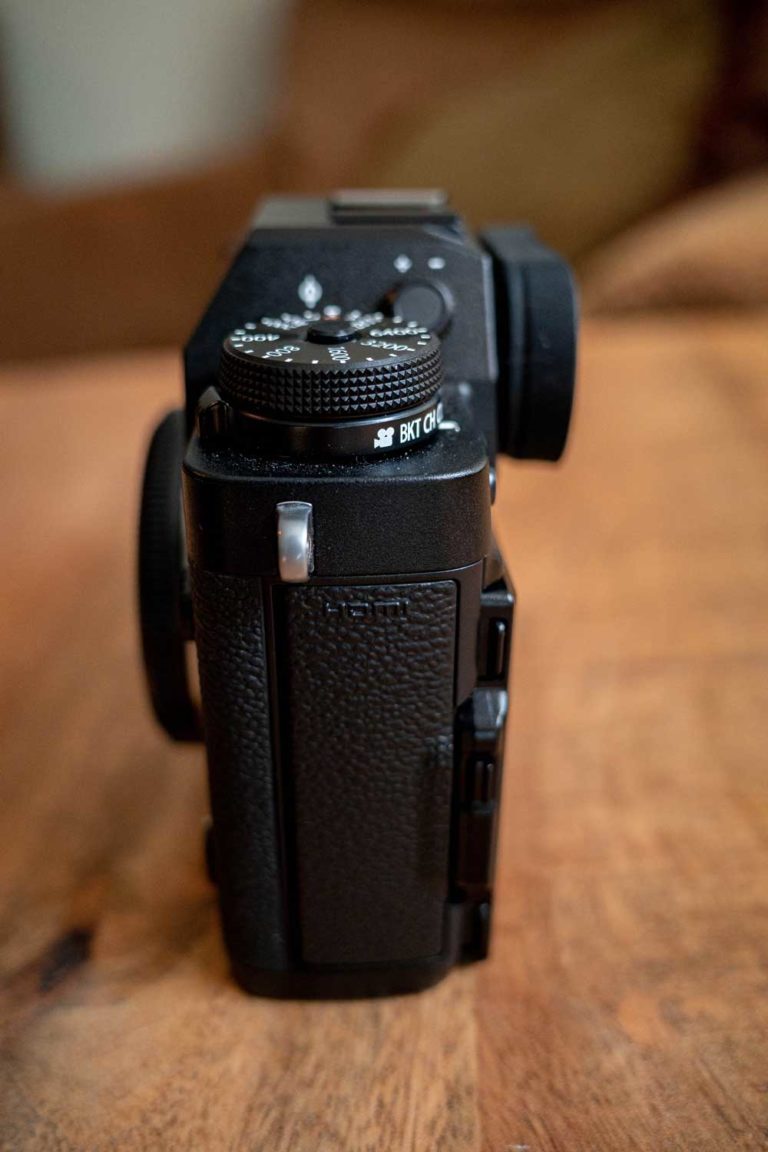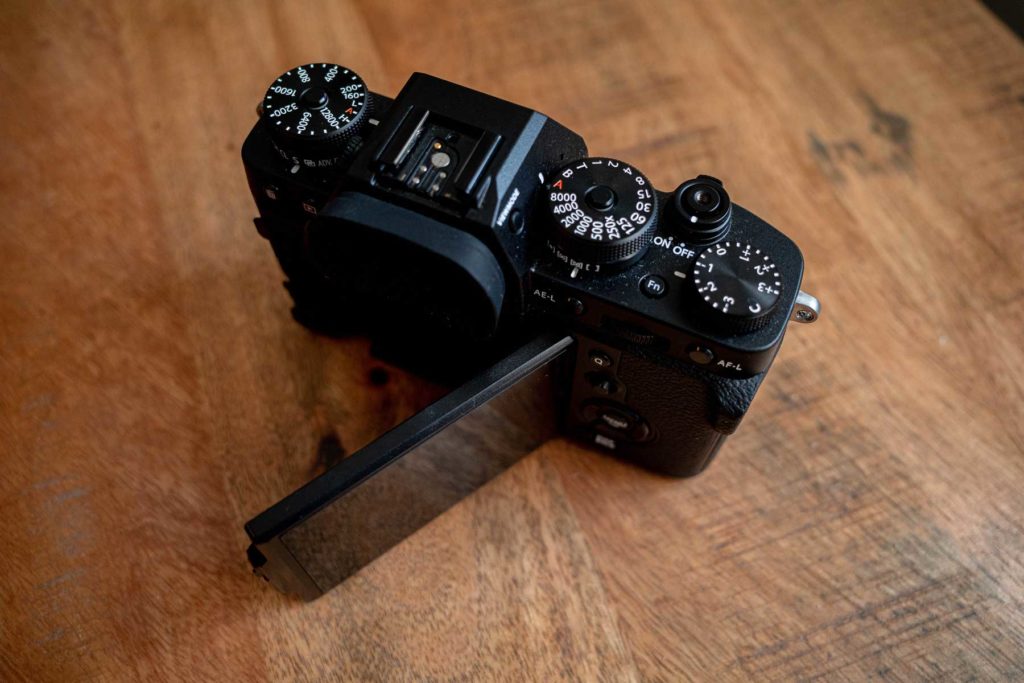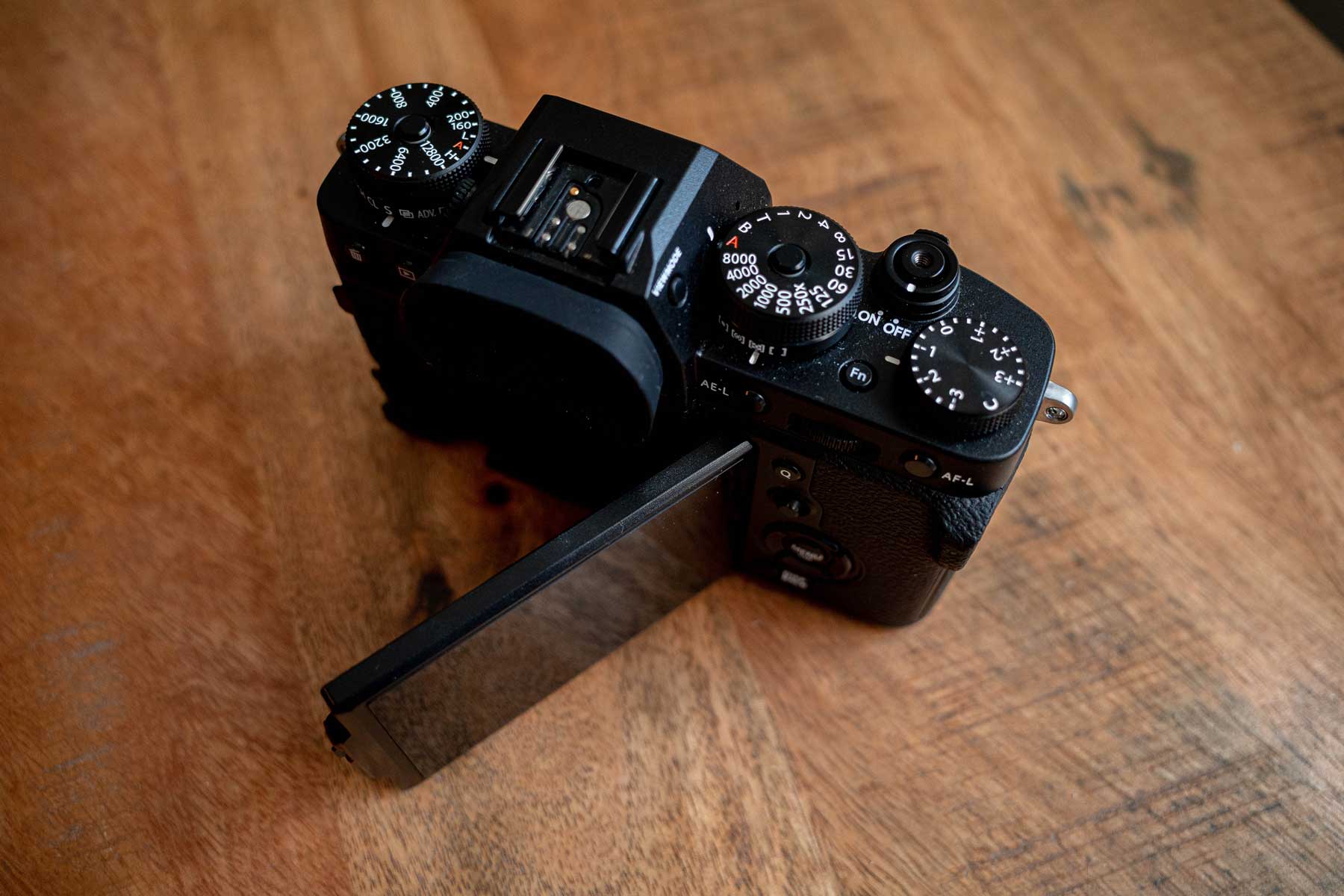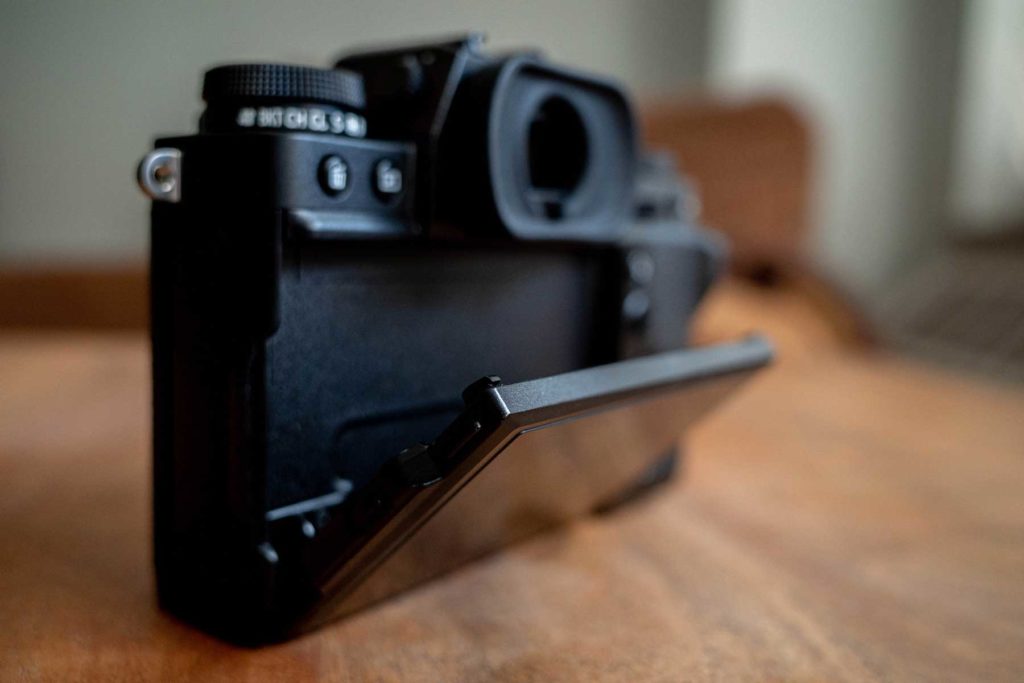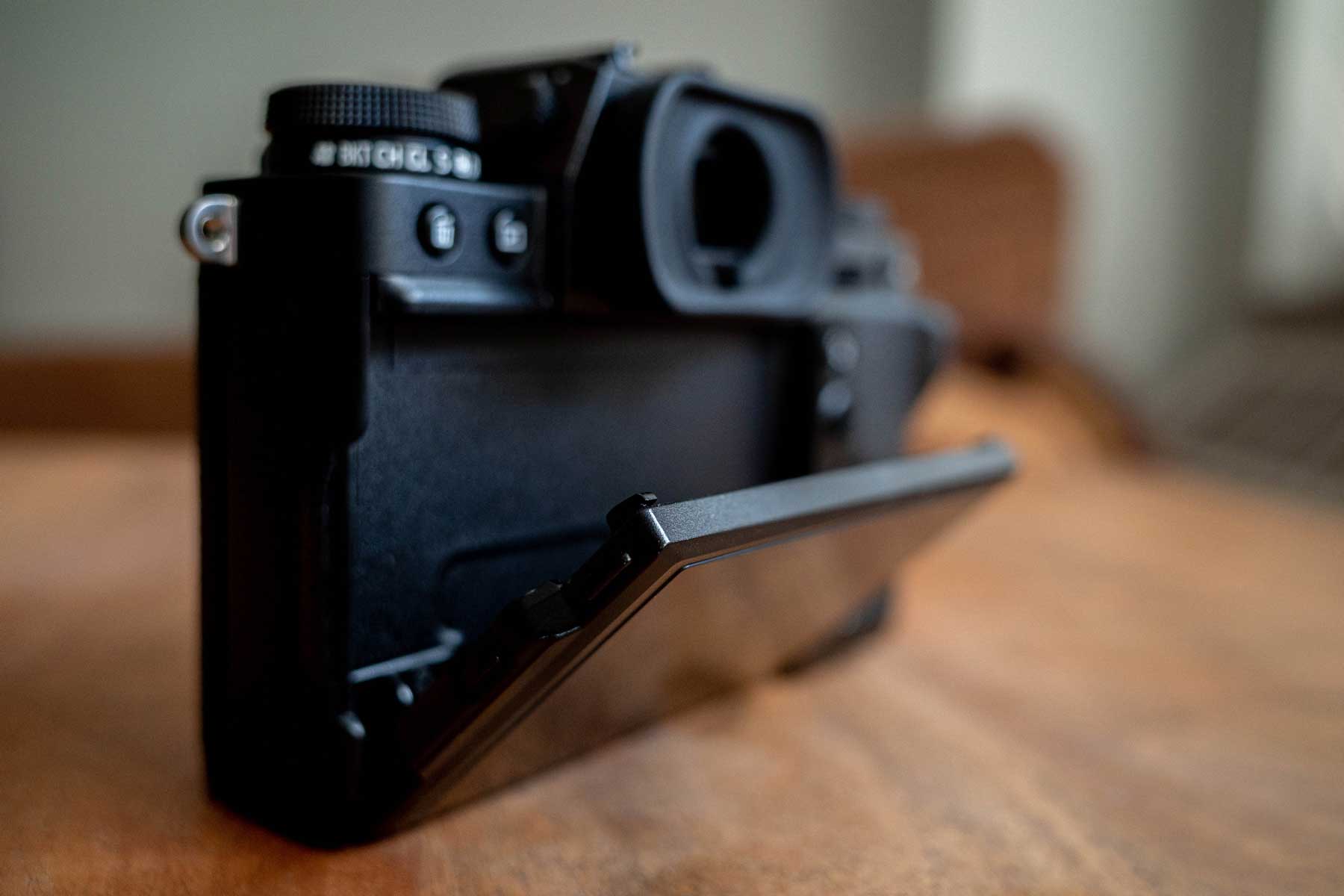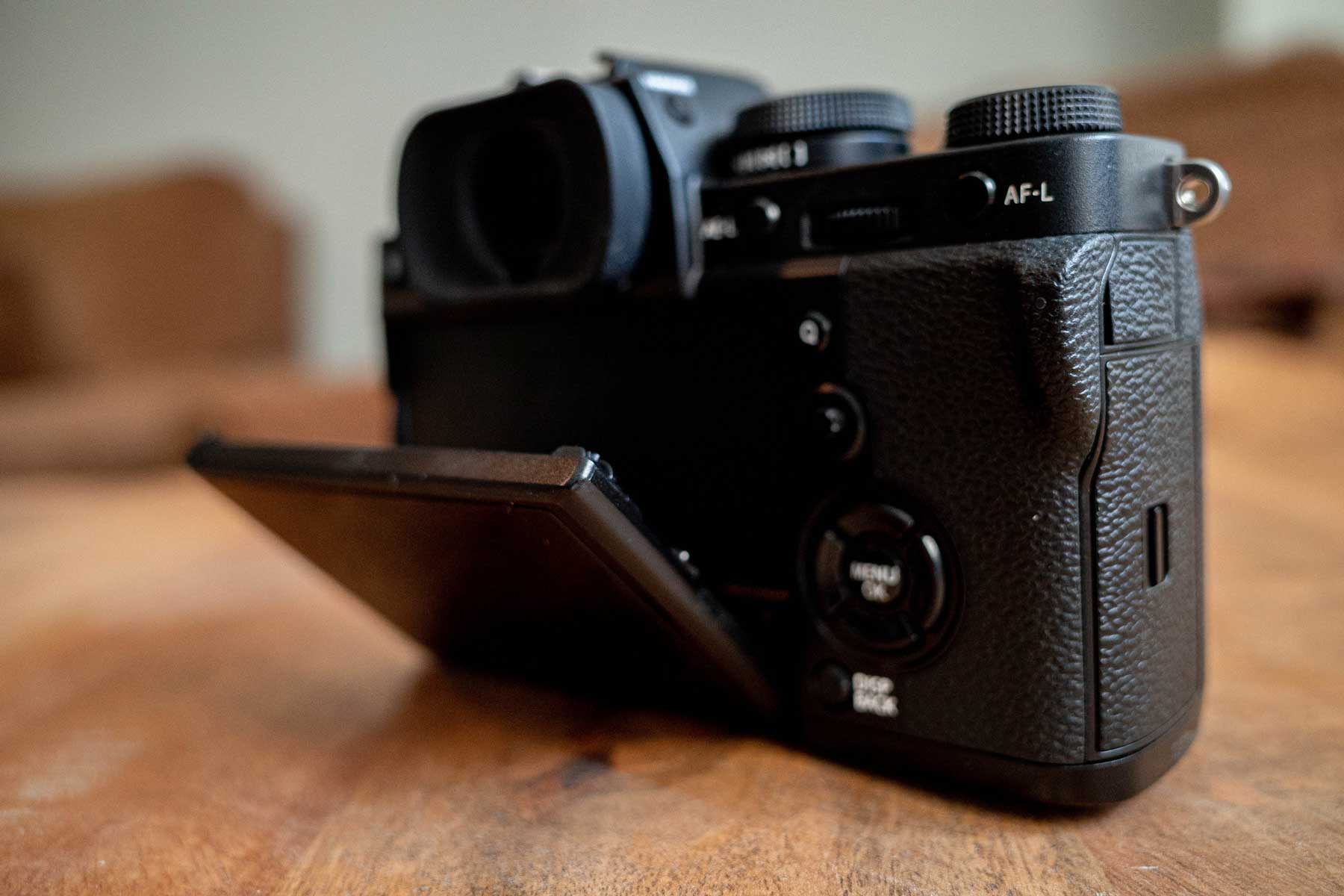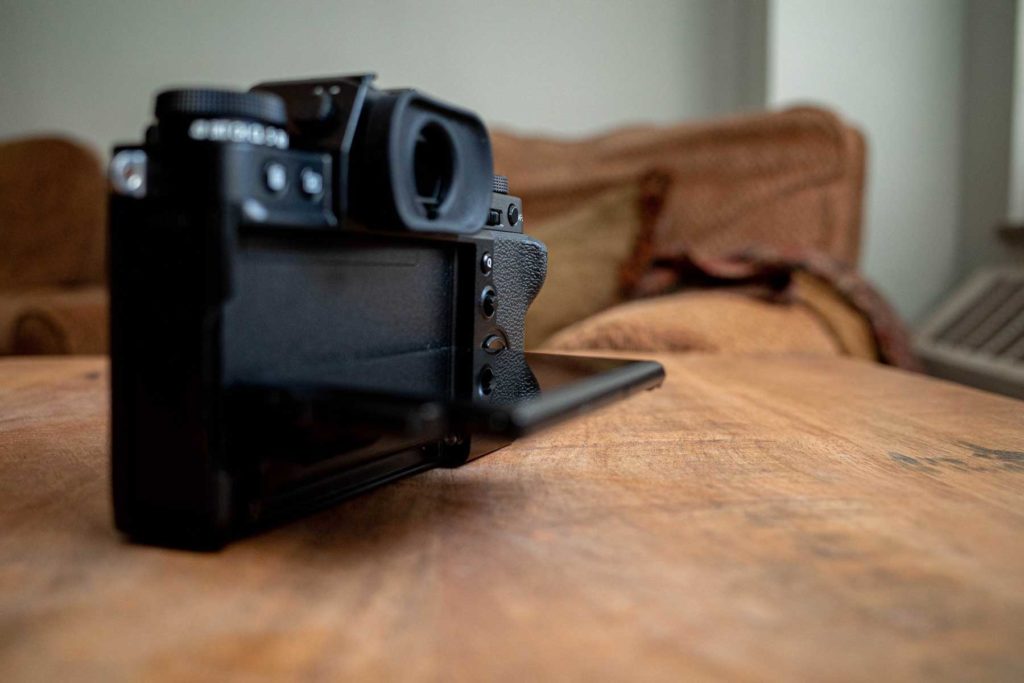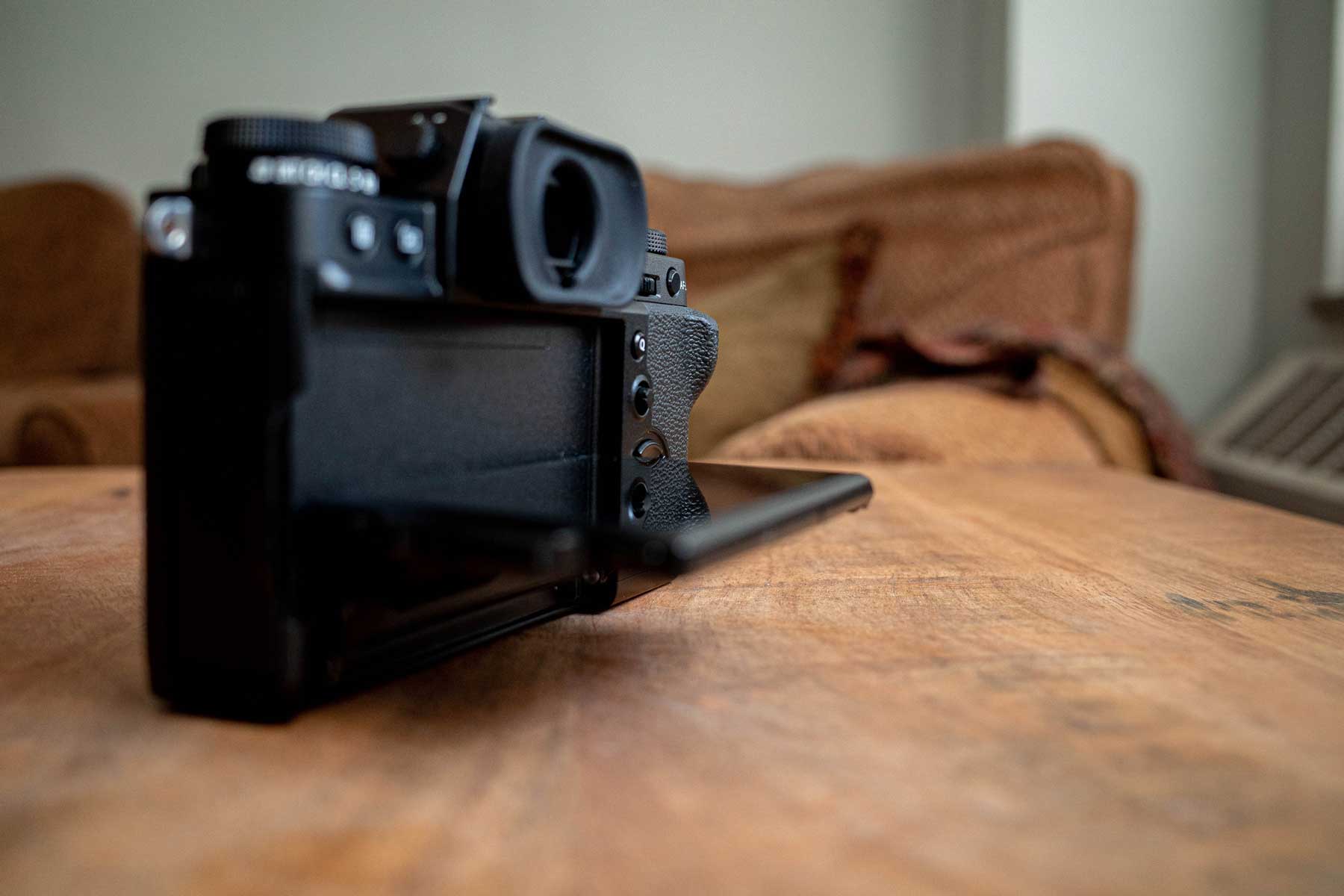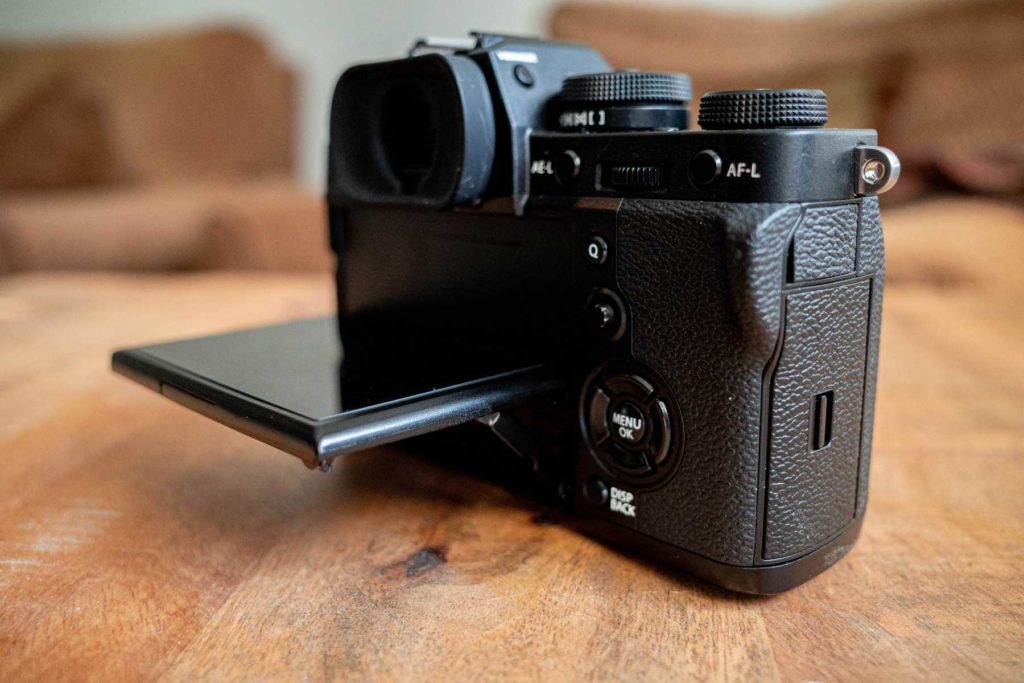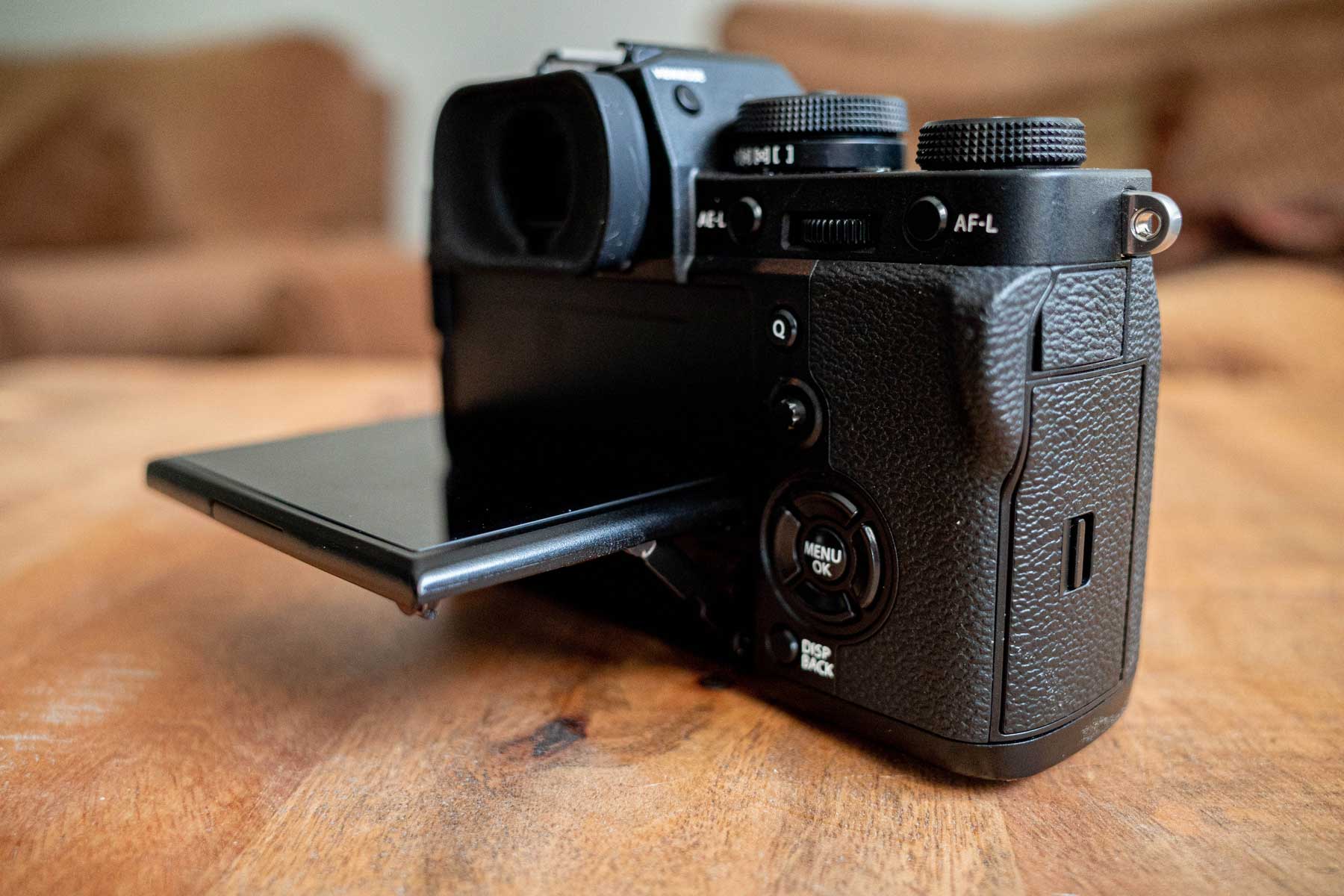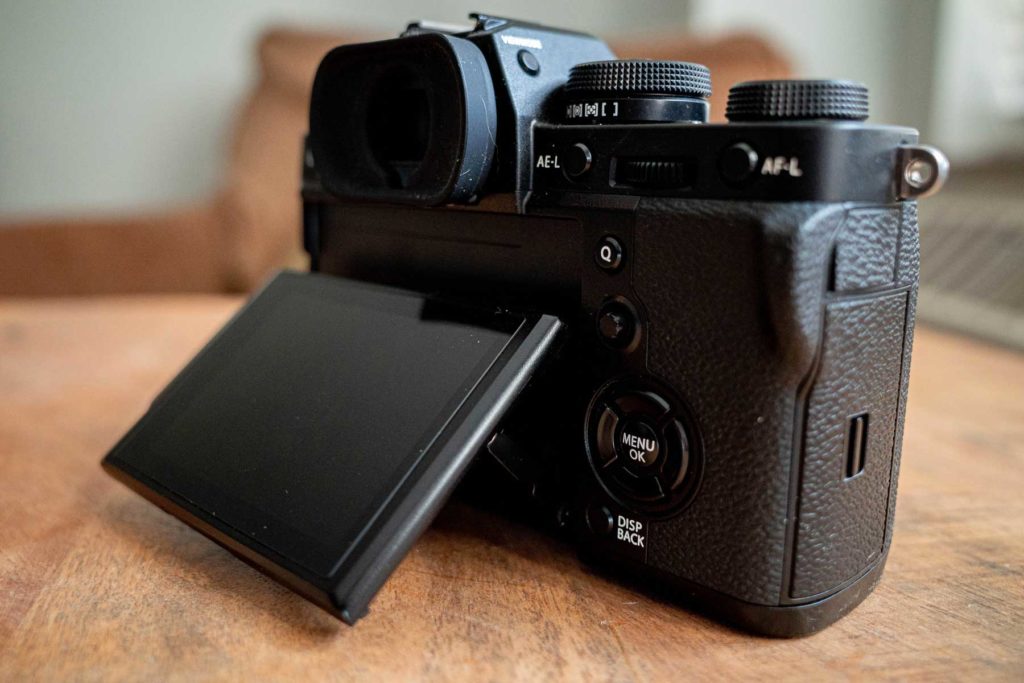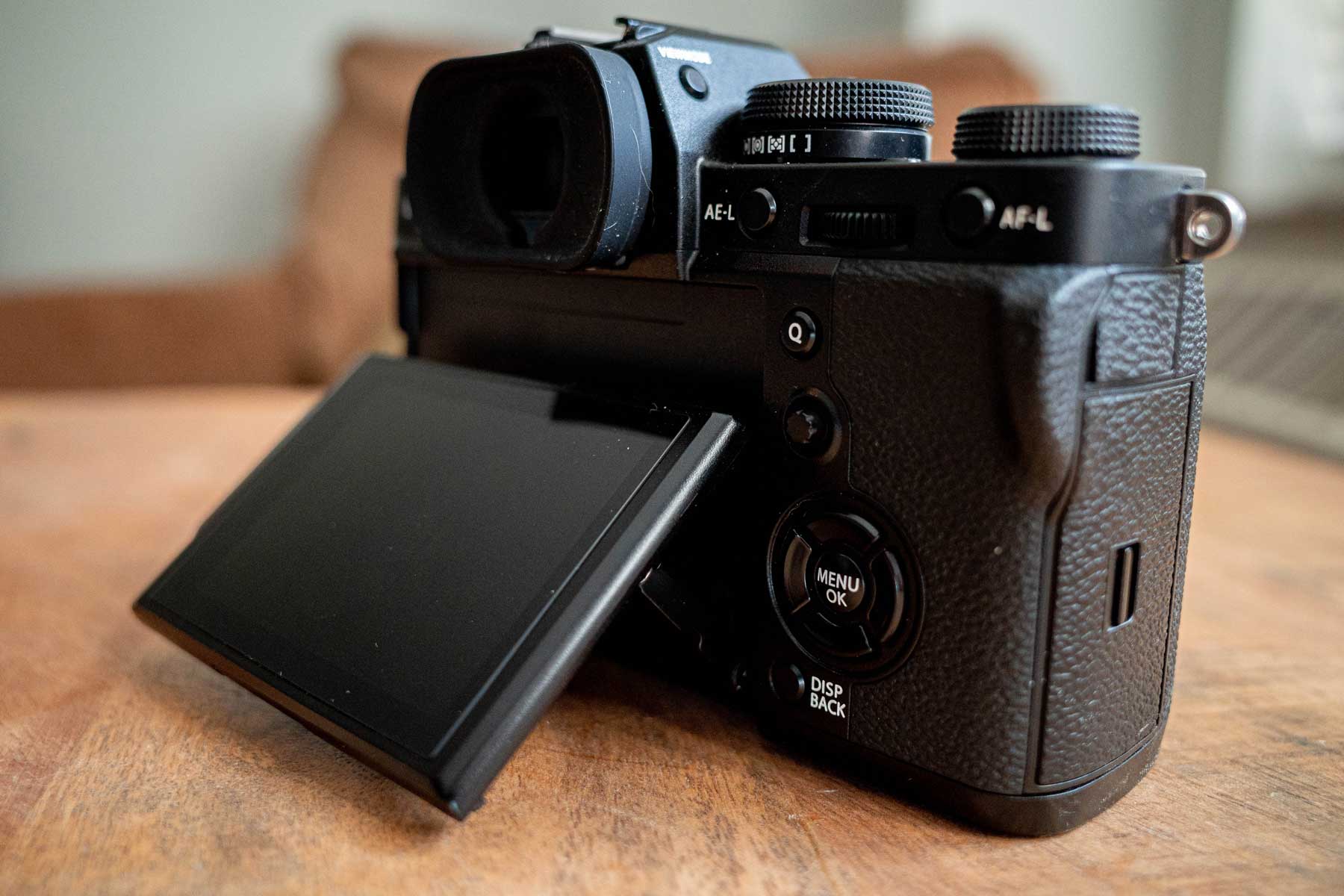 Image Quality
The image quality of the Fujifilm X-T3 is basically as good as any APS-C camera on the market right now. It's the same sensor as the X-Pro 3 and the updated X-T4, so you're still getting the best image quality available.
The X-T3's image quality is particularly good at low ISOs. Its native ISO goes down to 160 but you can lower it out of that range down to 100 and 80.
I never shot with the X-T2 but from what I understand, the X-T3 is a slight improvement in image quality.
The X-Trans sensor can have some issues with glitching out when photographing certain colors and patterns. I've noticed that sometimes it clips reds and greens.
It does a good job of keeping noise levels low until you reach the higher ISOs.
However, I've found that I really don't like Fujifilm's in-camera noise reduction. Even if you set it to 0 (the range it gives you is from -4 to +4), it seems to overly smooth skin tones and it does weird things to colors that I have a hard time fixing in post. So I turn that off down to -4.
Autofocus
Up until the X-T3, I think it's fair to say that Fujifilm's autofocus was less than stellar. It probably held back a lot of photographers from switching over to Fuji's smaller and more manageable bodies and lenses from DSLRs.
With the X-T3, Fujifilm brought their autofocus up to date and can now actually compete with the other camera systems out there.
From what I understand, the X-T2 had decent single AF performance but its other focus modes were lacking. Now with the X-T3, all of its focus modes are solid.
The improvement in autofocus comes courtesy of an additional one hundred focus points (up to 425 from 325) and an increase in phase-detection autofocus points from 91 to 117. Phase-detect autofocus points are faster and more accurate. Fujifilm also improved the light sensitivity of the camera's phase-detect sensors from -1EV to -3EV, which went a long way in improving the X-T3's autofocus in low light, which had been a pretty weak point for Fujifilm cameras.
I don't use face and eye detect a lot but I think it's acceptable in this camera. Fuji's face/eye detect is probably not as good as other camera systems but it isn't far behind either.
It also can struggle with backlit situations and I've had instances where I thought I acquired focus and later on realized it was off once I was able to pull it up in post.
One of the good things about Fujifilm is they put out pretty frequent updates to the firmware for their cameras and they have been continually updating their autofocus firmware since the camera's release. As of this writing, the firmware for the X-T3 is on version 4.1.
Here's what Fujifilm says was most recently updated:
The update will improve the autofocusing performance of the X-T3 to the same level as the "FUJIFILM X-T4"(X-T4).

1) The fastest AF speed has been improved from 0.06 seconds to 0.02 seconds, equivalent to the performance of the X-T4.
2) The algorithm for predicting subject movements has been updated.
3) AF tracking performance has been doubled. Press the shutter button halfway down when a subject is in the focus area to maintain focus on the subject with a higher level of accuracy.
4) The Face Tracking / Eye AF performance has been upgraded. The algorithm has been re-written to double the tracking performance of the Eye AF in continuous shooting modes.
5) The update allows the camera AF to work in low light levels down to -7EV**, facilitating fast and highly-accurate phase detection AF even in near darkness.
6) The new firmware adds the "Focus Limiter" function which gives a pre-define specific focus range.
I've been pretty bad at keeping my firmware updated over the couple of years that I've owned the camera. I just recently updated to the most recent firmware so I haven't been able to get a feel yet for if it's a noticeable difference but if what Fujifilm claims is true, then I'm sure I'll appreciate the performance increase.
Dynamic Range
The Fujifilm X-T3 has a 1/3EV additional dynamic range than the X-T2, which is actually a pretty good improvement.
The X-T3's dynamic range is holds up well compared to other modern cameras, even full-frame ones.
Using the electronic shutter does result in losing about half of a stop of dynamic range.
You have plenty of leeway to pull out details of the files from the X-T3.
Video
I eventually plan on making a YouTube channel for ComposeClick, but I don't have much of any experience with video as of now so I don't have any strong opinions on the X-T3's video capabilities whatsoever at this point.
But here are some of the more notable specs in terms of video:
10-bit 4:2:0 internal recording, 10-bit 4:2:2 external recording in 4K 60 fps
DCI 4K30 and Full HD 1080p120 recording
17ms read speeds in 4K60 video, which keeps helps control rolling shutter
Includes F-Log gamma setting for video, which gives you a broader dynamic range to work with in post-production
The camera does have a 30-minute video limit unless you shoot with an external recorder so that's something to keep in mind.
Overall, the X-T3 seems like a good camera for video.
Compared to the X-T4, there really isn't a big difference in video specs. They did increase the X-T4's slow-motion video mode to 240fps (which is a 10X slow-motion effect), up from 120fps (a 5X slow-motion effect) on the X-T3. But you do lose image quality in the 240fps mode.
The biggest difference between the X-T3 and X-T4 for video is the back LCD screen. The X-T3's tilt screen can be moved up and down. It's good for when you need to put the camera high above your head to take photos at a downward angle and for shooting at low angles or waist-level. Its range of motion is pretty limited (you can't flip it all the way up so that it's facing the front of the camera like how you would want for vlogging) but it's definitely very useful in my opinion.
With the X-T4, the screen flips out the side and can swivel around so that you're able to see it from the front of the camera. You can position the X-T4's screen for taking high and low-angle shots, but you have to have the screen flipped out to the side in order to do so.
If you're debating between the X-T3 and the X-T4 and your priority is video, I would definitely go with the X-T4 because of the screen. Also, it's nice that the X-T4 has IBIS for handheld video.
General Thoughts
When it comes to cameras, everyone has their own widely varying preferences and priorities. I mostly prioritize image quality and then camera size/weight as a close second.
I like this camera a lot and I think it performs well as a jack-of-all-trades camera. It may not be the perfect camera for any one type of photography, but it does pretty much any type of photography you can throw at it well.
I guess I don't demand perfect image quality when it comes to choosing the photos I want to publish but I do want the option of having my images be as high quality as possible. So with that said, my biggest gripe with this camera (and Fujifilm cameras) is that its files have a specific look to them color-wise (it seems to do weird things with reds and greens), and I would like a more neutral starting point.
I'm mostly happy with what I can pull out of the Fujifilm X-T3 files but they require more editing than I would like. Some other camera manufacturer's RAW image quality is closer to real life than Fujifilm's.
Fujifilm X-T3 Photo Samples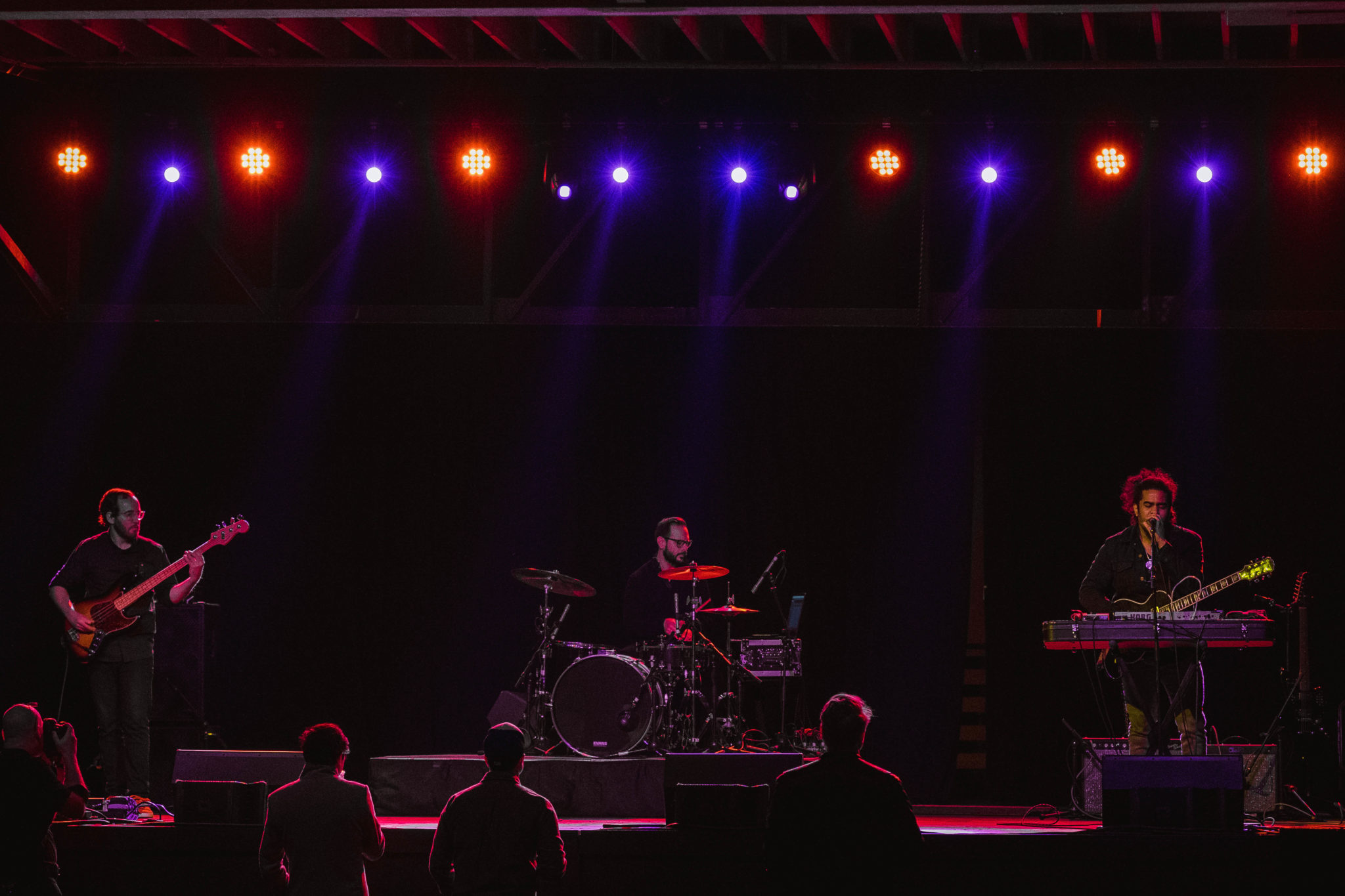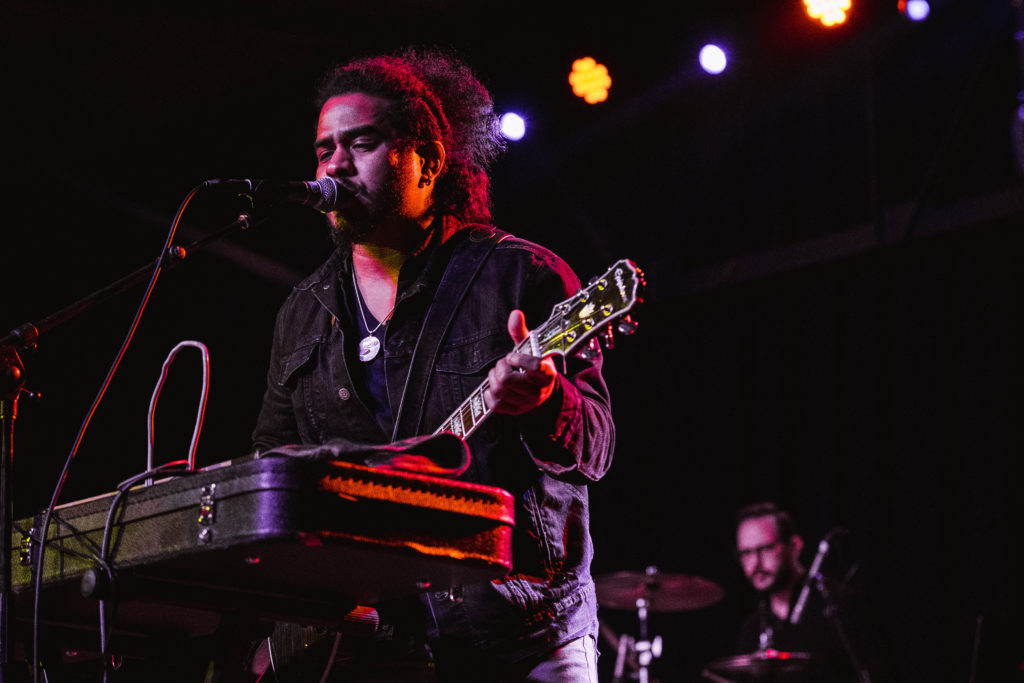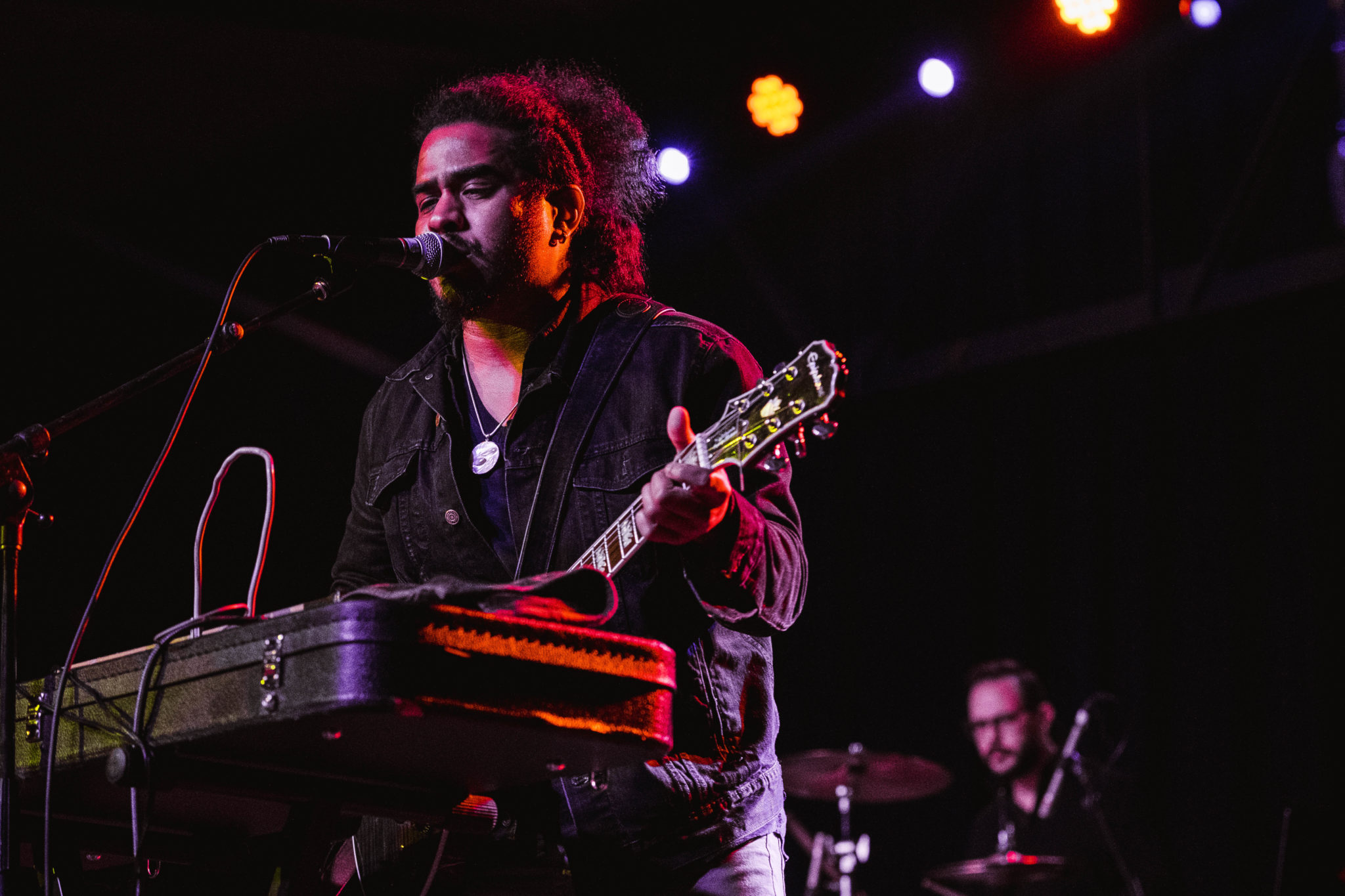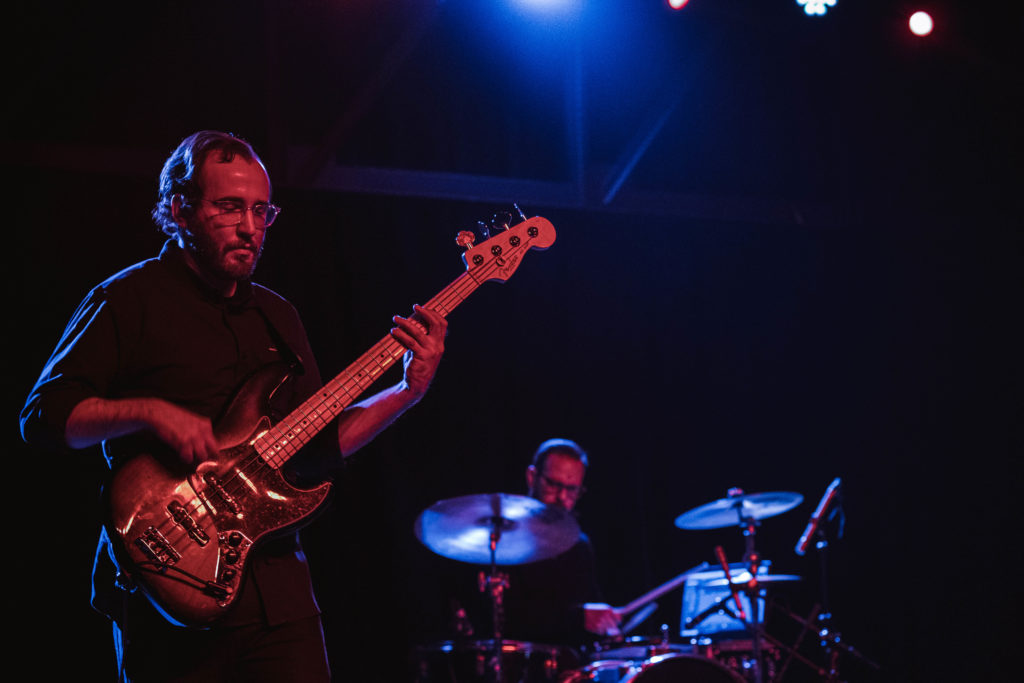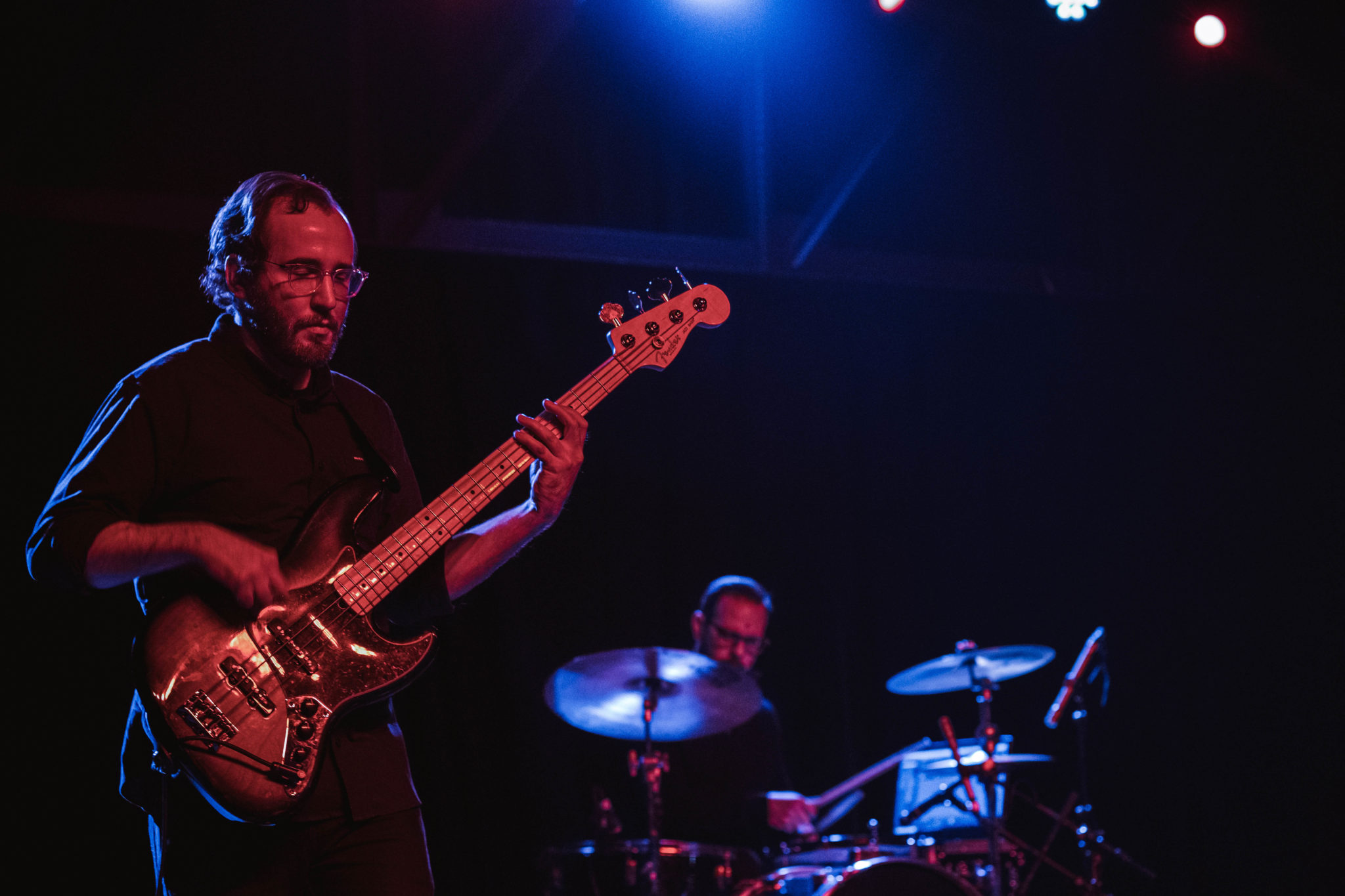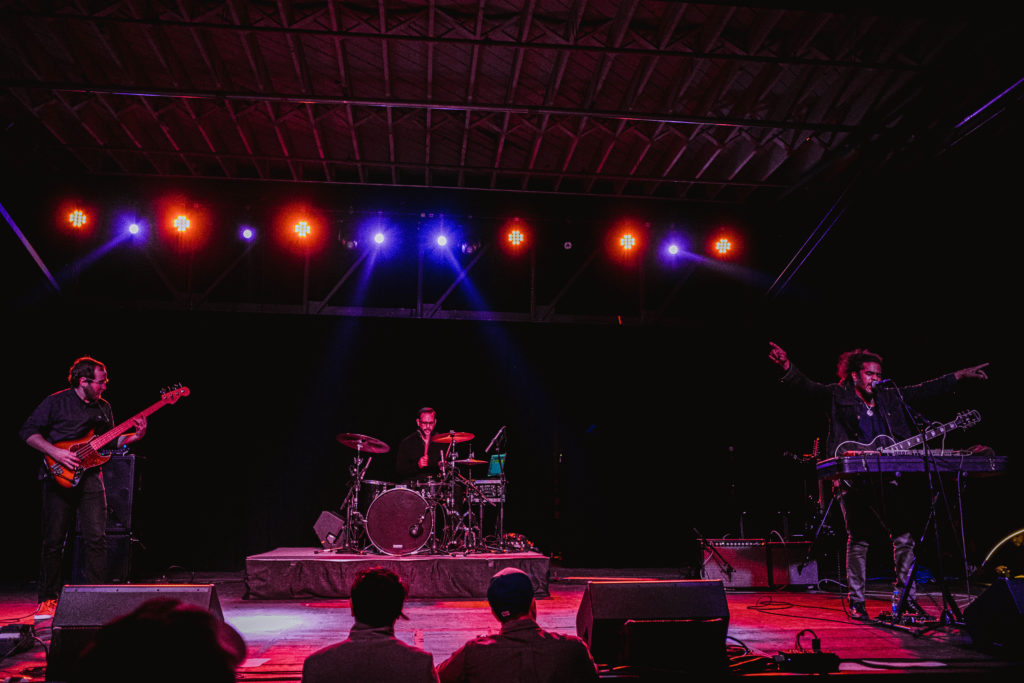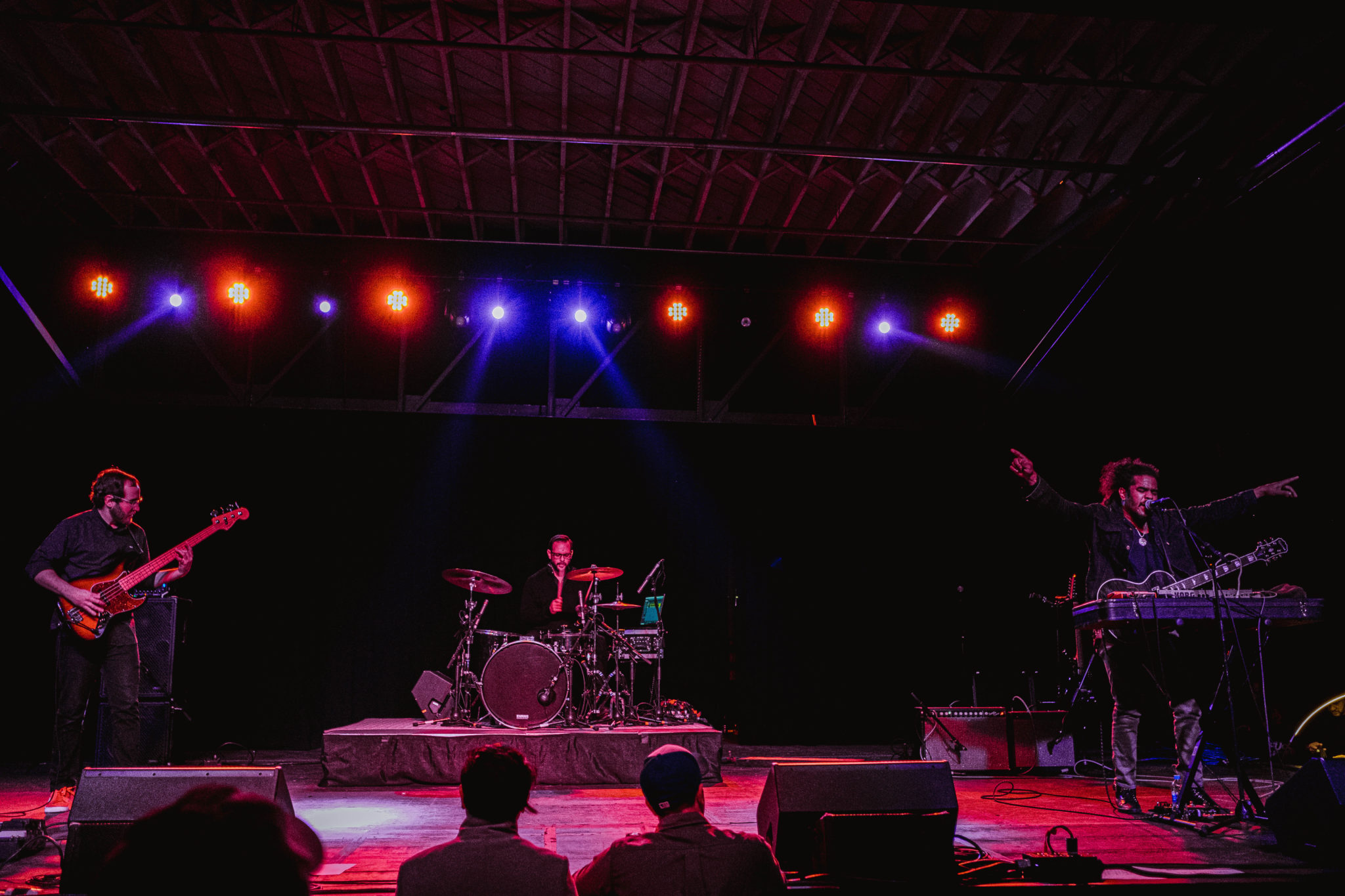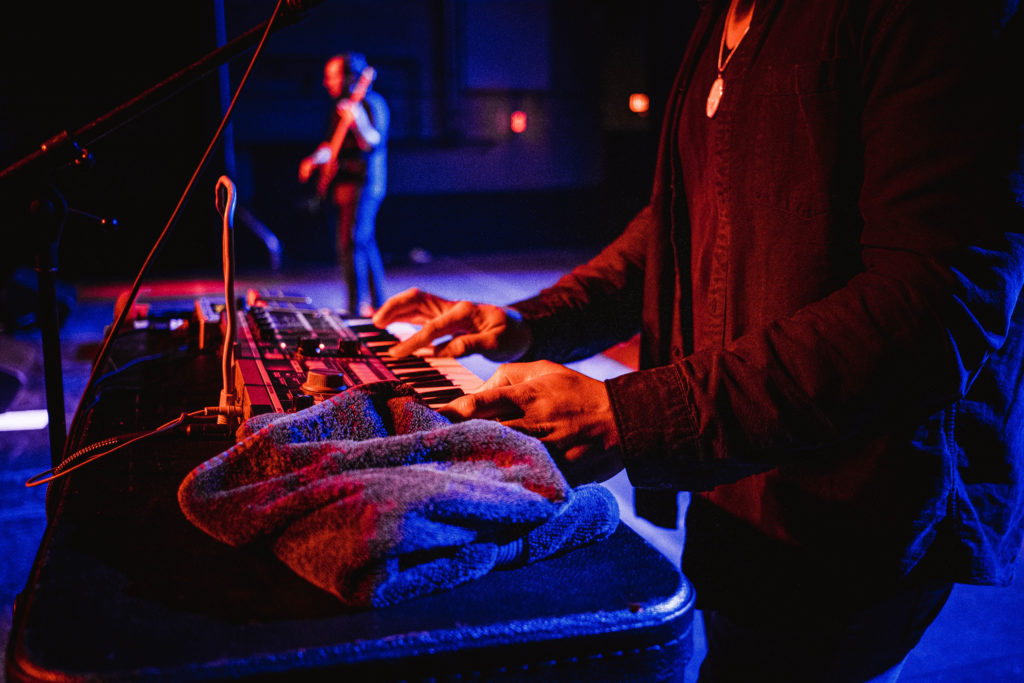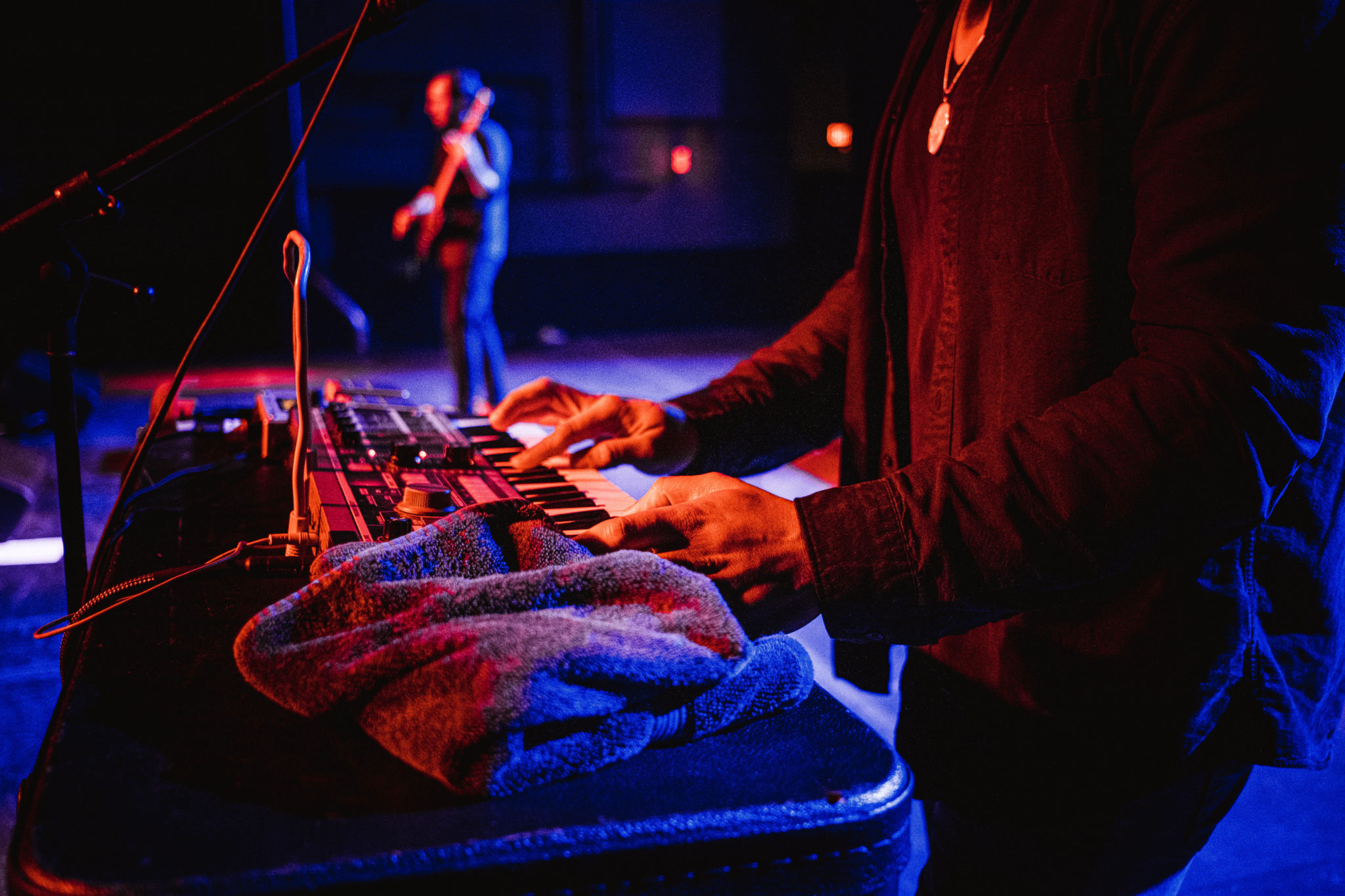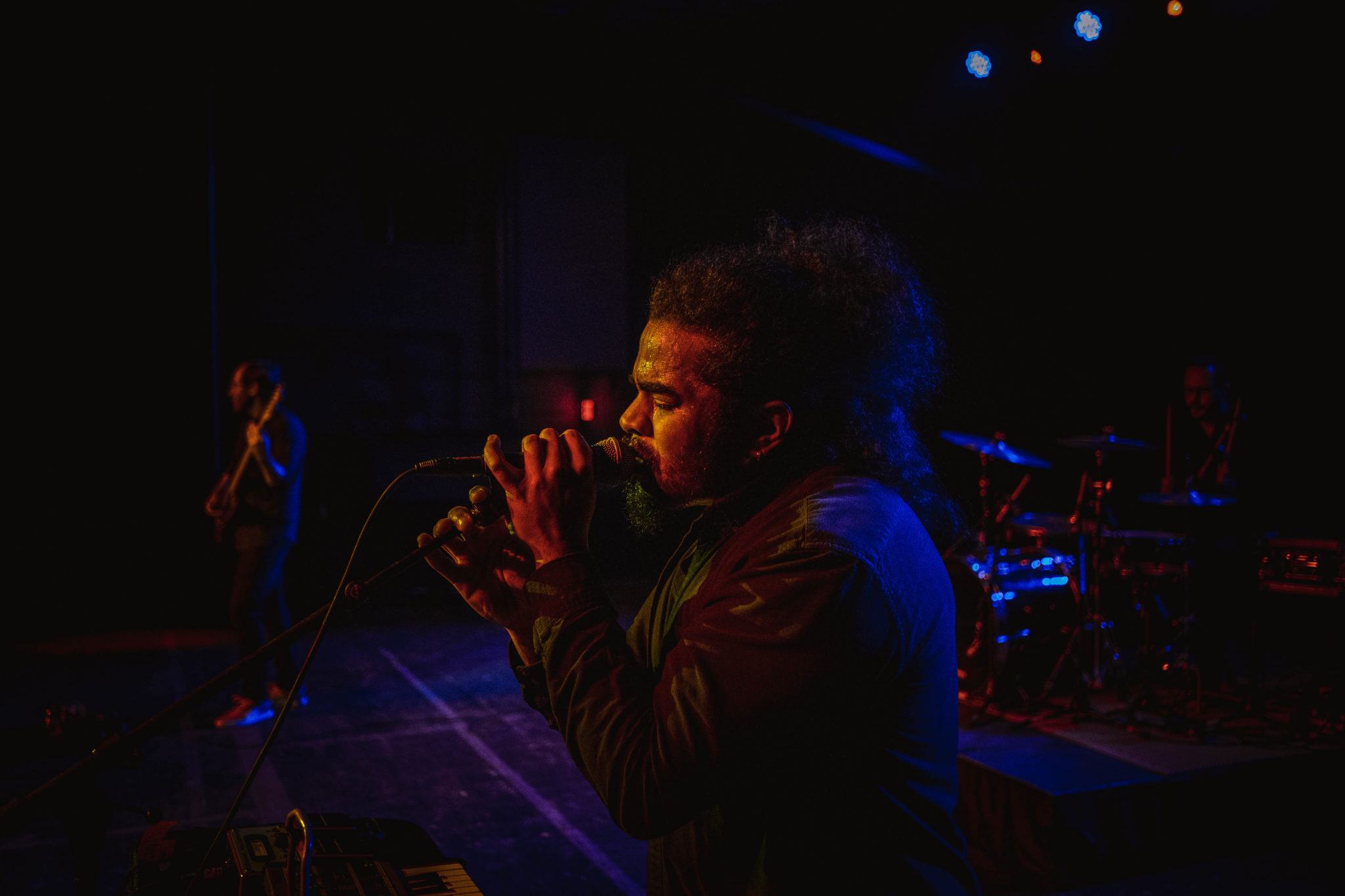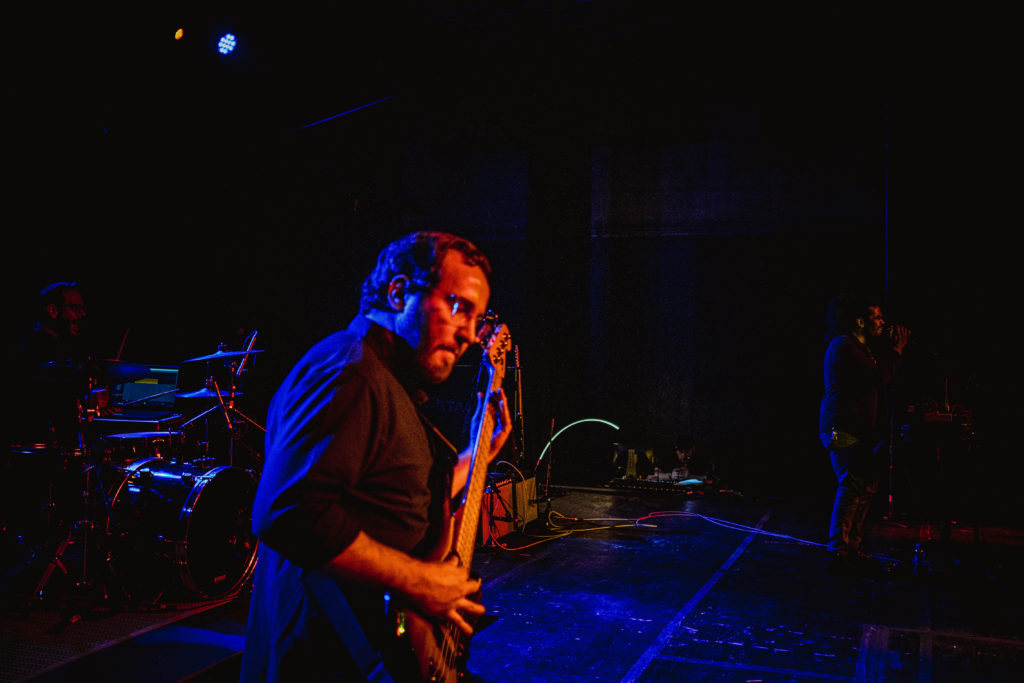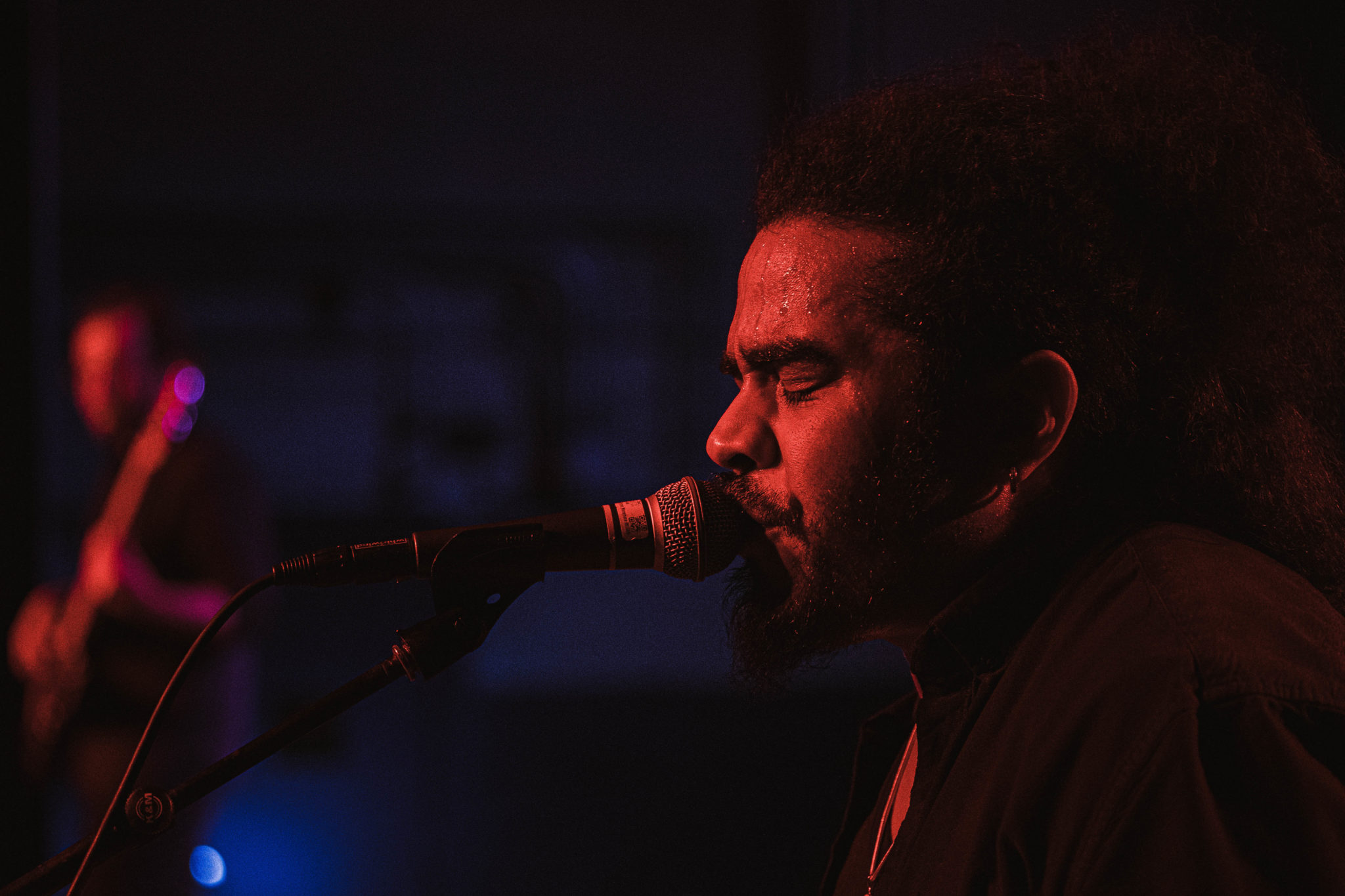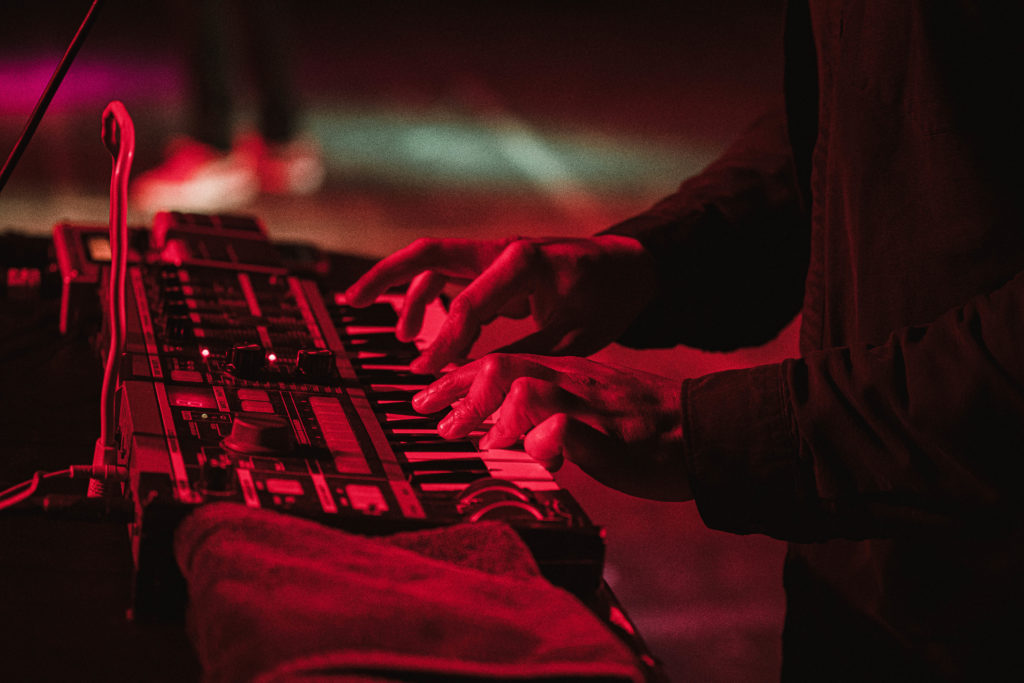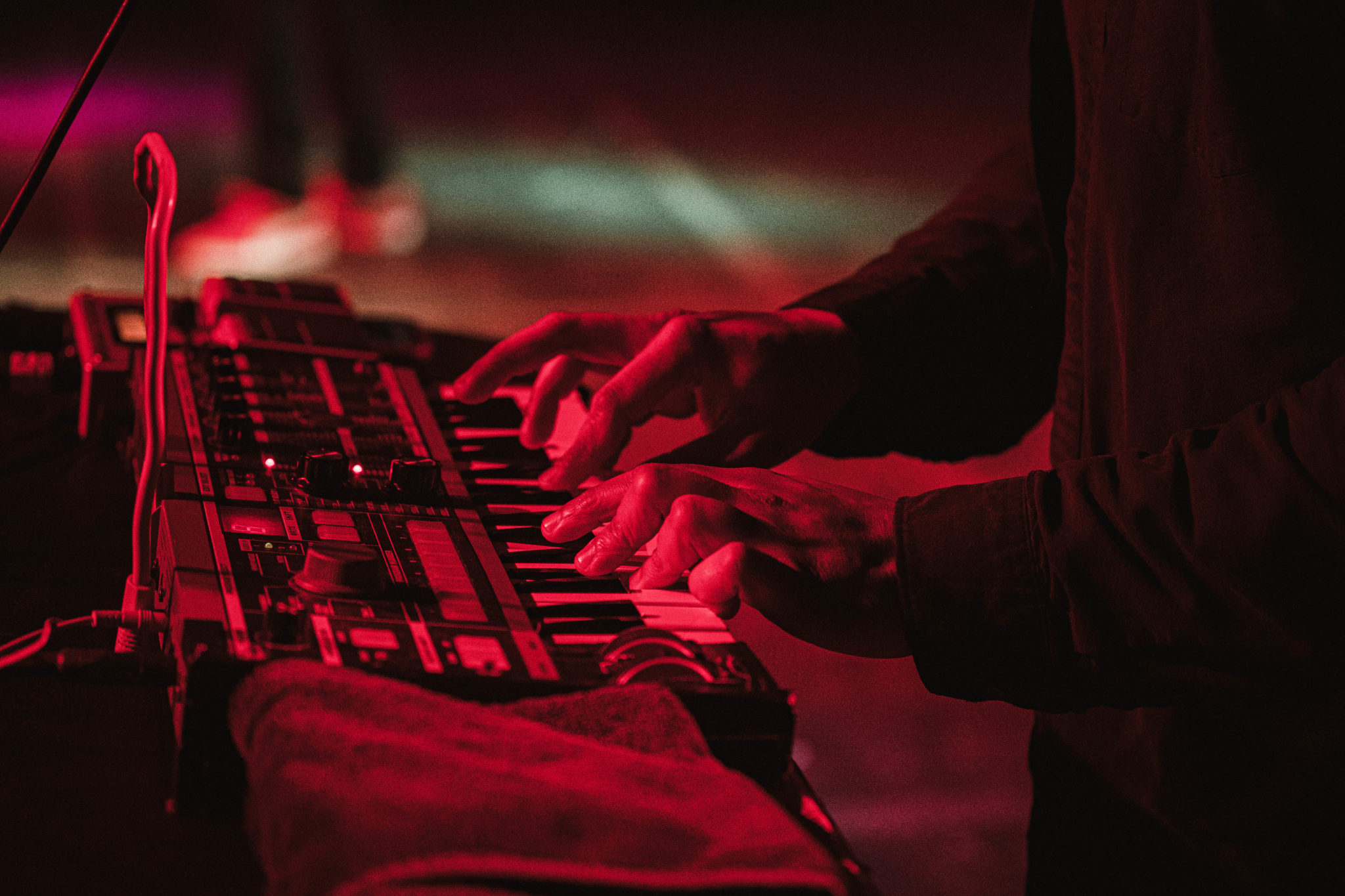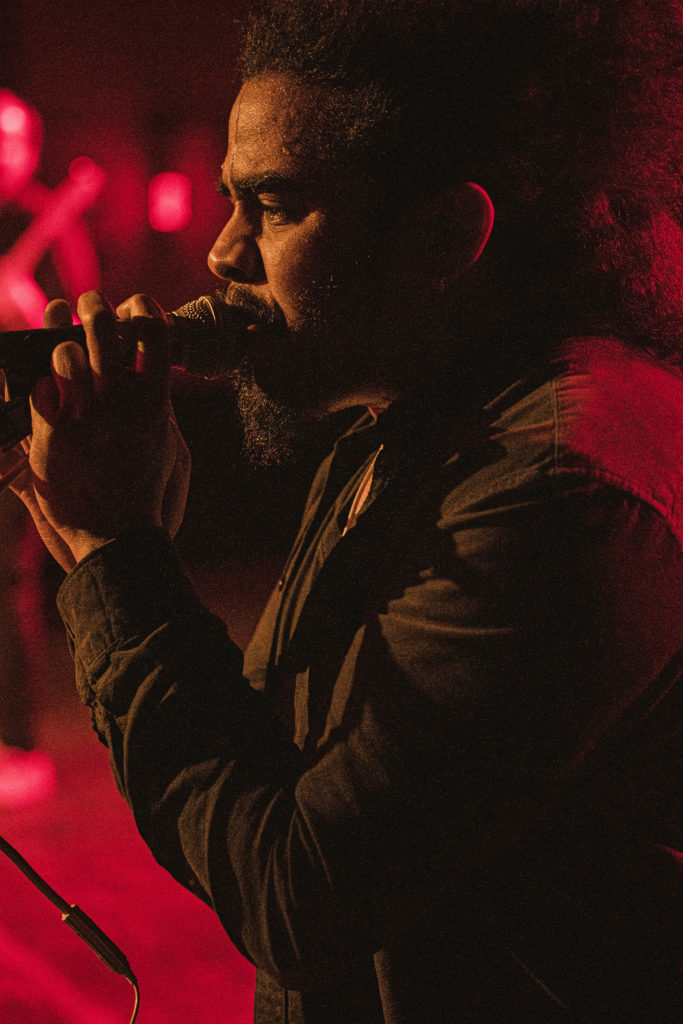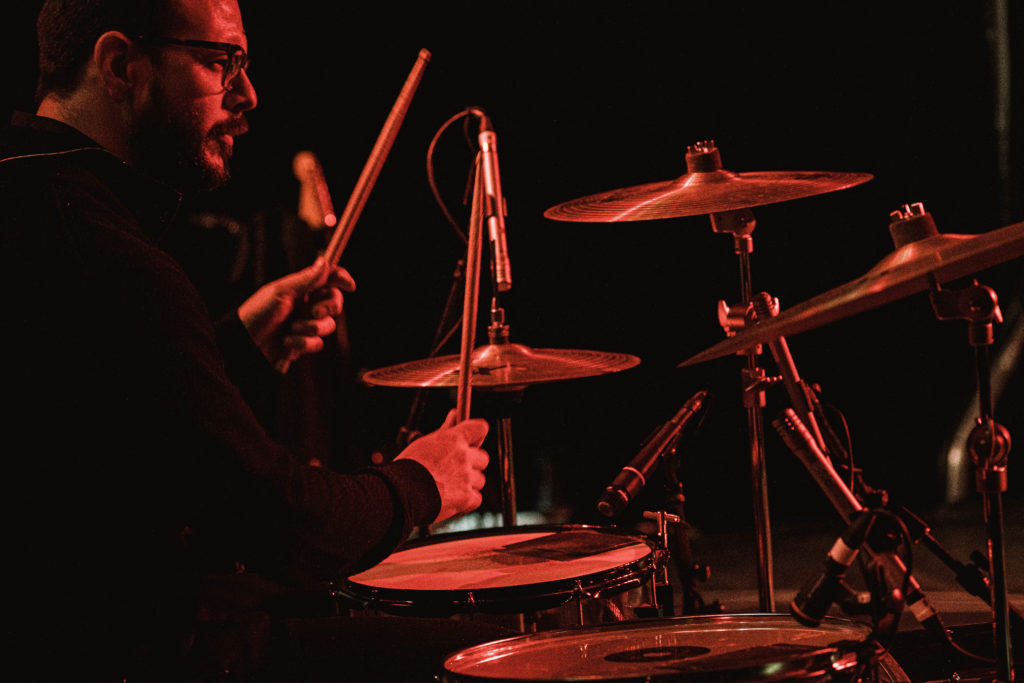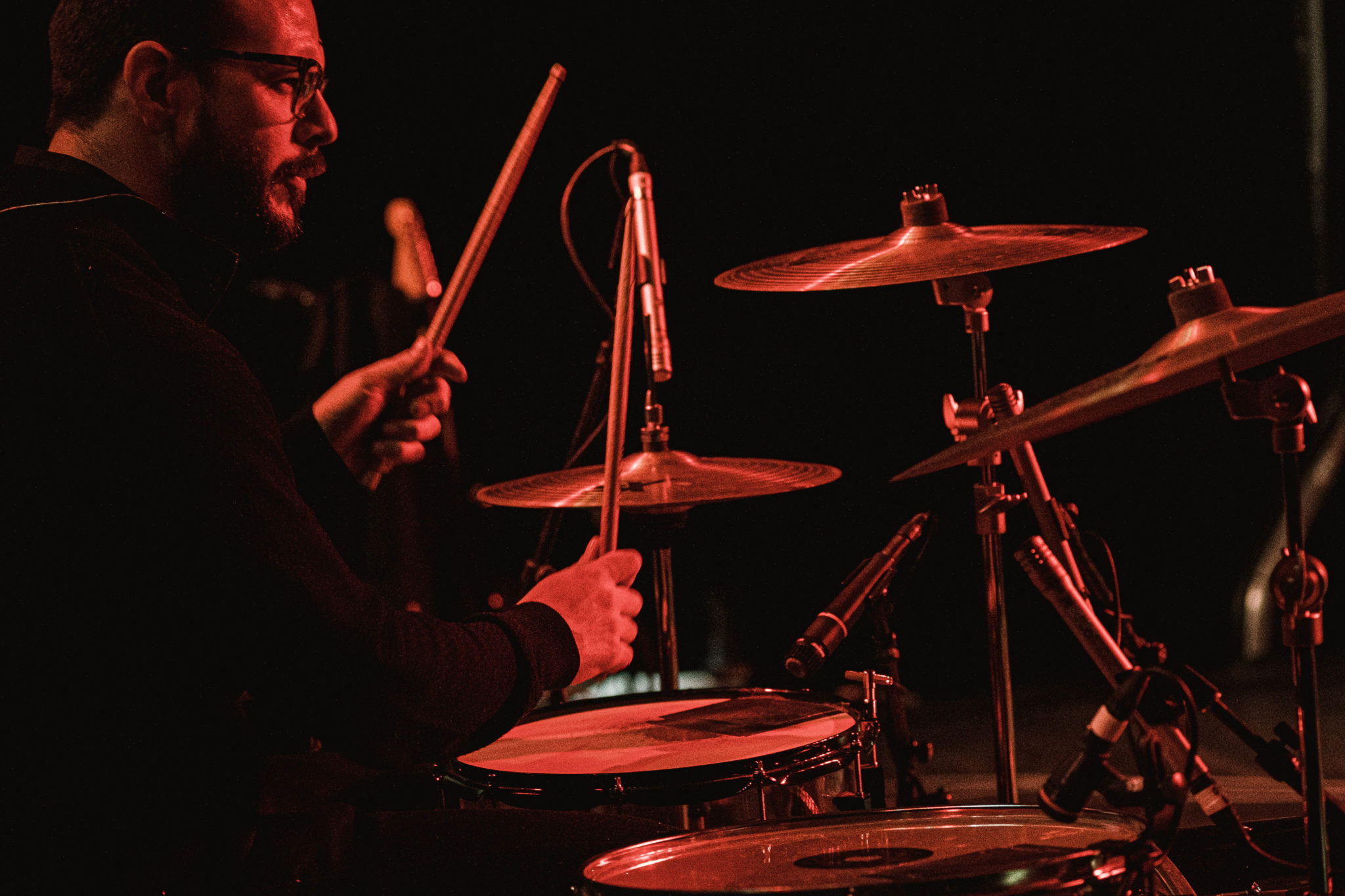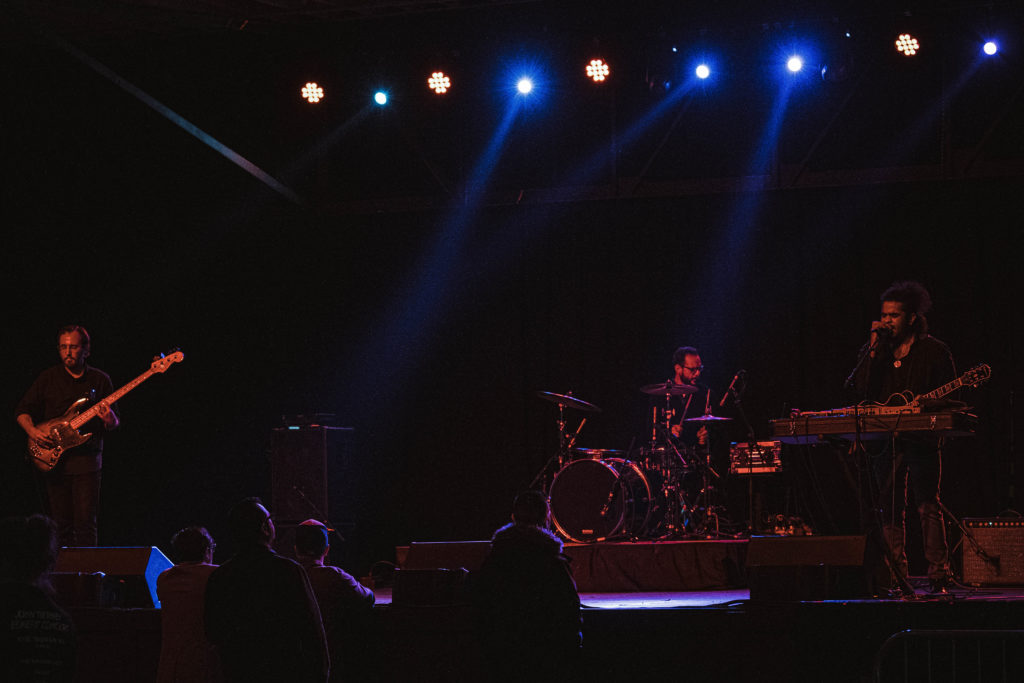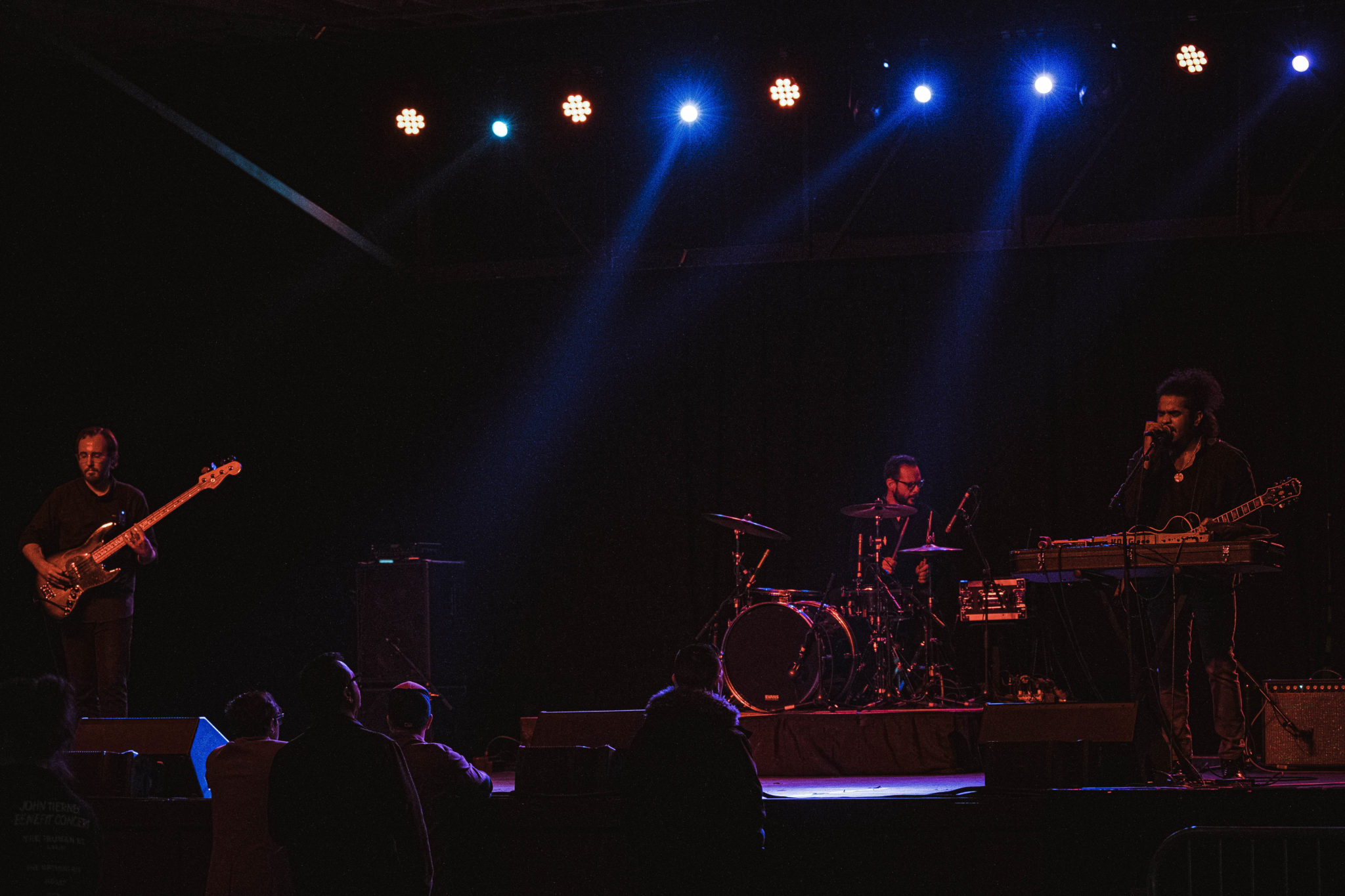 Conclusion
If you're looking for a good all-around camera that can do it all in a relatively small package, I would definitely give the Fujifilm X-T3 a look. It's versatile enough to shoot weddings, portraits, landscape, documentary, photojournalism, or whatever type of photography you throw at it really.
You do have to be OK with it having a smaller APS-C sensor and accept that you're not going to get some of the advantages you get with full-frame camera sensors, like shallower depth of field. Fujifilm lenses are really nice though because they're a lot smaller than lenses for full-frame cameras.
If you're on the fence between the X-T3 and the X-T4, I would go with the X-T3 if it's going to be primarily a stills camera for you. You can save a couple hundred bucks and the way the screen tilts is better for stills in my opinion.
I would go with the X-T4 if you're going to be using it a lot for video/vlogging because its screen flips out to the side. You can see yourself for vlogging and it still leaves your hotshoe free for a shotgun mic.
If you're shopping for an X-T3, please consider using the affiliate links below. We may earn a commission for ComposeClick at no extra cost to you.
More Fujifilm Lens Reviews:
Fujifilm Camera Reviews: