Fujifilm XF 18mm f/2 R Review
The Fujifilm XF 18mm f/2 R is a compact and lightweight wide angle prime lens with a 28mm-equivalent focal length.
Its compact size and low weight makes it a great lens for street photography or other types of photography where you're on-the-go and you need to be light on your feet and stealthy.
The lens adds very little size to Fujifilm cameras so it makes for a very nice package that you can carry with you all the time.
It does have its limitations though, which I'll talk about later in this Fujifilm XF 18mm f/2 R Review.
Fujifilm XF 18mm f/2 R Specs
Focal length: 18mm (27mm full-frame equivalent)
Maximum Aperture: f/2
Minimum Aperture: f/16
Sensor Format: APS-C
Angle of View: 76.5°
Optical Design: 8 Elements in 7 Groups
Diaphragm Blades: 7, Rounded
Filter Size: 52mm
Dimensions: 2.54″ x 1.6″ / 64.5mm x 40.6 mm
Weight: 4.09 oz / 116 g
Minimum Focus Distance: 7.09″ / 18 cm
Maximum Magnification: 0.14x
Build Quality
The Fujifilm XF 18mm f/2 R is made of metal, so its build quality feels pretty solid and rugged. To me, it feels like a reliable piece of gear that you don't have to baby. I've had it for a couple of years now and have used it plenty and it has very little wear and tear to show for it.
Although I feel confident that this lens will hold up, there are a couple of things that I don't like about its build.
For one, its focus ring doesn't feel great considering it's focus-by-wire but that's the case with all Fujifilm lenses.
I will say also that the aperture ring doesn't feel as precise and smooth as my other Fujifilm lenses (it just feels kind of mushy when changing the aperture) and the size of the aperture ring along with the lens' shape makes adjusting it uncomfortable in my opinion. I also have the 27mm f/2.8 and that lens is smaller and has a better feeling aperture ring so it's not just due to the size, although I'm not sure what Fujifilm could do to make it feel better.
My last gripe on its build quality is just that it's not weather sealed. 18mm is a great focal length for street photography and documenting your everyday life so not having weather sealing is a drag and it limits what weather you can comfortably shoot in.
One thing that I like about it is that Fujifilm includes a square lens hood with this lens. It's made of plastic but that might actually be better for absorbing shock if you drop or bump it than metal lens hoods. I like the look of the square lens hoods so it would be nice if Fujifilm did that for more of their lenses.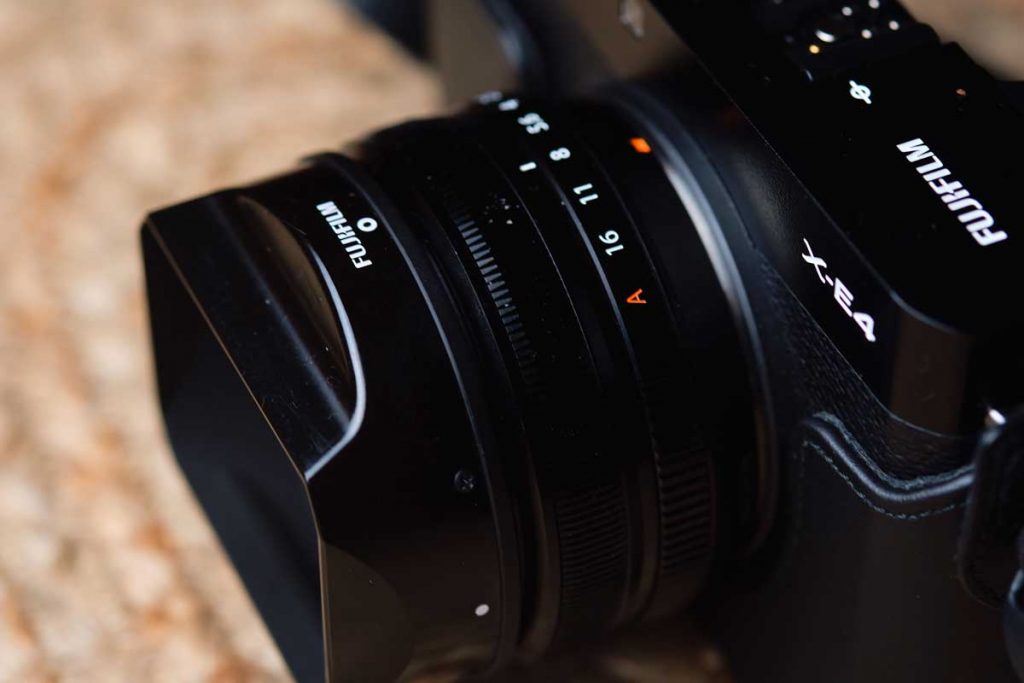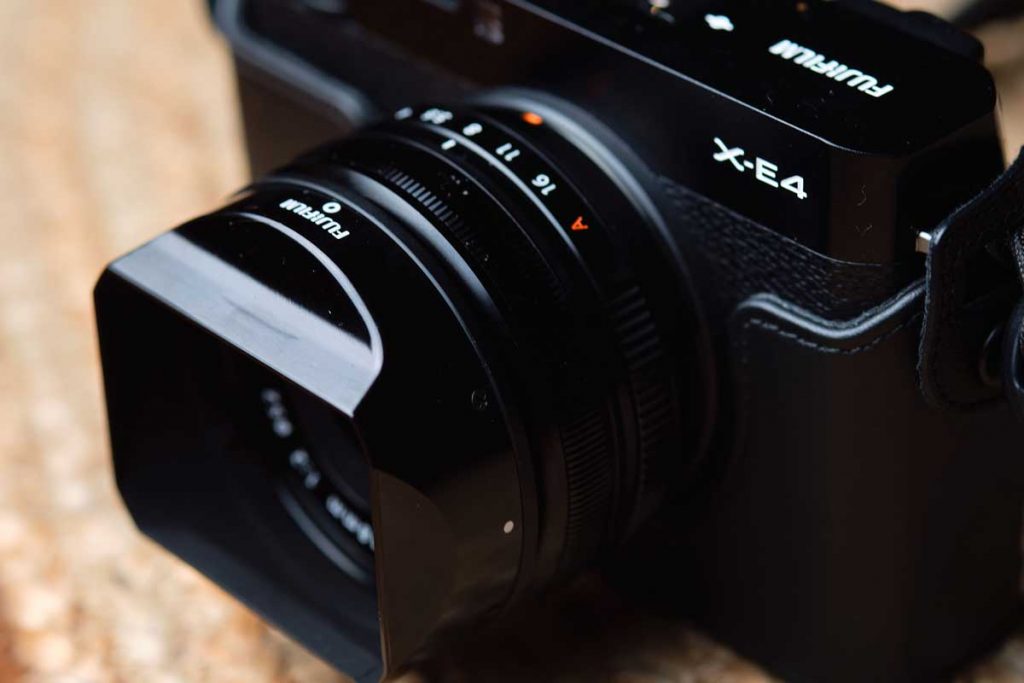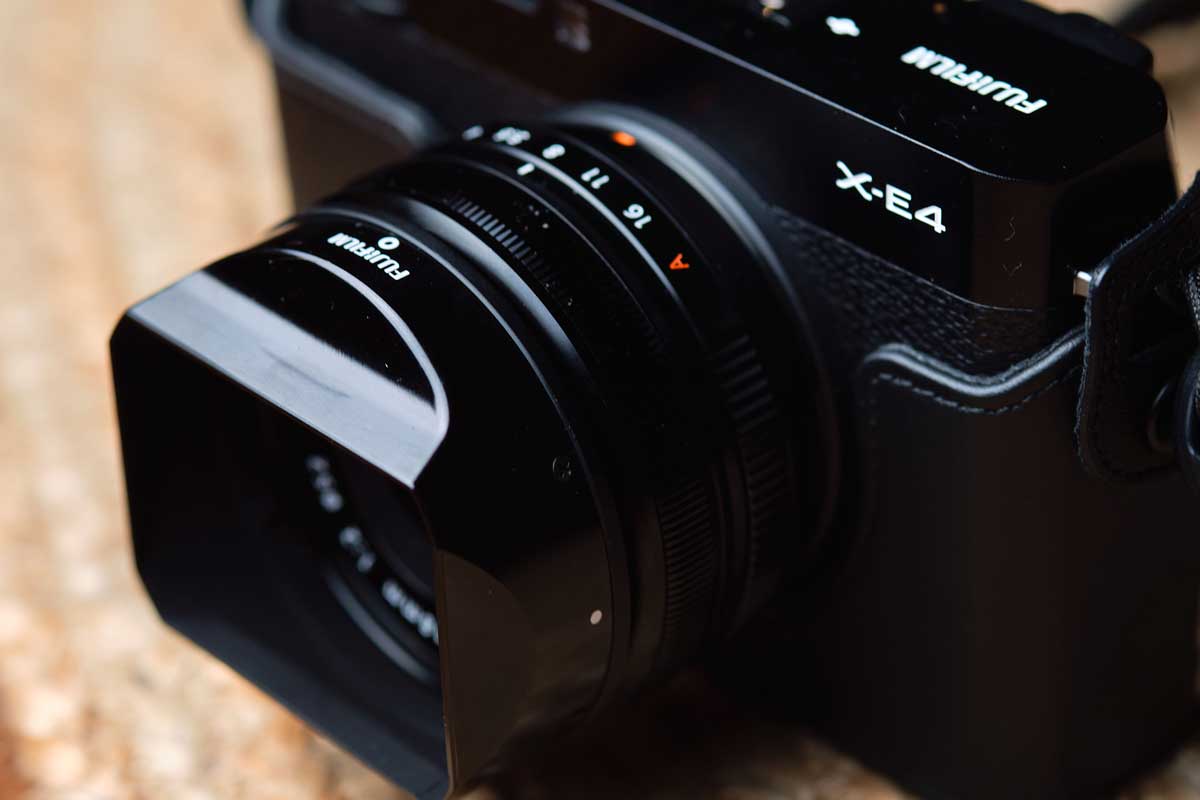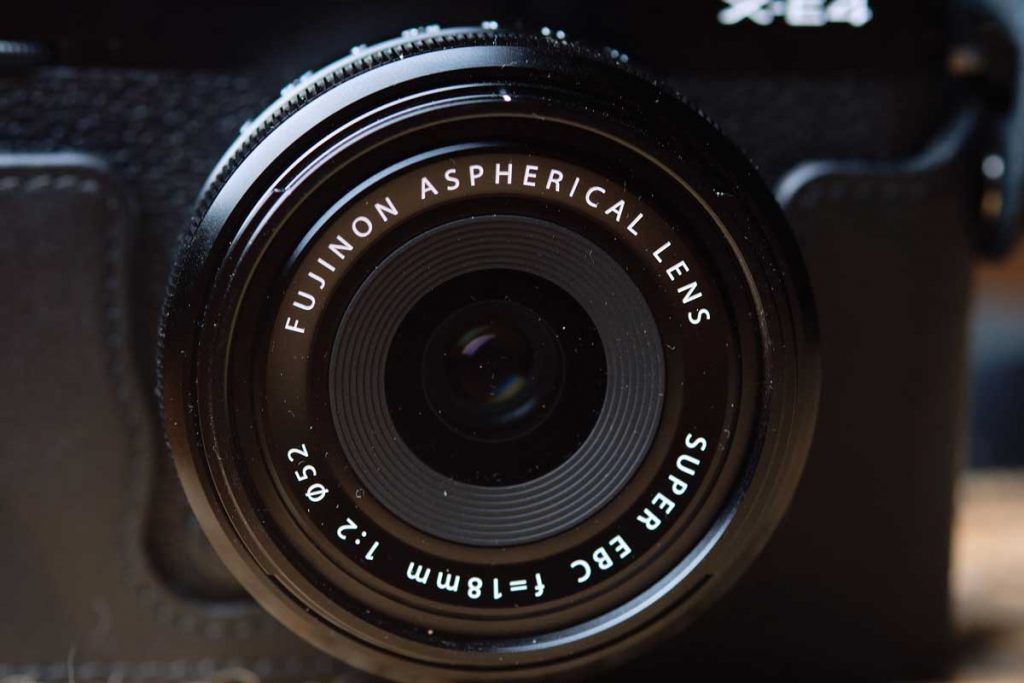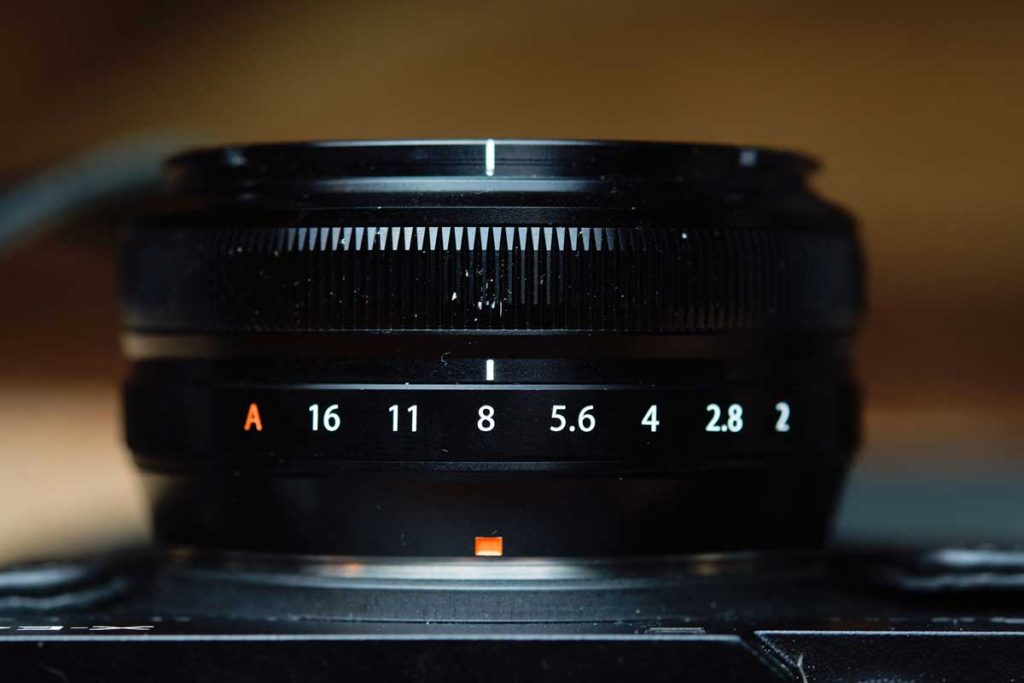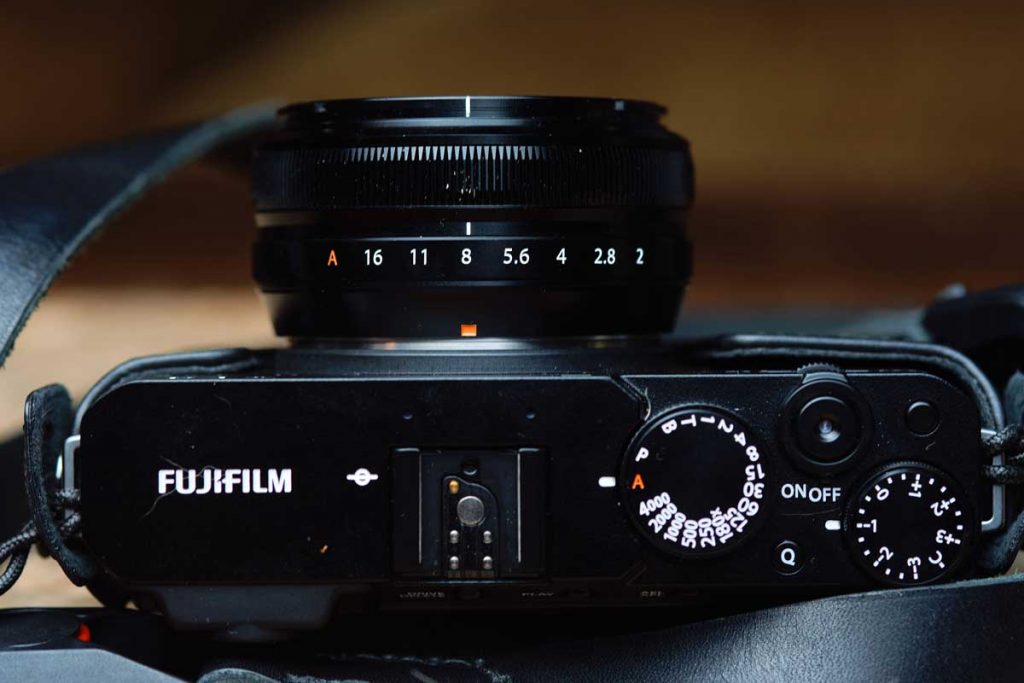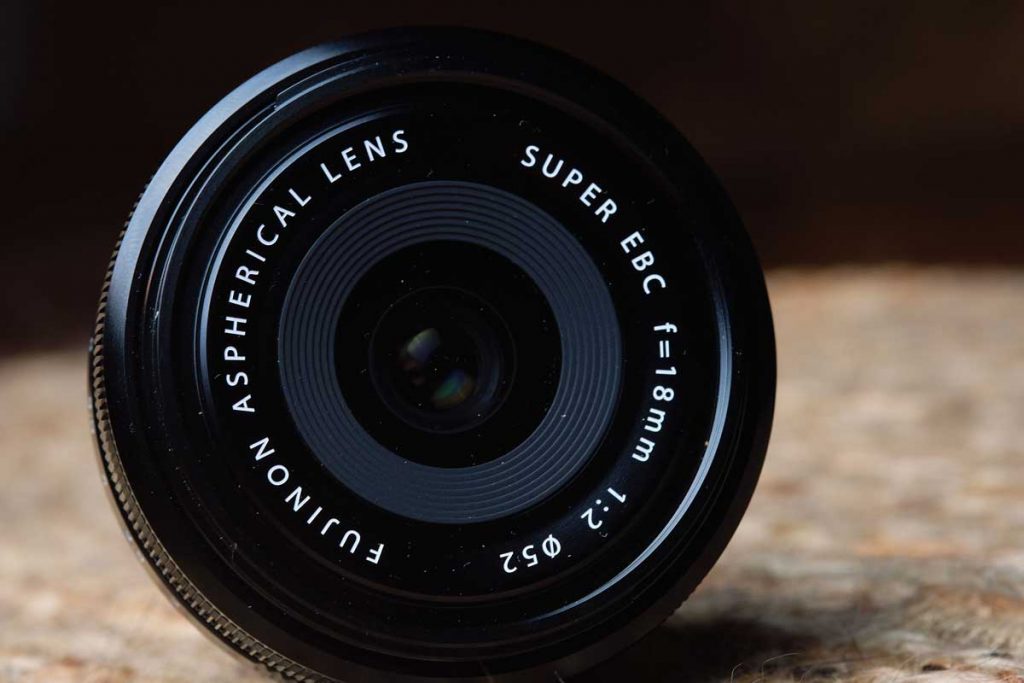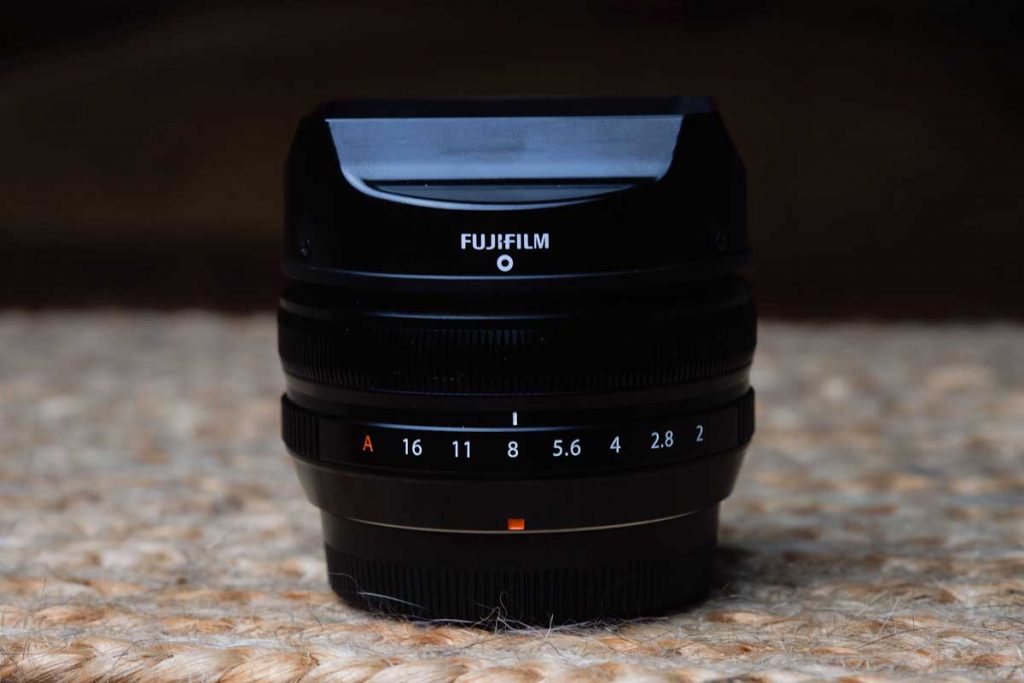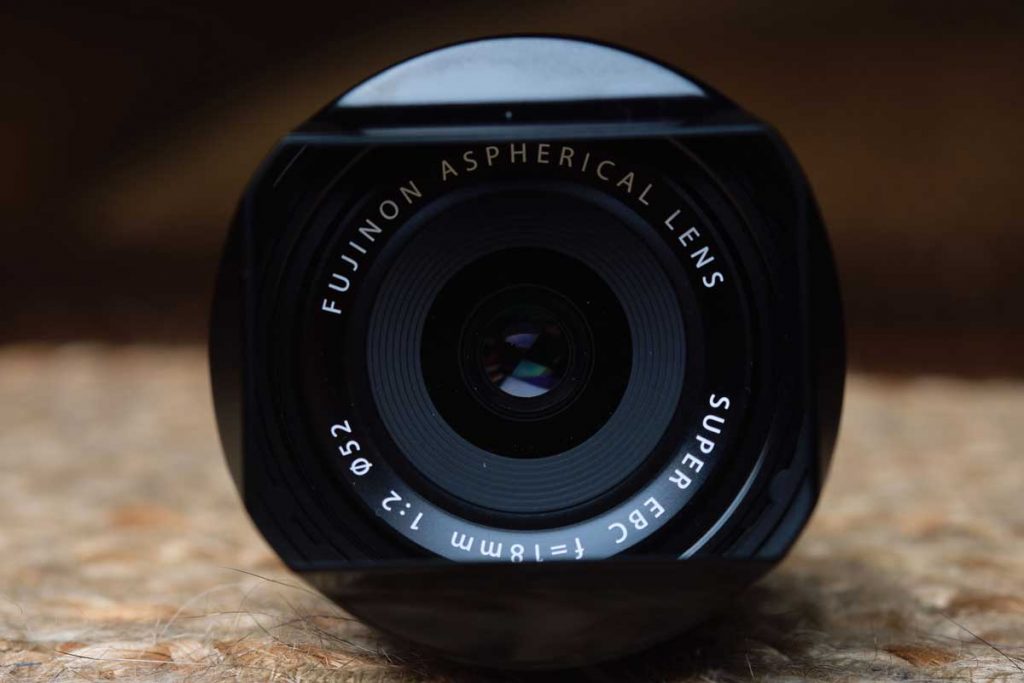 Size and Weight
The Fujifilm 18mm f/2 measures 2.54″ x 1.6″ and it weighs 116 grams.
I don't know if I would go so far as to say it has a pancake form factor, but it's damn close. As far as interchangeable lenses for Fujifilm go, it's basically bested only by the 27mm f/2.8 WR in terms of size. Although I think it would be nice if Fujifilm made an 18mm f/2.8 lens to reduce its size even more, this lens makes for a very compact kit.
The 18mm f/2 is also nice and lightweight and it balances perfectly on Fujifilm bodies.
Handling
The 18mm f/2 feels great on the camera, as it's a nice small size and the low weight balances well.
My issue with this lens though is that adjusting the aperture ring doesn't feel as good as other Fujifilm lenses. Like I mentioned previously, it just feels a bit off and feels mushy rather than solidly clicky if that makes sense. Luckily I don't change my aperture all that frequently when doing street photography so it's not a big problem for me.
If you want to make fast adjustments though, you can always put it in the 'A' position and then adjust your aperture using your camera.
Image Quality
Sharpness
Many have noted that the Fujifilm 18mm f/2 is not the sharpest lens in their lineup and I agree with that. It's basically sharp in the center of the frame at all apertures but can be soft in the corners at pretty much all apertures, which is more evident the wider aperture you go. For the most part, you won't notice the softness unless you're pixel-peeping so I don't think it's that big of a deal.
That said, I do like having my photos be as sharp as possible, or at least have that option, so it seems to me like this lens is due for an update. After all, this lens was released back in 2012 along with the X-Pro1 so it's starting to show its age. When Fujifilm updates this lens, they'll have some room for improving its image quality.
Lens Flare
You do get quite a bit of lens flare (which can be nice) when not using the lens hood. The included lens hood cuts down on flare and improves contrast so I always use it but it does add some size.
Bokeh
The bokeh is fine on this lens but you're not gonna get super out-of-focus backgrounds with a lens this wide unless you get as close as possible to your subject. You don't really notice the bokeh of this lens as it's not distracting, which is the best you can really hope for from an 18mm lens.
Autofocus Performance
The autofocus doesn't really hunt but it's not exactly a speed demon and at times can be inaccurate. I've noticed it tends to back focus on occasion.
For street photography, it has been fine because I'm usually not focusing on subjects that are a meter or farther away, which it seems to do fine with. It just seems to focus better on subjects that are further away.
This lens is also somewhat loud when autofocusing. I'd prefer for it to be silent for street photography but it's not a deal breaker for me, as most people probably won't be able to hear it with all the street noise anyway. The focusing noise wouldn't be ideal for video unless you get your mic off-camera.
Pros
Compact size
Lightweight
Wide-angle field of view is great for street photography
Great for incorporating more of the scene into your photography
Not too wide
Good image quality when stopped down
Decent autofocus
Cons
Mushy-feeling aperture ring
Focus-by-wire
Soft at wider apertures
No weather resistance
Noisy autofocus
Real-World Performance
The best thing about the Fujifilm 18mm f/2 is that you can carry it with you anywhere because of its small size and low weight. This makes it so it doesn't feel like a burden to take it with you on street photography outings or even to throw it on with a neck strap and just take it with you wherever you go. Having a smaller and lighter kit makes you want to go out and shoot and this lens facilitates that.
Because of its small size, focal length, and image quality, I included it one of the best Fujifilm lenses for street photography in my article here.
Fujifilm isn't going to win any awards for this lens' image quality because of its softness but it gets the job done. I would go with a different lens for something like environmental portraiture but the 18mm f/2 has plenty good image quality for purposes like street photography, photojournalism, documentary photography, being an everyday carry, etc.
Likewise, there are faster autofocusing lenses but this lens gets the job done.
The 18mm f/2 has its quirks but they're pretty minor and they're not deal-breakers in my opinion, especially if you like the 27mm equivalent focal length. The lens performs solidly and coupling that with a compact and lightweight package makes for a lens worth having.
Fujifilm XF 18mm f/2 R Sample Images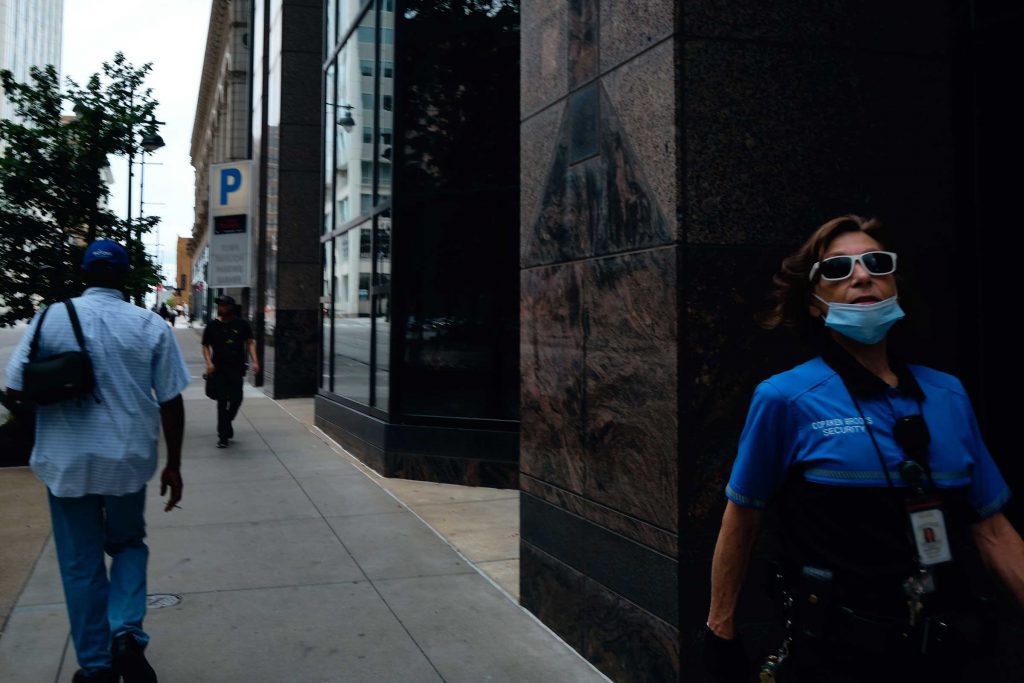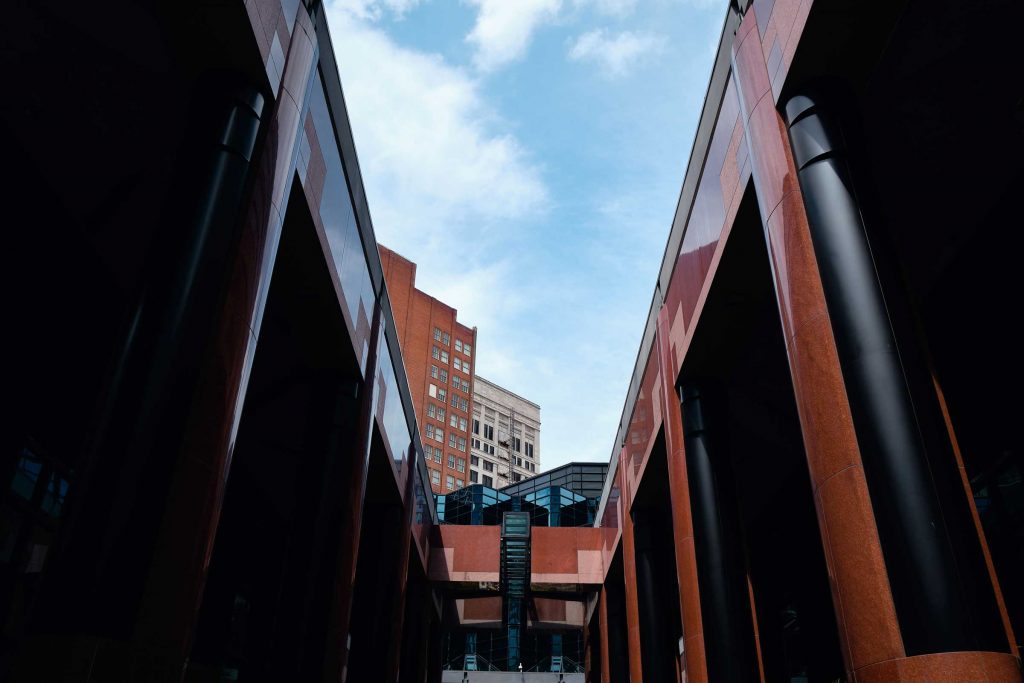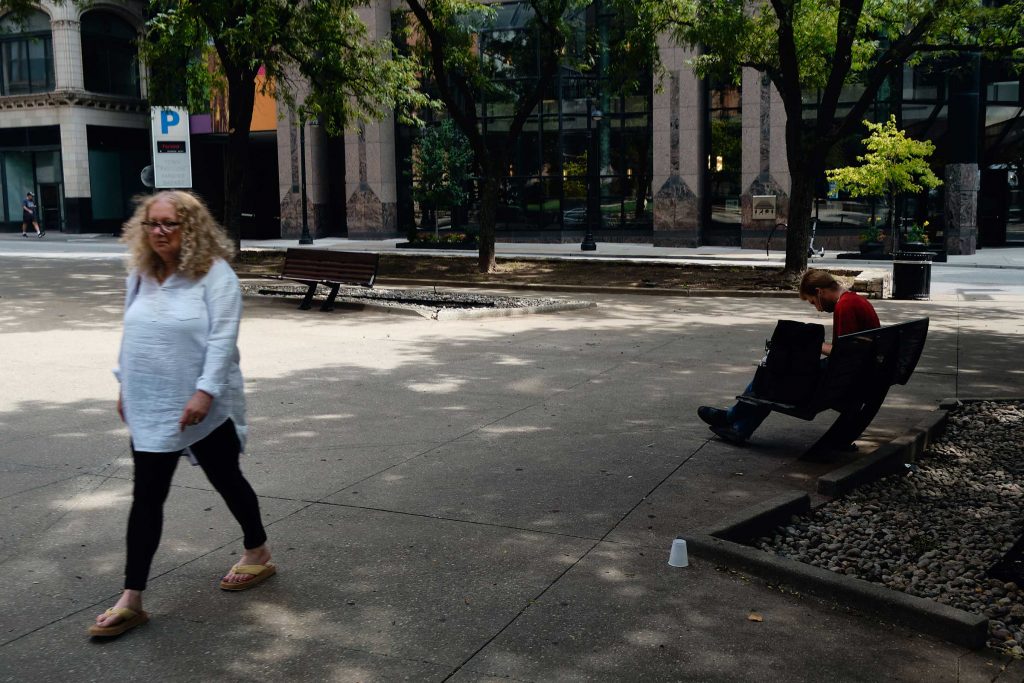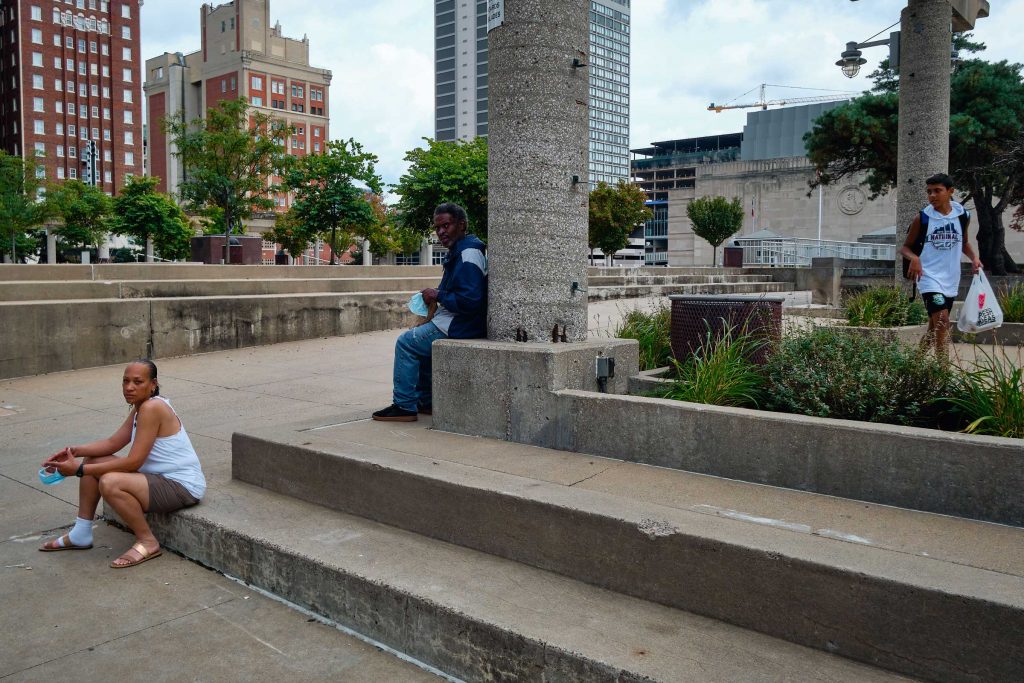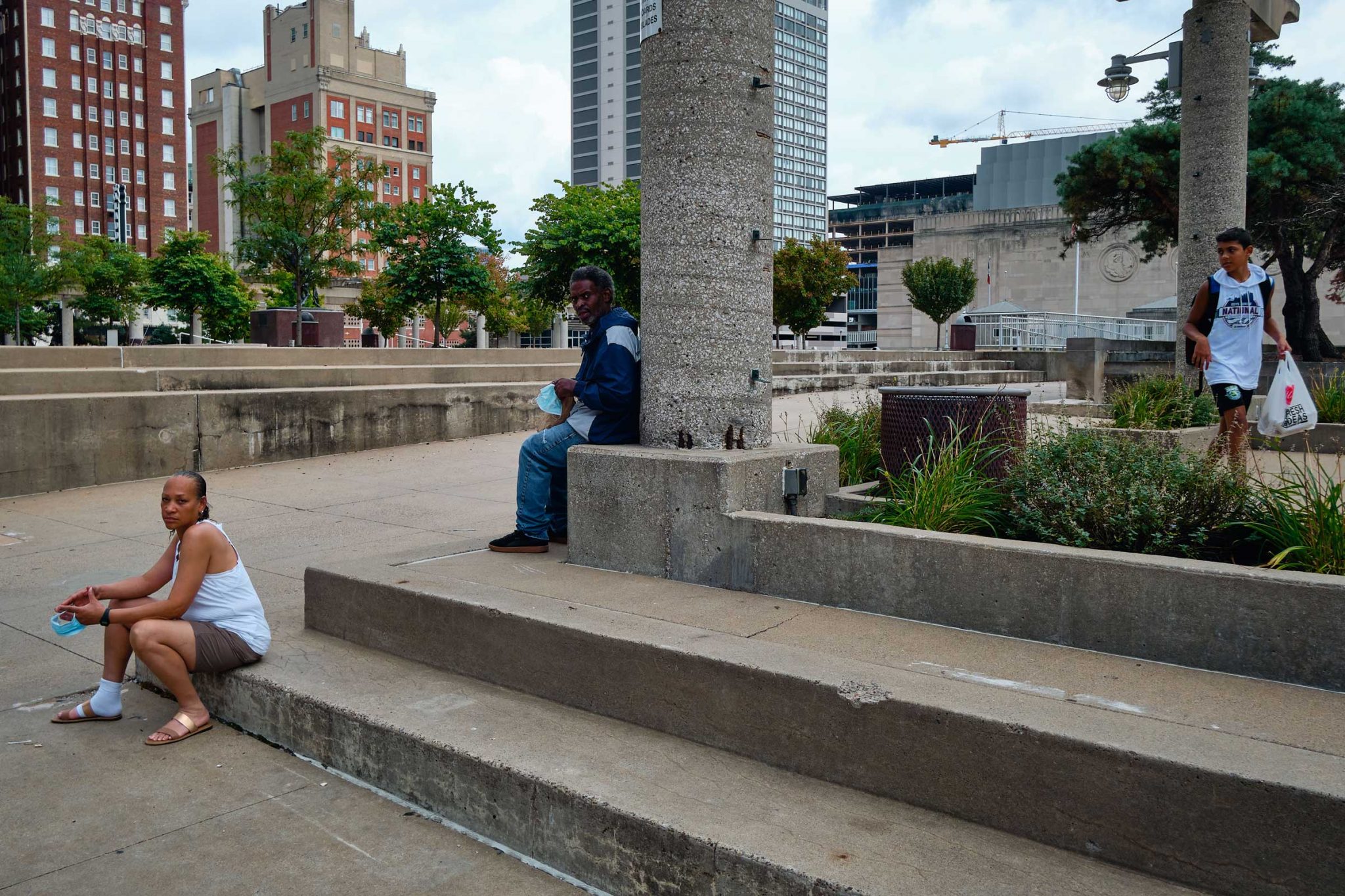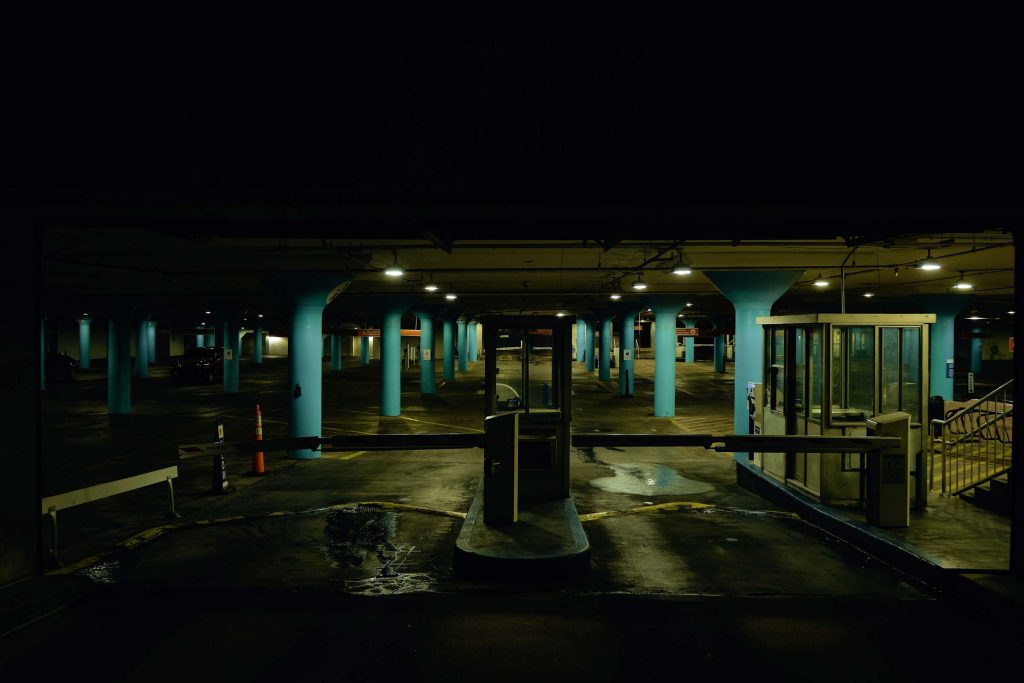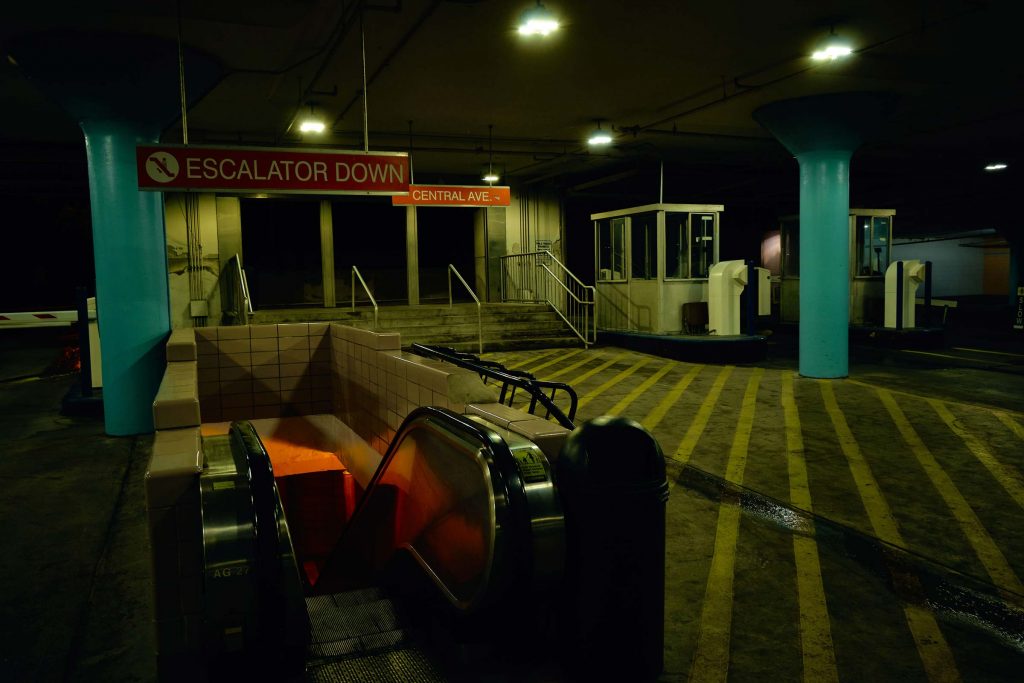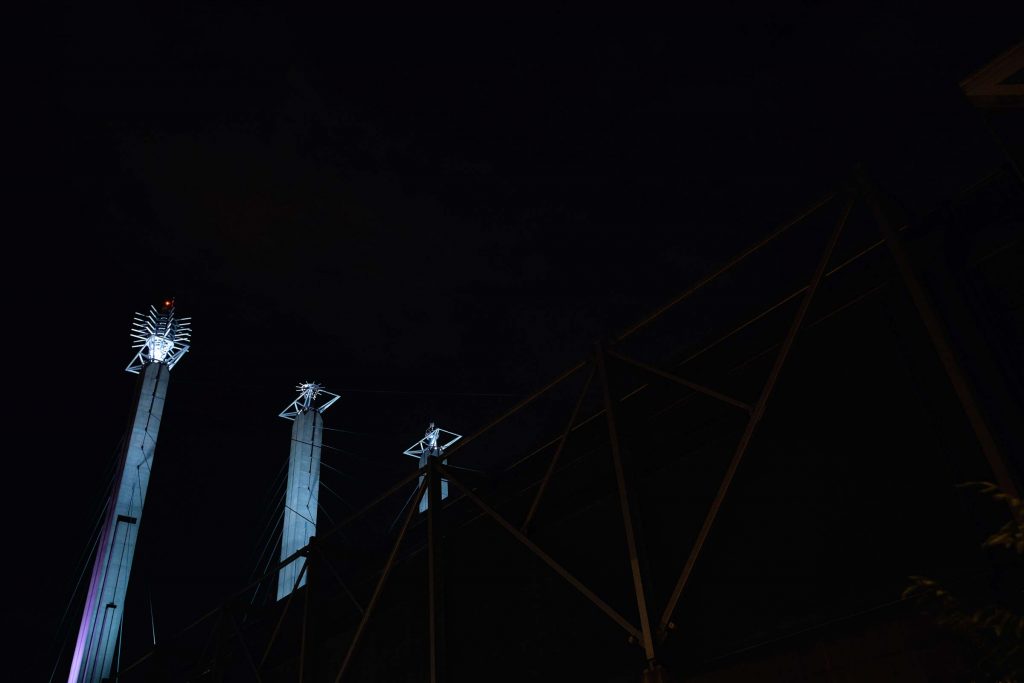 Last Thoughts
The Fujifilm XF 18mm f/2 R is a nice lens to have for its compact size and wide-angle field of view. Size and weight are important to me as a street photographer and Fujifilm did a great job of making this lens feel small, lightweight, and portable even though it's made of metal.
The image quality of this lens is decent but not great. I like for lenses to be as sharp and have as good of image quality as possible but I prioritize size and weight over that for street photography. It's definitely something that Fujifilm should improve on when they come out with an updated version. Improving the autofocus and making it silent along with weather sealing would be nice as well.
At $600 retail as of this writing, I think it's a little overpriced but it's worth it if you like to shoot wide and prioritize size and weight.
I hope you got something out of this Fujifilm XF 18mm f/2 R review. Happy shooting.
If you're considering buying the lens, please consider using my affiliate links below. We may receive a commission at no extra cost to you.
More Fujifilm Lens Reviews:
Fujifilm Camera Reviews: